We all have that friend. The one who buys a white sofa with full confidence that it will remain in mint condition forever. Who wears white tees and dresses with impunity, even while eating chips and salsa. She's always artfully yet effortlessly put together, and she makes life look easy. As much as we'd love to hate her, she's so darn nice that we can't help but adore her instead. I've got a few friends like this in real life—and through the magic of Instagram, I've got a couple more that you simply must follow for sweet and breezy style inspiration!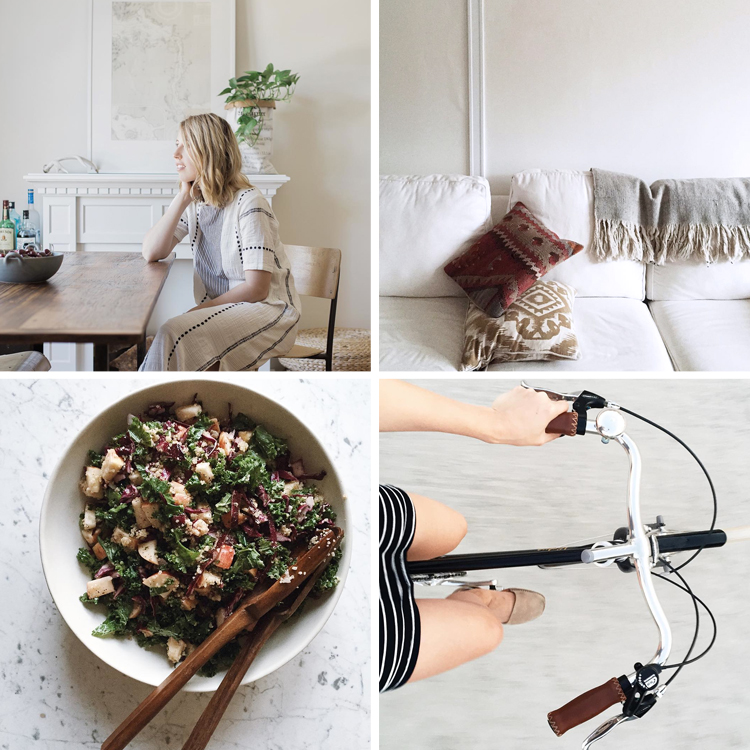 The feed of lifestyle photographer Gillian Stevens (top and above) has an air of rustic romance that's always fresh, never fussy. Expect impeccable interiors shots with creamy white walls and insouciantly drooping houseplants; snapshots of Gillian's extensive travels; and an eternally glowing light that makes me question the rainy reputation of her Vancouver hometown.
Meanwhile, on the other side of Canada, Lee Vosburgh showcases warm minimalism at its very best. Lee writes a charming blog called Style Bee, and on her Instagram feed she shares outfit outtakes, updates on her capsule wardrobe project, and the occasional cameo from Dobby the Corgie. If you love stripes and boyfriend jeans (and really, who doesn't?!) then Lee is your girl. See you on Instagram, friends!