Friendsgiving is pretty much the best holiday to come along since National Donut Day. Don't get me wrong, I love my family and I adore sitting down to a bountiful Thanksgiving meal with them. But my friends? Well, they're the family that I've chosen, and there's something extra special about gathering together to honor how grateful we are to be in each others' lives. Of course the other brilliant thing about Friendsgiving is that doesn't have to replace your family sit-down; it can actually supplement it. Yup, that's a bonus Thanksgiving dinner we're talking about here!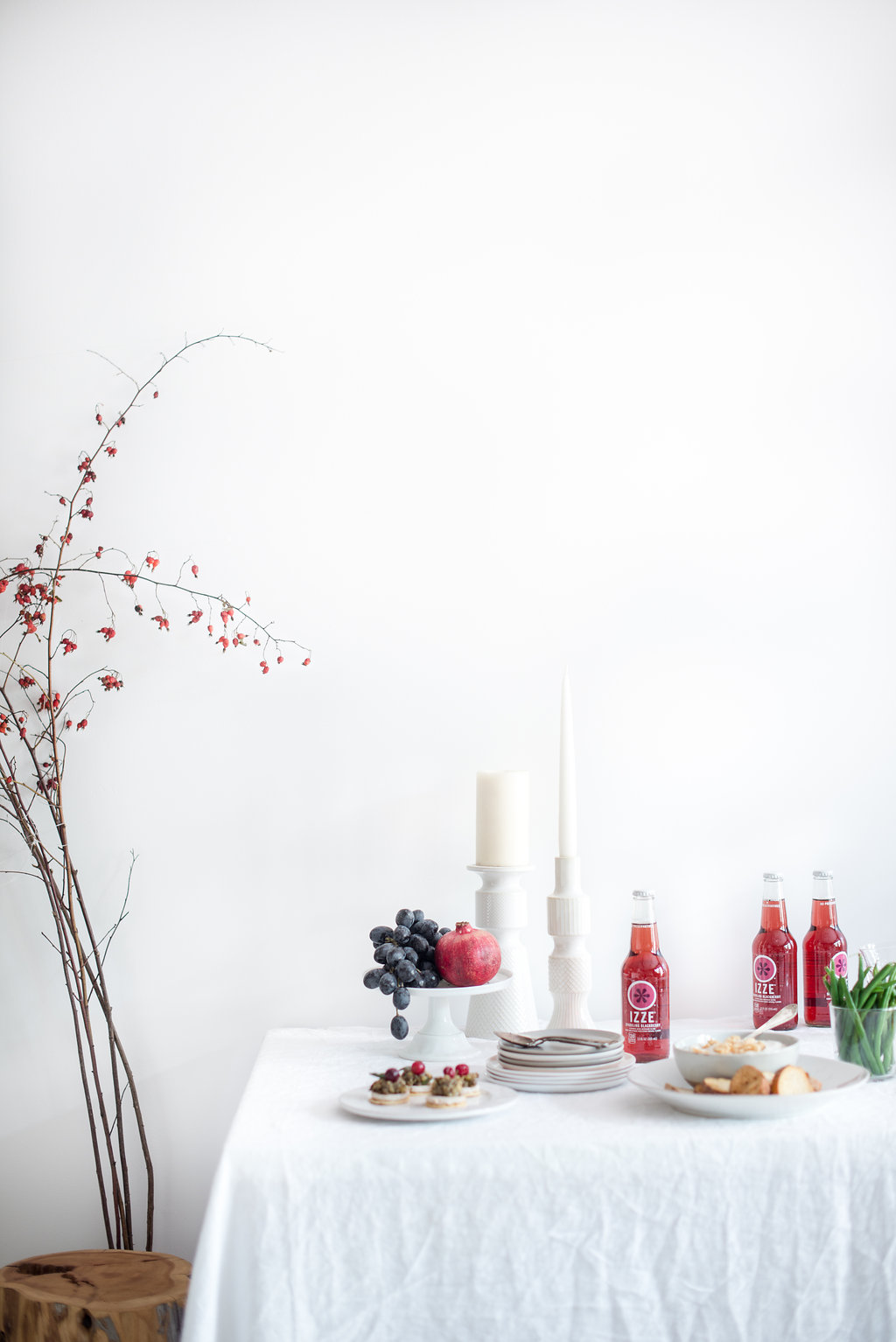 Before you go running for the hills at the thought of preparing a second Thanksgiving dinner, let me remind you that the #1 best thing about Friendsgiving is that these are your friends we're talking about! It's a judgement free zone, with no expectations to get your drumsticks in a knot. Yet at the same time, I know firsthand how the perfectionist monster can rear its head even when I'm hosting my pals. So when IZZE asked me to share some Friendsgiving ideas for holiday hosting, I knew exactly what I'd create: an appetizer spread that's perfect for a casual but elegant drop-in affair!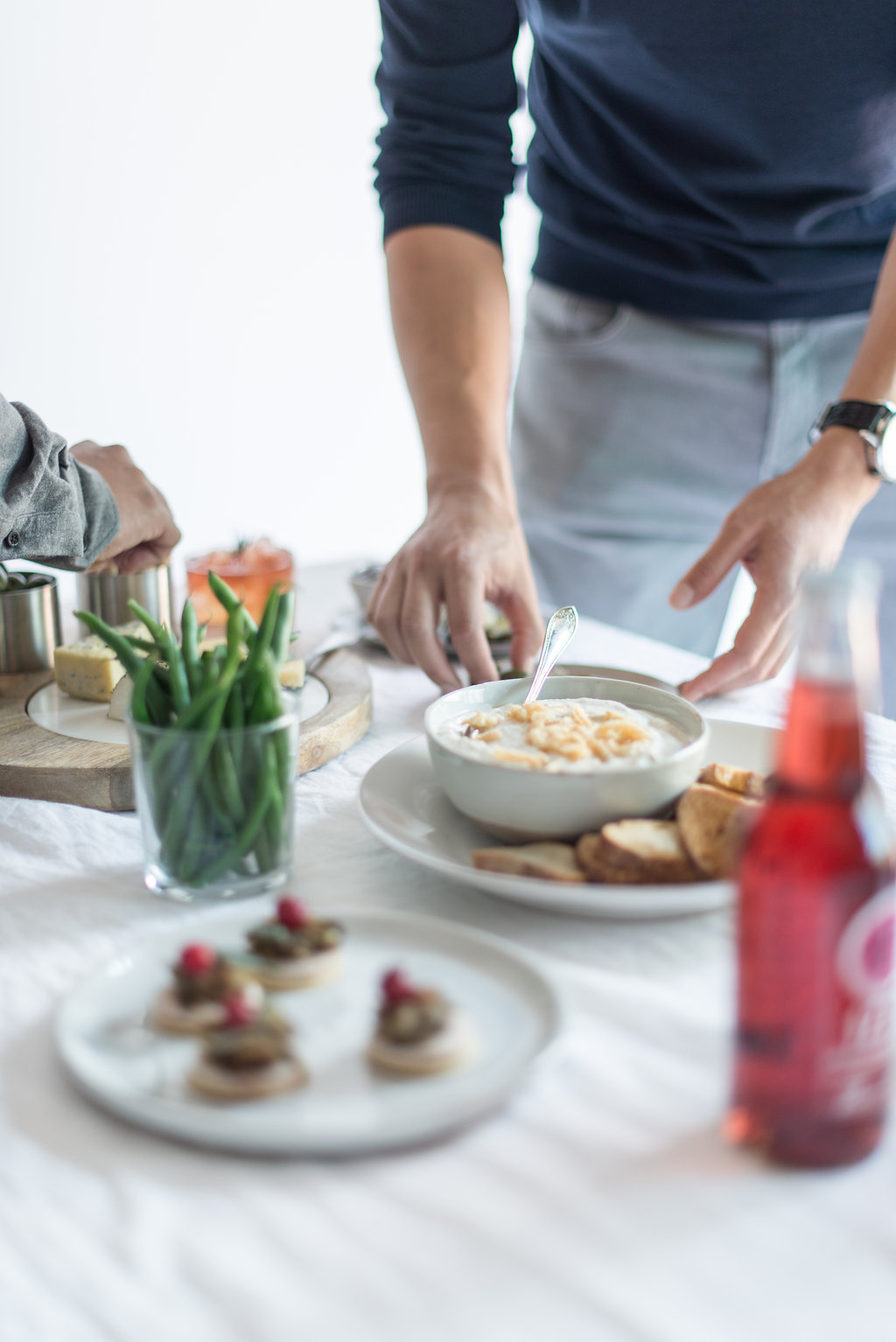 Serving an all-appetizer buffet makes entertaining easy for lots of reasons. For starters (pun intended), you can prep the vast majority of your menu items well in advance and present them either hot or cold. Everyone serves themselves, meaning you can focus on your guests, not on what's in the oven. And you needn't slave over a slew of different recipes, either. A few tasty options keep things simple, straightforward, and seasonal—like my spread inspired by IZZE Sparkling Pomegranate. I deconstructed a few Thanksgiving favorites, including a take on the classic green bean casserole that features blanched green beans and a caramelized onion mushroom dip. And I assembled a cute little amuse bouche that combines all my Thanksgiving faves in a single bite. Stay tuned for the how-to on that later this week!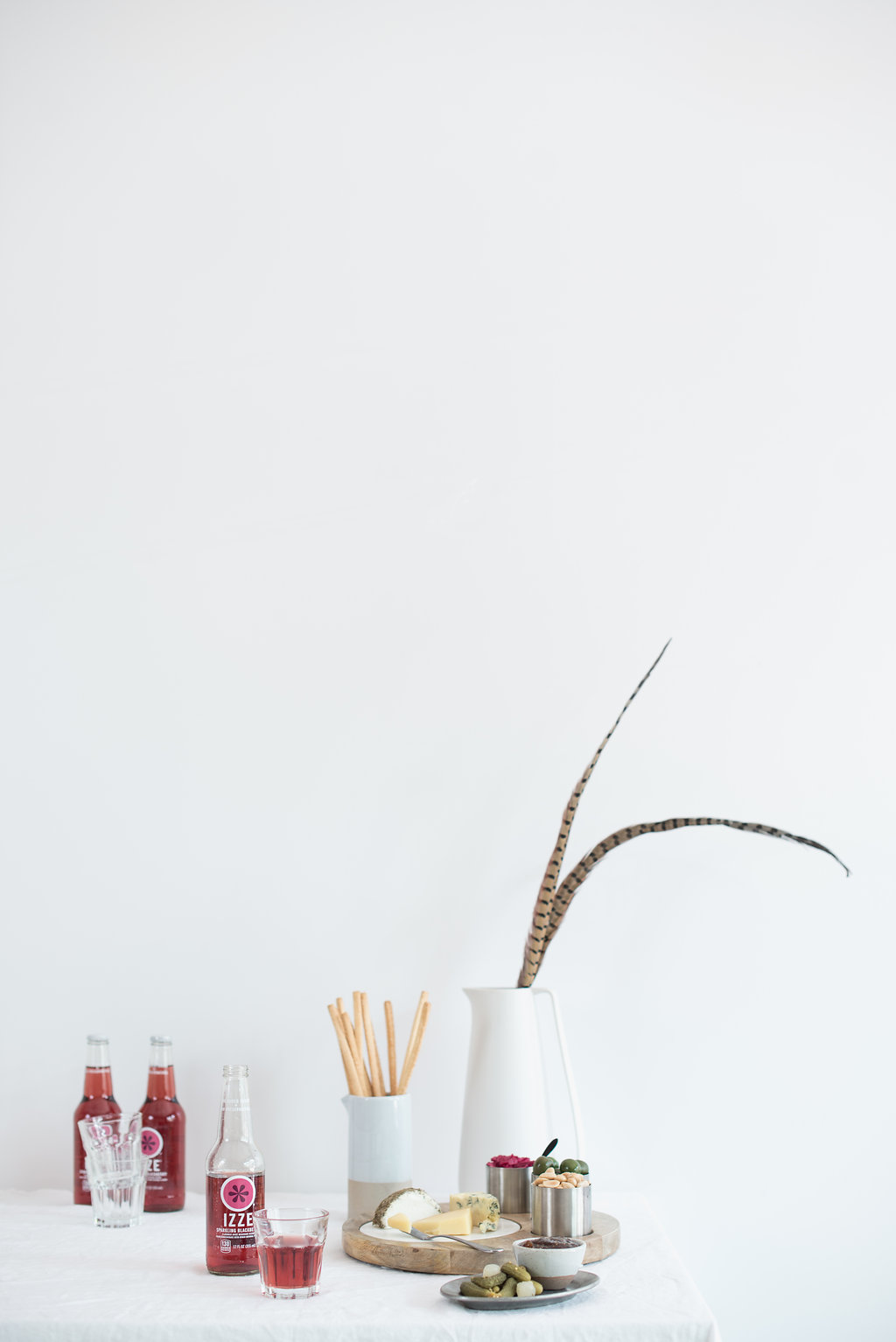 For the rest of your appetizer menu, the deli section at your local grocery is your best friend. People get such a kick from a selection of gourmet finger foods like olives, gherkins, tapenades, and nuts. Plus have you ever met anyone who complained at a sampling of fancy cheeses? (If the answer is yes, then maybe you need to rethink your friend group!) Provide a few different cracker options to shuttle the snacks and spreads from table to mouth, put out some chilled sips (IZZE again!), then sit back and think about all the dishes you won't be washing when everyone heads home.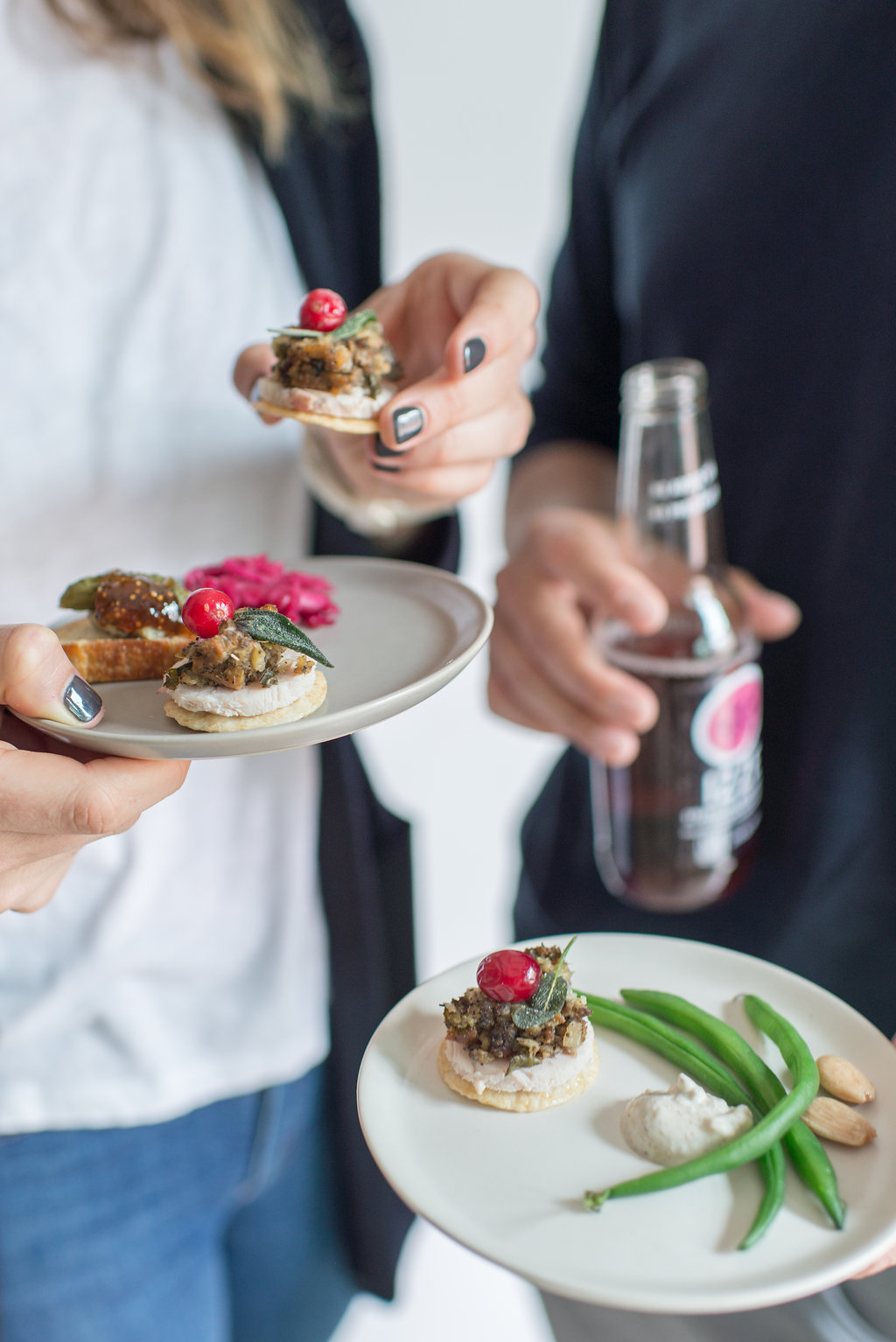 Speaking of dishes, it's definitely possible to keep effort at a minimum but still style a striking set-up. A no-brainer monochromatic palette (white is my jam but any hue will work!) makes the decision for you about which pieces to pull from your cupboards. Within your chosen palette, mix and match platters, glassware, and serveware with different lines, shapes, and patterns to add interest. For decor I eschewed flowers in favor of a few candlesticks and some architectural pheasant feathers—a great way to stay under budget too, since you can reuse those elements for future shindigs. Seriously, so easy!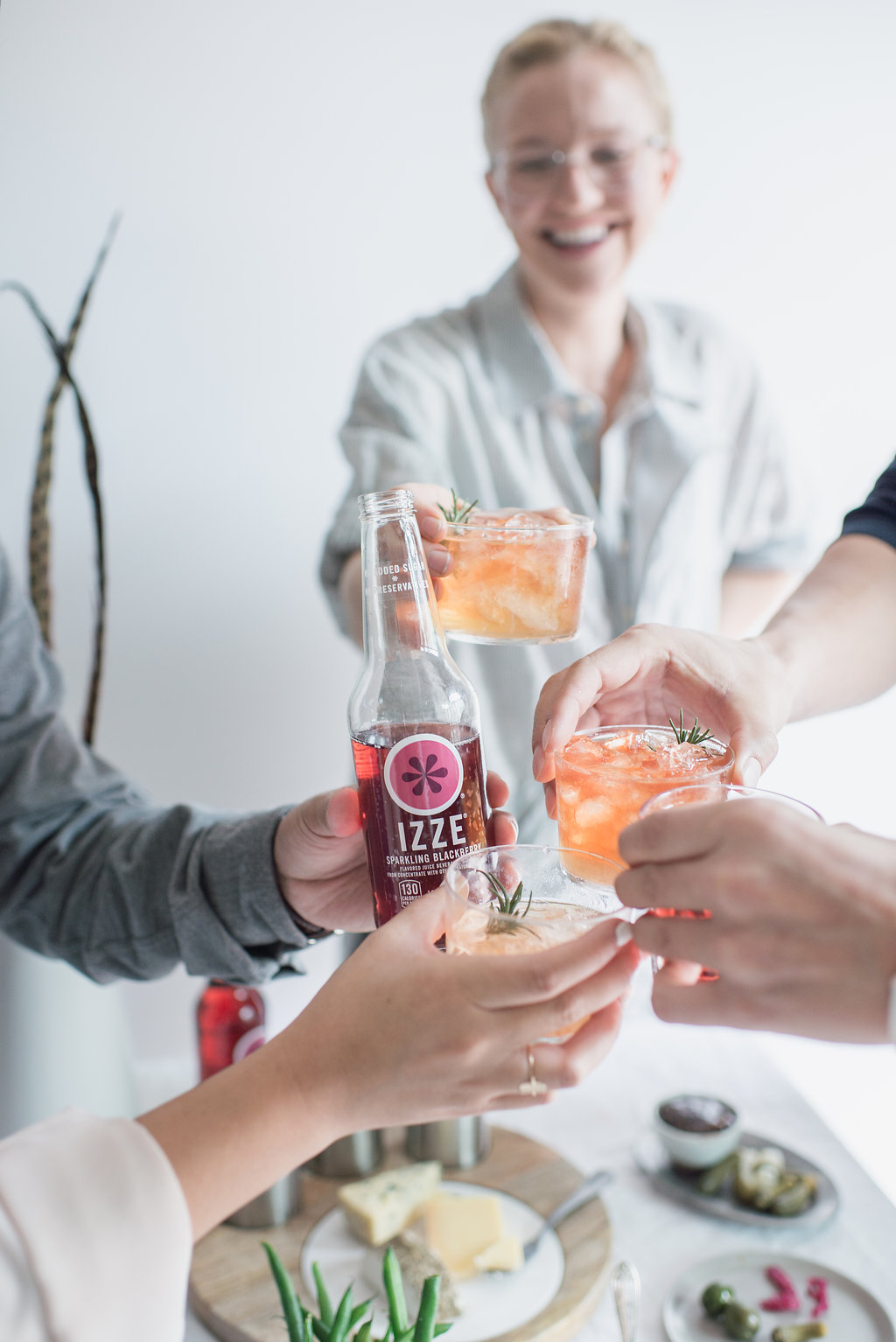 A few signature menu items informed by the flavors of the season, an abundance of fancy-pants treats from your favorite market, and an excuse to style a pretty table: I told you Friendsgiving was the best! But better than all of that, by far, is the opportunity to let your friends know how thankful you are for their love and support throughout the year—and the chance to create new traditions together that will last well into the future!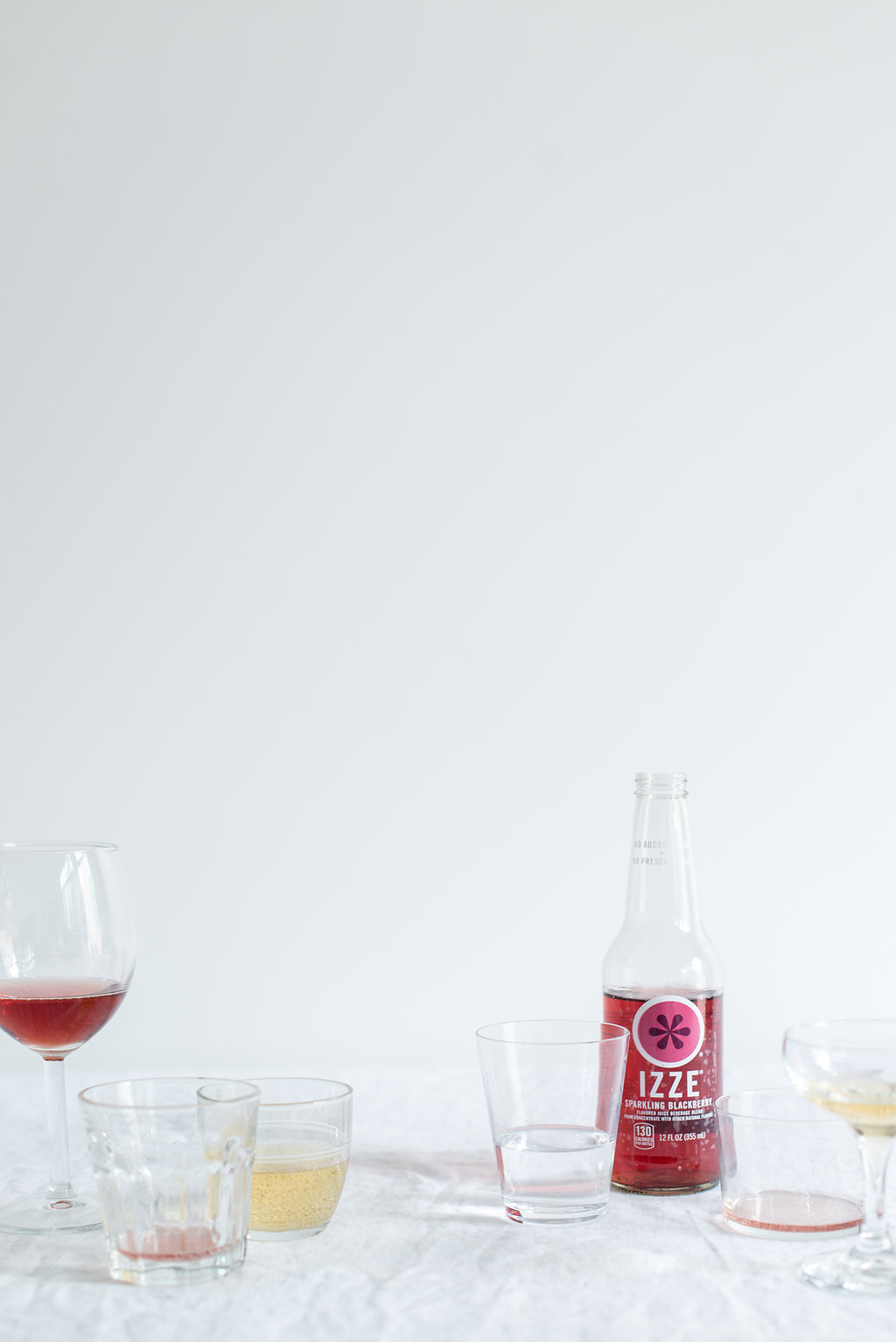 P.S. Stick around! In addition to sharing the recipe for my Thanksgiving amuse bouche, I'll also be posting a fabulous fall cocktail featuring IZZE Sparkling Apple! Thank you to IZZE for sponsoring this post and enabling me to create work that I feel really proud of. And thank YOU for supporting the brands that allow me to bring you fresh inspiration daily! Photography by Carley Rudd, additional styling by Kara Elise.