Do you change your skin care with the seasons? I make little adjustments here and there—a slightly more intense moisturizer, for example. Other than that, it feels like such a win to have established a working routine in the first place, I don't mess with it too much! One thing I keep constant is sunscreen. Even when the big golden orb isn't casting its rays directly on us, we still can benefit from a year-round UV guard to prevent signs of aging and skin cancer. And because I've finally found an amazing natural skin care line that protects from the sun without dangerous ingredients, I'm especially motivated to keep things exactly as they are! From the moment I tried it last summer, Block Island Organics quickly became my go-to for shielding my skin from the sun.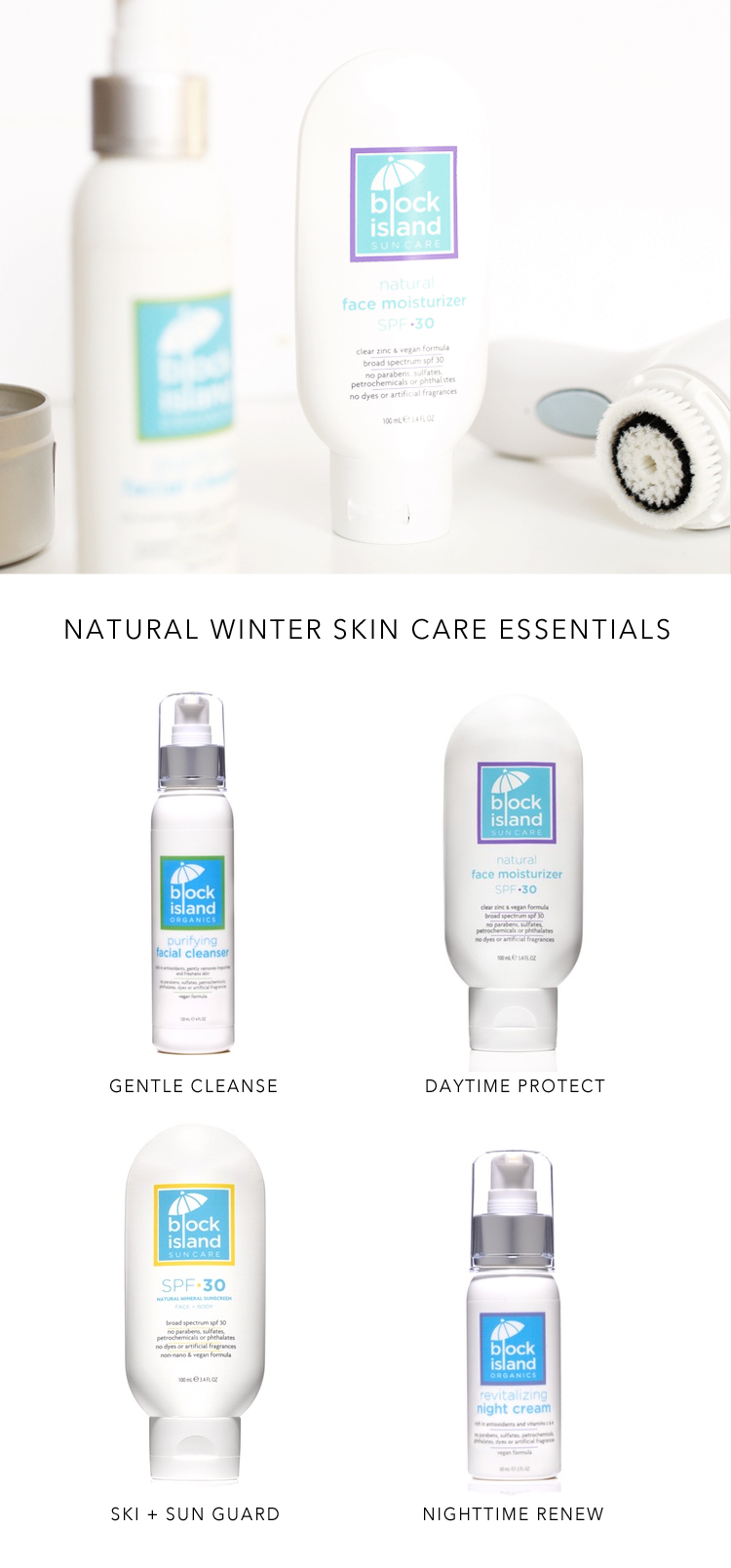 Block Island Organics started when one of the founders was on the hunt for the perfect natural sunscreen to sell at her eco spa. When she quickly confirmed what we all lament—that most natural sunscreens leave you with a chalky, greasy, mime face—she set out to make her own and Block Island Organics was born! The tightly edited and impeccably formulated line is anchored around an SPF 30 mineral-based sunscreen that disappears immediately onto skin for all-day UV protection. It's especially brilliant for outdoor sports like running, hiking, and skiing. The companion cleanser contains purifying botanicals for an ultra gentle but thorough clean; it's a great natural alternative for all you Cetaphil loyalists out there. The organic night cream deeply hydrates and renews without clogging pores, and the SPF 30 moisturizer sits nicely under makeup for everyday use. The products do the trick both at home in temperate LA or when I visit family in dry, frigid Reno. When it comes to skin care, the less I have to think about it the more likely I am to do it—and Block Island Organics is a no-brainer for sure!
P.S. Just in time for your winter ski or shore vacation, use the code annes to receive 20% off on all Block Island Organics products through Wednesday Dec 16! Please note the code is not combinable with other codes.