Today in LA they're predicting the worst storm in a decade. Already the yard has flooded with six inches of water, and I'm thinking if this whole blogging thing doesn't work out then I'll just start an urban trout hatchery. I'm definitely grateful for the rain, not only because it represents an exciting new career opportunity (ha!) but because it's long overdue and very much needed. Moreover, it's just the excuse I need to cook up a big batch of my favorite authentic mexican pozole verde recipe. This nourishing Mexican soup is exactly what the weather man ordered for warding off the damp chill that so rarely rears its head in Southern California.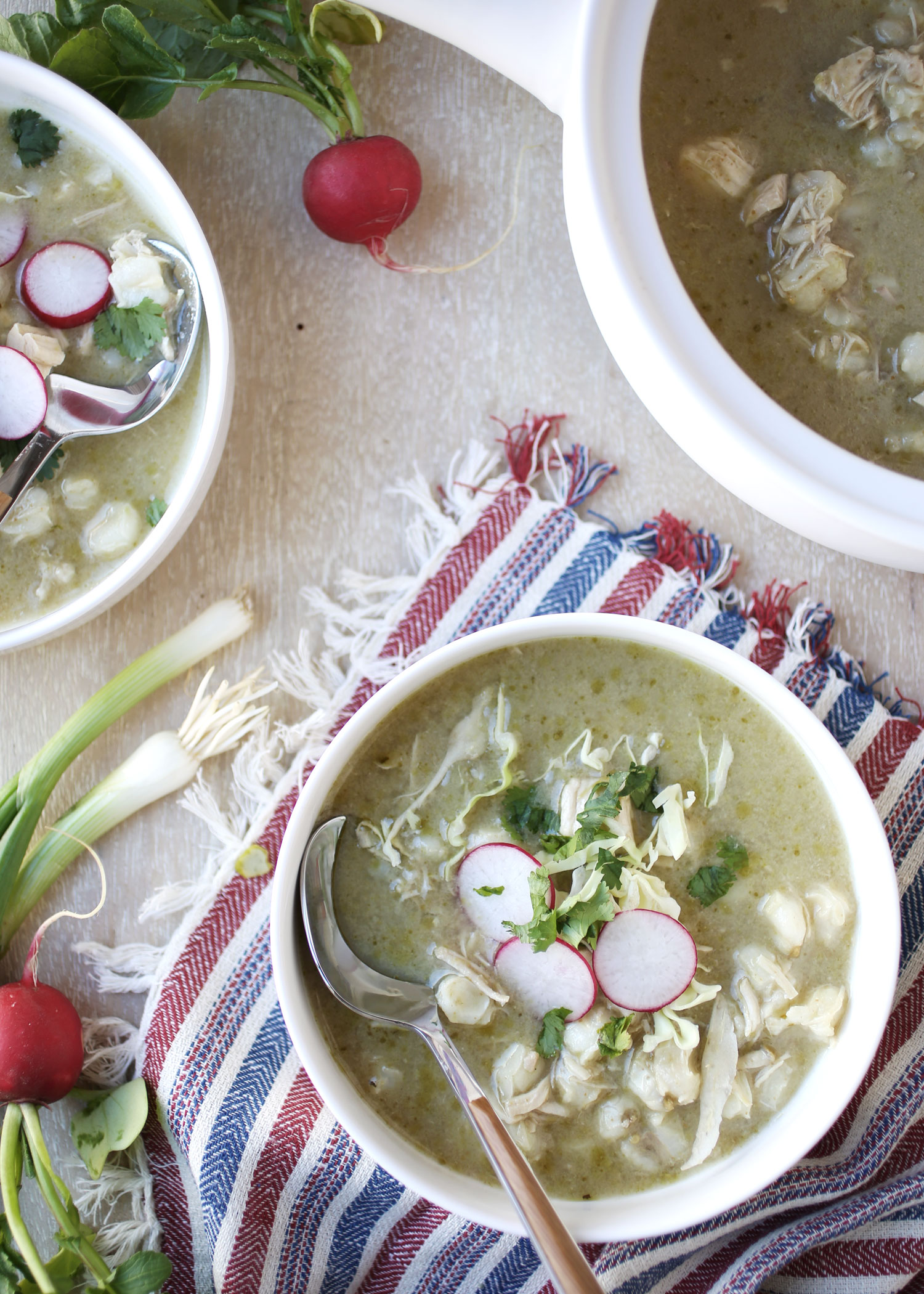 For the record, this is not just any pozole. It's a bonafide, certified, straight-from-a-Mexican-grandmother's-mouth pozole. It comes to us from my boyfriend's grandma Bella, who grew up in Xalapa. She arrived here in the States in the 60's, bringing with her an encyclopedia's worth of mouthwatering regional recipes and carefully honed cooking techniques. Everything that emerges from her kitchen is outstanding—her flan, her tamales, her tres leches cake—but my boyfriend maintains that her authentic mexican pozole verde recipe tops them all. And when I tasted it over the Christmas holiday, I was inclined to agree.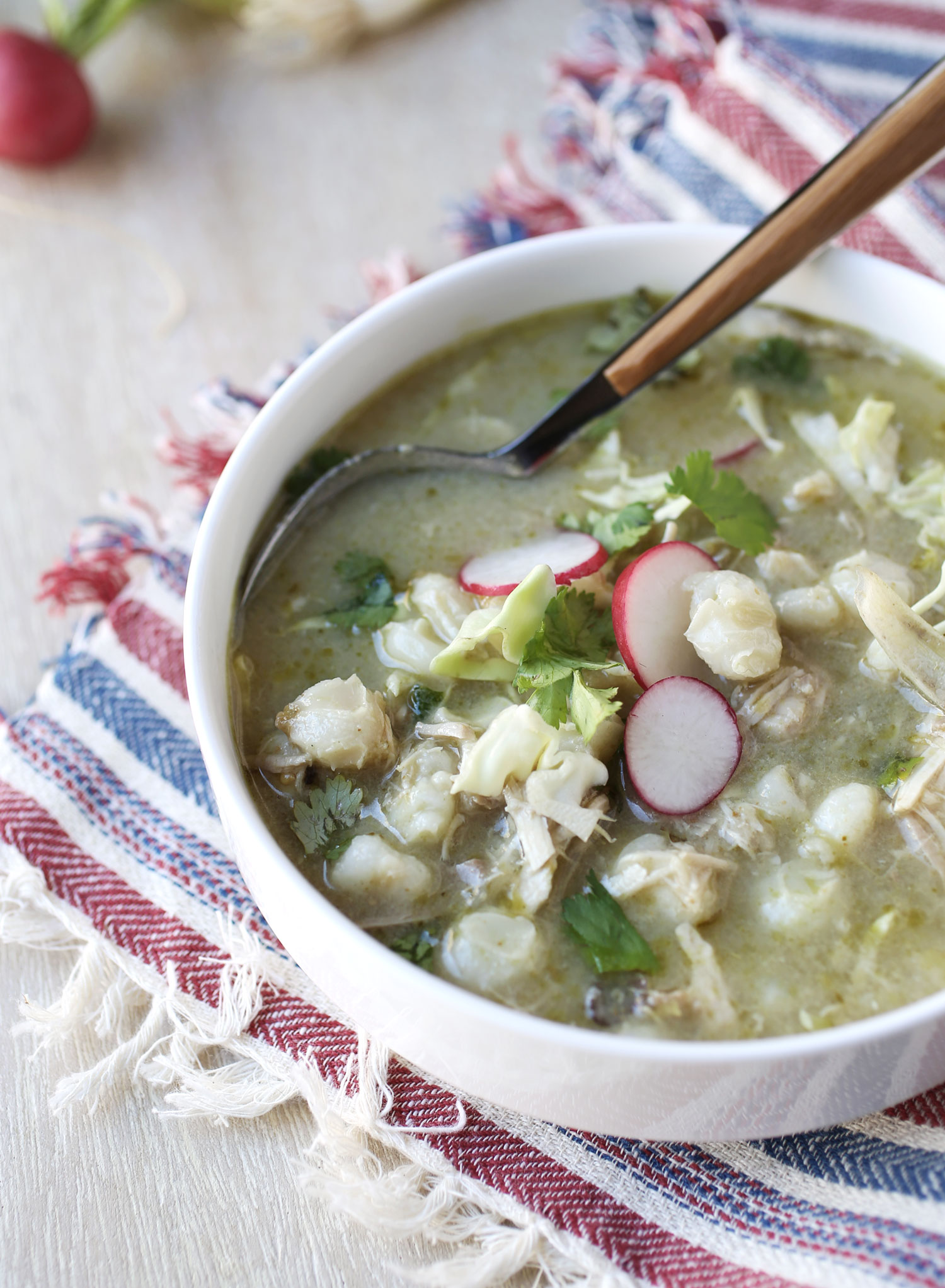 My favorite part of this pozole is how darn foolproof it is. With a short list of inexpensive ingredients and minimal time in the kitchen, you'll find yourself in possession of a warming winter soup that's hearty but not heavy, flavorful but not overpowering, and ripe for piling high with bright and crispy toppings. Plus it grows more delicious the longer it sits in the fridge, so it's ideal for a Sunday afternoon simmer that leads to a quick and easy Monday night dinner. In true grandmother style, Bella serves up her pozole with a big smoochy kiss, something I encourage you to do as well—because love takes even the tastiest meals to the next level!
Bella's Authentic Mexican Pozole Verde Recipe
serves 8-10 as a generous meal
2 boneless/skinless chicken breasts, cubed
1 lb lean pork, cubed
1 white onion, diced
8 cloves garlic
16 cups water
Salt to taste
One 25 oz. can hominy (Bella uses Juanitas Mexican hominy, which has bigger kernels than American hominy)
1/2 lb tomatillos
1/4 tsp ground cumin
1 jar mole verde (Bella insists on Rogelio mole verde)
cilantro (Bella says to use a "lotta lotta", i.e. a couple big handfuls )
Diced white onion, shredded cabbage, sliced radish, lemon wedges, and dried oregano to garnish
Place meat in a large stock pot with onion, 4 cloves of crushed garlic, a dash of salt, and water. Bring to a boil on high, then turn heat to medium-low. Simmer until the meat gets soft, approximately one hour.
Meanwhile, remove husks from tomatillos and rinse. Place on a baking pan, spritz with cooking spray, and roast at 400 degrees until soft, about 20 minutes. Let cool, then puree in a blender with cilantro, remaining 4 cloves of garlic, and cumin. Set aside. 
45 minutes into the meat's 60-minute cook time, add hominy to the pot and continue simmering. When the meat and broth are done, place mole in a small saucepan over low heat. Thin out mole paste by slowly stirring hot broth into the mole a spoonful at a time. Once mole paste is fully dissolved, add tomatillo puree and stir to combine, then add the whole mixture to the stock pot with the meat. Simmer another 10 minutes, then check in with the flavors to add additional salt as needed. Serve with a selection of diced onion, shredded cabbage, thinly sliced radish, lemon wedges, and dried oregano. Encourage diners to pile those toppings high and slurp that broth extra loud!
P.S. If you're in a soup mood like me, be sure to try my dairy-free cream of parsnip soup too!