As I've gotten older and my self-confidence has increased, I've been come less shy about saying I want to have it all. A thriving career and a healthy relationship. Full, productive work days and quiet, restorative evenings. Stability and peace-of-mind, as well as spontaneity and adventure. It comes down to having a mindset of abundance, and its available to all of us. Each of us deserves without question to have our very best life!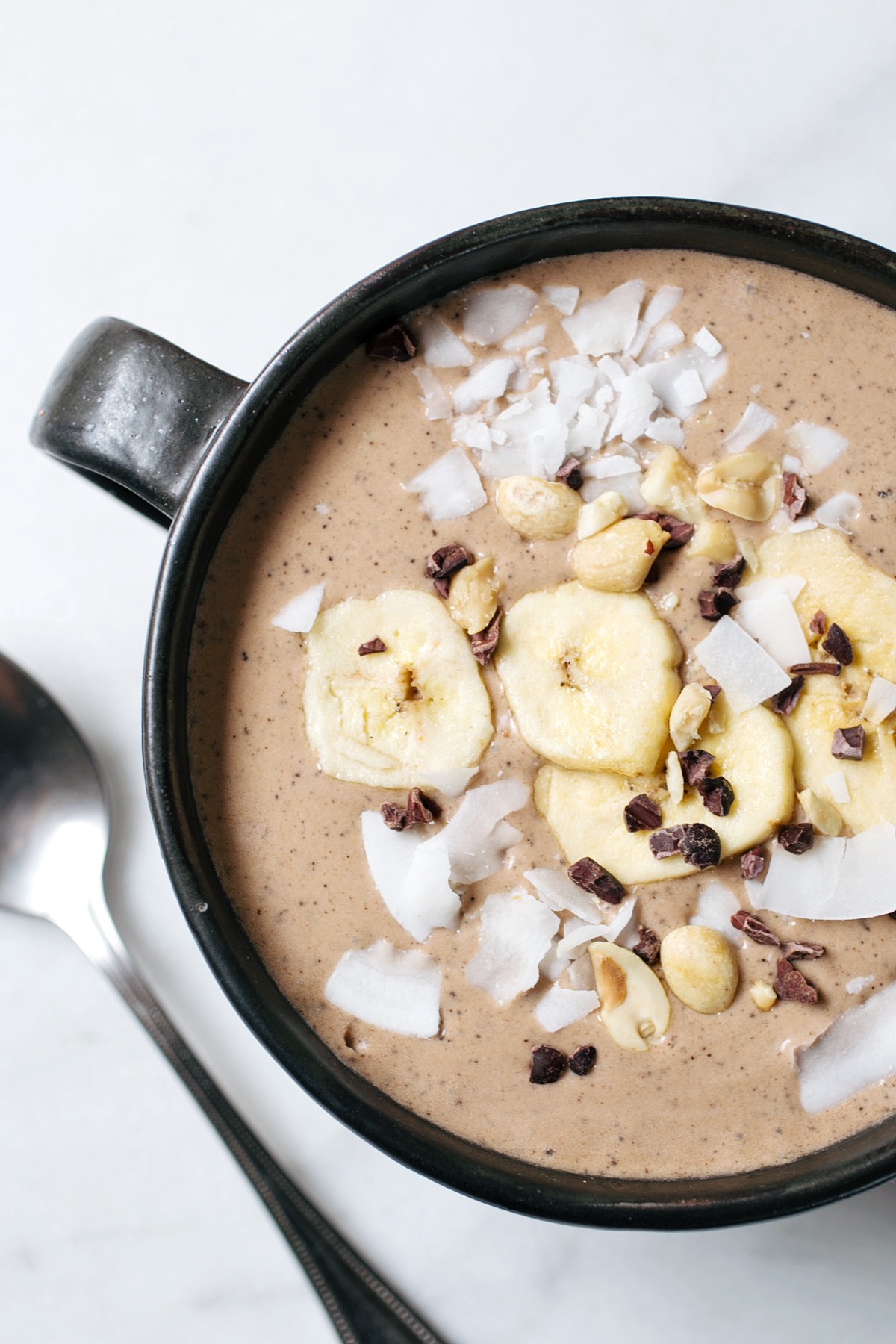 The more I embrace the concept of abundance, the more I'm finding that with intention and prioritization, it's 100% possible to have it all. Sure it's a balancing act—sometimes I still take on too much, but how else will I know my limits if I don't test them?—yet with trial and error I'm figuring things out. Finding go-to's for keeping up with my jam-packed routine has also helped, and the new OLLY Smoothies are the culinary embodiment of having it all. Each serving offers up a blend of plant-source protein, satiating fiber, and whole foods source vitamins and minerals. Oh, and did I mention they taste better than a trip to the ice cream aisle?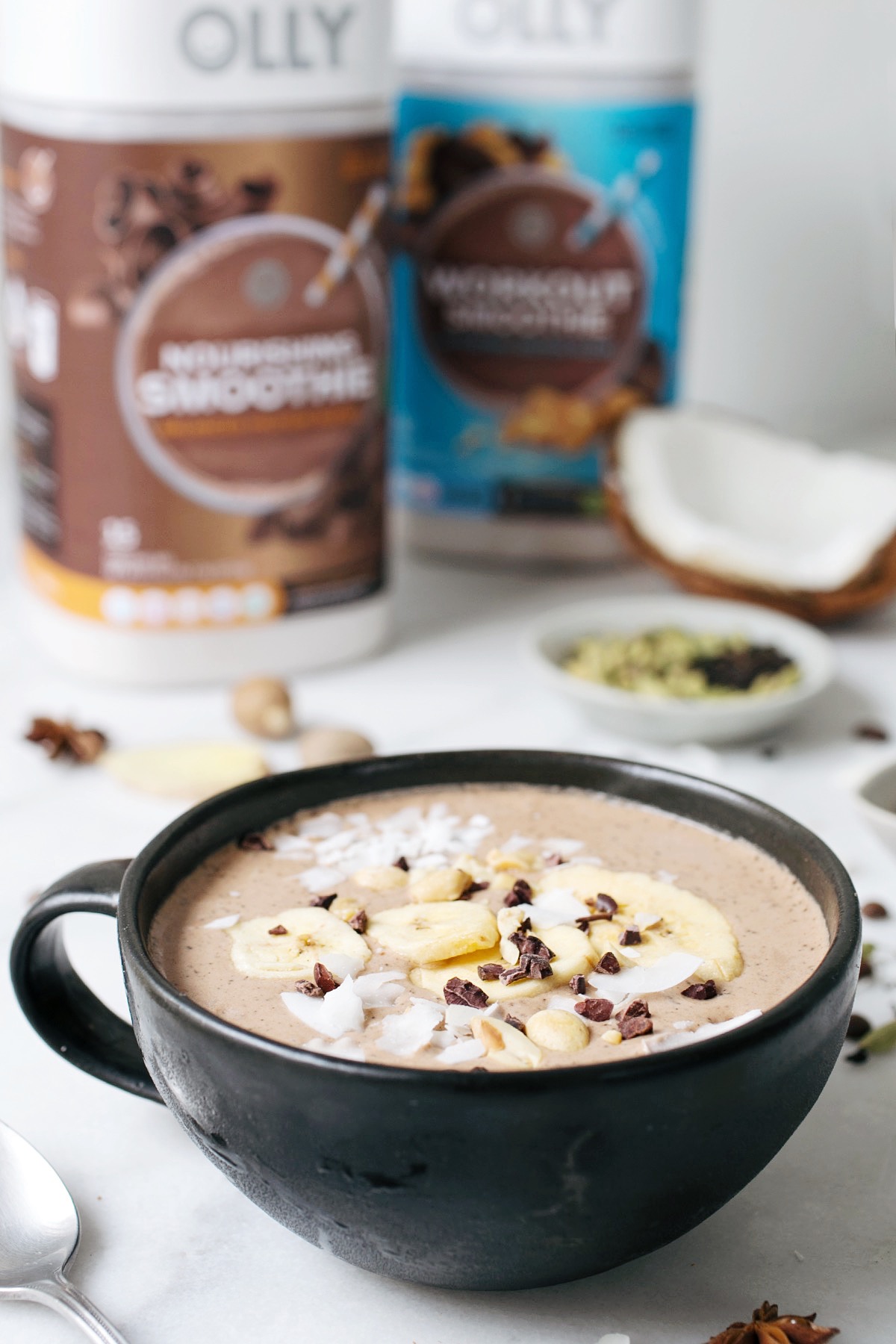 In the name of having it all, I developed this cold and creamy bowl recipe that puts the new OLLY Smoothie blends in the spotlight. It's inspired by my favorite coffee shop order, the dirty chai! A chai latte with a shot of espresso is the very definition of having it all—spicy tea, earthy coffee, smooth milk—and this smoothie bowl brings those flavors to life in frozen form. It even goes the extra mile and includes chocolate and peanut butter in the mix too! For breakfast, it's an eye-opening and energizing start to the day; after a workout, its a lip-smacking, muscle building snack; and for dessert, it's an indulgent treat that you can feel good about enjoying!
To get your hot little hands hands on new the OLLY Smoothies, head over to enter their Smoothie Style Sweeps. Everyone who signs up will receive a coupon for $5 off OLLY Smoothies at Target, and the grand prize winner gets a 6-month supply of OLLY Smoothies, a Harley Pasternak power blender, and hundreds of dollars in gift cards from Target and Athleta! It's the ultimate in healthy, delicious, and fun abundance—because why not have our smoothie and eat it too?
Mocha Chai Smoothie Bowl
Serves 1
1/2 frozen banana
6 coconut chai ice cubes (recipe below)
1 scoop OLLY Chocolate Peanut Butter Smoothie
1 scoop OLLY Pure Chocolate Smoothie
1 tsp espresso powder
3/4 c unsweetened almond milk (more or less depending on desired thickness)
Your choice of toppings: Cacao nibs, banana chips, peanuts, and coconut flakes are a great combo!
Place first six ingredients in a blender and blend until smooth. Pour into a bowl and sprinkle with your choice of crunchy toppings!
Coconut Chai Ice Cubes
2-inch piece fresh ginger, cut into thin rounds
2 cinnamon sticks
2 teaspoons black peppercorns
10 whole cloves
6 cardamom pods
1.5 cups water
1.5 cups full-fat coconut milk
3 bags Darjeeling tea
Combine spices ingredients in medium saucepan. Add 1.5 cups water; bring to boil over high heat. Reduce heat to medium-low, add coconut milk, and heat until almost at a boil. Remove from heat. Add tea bags and steep five minutes, then remove tea bags and let liquid and spices sit for at least 4 hours and preferably overnight. Pour into 2 ice cube trays and freeze. These ice cubes are not only great in smoothies but also added to iced coffee!