Oh boy, you guys, do I have a good one in my Science of Fashion Series for you today! The holidays are barreling towards us like a runaway gingerbread freight train (mmm…cookie train) and with them comes the eternal question of WHAT TO WEAR! There's no end to the holiday dressing conundrums we face each year. We want to look cute, festive, and put-together, but we also leave ourselves room to grow a food baby at the family dinner table. The good news is that you don't have to pull a Joey Tribiani and invest in a pair of Thanksgiving pants. Instead, you can enter to win a $500 shopping spree from Ruti, one of my new favorite fashion labels! Ruti is known for their beautifully draped and voluminous (yet supremely flattering) designs—so this season you can raid the dessert table in style!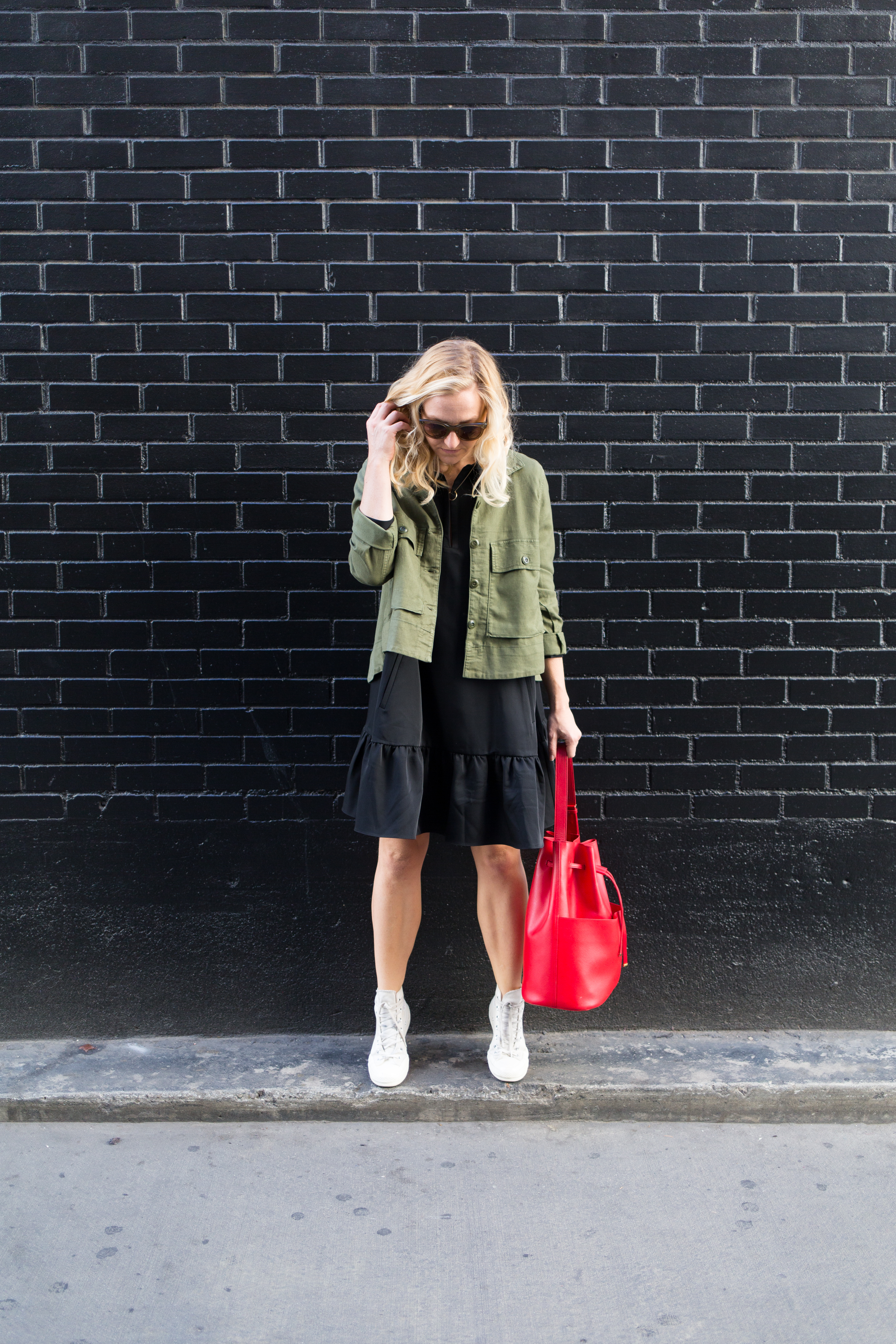 The black dress I'm wearing in this outfit is a perfect example of Ruti's signature look. It's so simple and impactful on the surface, with a fluid shape and tons of movement. Then, on closer inspection, you start to see the special details that make it a wardrobe standout. Pockets and a slit-neck opening offer a utilitarian contrast to the girly, playful silhouette. And a wide ruffle hem is feminine but in a bold, architectural way. I have been wearing this dress non-stop since I got it and it's going to get me through many a cocktail gathering in the coming weeks!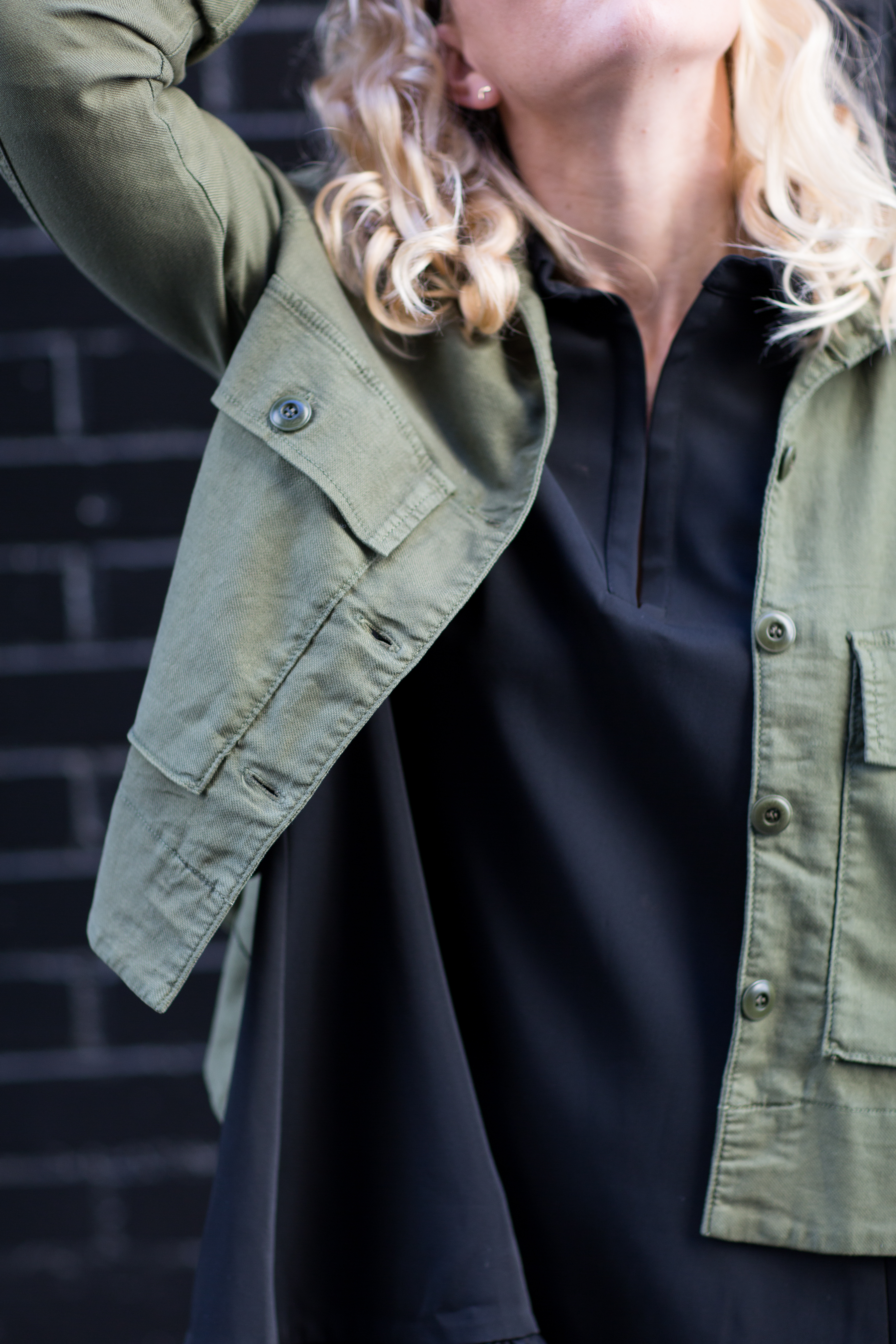 As for the rest of the ensemble, I consulted my Science of Fashion guru Catherine Sheppard at The Life Styled to accessorize without overshadowing the dress itself. An army jacket with a cropped, pleated construction complements the dress's tomboy personality, as does hi-top sneakers with a fun graphic. The A-line of the jacket also echoes the shape of the dress, which is important when you're working with volume. You don't want your outerwear to create any weird cinching!


So! It's time to make a Ruti outfit your own! It couldn't be easier, just use the widget below to enter as many times as you'd like! I'll be selecting a winner at random in one week, and the lucky gal will get $500 to shop the Ruti website. The only hard part will be deciding what to get, because from flowy dresses and pants to party-perfect sweaters and shoes, everything is perfect for your holiday wardrobe and beyond!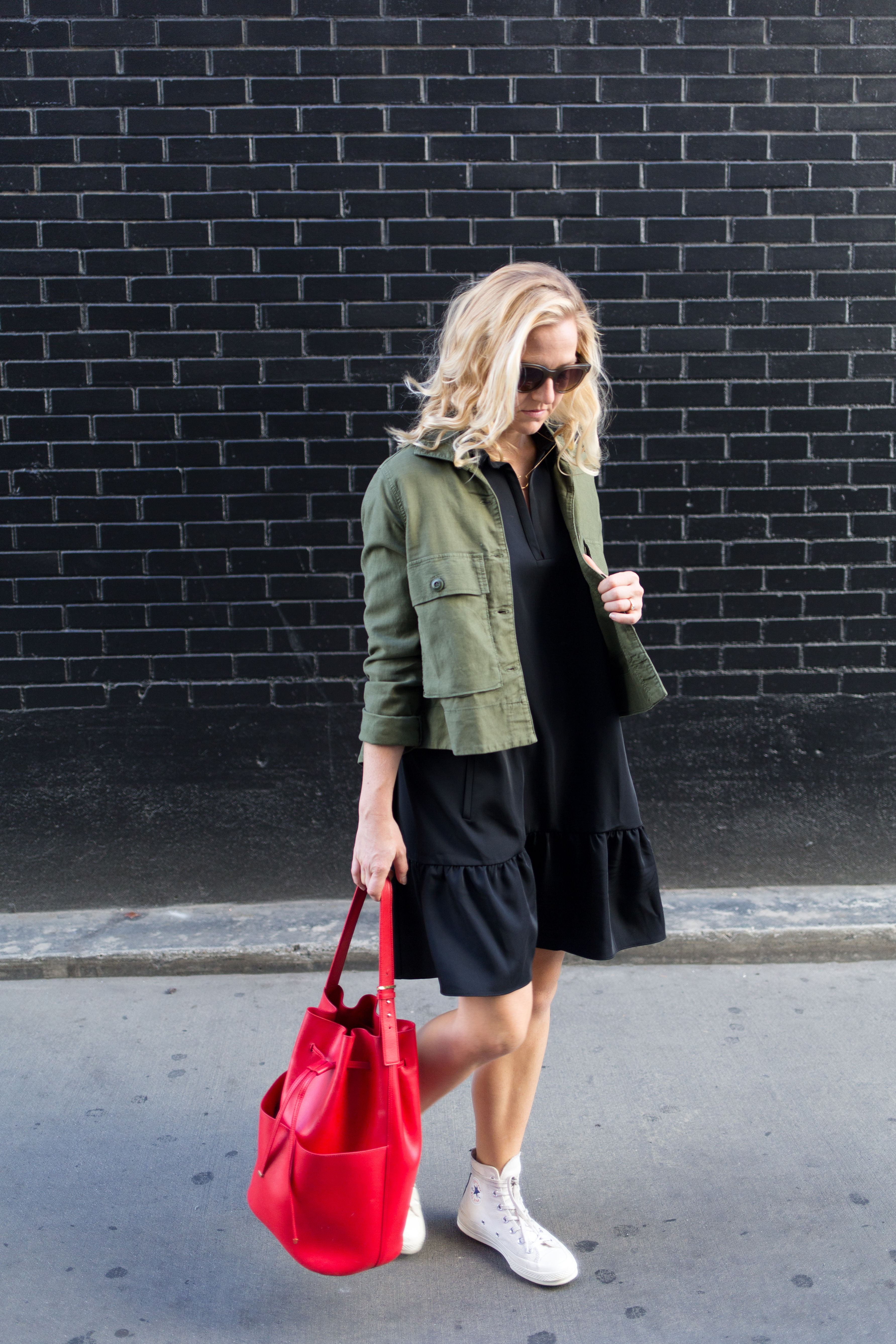 Shopping Guide: 1. The Great Swingy Army Jacket 2. Ruti Ruffled Minimalist Black Dress 3. Cuyana Red Bucket Bag 4. Commes des Garcons x Converse Hi Top Sneakers Photos: Joanne Pio Photography