When it comes to holiday decorating, the kitchen is one of the most overlooked rooms in the house—yet from baking cookies to serving up a family feast, it's the one we tend to spend the most time in during the festive season! This hardworking room deserves a festive update just as much as the rest of the house, so to explore my favorite holiday decorating ideas for the kitchen I turned the one at Light Lab into a winter wonderland! It was so much fun and way easier than I expected. I couldn't be jollier about how it turned out! Here's the key tips I used to bring the vision to life.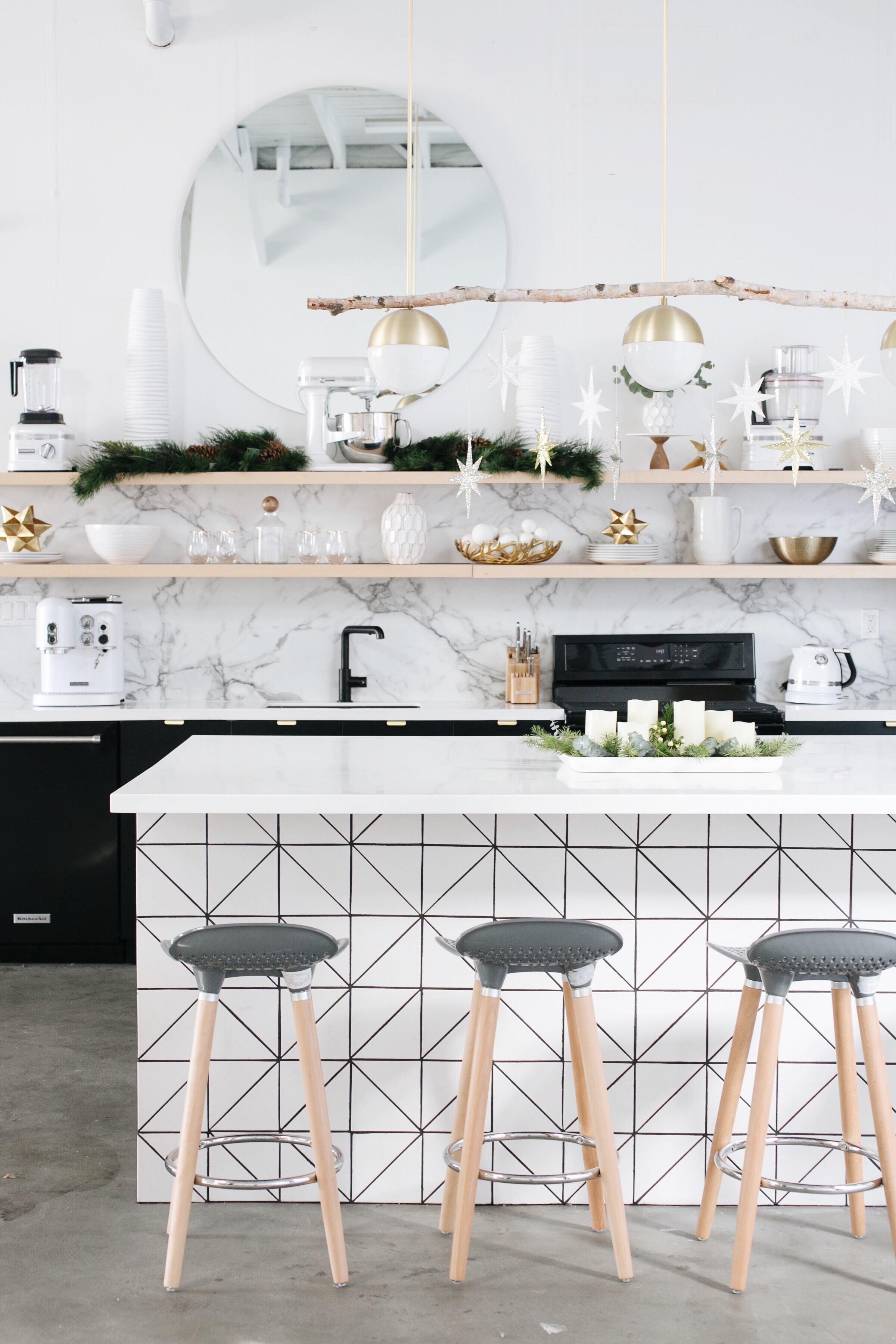 Create your own theme. Santas and reindeer are fun, but there's more to holiday than the North Pole! Dream up an aesthetic that appeals to you beyond just the holidays and explore all the ways you can bring your vision to life. Use decor accents and ornaments that are in keeping with the color palette, textures, and motifs of your selected theme—after all, the elements of great design still apply at Christmas time! I'm all about Scandinavian minimalism, so I focused on white, gold, and birch accents in keeping with that vibe.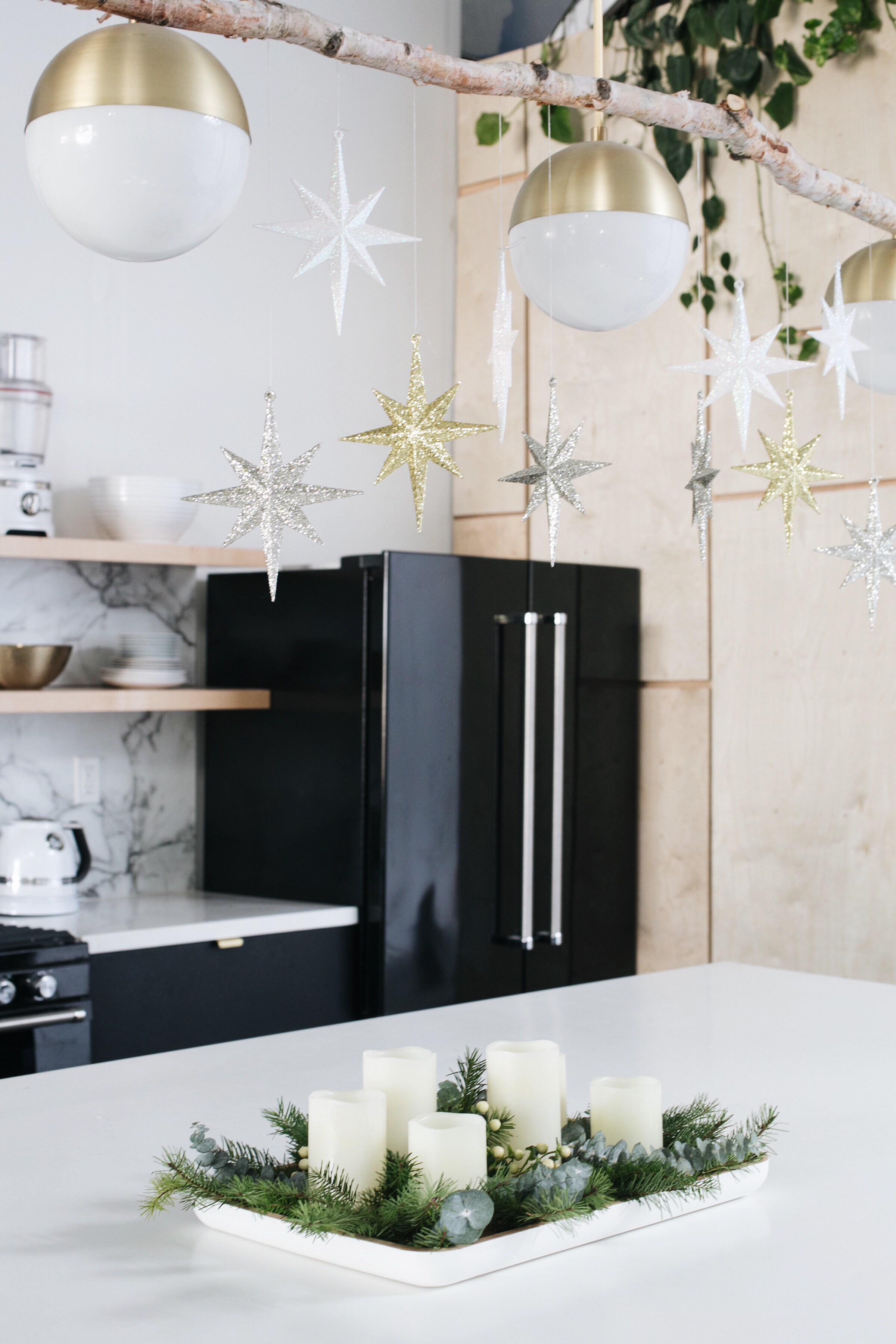 Use a restrained hand. Holiday decor can easily feel cluttered when you're adding baubles and bells to your space. To maintain a streamlined look, think 'edit' rather than 'layer' when you're decorating. Take a look at the existing items on your shelves and trade them out: a mini christmas tree takes the place of a ceramic vase, a framed snowflake print replaces non-seasonal artwork. Even a serving tray gets a holiday update with a few candles and some greenery. Subtle touches go a long way!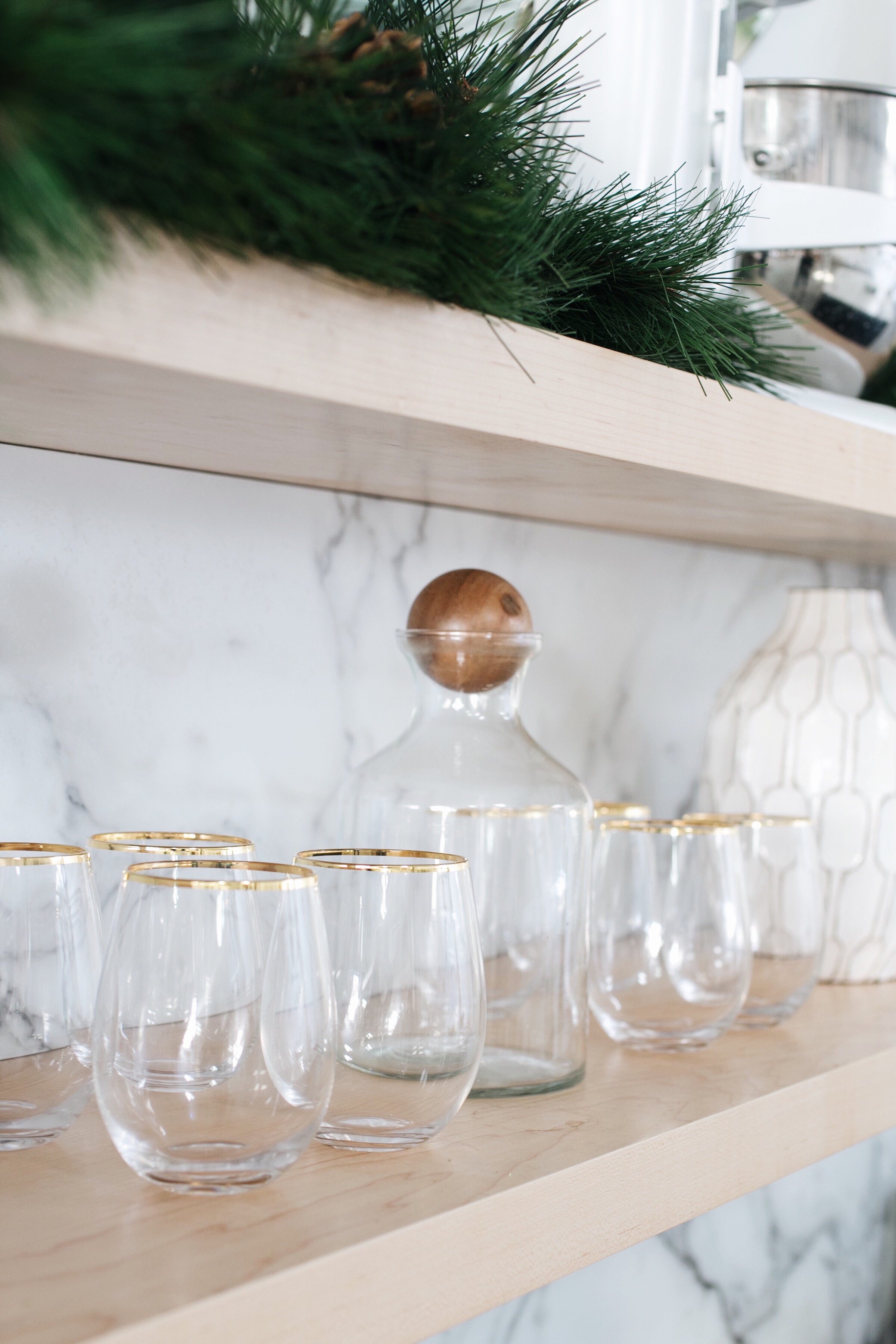 Think outside the box. Decor needn't be labeled 'holiday' to strike a festive note! Look for pieces that are a spirited upgrade to your everyday items. For example swap your entertaining basics for those with metallic touches, like gold-rimmed wine glasses or a copper serving tray. You'll set a tone that's in keeping with the season but sophisticated too.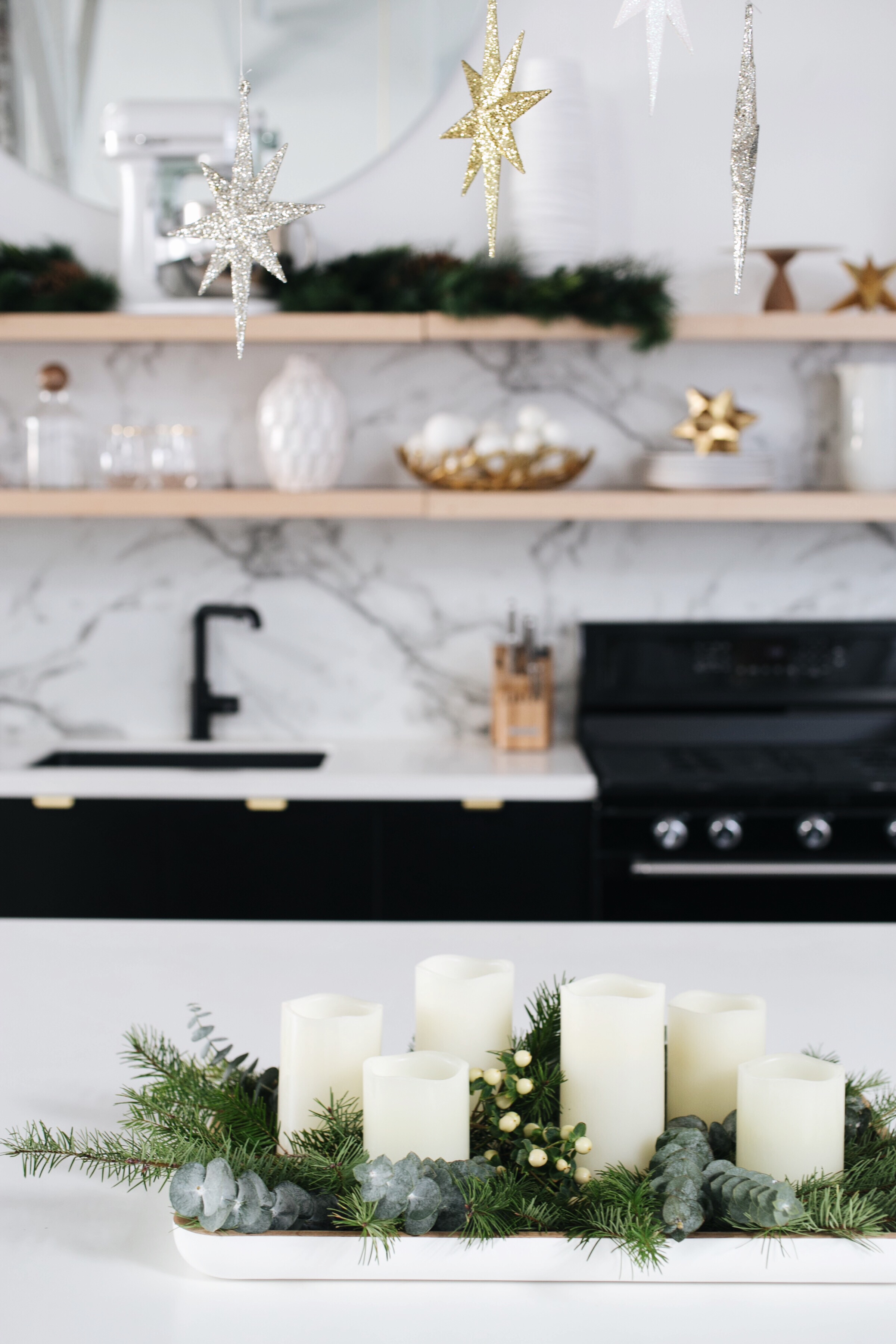 Think vertically as well as horizontally! Whenever I'm styling I'm always thinking about how I can add visual interest in all planes of space, and that includes my holiday styling for the kitchen! Pendant lights lend themselves perfectly to a sparkling star installation that I created with a birch branch and some fishing line. The result is a scintillating and dynamic moment that's also elegant and eye-catching, ready to delight you all season long!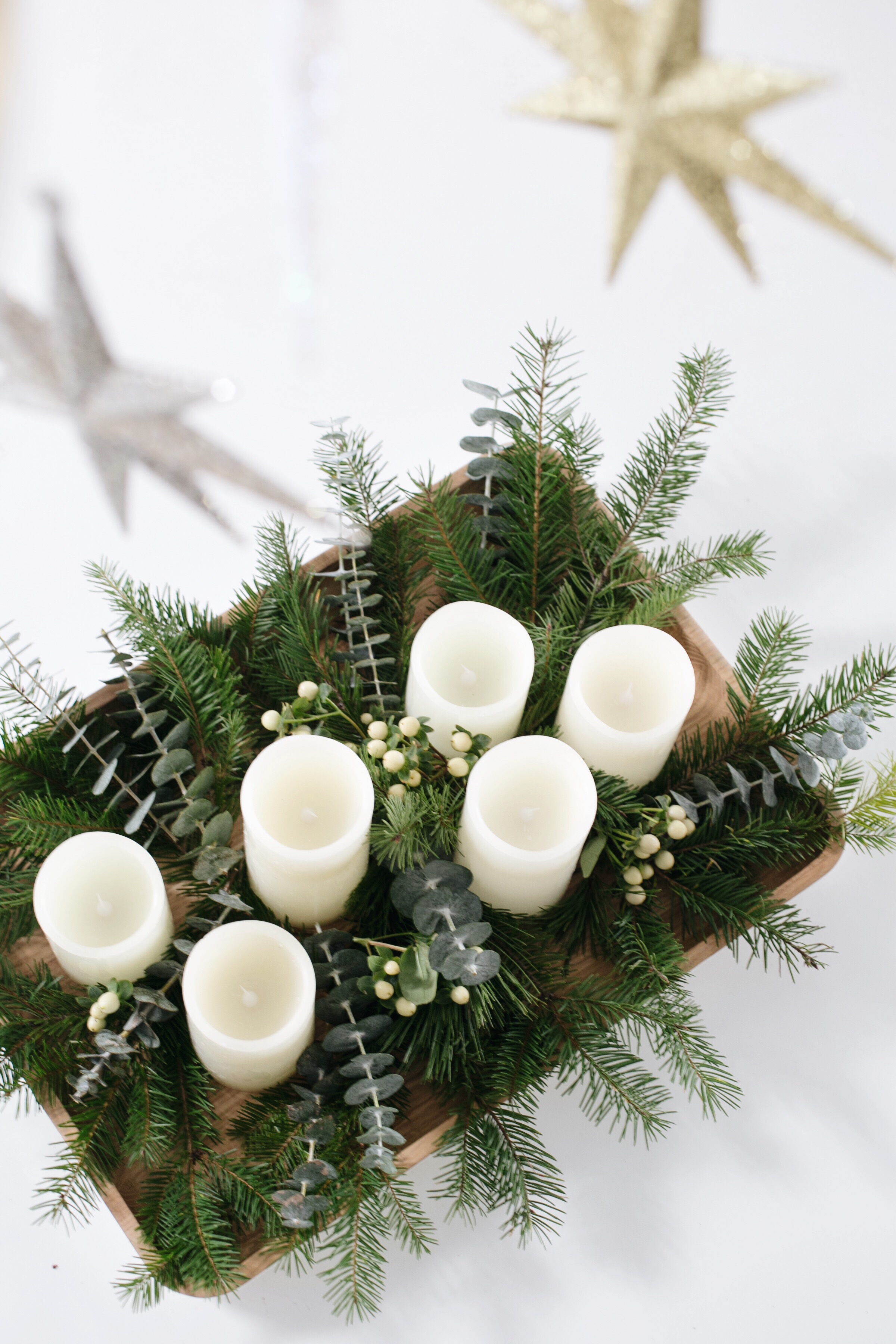 Photography and Styling: Anne Sage. Shopping Guide: DHP Vienna Counter Stool. Holiday Greenery Sprays. Gold Rim Stemless Wine Glasses. Scandinavian Wood Serving Tray. Gold Star Figurine Set. White Birch Branch. White Nordic Vases. Gold Serving Bowl. Champagne Star Ornaments. Gold Star Ornaments. Silver Star Ornaments. White Star Ornaments. Disclosure: I partnered with Overstock.com to style, photograph, write, and share these holiday decorating ideas. All opinions are and always will be my own. Thank you for supporting the brands that allow me to bring fresh inspiration to you!