Can you believe that Christmas is less than a week away? I certainly can't. Everything feels so last minute this year! I've not bought or wrapped a single present, nor have I given a single thought to the dish I'll be contributing to my family's feast. If your plans for the big day are as nonexistent as mine, then you'll definitely want to crib this gorgeous yet super easy table setting from onefinestay. The company is known for their impeccable curation of vacation rentals from gorgeous homes around the world, and they put together a holiday look book inspired by some of their most memorable properties. This tabletop was shot at one of their Parisian rentals (I mean, could that fireplace vignette exist anywhere else?!) and its the epitome of minimalist, sophisticated elegance. The good news is that you don't have to travel to France to get this look yourself. In fact, you probably already have most of what you need to create it!
Easy Centerpiece Idea: Ain't nobody got time for a giant floral arrangement! The visual (and logistical!) appeal of this table decor is in its simplicity. The organic character of petite pinecones blends with the faded glamour of vintage Christmas balls strung with twine. Trail them down the table in single file for a dynamic juxtaposition of rustic and refined—leaving plenty of space for serving platters in the process!
Casual Place Setting How-To: Forget what you've read in the etiquette books! There's a time and a place for perfectly folded napkins and Emily Post approved flatware positioning. Placing the napkin on the dinner plate, underneath the bowl, lends an effortless air to this table. Reinforce the je ne sais quoi mood by playing with alternate silverware placement. I promise no one will leave coal in your stocking for getting creative!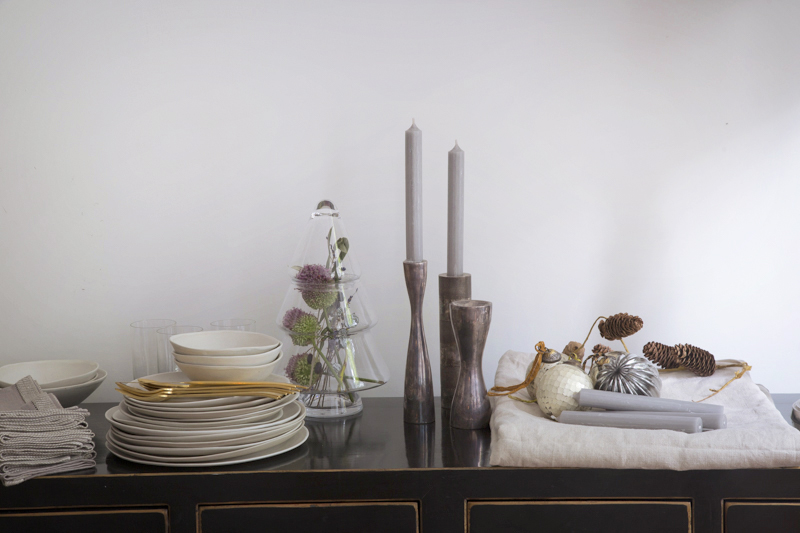 Pretty Palette + Mixed Materials: If you've been around this blog for even a short length of time, you know I preach styling with a combination of textures for maximum effect! The mix here is especially alluring: soft grey taper candles meet roughhewn linen; matte and polished gold meet tarnished pewter; and sparkling crystal wobbly ceramics. The tones are muted but the surfaces are dynamic, making for a table that invites diners in and keeps them there all evening long!