It's Tuesday, and I'm popping in with another installment of Two Girls, One Kit! We took things out of the studio for a little fresh air and both Caroline and I have decided that this is our favorite look yet! I love it because it's comfortable, breezy, and as pajama-esque as its possible to be while still being presentable in public. Caroline loves it because, well, it's her signature color: pink!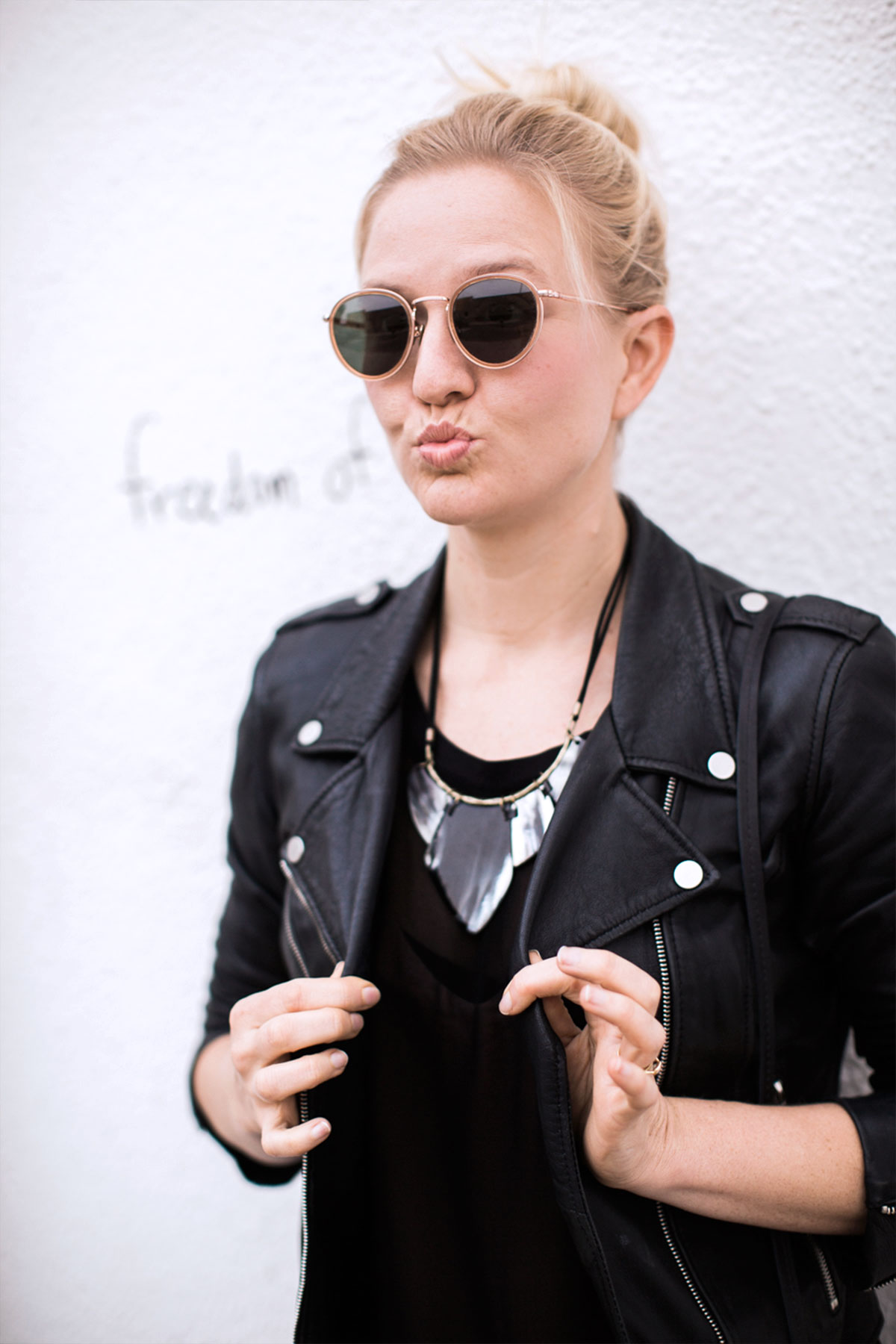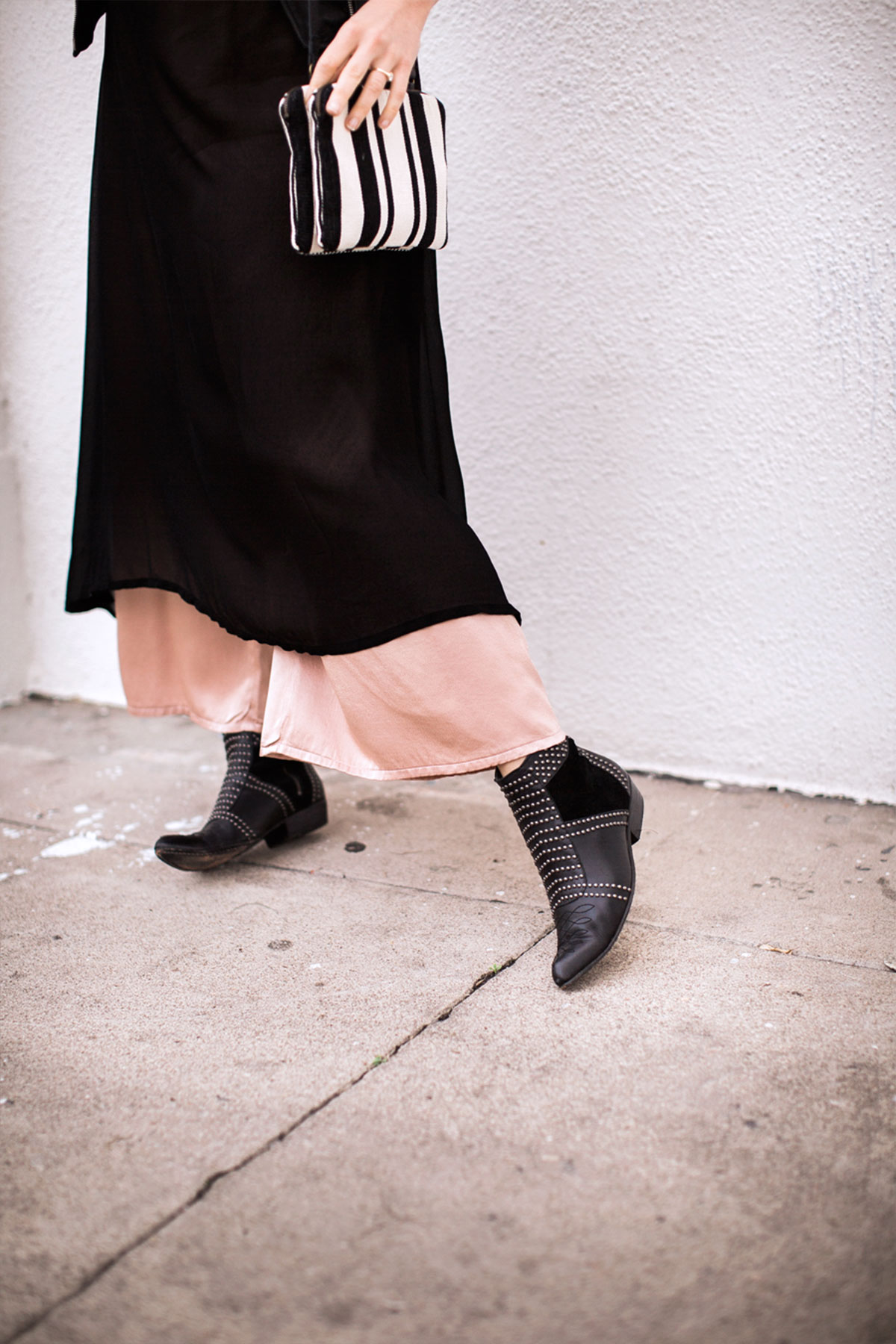 The piece in question is a rose satin jumpsuit by the LA-based label LACAUSA. The brand is known for its easy, flowy fits and sumptuous fabrics, both of which are on full display with this jawdropper! Believe you me, I lobbied hard for us to style the navy blue one, but in the end I didn't have the heart to deny Caroline the opportunity to bask in pink satin. So I took one for the team. The struggle is real!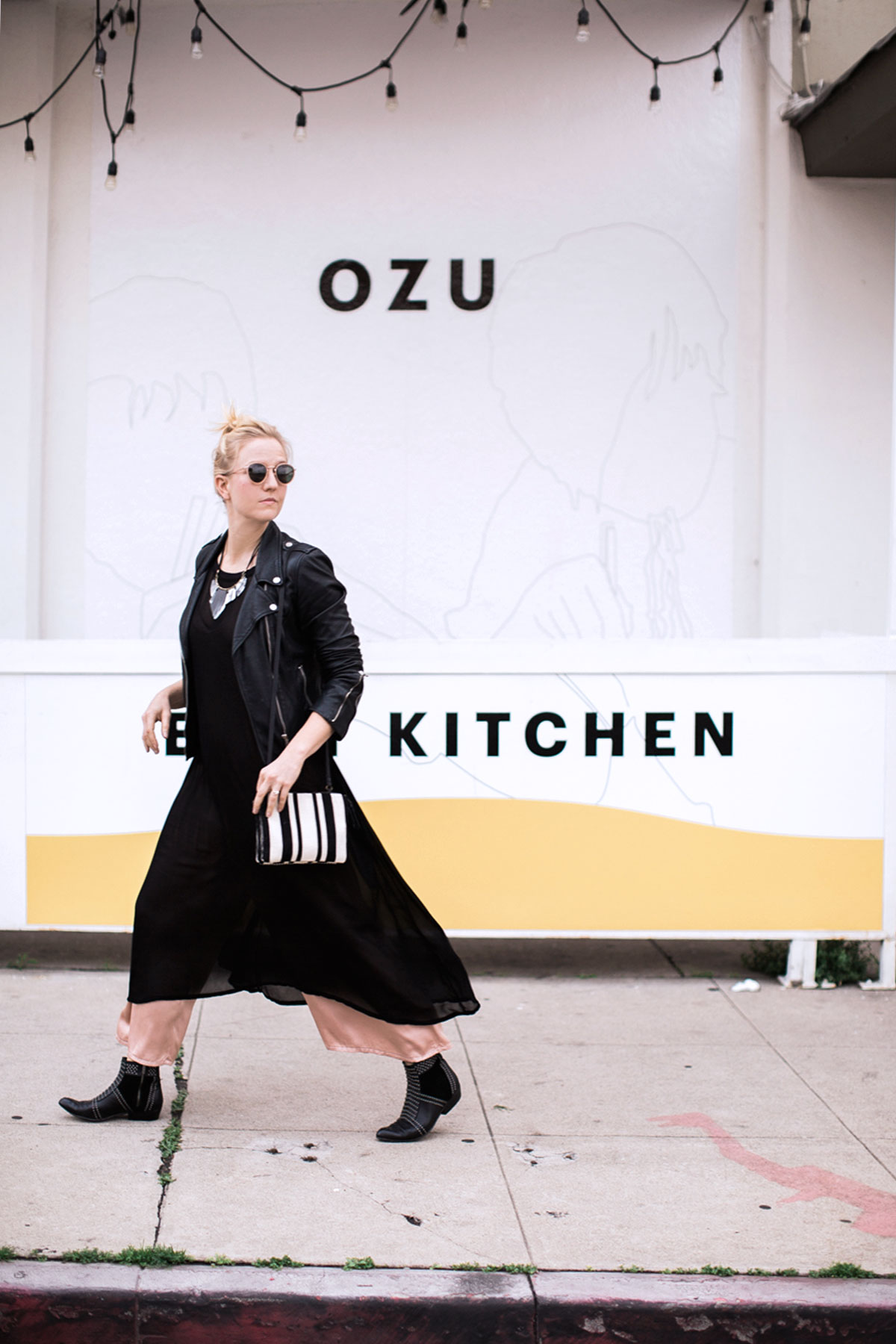 As it turned out, I had no problem fitting the pink into an outfit that felt 100% me! The trick was simply a little strategic layering, in this instance underneath a sheer black midi dress (also by LACAUSA…isn't their stuff FAB?). The filmy quality of the black dress tones the pink's presence down in a major way while still allowing it to show through when I move. Badass accessories, like studded booties and a biker jacket, add edge; and touches of white on my purse and necklace echo the the lightness of the pink. Oh, and since I was living on the edge with color, I tossed on some pink sunglasses too!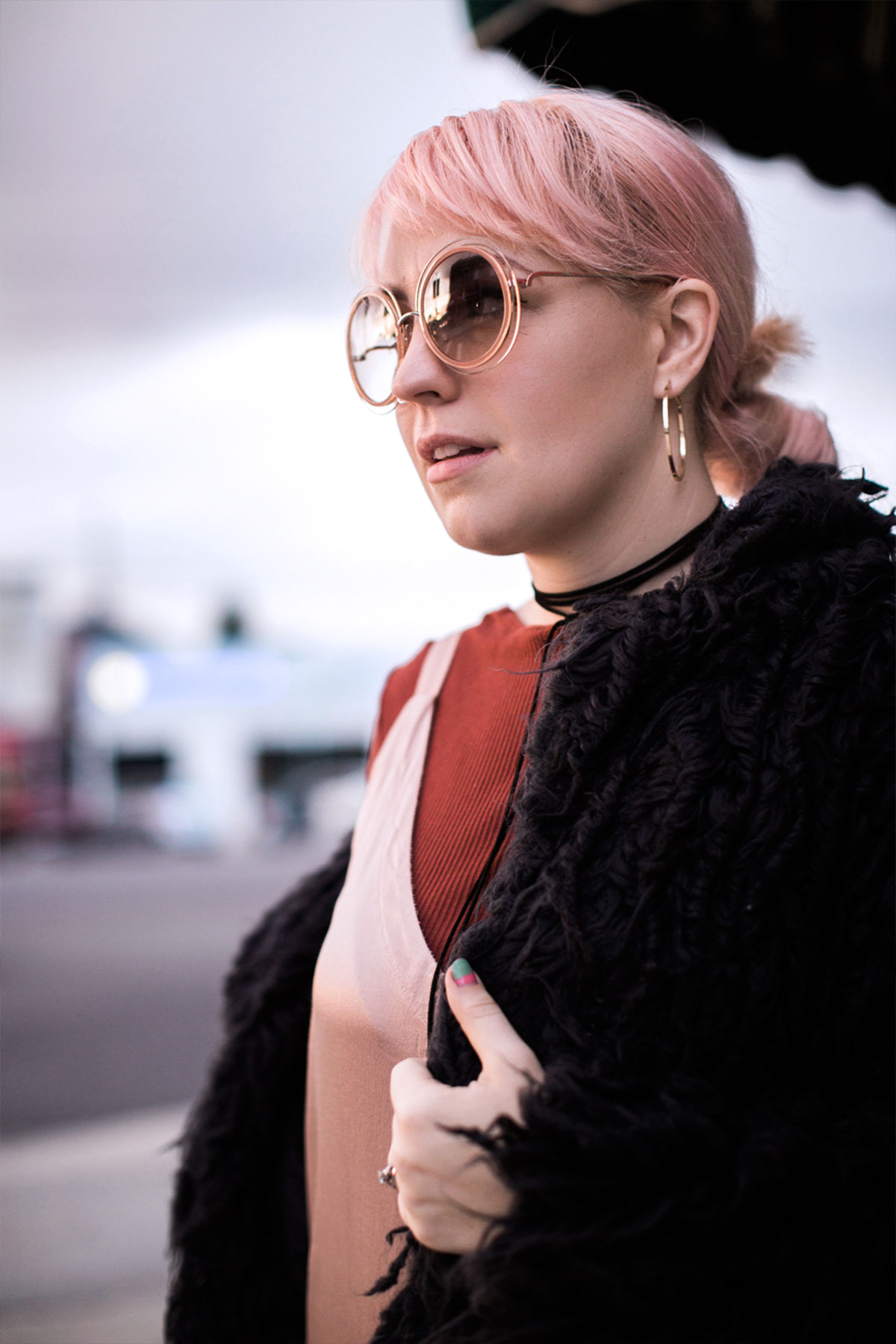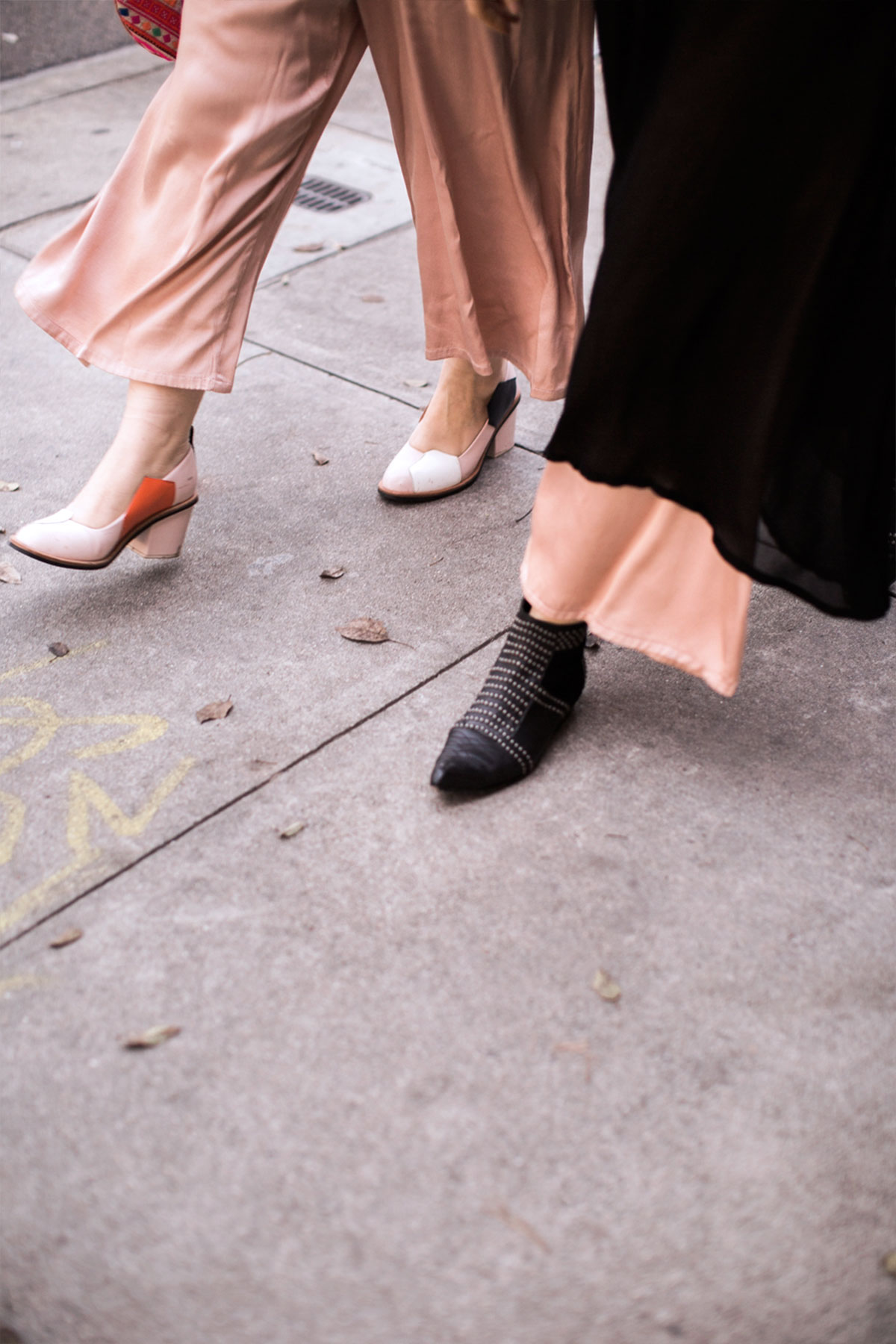 Caroline, of course, ran in a completely different direction! The rose satin paired with her fiery ribbed tee is such an arresting palette combination. A chubby, furry jacket in a cropped shape contrasts with the silkiness of the jumpsuit, and block-heeled pumps anchor the look even further. We couldn't help but laugh, though, when Caroline showed up wearing the her version of my own round shades: big, bold, and glam, they're the finishing touch on a showstopping look!
Images: Echo + Earl. Shopping Guide, On Anne: LACAUSA Pink Satin Jumpsuit. LACAUSA Sheer Black Midi Dress. Madewell Leather Biker Jacket. Steven Alan Optical Bryce Sunglasses. Anine Bing Studded Ankle Boots. On Caroline: LACAUSA Pink Satin Jumpsuit. LACAUSA Rib Scoop Tee (worn backwards). Cropped Faux Fur Jacket. Shoes, Gorman. Oversized Sunglasses, vintage.