My grandma was the queen of salads. She could turn even the humblest assortment of veggies and garnishes into a preparation worthy of a royal banquet. She even had special dishware for each of her creations, from the wide, flat wooden platter onto which she'd assemble a fancy composed salad to the big yellow stoneware bowl she reserved for her summer picnic offerings. Even if she was simply spooning oil and vinegar over greens, she had a magic touch that required no measuring, no effort, just an instinct for what would please the palate and the eye.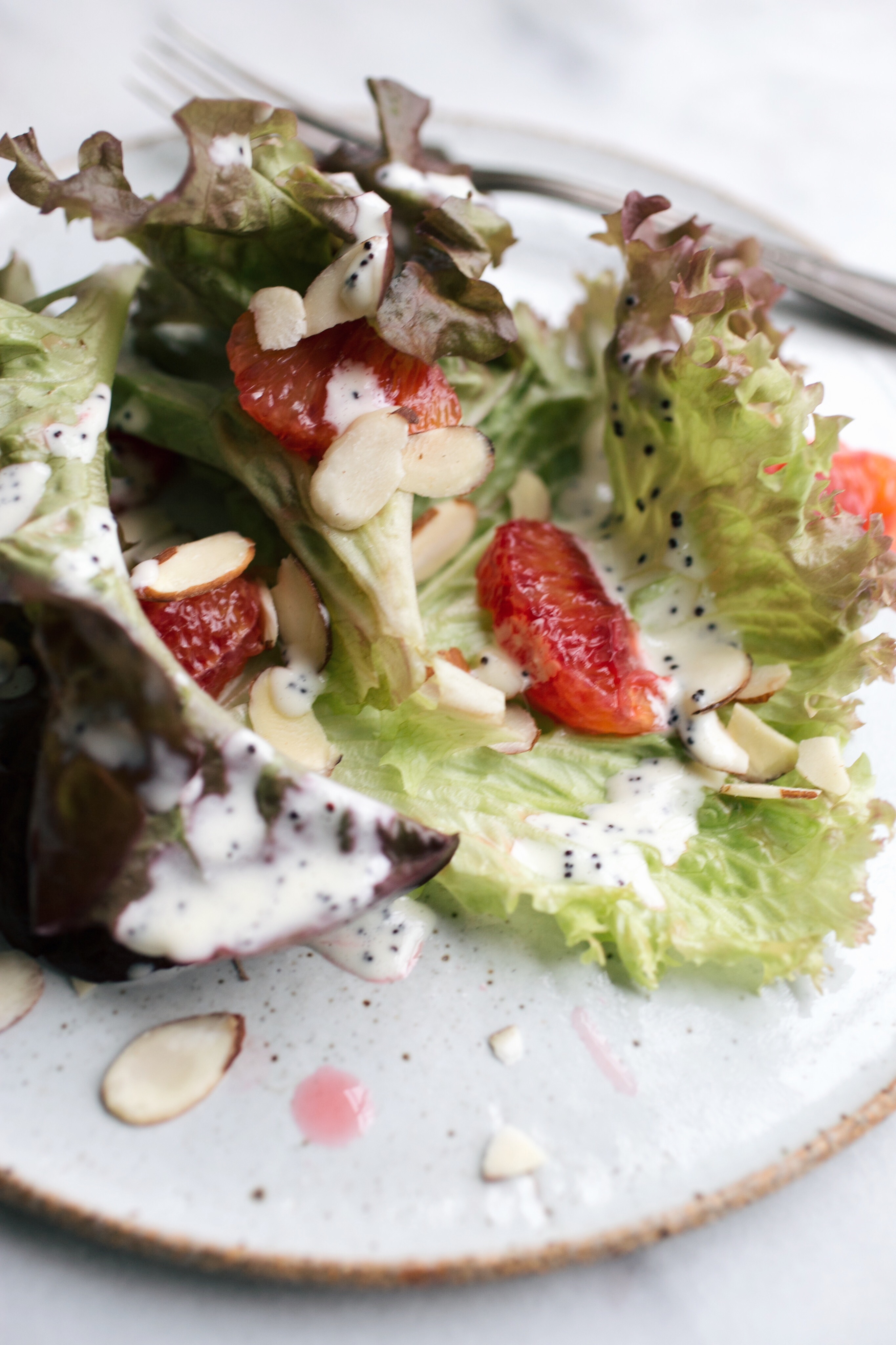 Growing up, my favorite of all her salads was a melange of fresh lettuce, sweet citrus, crunchy almonds and an irresistible poppyseed dressing that I secretly wanted to drink by itself with a straw. She'd whip it up in no time, usually just ripping some butter lettuce apart, popping open a can of mandarin oranges, and tossing it all together. It defied logic how four ordinary ingredients could unite in such an extraordinary way! I always went back for a second helping when this salad was on the table, and often made it at home myself (though of course it never tasted quite the same as hers!)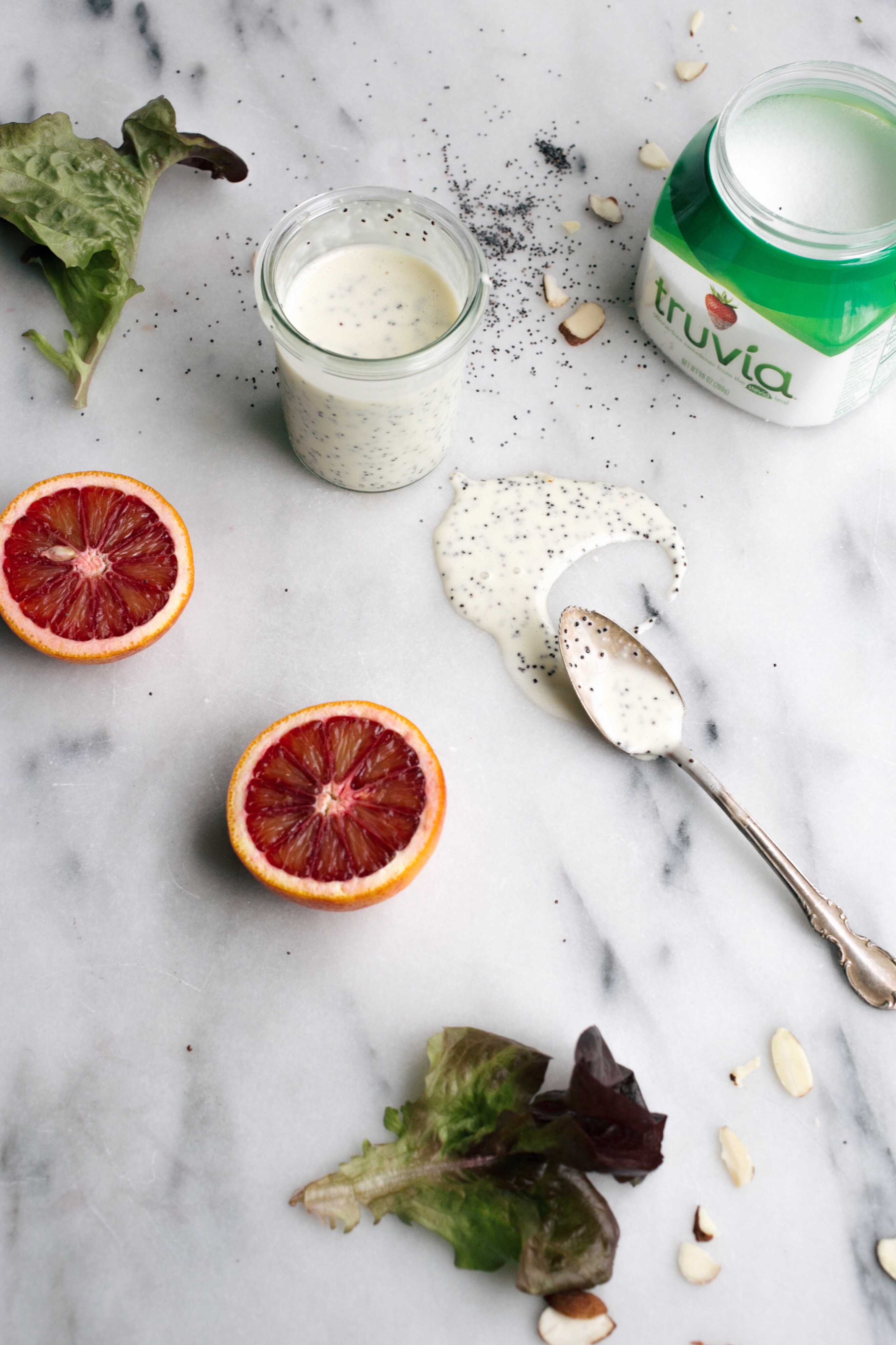 Ever since I started watching my sugar intake, though, this salad has been off the table. It got the axe when I researched how to make my own poppyseed dressing rather buy than the stuff in the bottle, and I discovered that the stuff is so delicious because the main ingredient is a huge quantity of white sugar! (Indeed, I may as well have drunk it with a straw—it's basically a milkshake!) So when Truvia asked me to replace the sugar in one of my favorite recipes with Truvia Natural Sweetener, I immediately started having daydreams of this salad being back in my life again!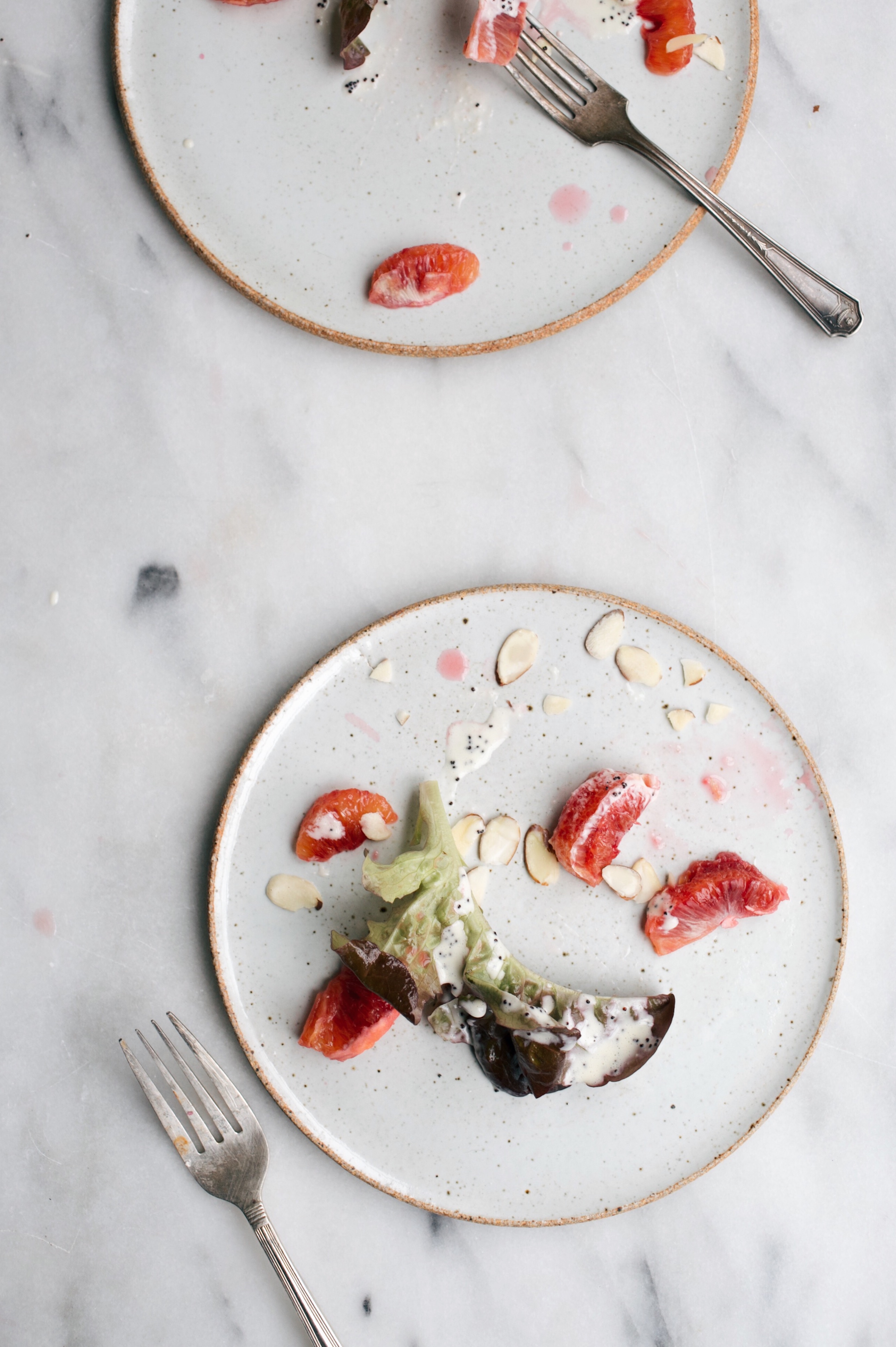 Truvia is a zero calorie sweetener made with stevia leaf extract, making for a no-brainer substitution with serious impact. The poppy seed dressing I made with Truvia has an identical taste, texture, and consistency to the full-sugar version I've been avoiding all these years! There are two ways you can make this salad. The first is quick, easy, and straightforward: just throw everything in a big bowl, toss it all up, and serve.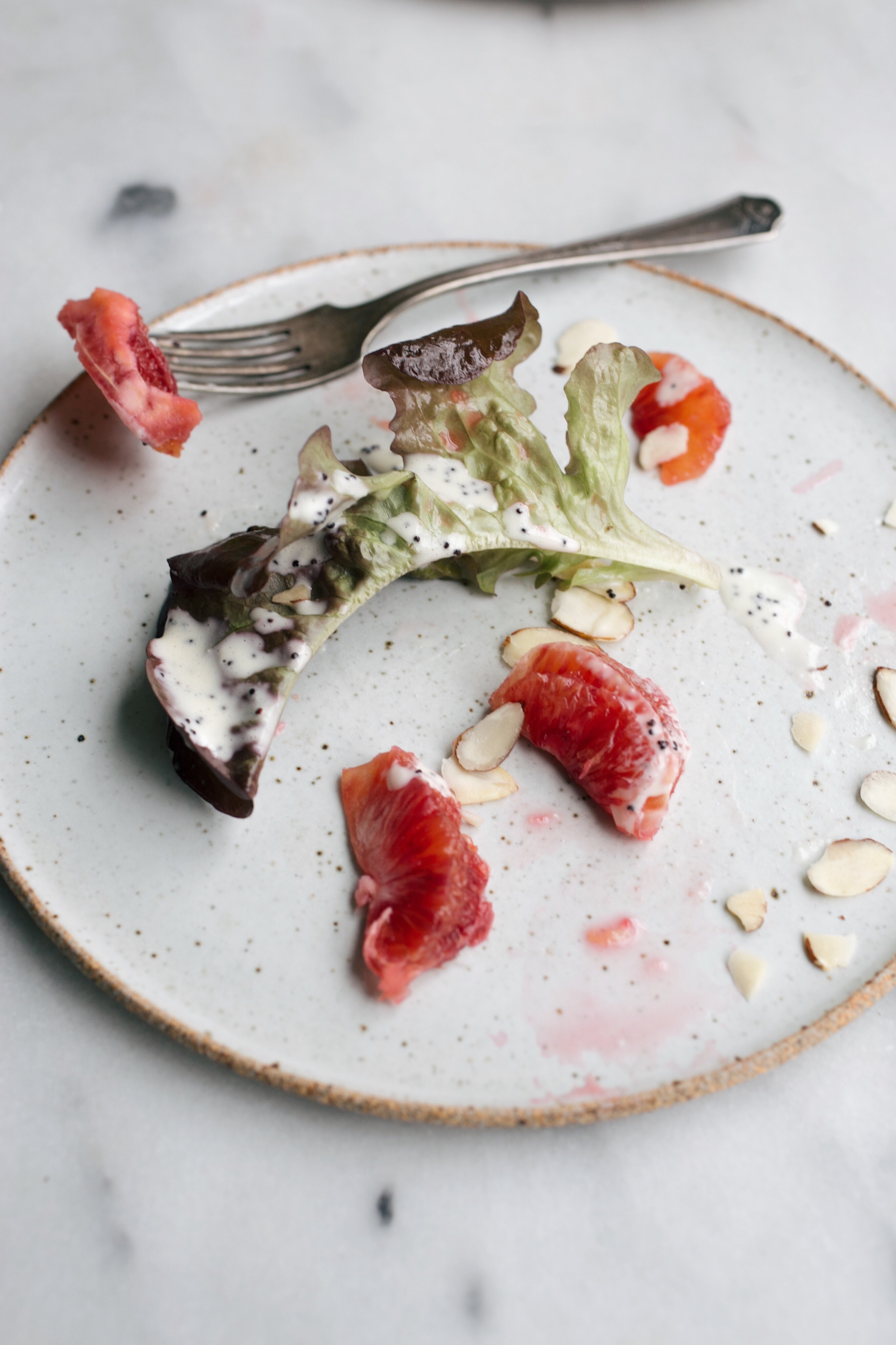 But in honor of my grandma, I thought I'd get a little fancy so plated it for these photos the way a restaurant might, with small, elegant portions that allow each components to shine. The approach turns these few inexpensive ingredients into a simple yet striking starter to any winter meal—Valentine's Day at home perhaps?—and it's so pretty that even the last few bites are photo-worthy! But whichever route you take, know that my grandma would have given it two thumbs up!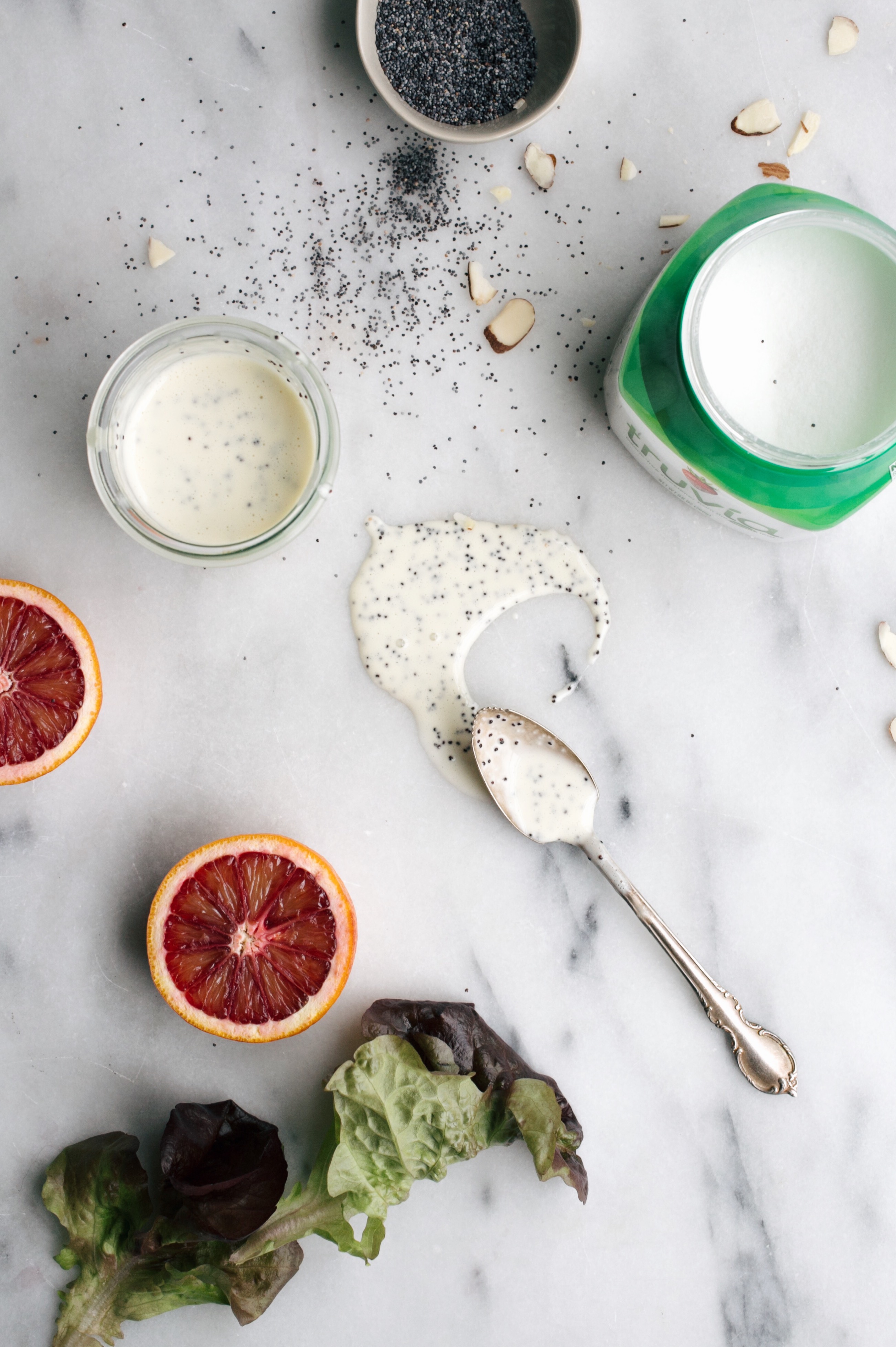 Winter Citrus Salad with Reduced Sugar Poppy Seed Dressing
serves 4 as an appetizer
Dressing:
½ cup mayonnaise
⅓ cup apple cider vinegar
2 tablespoons Truvia Natural Sweetener
1 tablespoon chopped white onion
½ teaspoon salt
⅓ cup vegetable oil
1 tablespoon poppy seeds
Salad:
1 clamshell living lettuce (leaf, red, or butter lettuce all work great!)
2 blood oranges
1/4 c slivered almonds
Make the dressing. Place all ingredients in a blender and whirl until emulsified. Pour into a lidded jar, add poppy seeds, and shake to combine. To assemble the salad in the fancy appetizer shown here, place two lettuce leaves artfully onto each plate. Using a sharp knife, peel and segment citrus so that the pith and membrane are removed (there are good instructions here). Distribute several segments onto each plate then drizzle lightly with dressing. Sprinkle with almonds and serve!
Photos: Anne Sage. Disclosure: This post was created in partnership with Truvia. I received compensation in exchange for developing, styling, shooting, and sharing this recipe. All opinions are and always will be my own. Thank you for supporting the brands that enable me to bring you fresh inspiration daily!