Holy cow, how is it Tuesday already? Seems like I was just posting last week's installment of Two Girls, One Kit and now here we are with another one! I'll be honest, it's a challenge coming up with a unique look each week! It would of course be easy just to wear our same basics on repeat, but the series is about exploring self-expression through fashion—and we're committed to pushing our own boundaries and inspiring others to do the same!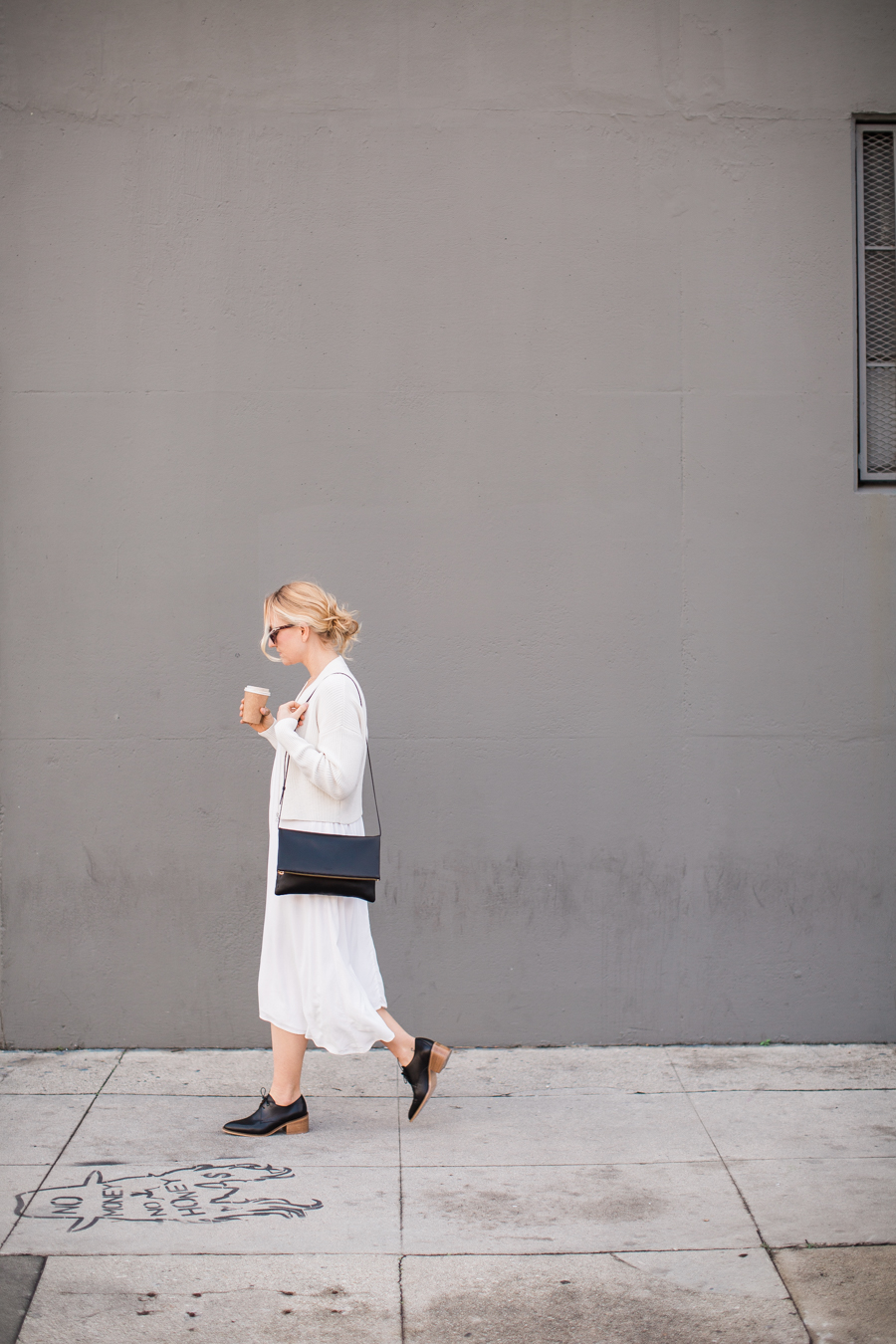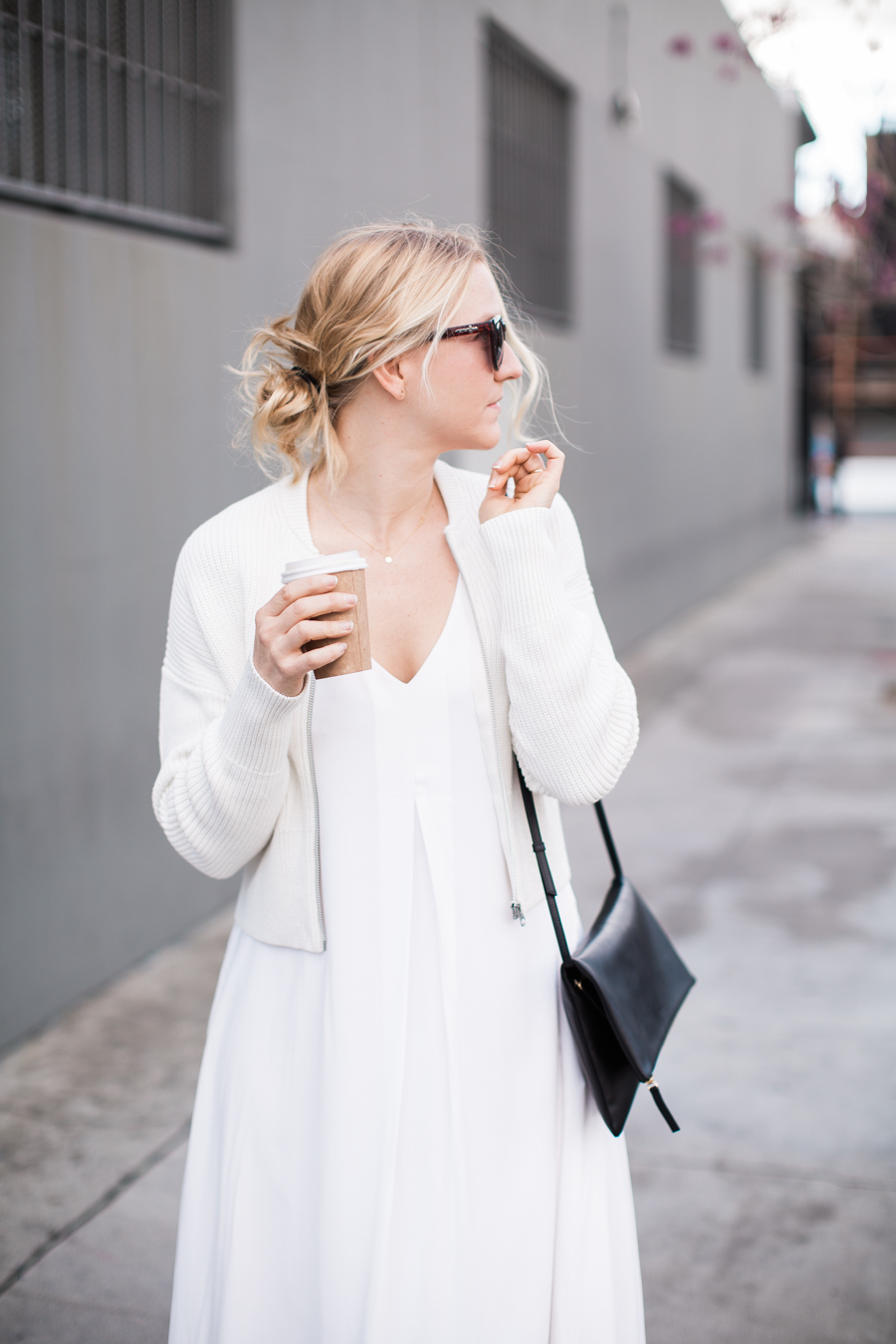 This week's piece is a perfect example of how we're stretching ourselves to think outside the fashion box. We both adore Everlane for their wearable shapes, colors, and materials, and we immediately fell for the crisp and classic appeal of their new fisherman knit bomber. But what to do with a sweater that begs to be worn with jeans and a tee when you've declared that jeans and a tee are off limits? For a while, I was seriously stumped!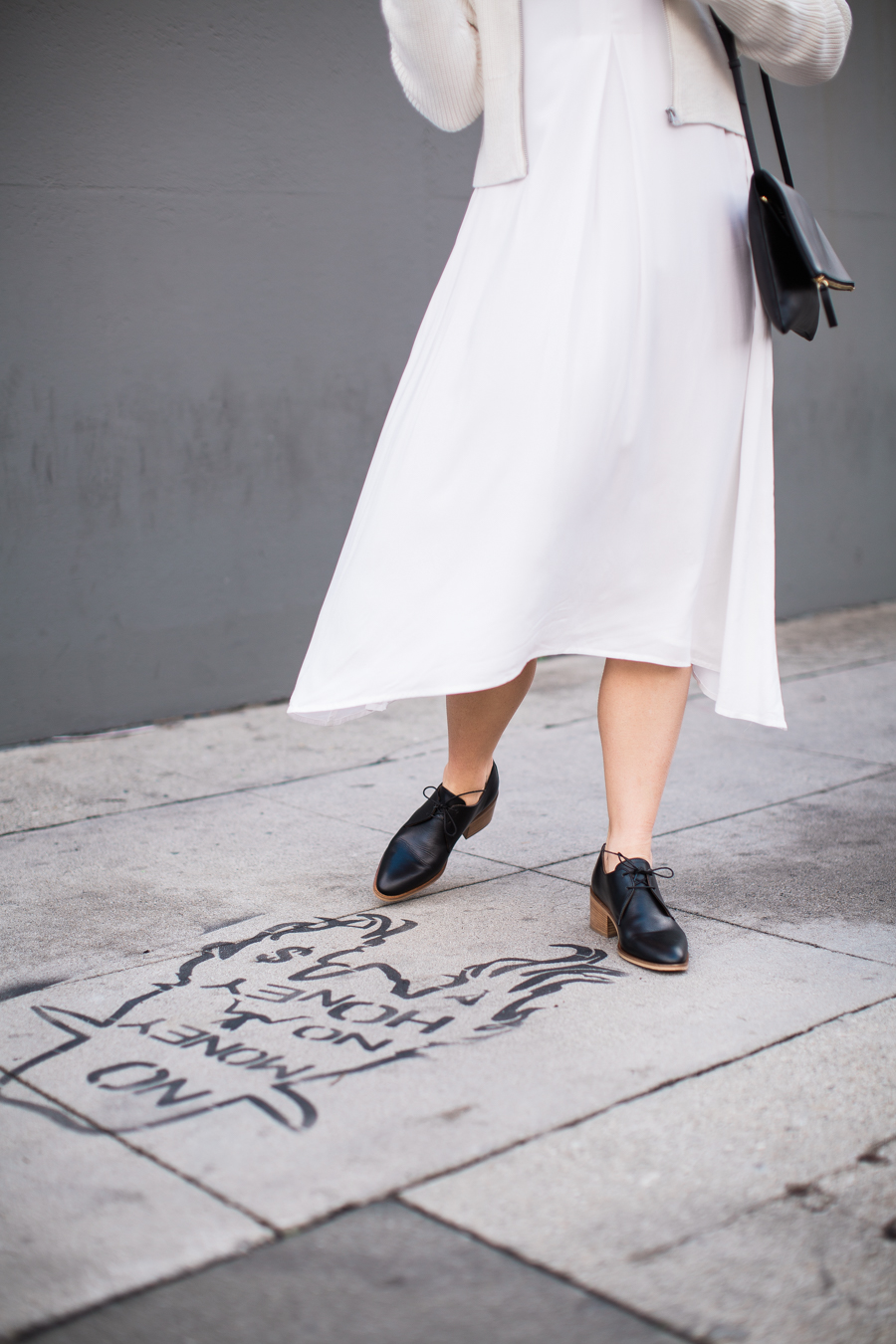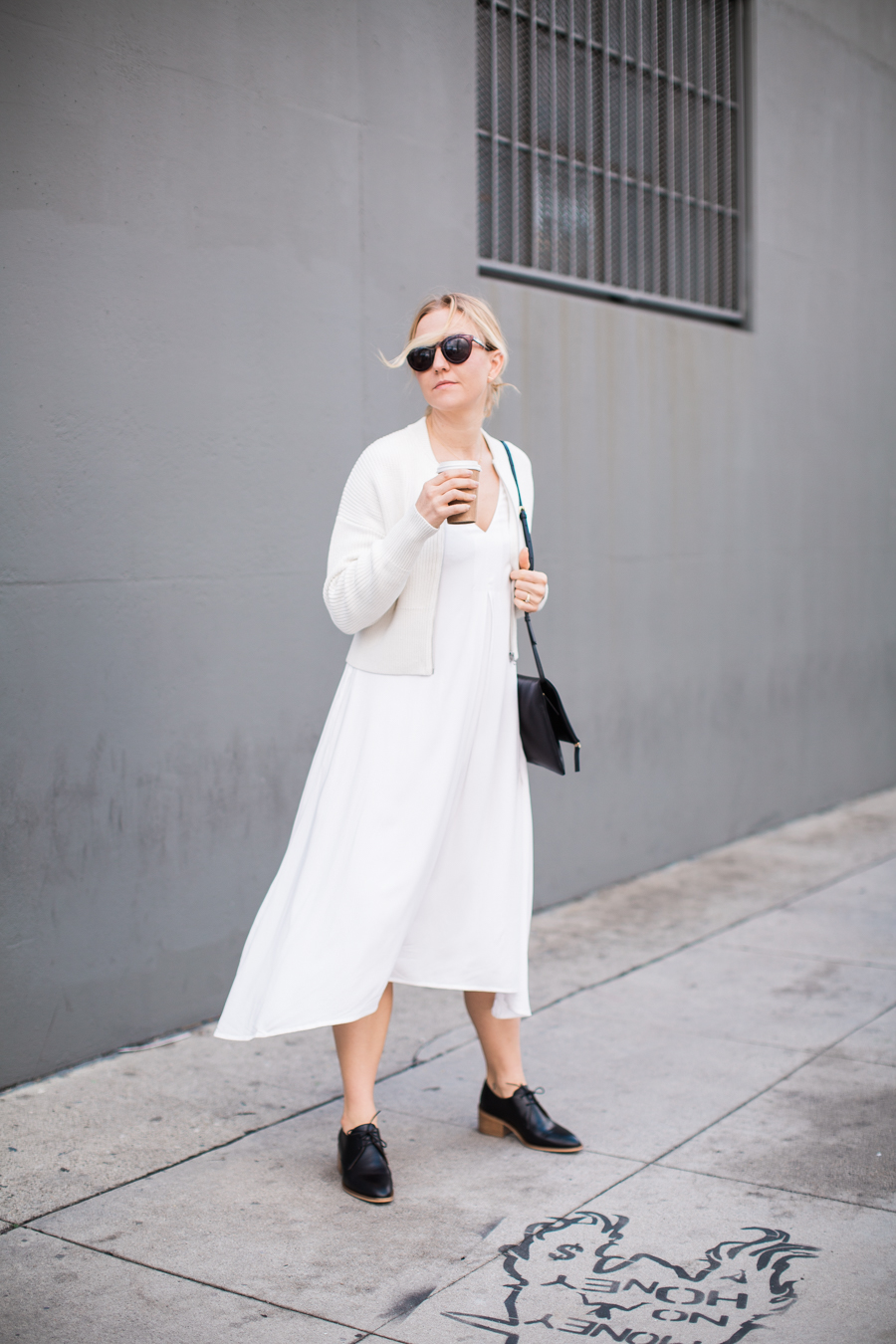 But then, I had a flash of genius that resulted in what's possibly my favorite look yet! The abbreviated shape of the sweater lent itself perfectly to topping off a swingy, silky dress in the same shade. It's a monochromatic pairing that's cozy and wintry but that moves as I walk for a chic and sensual effect! The texture of the knit contrasts with the drapey fabric of the dress to create interest, and my black accessories (those heeled oxfords! that foldover bag!) add a little extra punch to emphasize the snowy hue of the outfit.
True to her eclectic inclinations, Caroline mixed things up and paired her sweater with a patterned silk tee and chambray button down knotted at the waist. Her side-zip slim trousers keep the silhouette tidy in spite of all those layers, and her ankle booties provide a 60's mod touch. I love how in this bottom photo our outfits are so different that you don't even realize immediately that we're wearing the same sweater. Mission accomplished!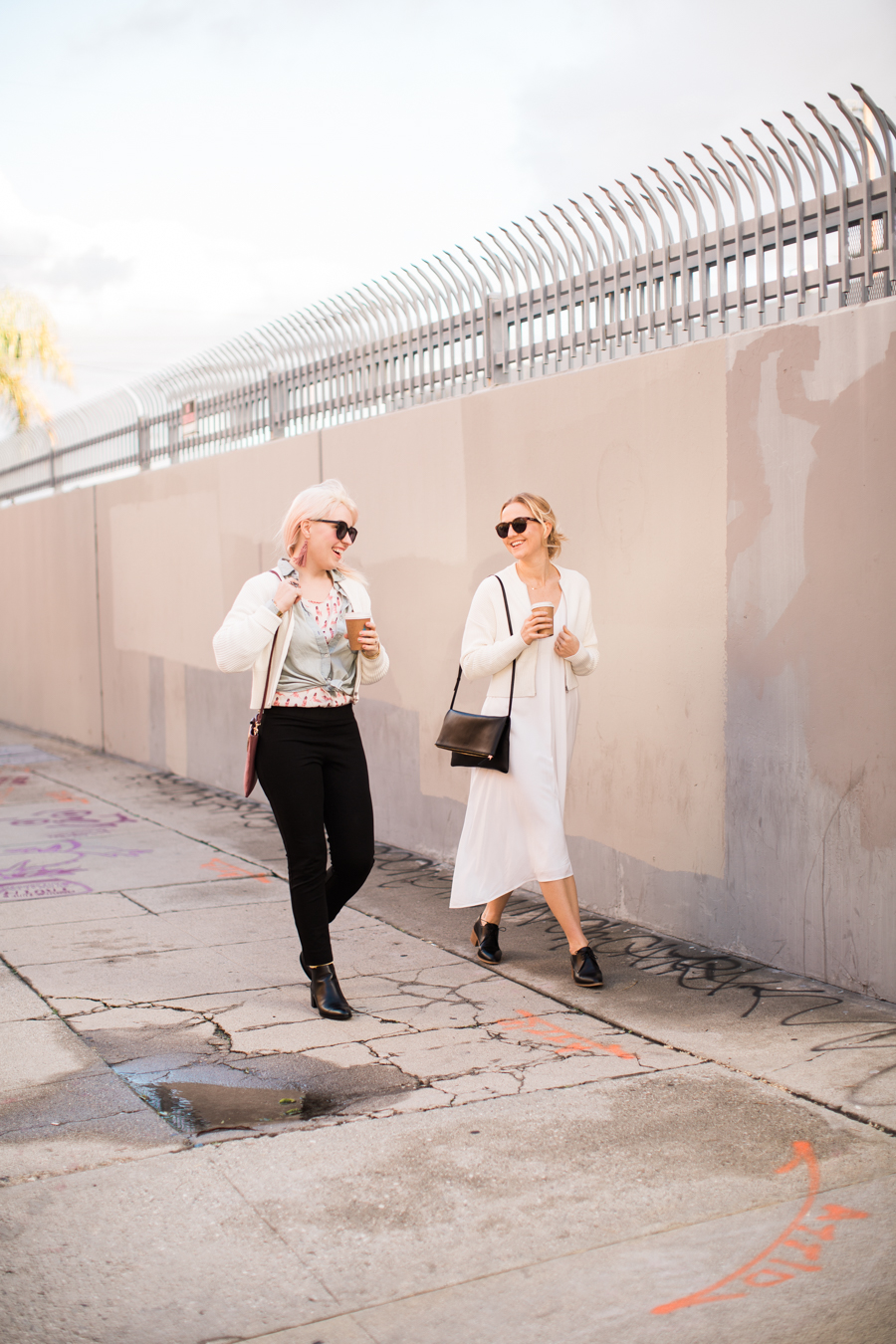 Images: Echo & Earl