Have you ever had an ah-ha moment and discovered that several of your favorite spaces are all designed by the same firm? That happened to me recently with a few interiors I'd been admiring turned out all to be the work of Stewart-Schafer, an interior architecture studio based in Brooklyn. With backgrounds in gallery and retail design as well as production for photographers such as Mario Testino, founders James and Christine bring a strong fashion influence to their work. The result is interiors that radiate a quiet yet palpable energy of haute couture, yet are welcoming and livable too. I absolutely adore their signature style, so I was overjoyed when they agreed to sit down for an interview and share some of their tips for creating minimalist modern interior design!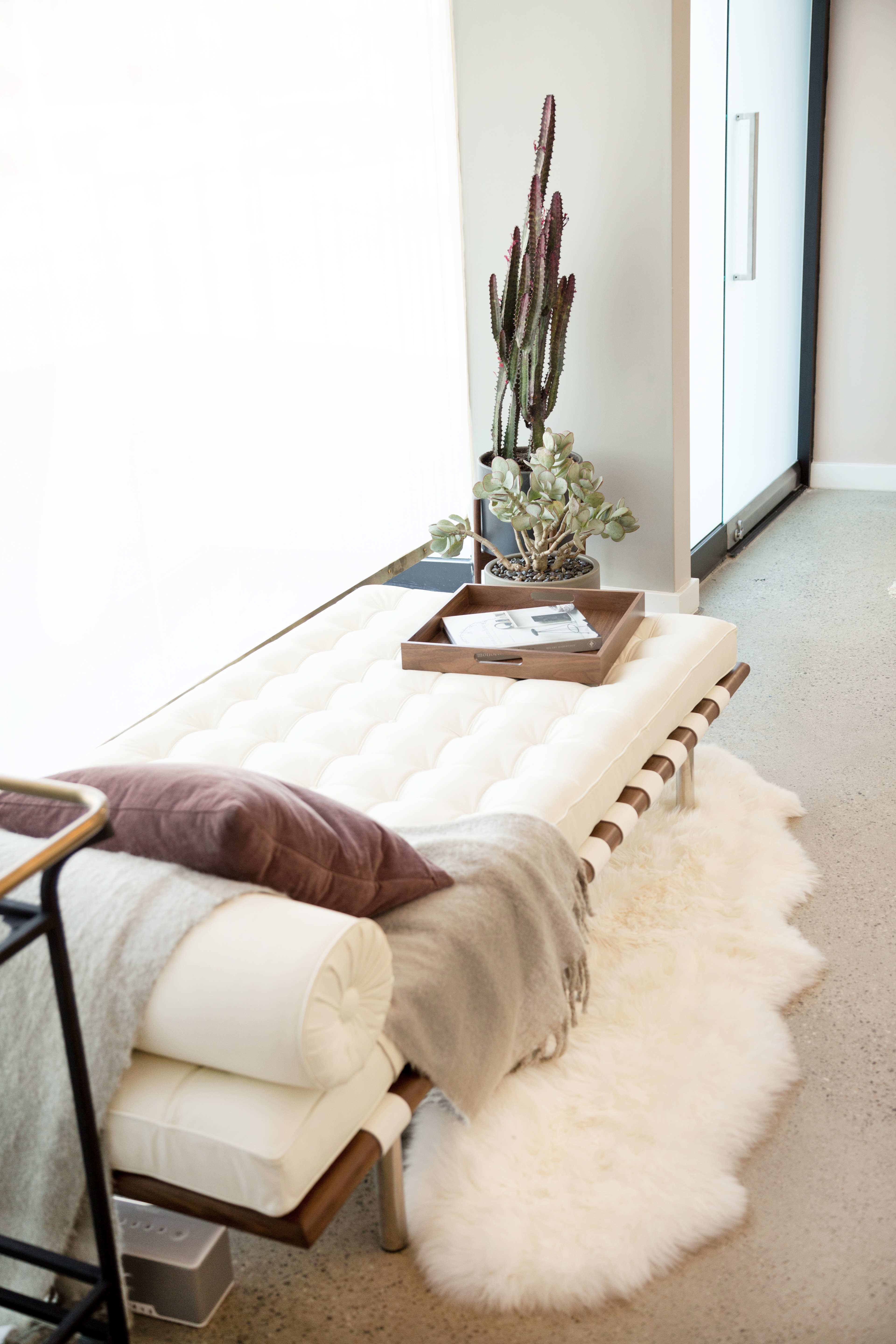 1. You guys focus largely on commercial, retail, and installation design—but I can promise there are tons of homeowners out there who would love to crib your standout style for their living rooms! What are some hallmarks of your approach that can be implemented in any space, no matter its function? In other words, how can we design junkies get your gorgeous look at home?! For us, less is more. The most beautiful spaces are coherent, well curated and uncluttered. We often achieve this by using reserved tonal palettes that center a room around its key focal piece or pieces. For example, Mid-century American furniture pieces from designers like Milo Baughman or Edward Wormley can really add structure and sophistication to a room. Interesting and bold art can similarly bring together a room, offering pops of color and whimsy. These focal pieces are often best paired with more affordable contemporary ones to achieve balance and freshness. Further depth can be introduced by mixing textures and materials. We have had great results by mixing wood with various types of stones and concrete.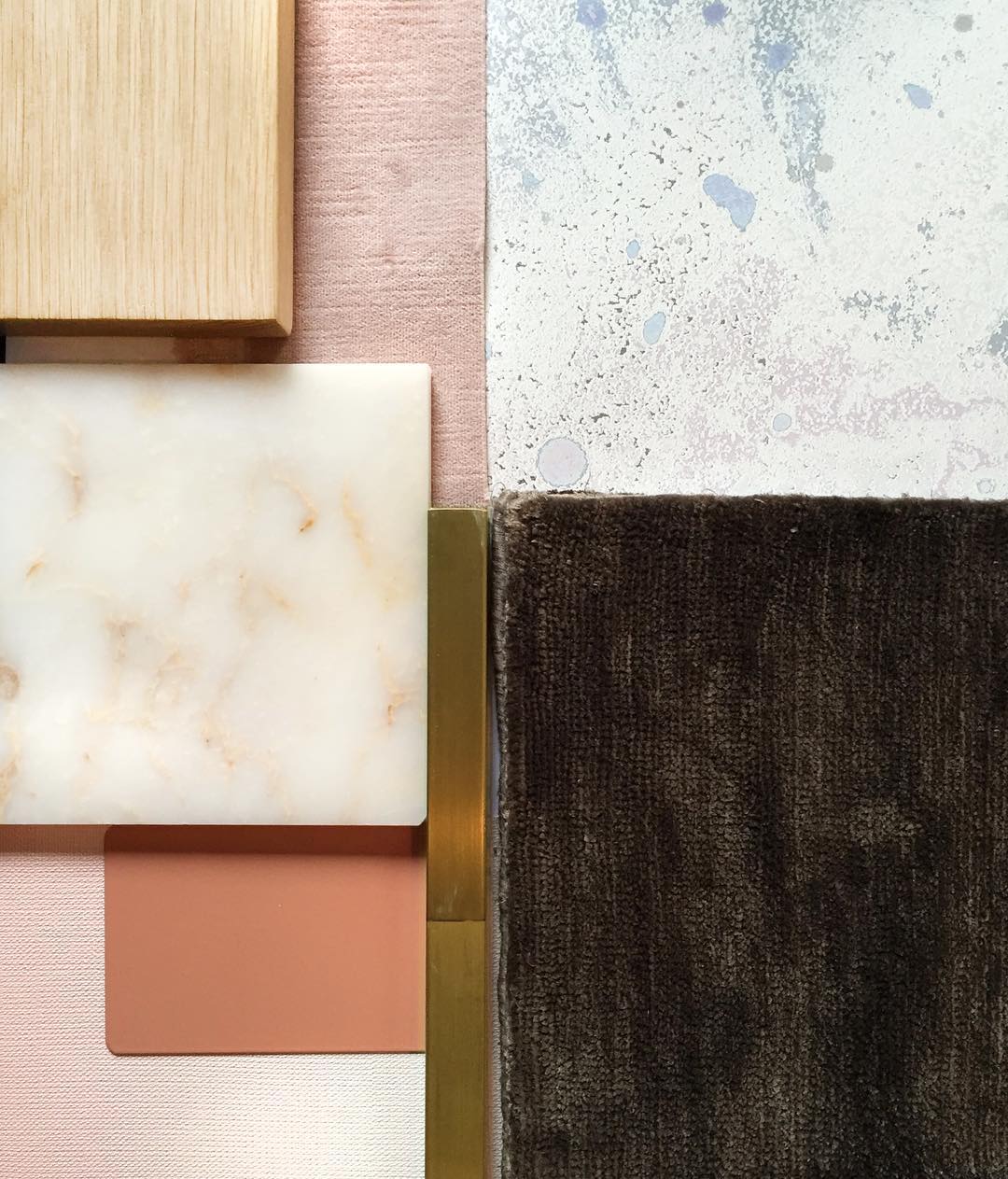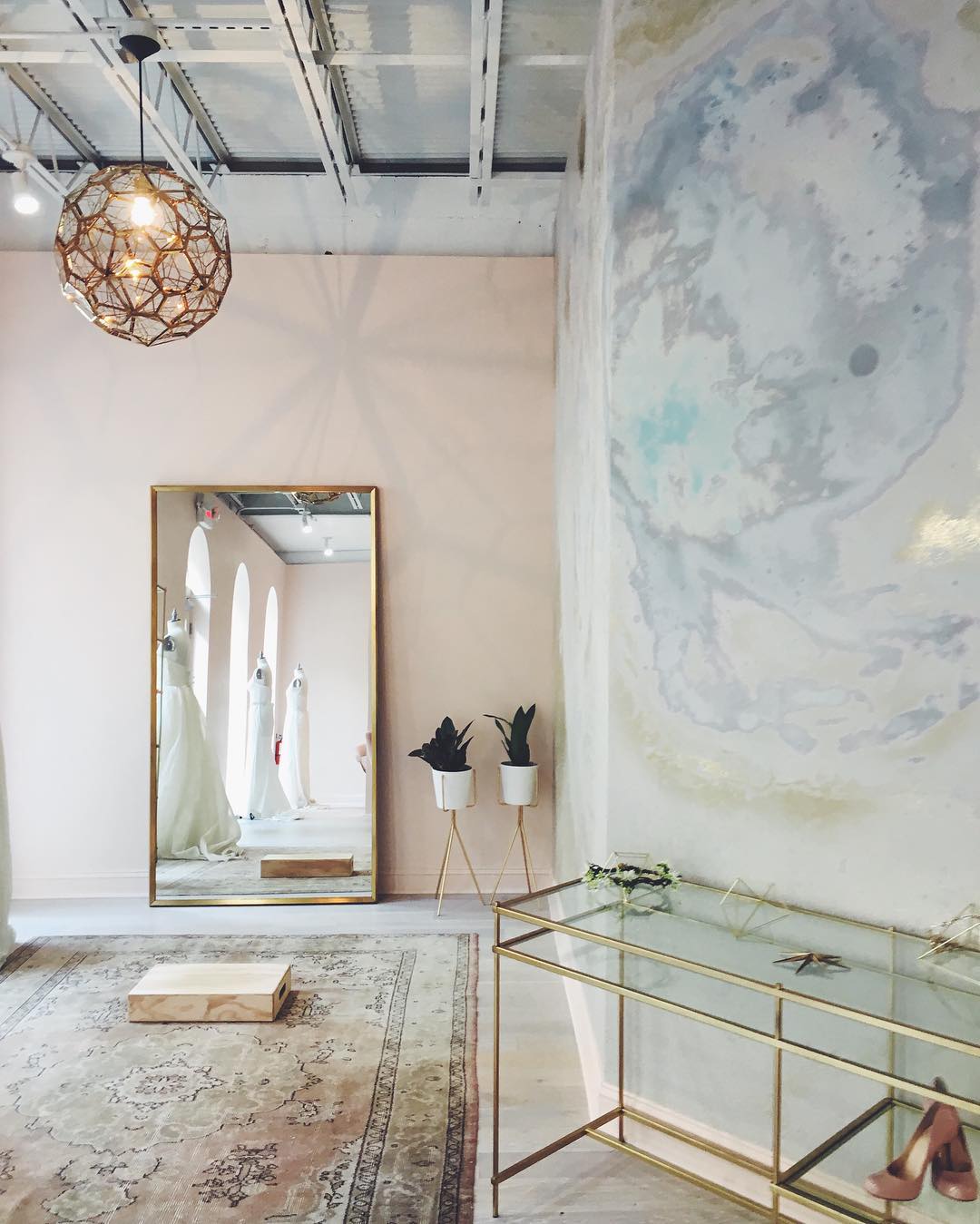 2. It's a new year! Your work defies trends, but I'd imagine there are probably themes and motifs that you're especially having fun with lately. What's the scoop on what we can expect from you guys in 2017?
Now that we've wrapped up the total redesign of 12 Lovely Bride stores nationwide (above) we're focusing our attention on some other exciting projects. This year we're debuting a new furniture collection which includes mirrors, lighting, seating, shelving, tables, garment racks and more. We're also in the process of finishing several new residential projects in Brooklyn. 
Our residential clients have loved collaborating with us and as we've seen our client base grow, we've noticed that each successive client allows us to be a little more daring in our designs. By being more free in the materials we can use as well as the shapes and forms within a room, we have been able to work with them to create spaces with truly distinct identities.
Terrazzo is going to be a big trend this year in residential design, particularly with larger sized stones. We're doing a beautiful poured terrazzo floor in one of our new projects and the result is effortlessly chic and polished. We have seen and used terrazzo used in several high-end stores including Valentino and Barney's in New York, and see that the trend is now making its way into residential spaces.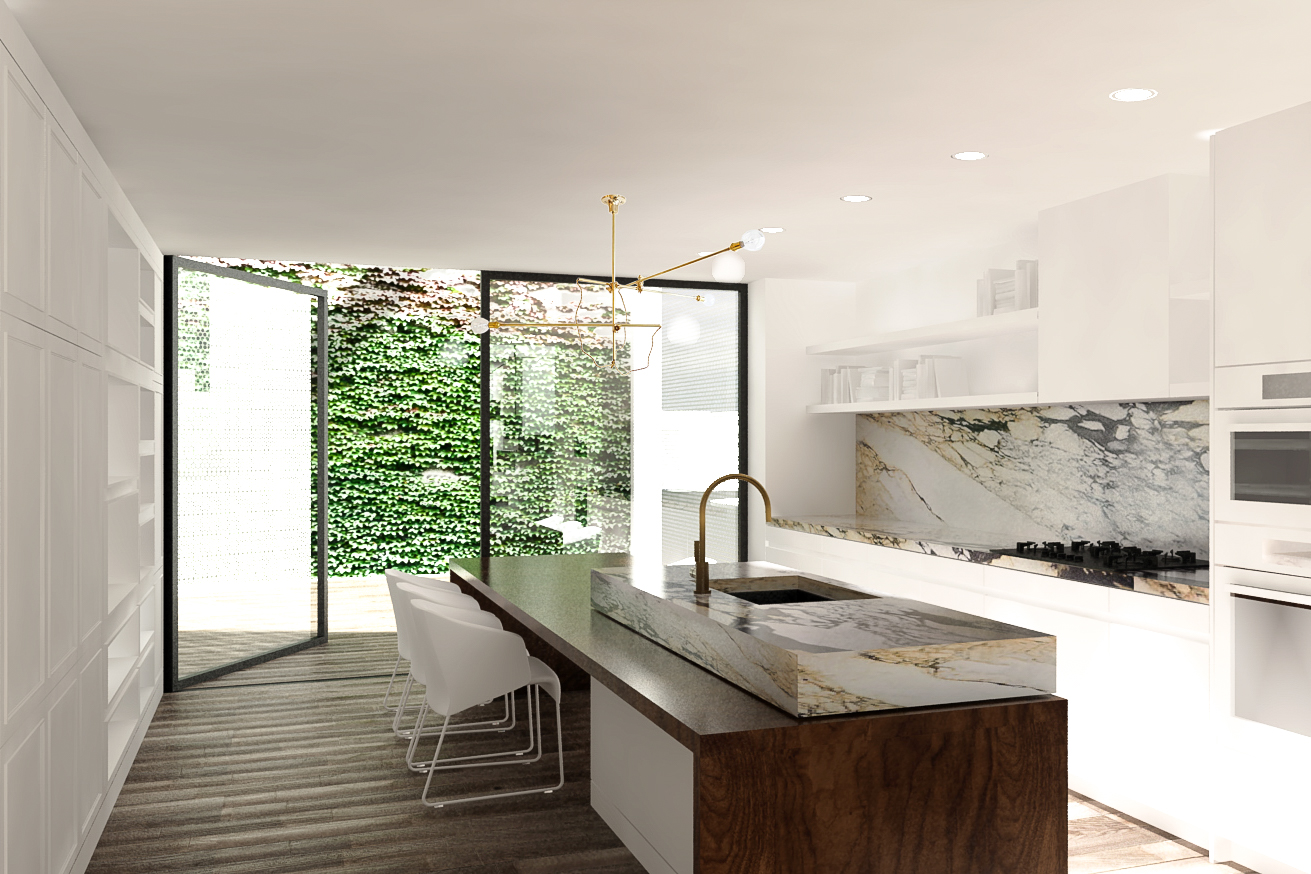 3. Fill in the blank: No space is complete without ________! No space is complete without a beautiful soft sheepskin hide and a good coffee table book!  As avid travelers, we're constantly on the hunt for fresh ideas and inspiration, and we always manage to bring back new books. People spend so much time looking for design inspiration online, but we glean so much of it in art, design, photography, and architecture books. We're also big fans of Icelandic sheepskin hides, and no trip to Iceland is complete without a suitcase full of them. Sheepskin hides add an element of luxury to any space and are extremely versatile, easy to clean, and can be quite inexpensive. Not only do we have one over our bed and on the floor of our bathroom, but we have also used them to adorn several of our client's custom chairs.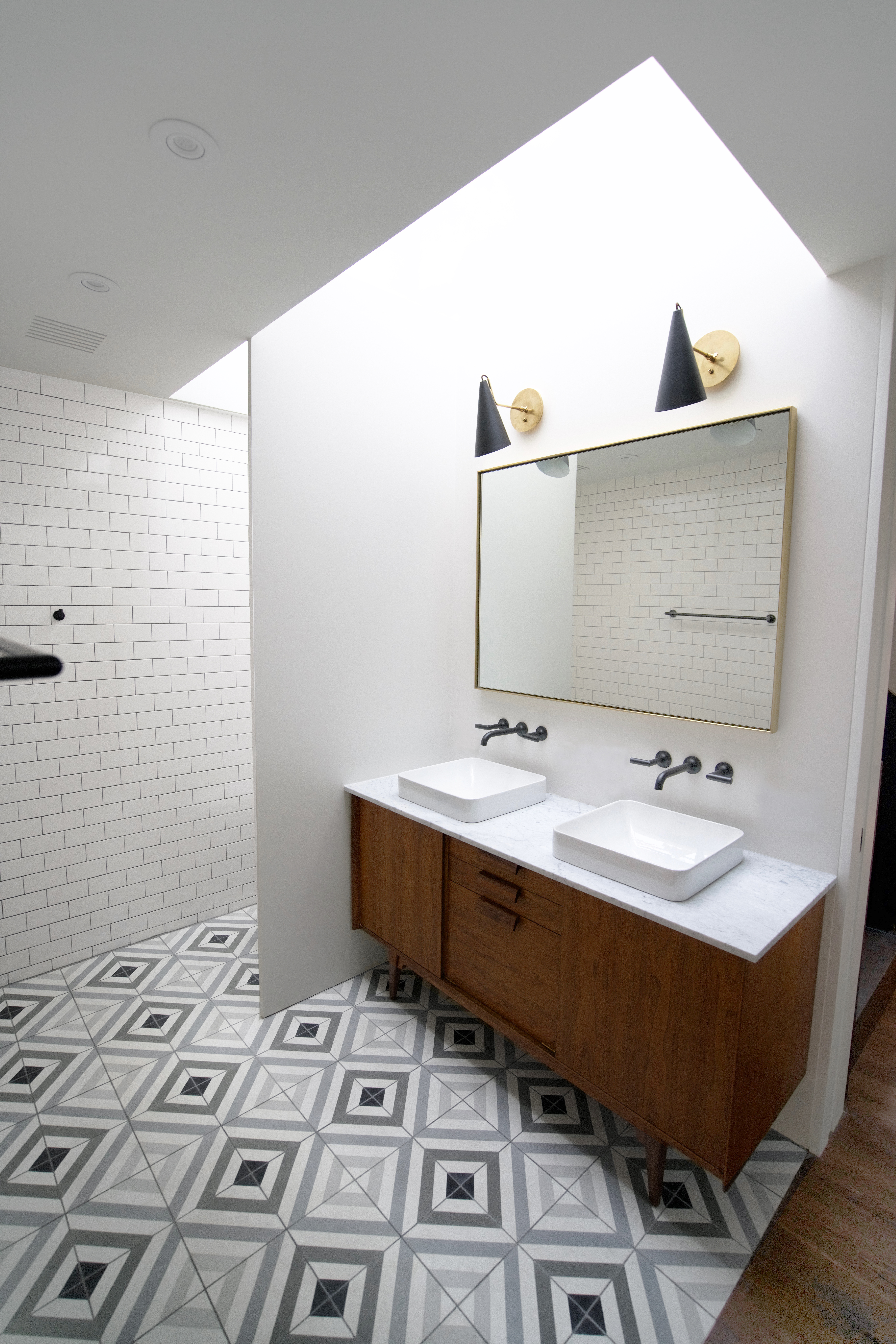 Thanks to James and Christine of Stewart-Schafer for this peek inside their process and all the good stuff they have coming up! Be sure to follow the firm on Instagram for behind-the-scenes looks at all their projects and inspiration!
Images courtesy of Stewart-Schafer.