It's pretty well known around these parts that I'll take any excuse to wear my pajamas in public—or at the very least, clothes so comfortable that they feel like pajamas while simultaneously creating the impression that I'm a high-functioning adult human. So this week's edition of Two Girls, One Kit was right up my alley, since Caroline and I explored two totally different yet equally appealing ways to wear a chic bathrobe…um, I mean, a belted camel coat!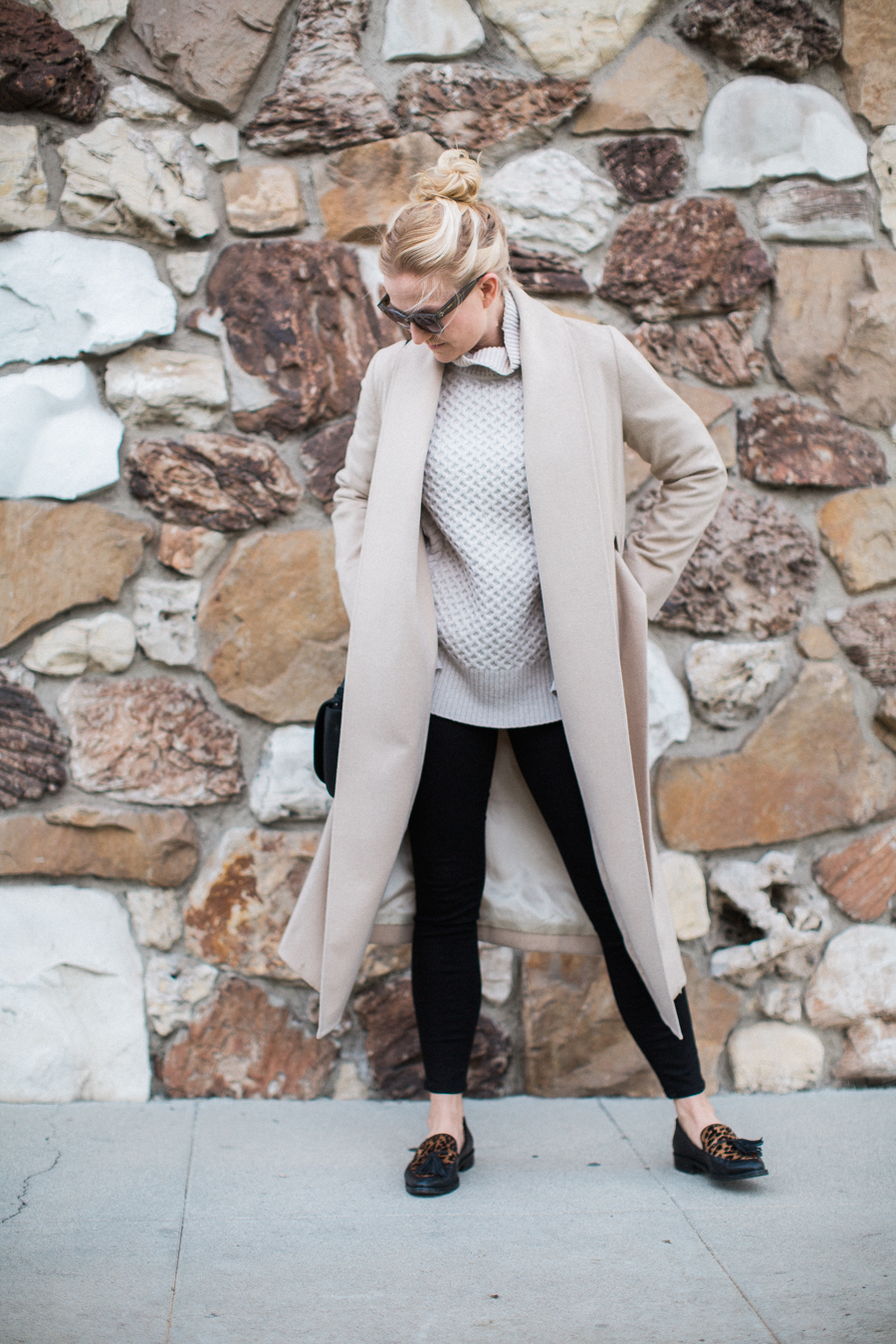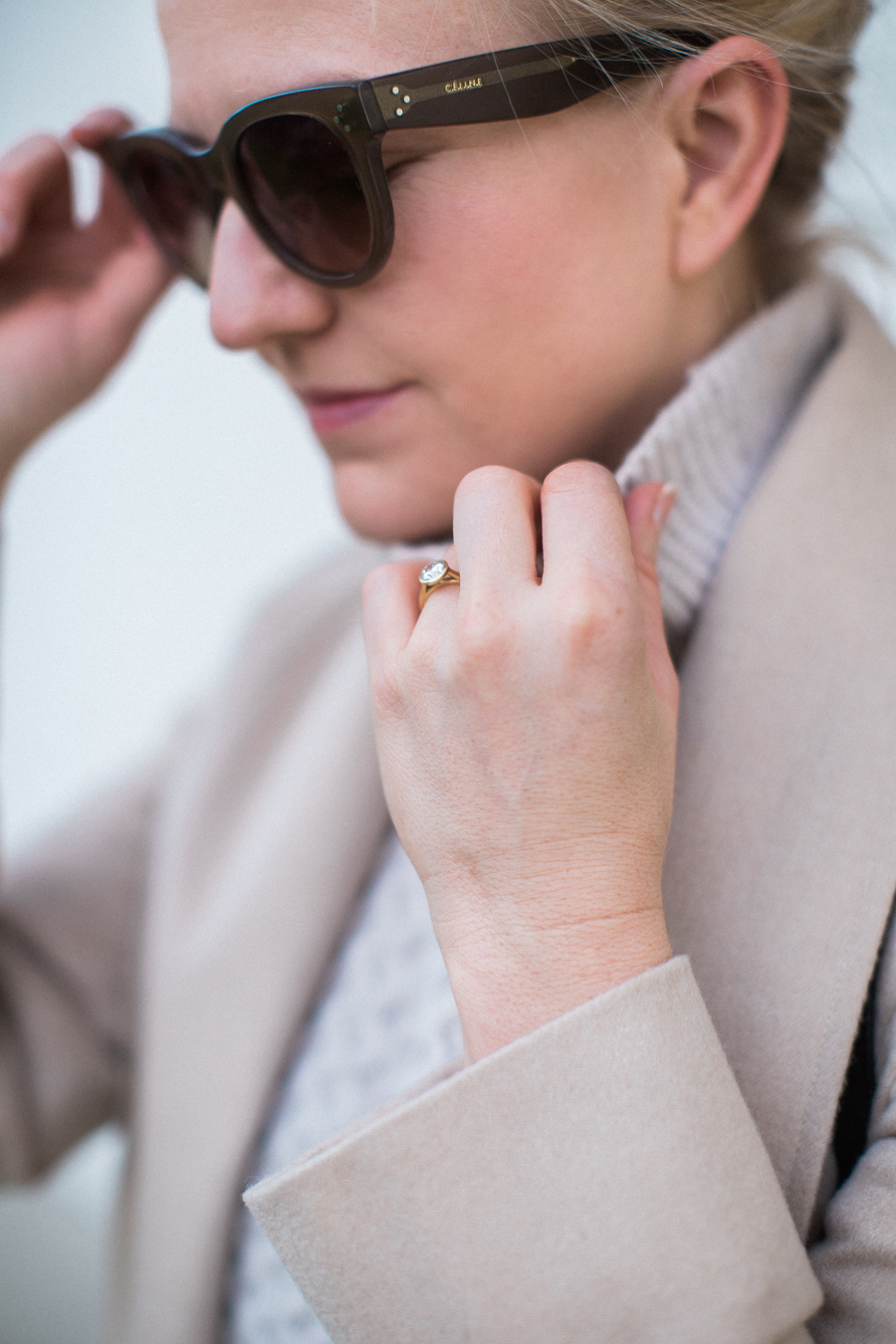 A camel coat is one of those classic closet essentials without which no wardrobe is complete, yet I've never been able to find just the right one! They so easily skew uptown conservative, and I'm definitely more of a downtown easygoing kinda girl. So I was thrilled to finally find this fluid iteration from AYR. It fits the bill perfectly with wide lapels and an even wider belt; a soft and moveable shape; and a pale, versatile hue that can be paired with earth tones, blacks, greys, or colors depending on the occasion.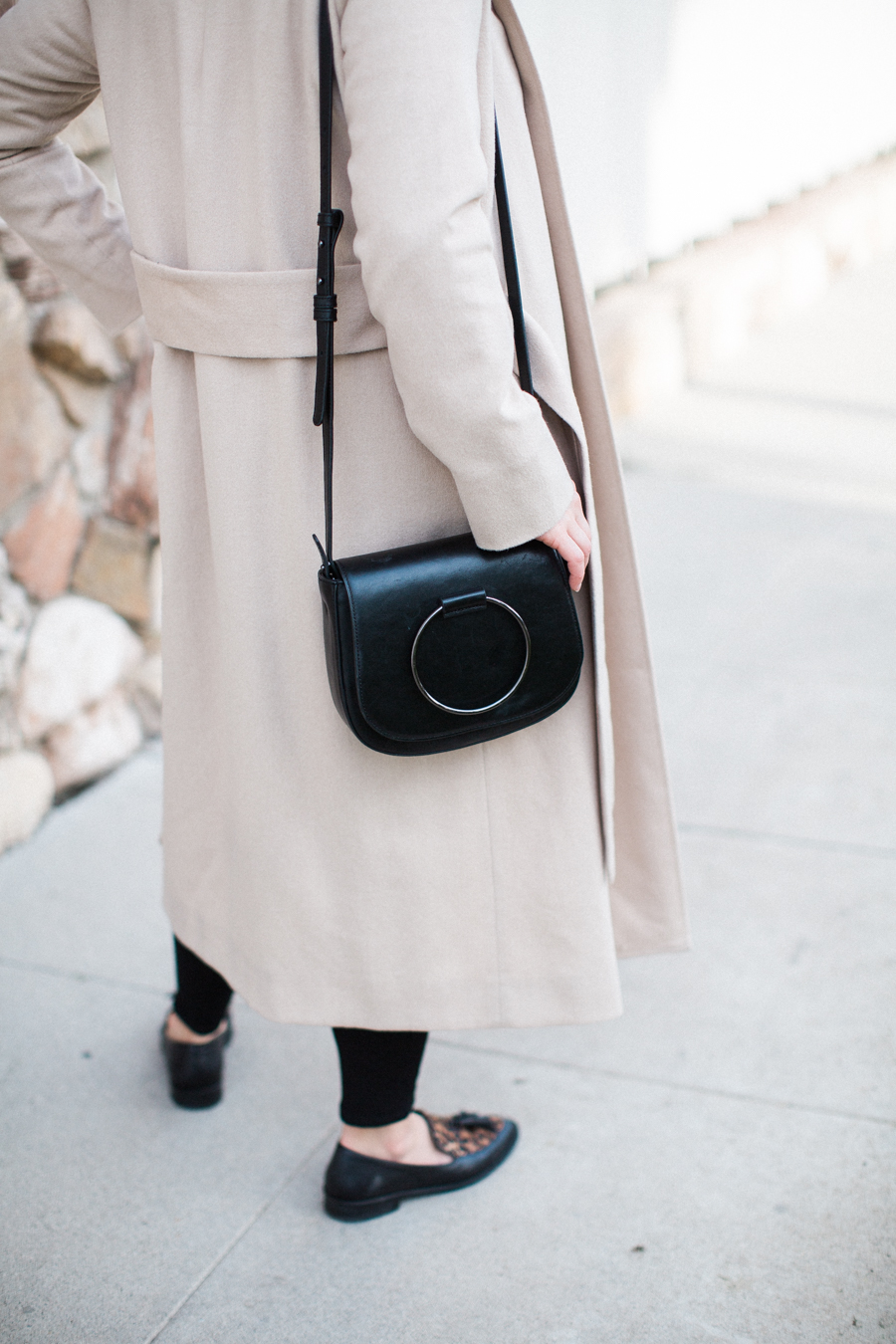 Since black and camel is one of my all-time favorite combinations, teaming up this coat with a pair of black skinny jeans was a no-brainer. The high stretch factor makes these ones from AYR ultra flattering as well as ultra wearable, even on days that I know I'll be sitting in the car or at my desk for hours! Meanwhile, a cable knit sweater with drop shoulders and a swingy shape feels like the world's most stylish hug, and tasseled leopard loafers uphold their reputation as my go-to footwear to add a touch of fun to any outfit.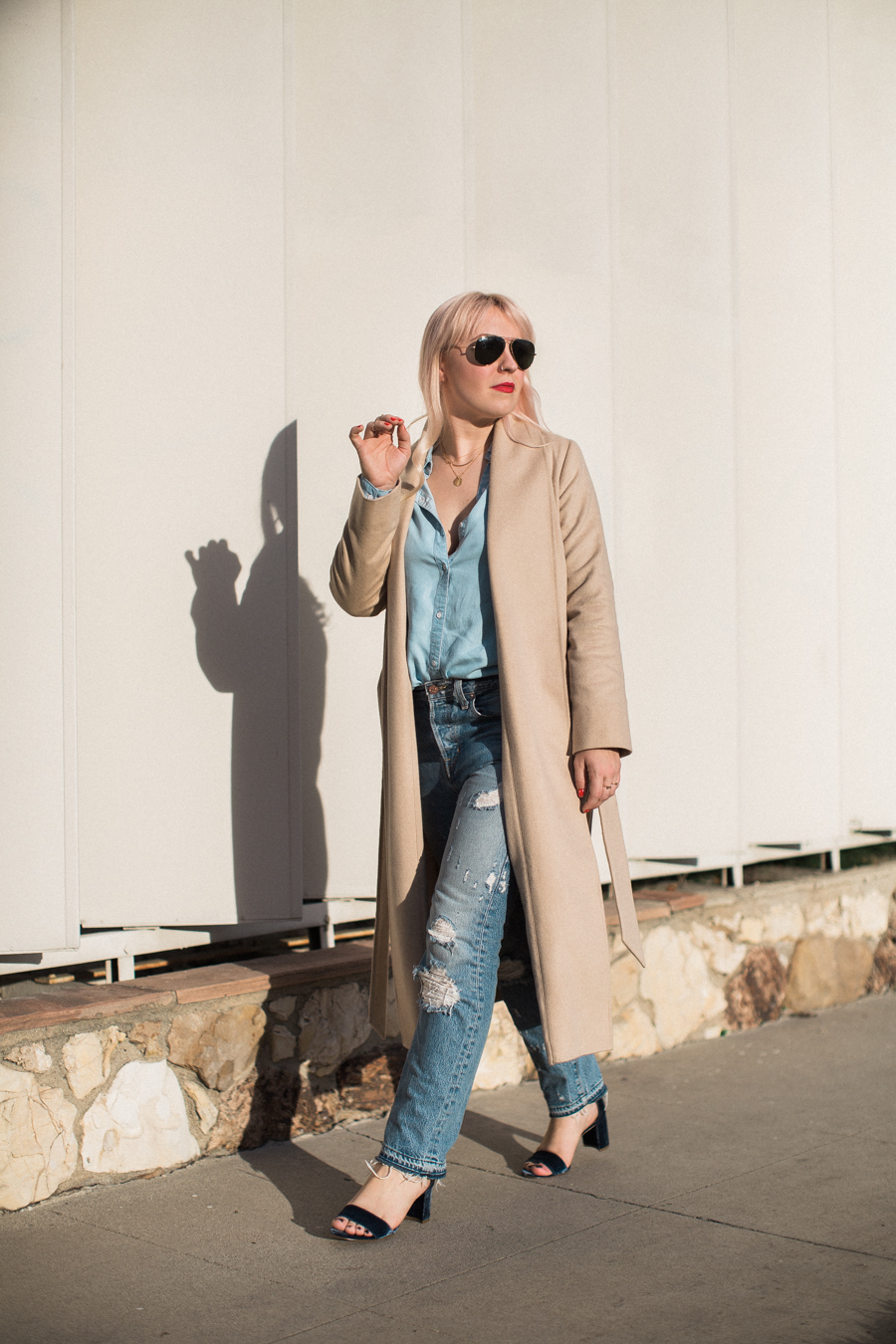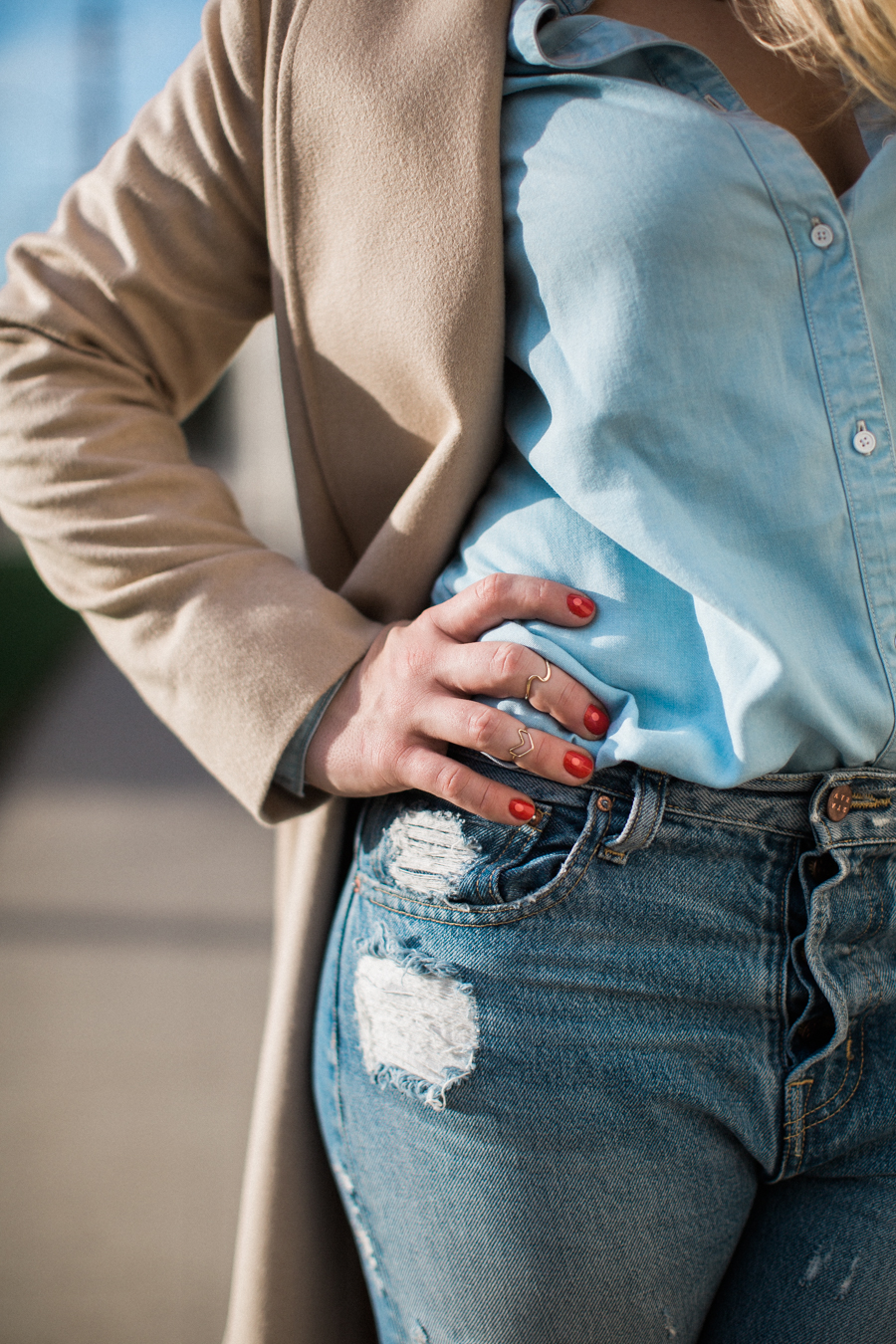 As for Caroline's interpretation? While her palette was relatively staid (compared to her standard colorful ensembles, that is!) she still maintained a bold sensibility with a figure-hugging distressed jeans and a button-up chambray shirt that feels more day-to-night than home-on-the-range. The monochromatic blue aesthetic continues with velvet sandals that add a little lift and further offset the casual vibe of her denim. Thanks to that undone button and bare toes, there's a subtle sexiness present—one that's only augmented by luxe yet laid-back vibe of this gorgeous coat!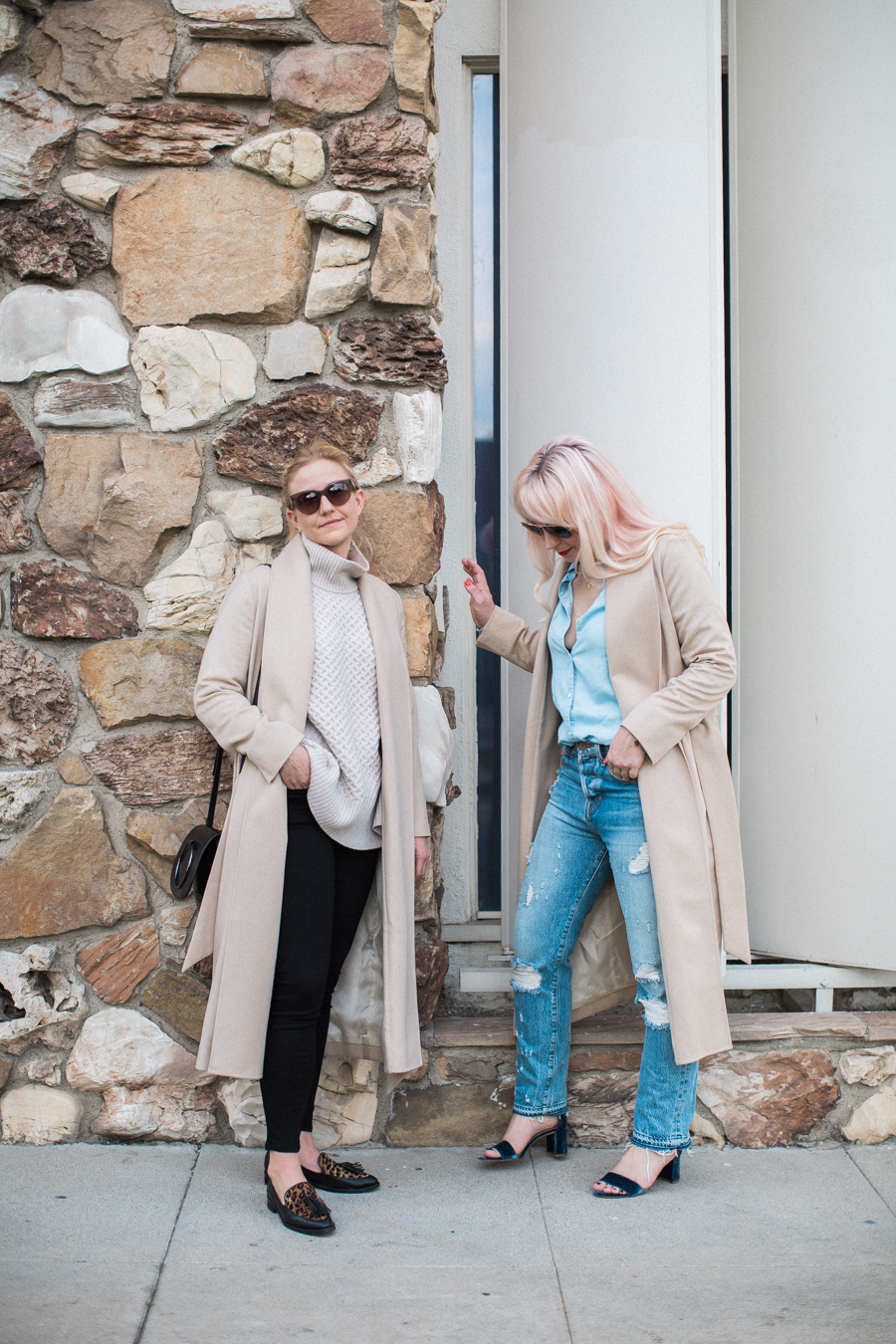 Shopping Guide, On Anne: AYR Camel Coat, Black Skinny Jeans, Cable Knit Sweater. Freda Salvador Leopard Loafers. Celine Sunglasses. Thacker NYC Saddlebag. On Caroline: AYR Camel Coat, Distressed Jeans, Chambray Shirt. Madewell Velvet Sandals. Vintage Sunglasses. Images: Jayden Lee for Echo + Earl Photography.