I'm writing this post from India! We survived over forty-eight hours of travel to arrive at our home base for the next five days, the city of Bikaner which is a major center of wool and rug-making in this country. I'm a little overwhelmed by all the sites, flavors, and information bombarding me—not to mention the jet lag!—but I'm doing my best to be gentle with myself and find comfort where I can. And this week's installment of Two Girls, One Kit is comforting indeed. With our favorite breezy picks from the J. Crew spring lineup, how could it be anything but?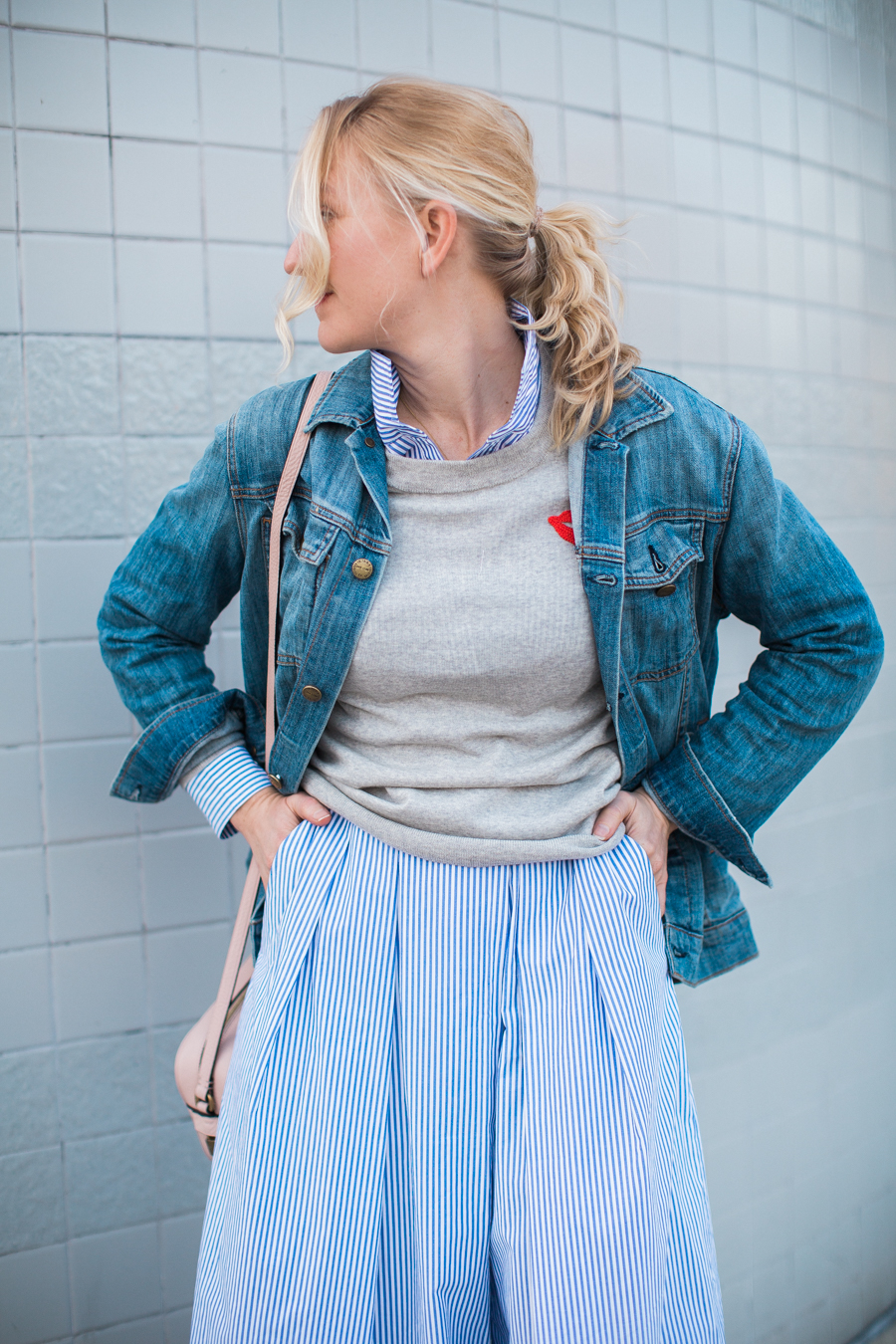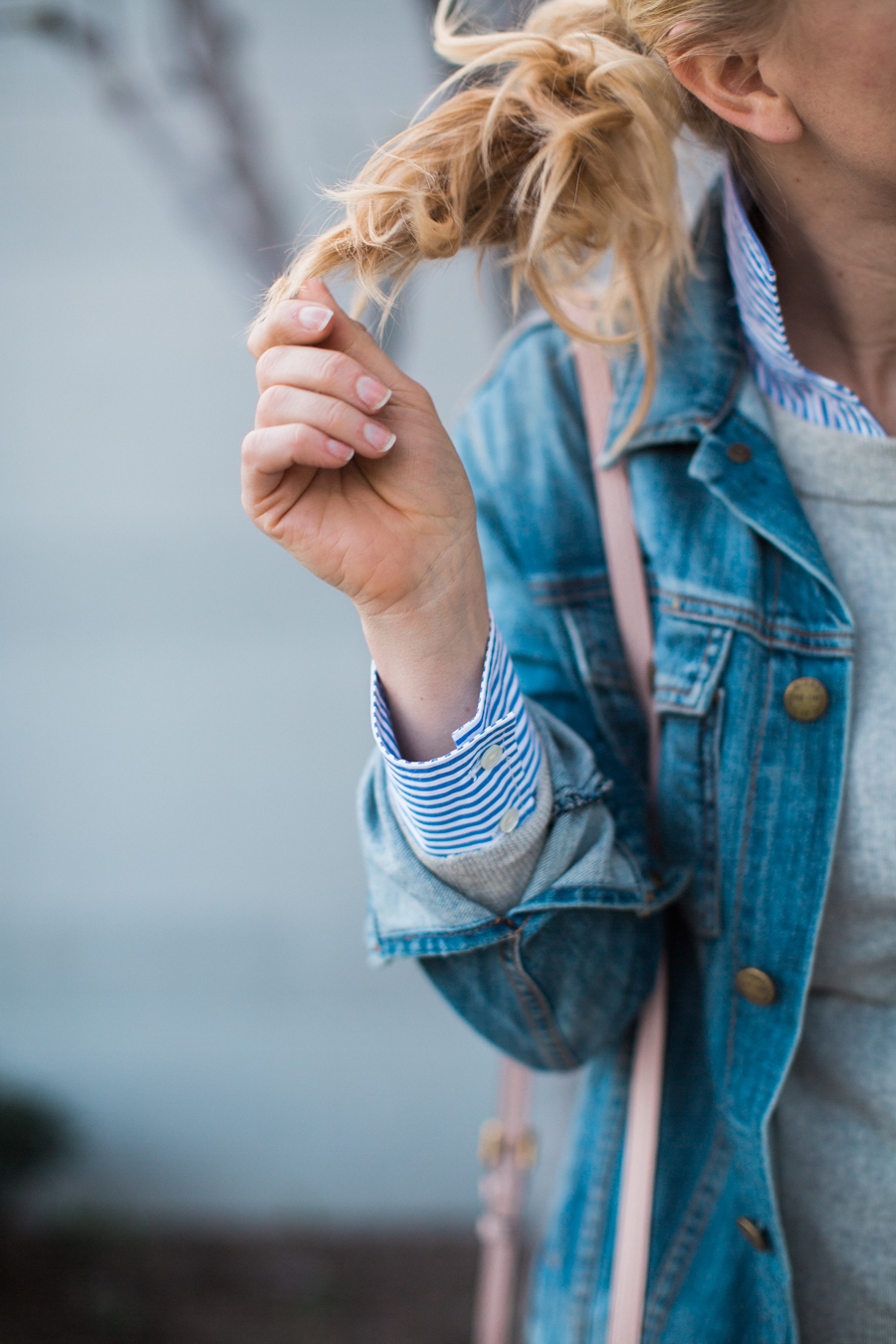 Maybe it's because we shot these photos right around Valentine's day, or maybe it's because we're both romantics at heart, but Caroline and I both fell for the sweet kiss embroidery on the brand's classic Tippi sweater. The style is one of their tried-and-trues, with a slim body that's perfect for layering and a lightweight merino knit that speaks of spring climes to come. The pop of red adds a cheeky personality without freaking out a color-phobe like me!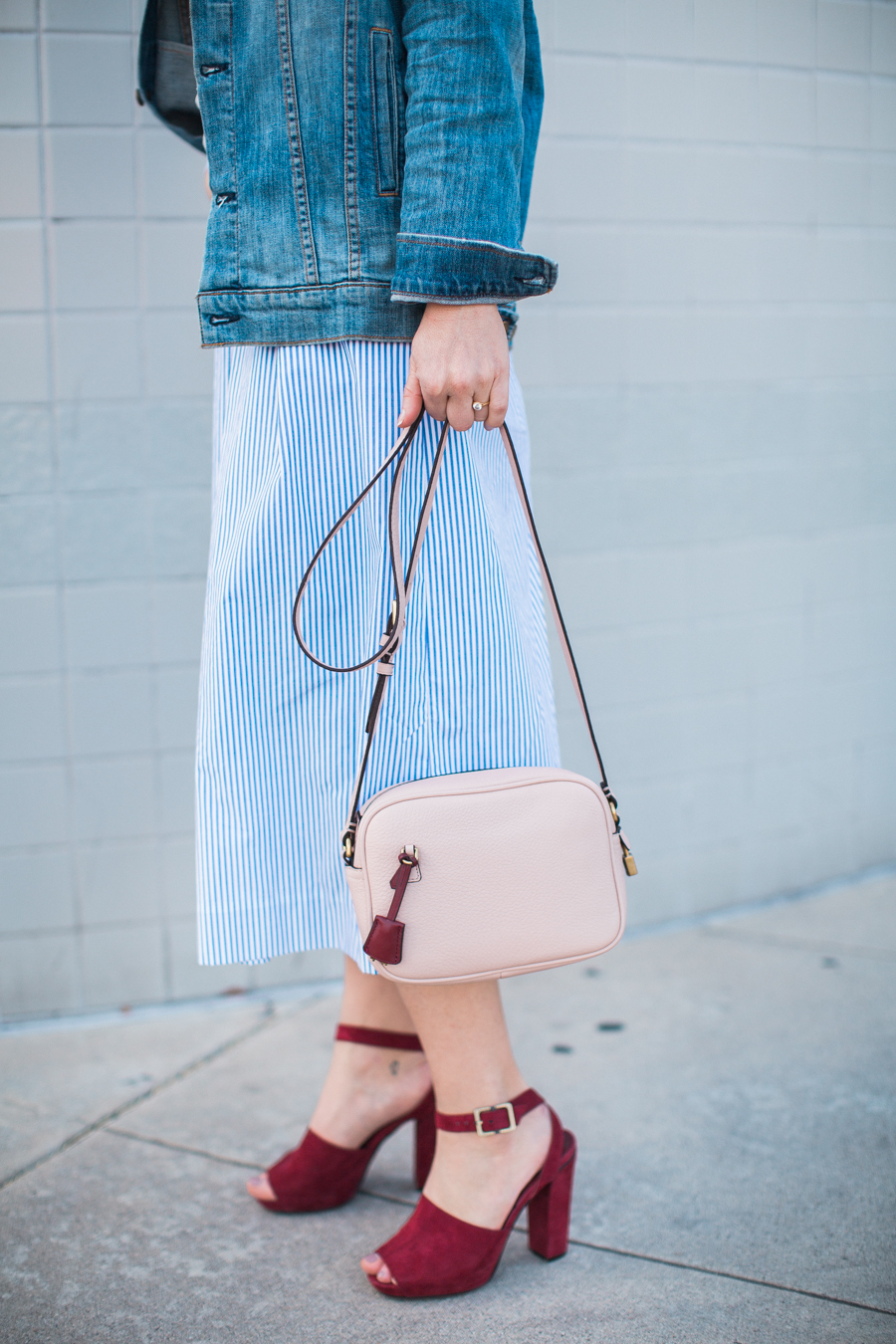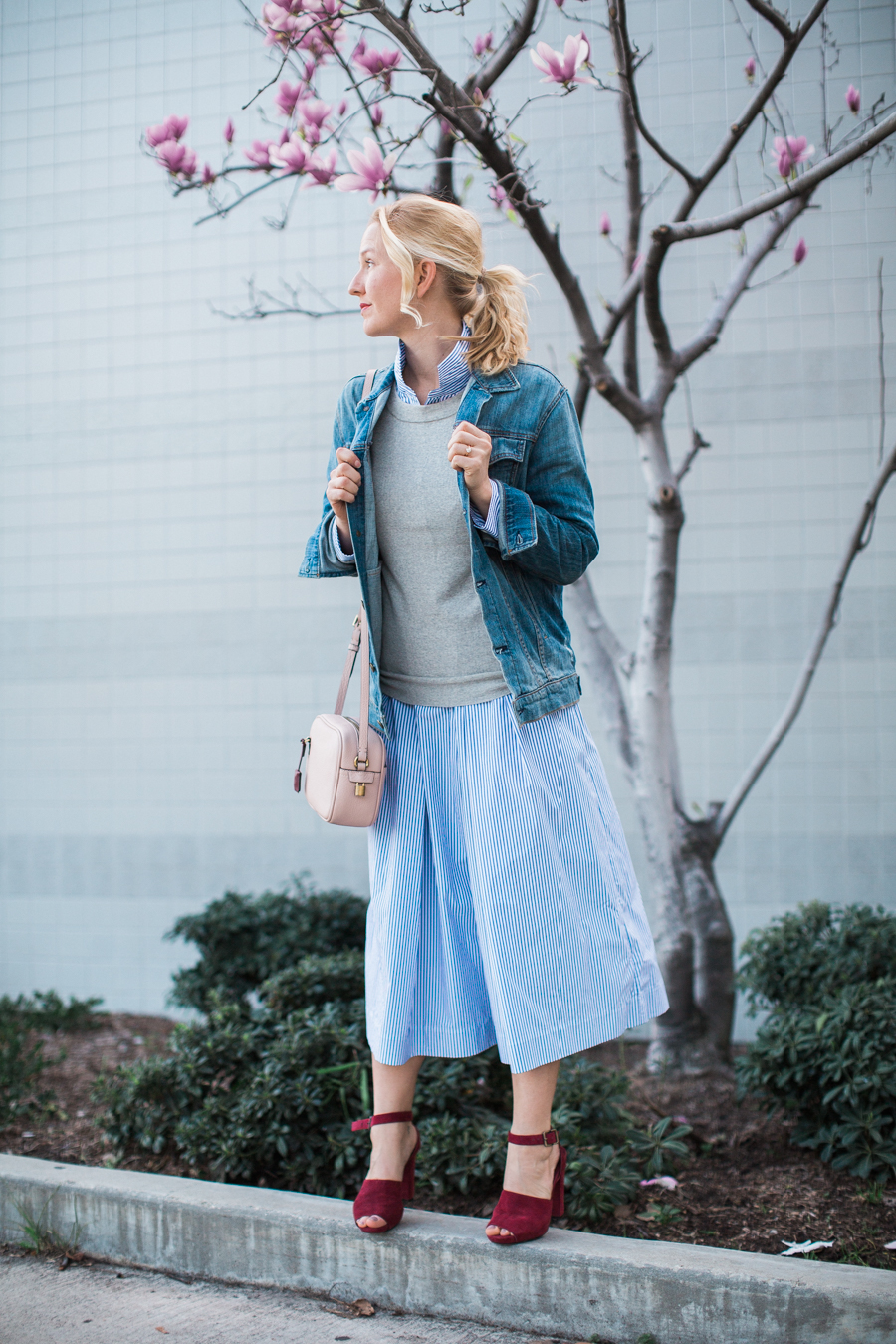 My initial inclination was to play it safe with trousers or jeans, but I decided to push the envelope and partake in a little jumpsuit action instead. The wide leg of this shirting stripe jumpsuit is so playful with its big box pleats! I toned down the prepster vibe of the blue and white stripe by adding an oversized denim jacket and blocky suede mules, then accented the entire look with a camera bag in softest blush.
Caroline inadvertently echoed the palette I chose but of course interpreted in a totally unique way! A dark denim button down and slim white jeans provide a comfy foundation for layering, especially when teamed up with brightly hued accessories in shades of raspberry, cherry, and ice blue. A bandana scarf and fun pins complete this take on a sweater that's anything but basic!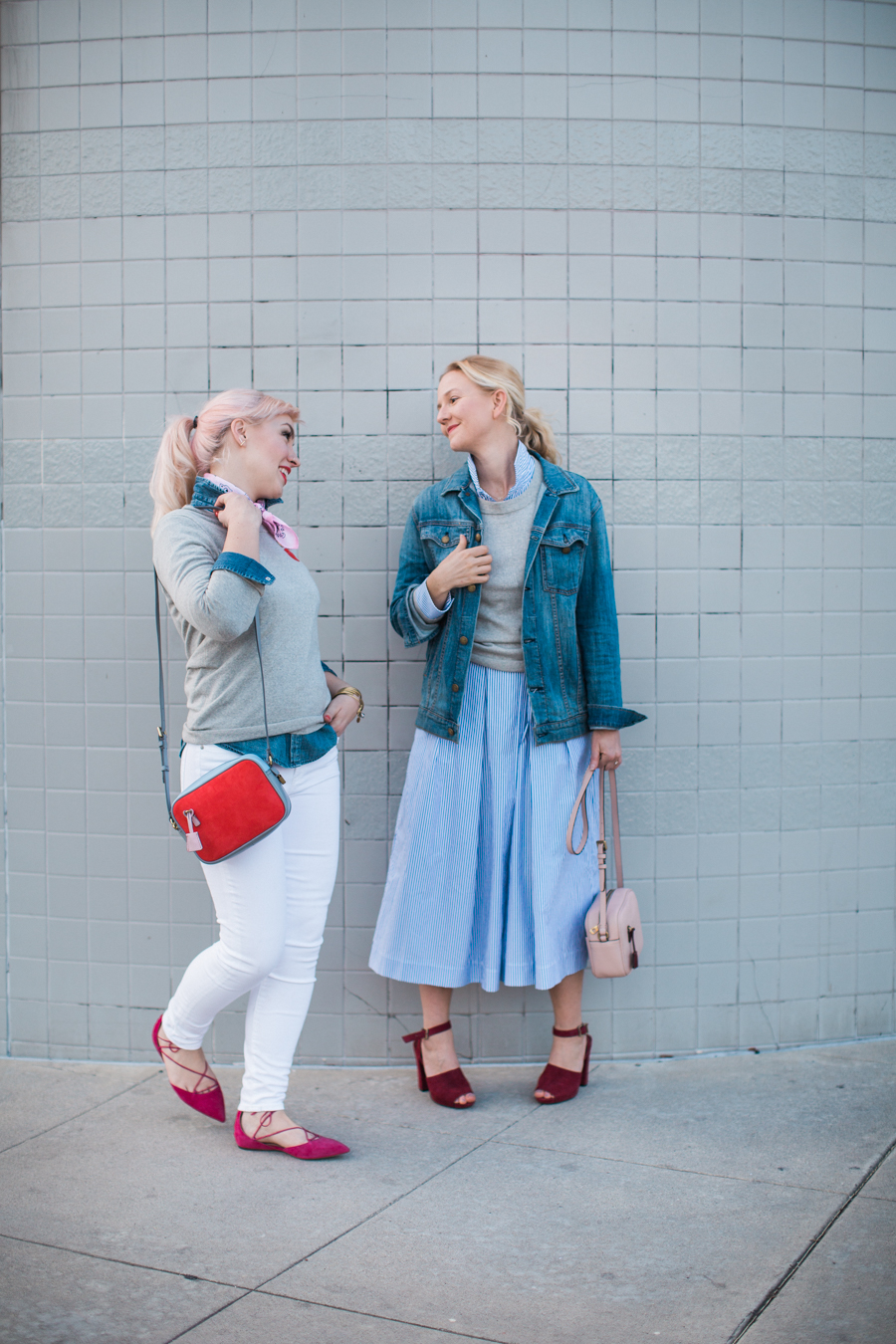 Photos: Jayden Lee for Echo & Earl.