I have a confession to make: I have a secret passion for corned beef and cabbage. I'd eat it by the bucketload if you let me. But I never feel quite as happy after consuming it as I do while shoveling into my mouth, thanks to the gargantuan quantity of sodium in the beef. So I'm left to celebrate St. Patrick's Day in other ways. Fortunately, it rolls around right as the markets are flooded with tender young green things, so it definitely is possible to stay on palette for the holiday and stay spry as a leprechaun! This green spring salad is the perfect case in point.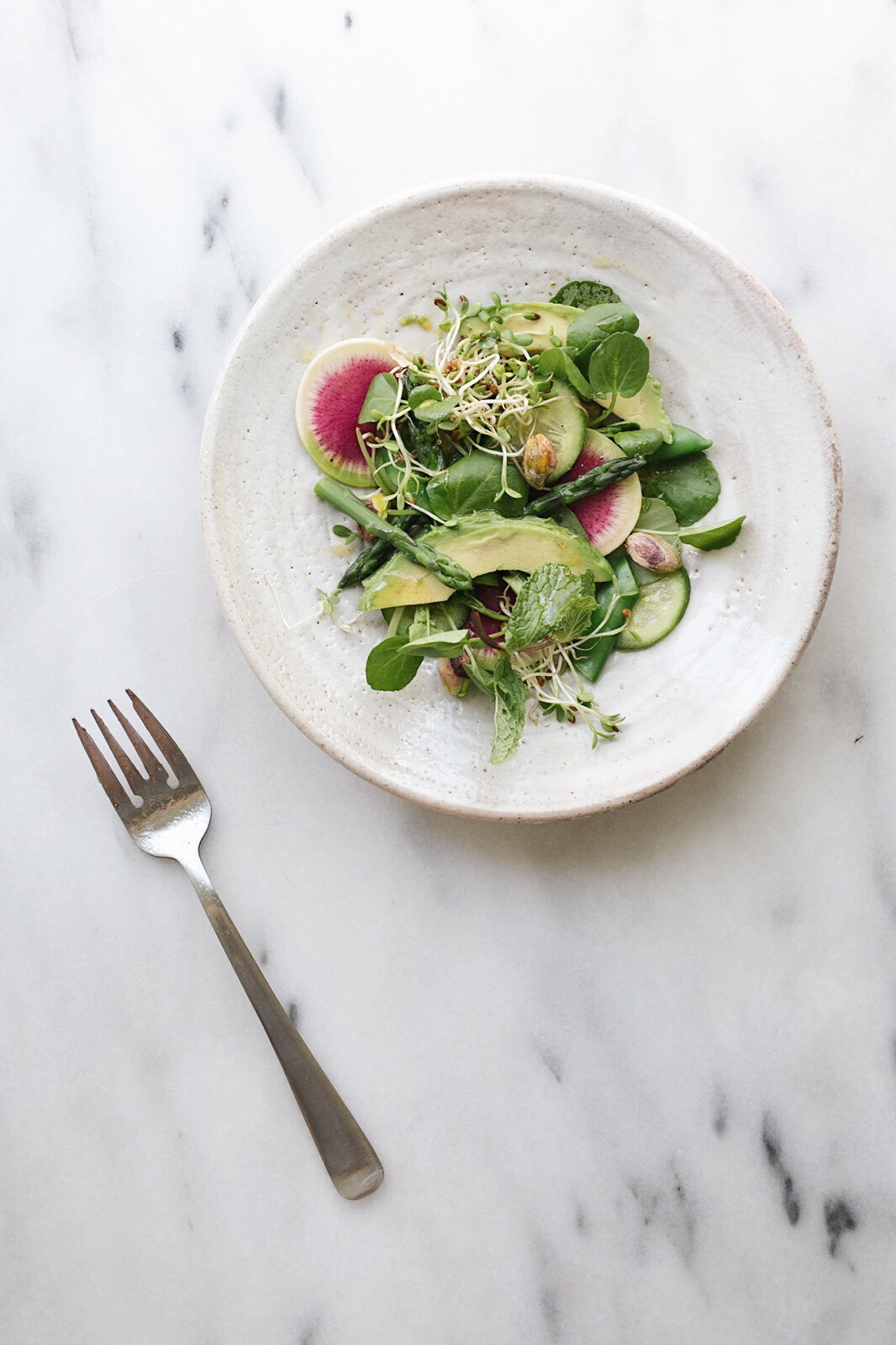 The inspiration and ingredients for this salad comes to us from Out of the Box Collective, an organic farm-to-home delivery company that services Southern California zip codes from San Diego to Santa Barbara. Out of the Box specializes in what they call Real Food Boxes: curated, weekly themed boxes with selections from all the food groups. There's farm fresh produce, of course, but there's also recipes and all the goods you need to make them, from eggs and grass-fed meats to hand-rolled pastas, freshly baked breads, locally produced condiments, . Every box is fully customizable—perfect for households with dietary considerations—and in honor of spring they're offering $20 off your first order with the code CITYSAGE20! (Not only would this be the perfect chance to try Out of the Box yourself, but a farm box makes an ideal gift for all the new parents who seem to pop up this time of year…!)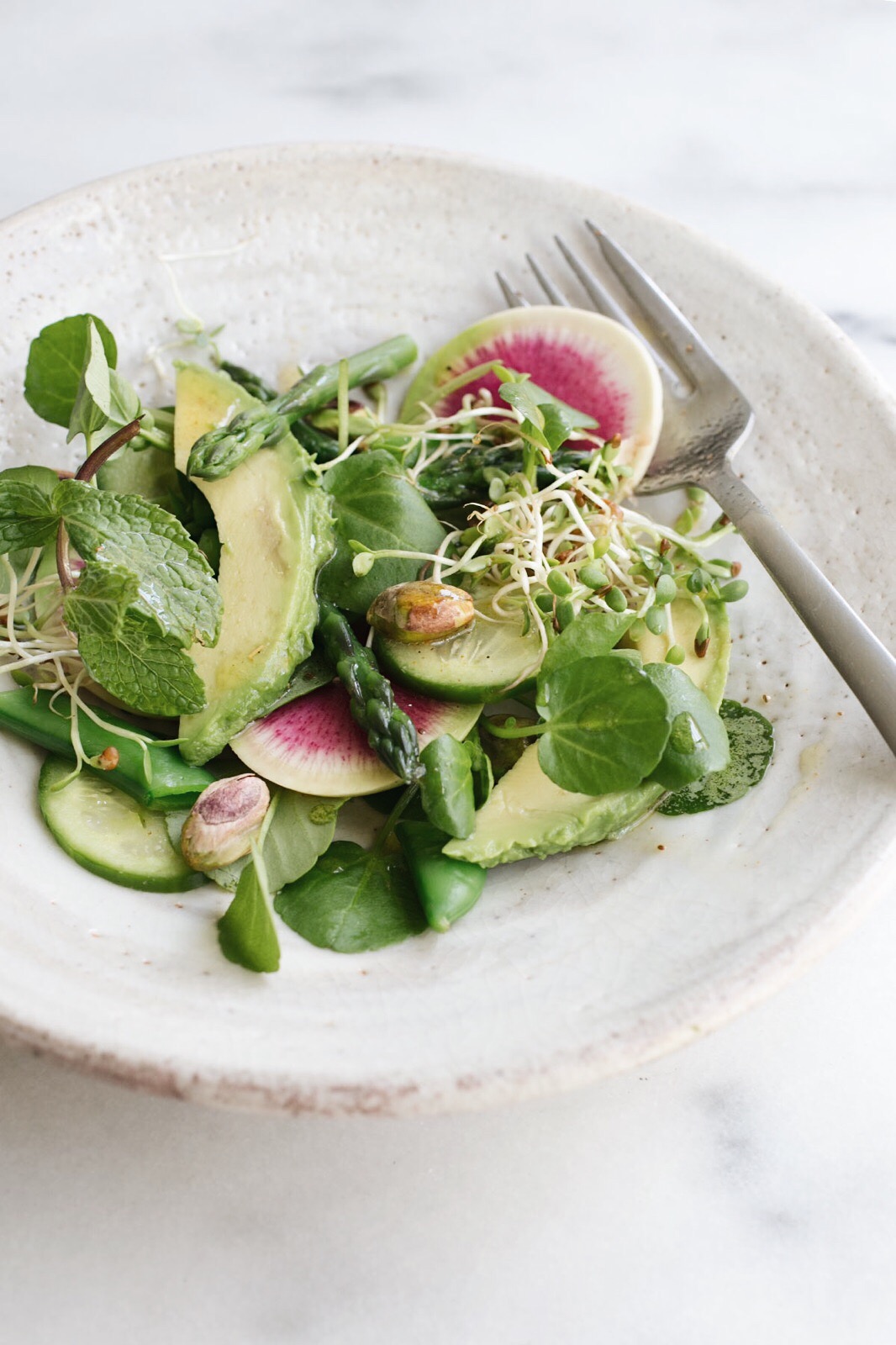 But back to this salad! It truly is the lightest, loveliest combination of all the earth has to offer. It combines so many different textures all under the green umbrella, from crisp snap peas to crunchy pistachios, and from smooth avocado to delicate sprouts. A simple lemon vinaigrette brightens and melds all the flavors together while also providing a subtle kick with Old Bay seasoning. Oh, and what's that lingering on your palate? It's the freshness of mint, waiting to be discovered like the pot of gold at the end of the rainbow!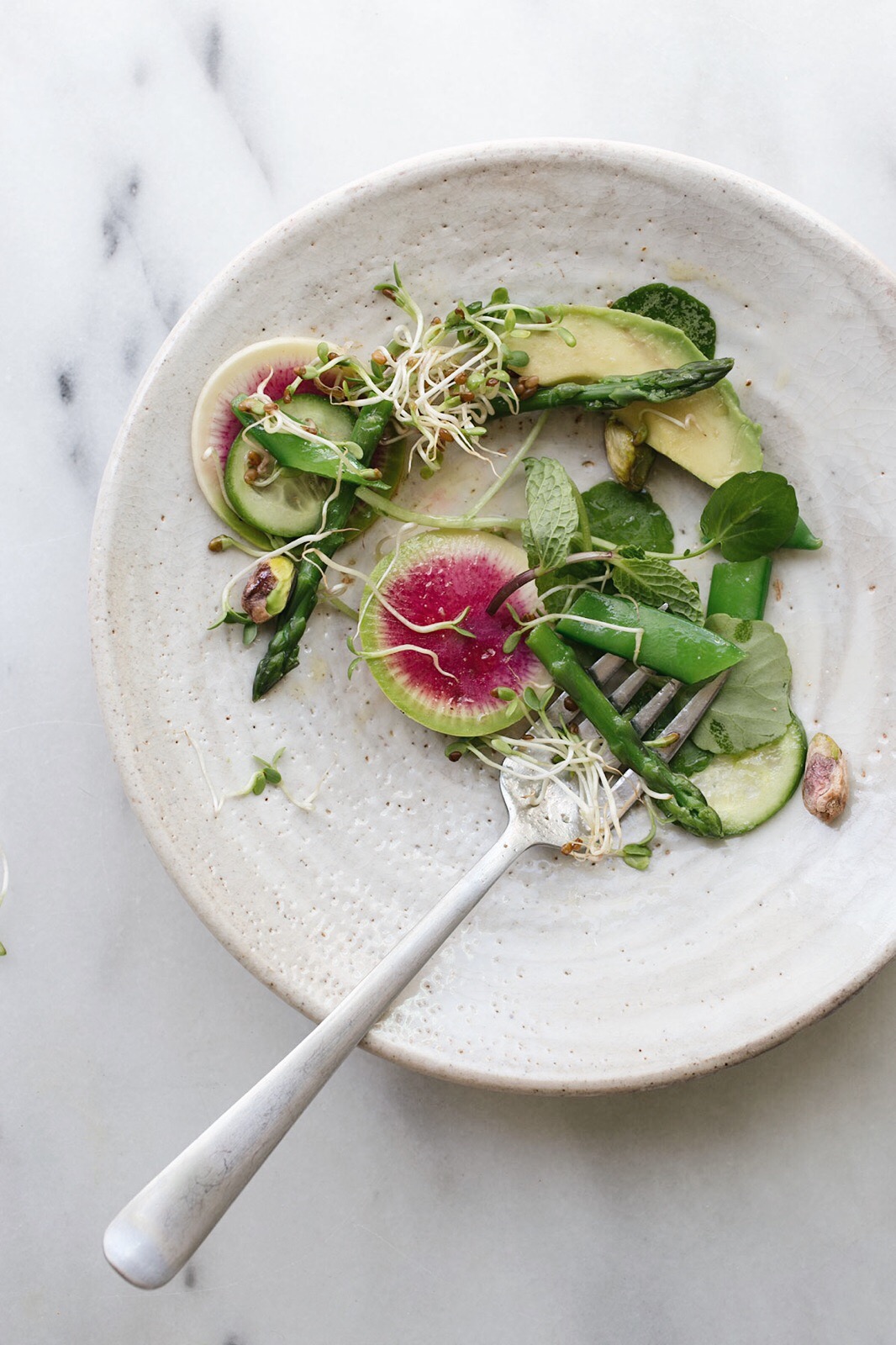 Green Spring Salad
Serves 2-4; recipe via Out Of The Box Collective, adapted from Love & Lemons.
1 bunch asparagus, tender tops only
snap peas, sliced bite-sized
a few handfuls watercress or other delicate salad greens
2 sliced watermelon radishes
handful clover sprouts
1 avocado, sliced
2 Persian cucumbers, sliced
handful of mint, chopped
———–
juice of 2-3 lemons, depending on desired acidity
1/2 c olive oil
2-3 drops liquid stevia
1 tsp Old Bay seasoning
salt and pepper to taste
Make the dressing by combining lemon juice through salt and pepper in a mason jar. Shake to combine, set aside. Bring a pot of water to boil and blanch asparagus and snap peas for 45 seconds or until tender crisp and bright green. Submerge in cold water to halt cooking and drain. In a large bowl, combine all salad ingredients, drizzle with desired quantity of vinaigrette, and serve.
Photography: Anne Sage.