Is it too soon to start thinking about summer vacation? No? Good, 'cause I totally am! I'm already counting the days until I return to Italy and reprise my role as the social media advisor at one of Annette Joseph's photography and styling workshops! One of the reasons I'm so excited is that this year marks the first time Annette is holding the workshops at her newly renovated fortress in northern Tuscany. There are just a few spots left to join us in shooting, cooking, and touring a region of Italy celebrated for its rolling green hills, historic castles, and of course its sublime regional cuisine. As far as I'm concerned, June can't come soon enough!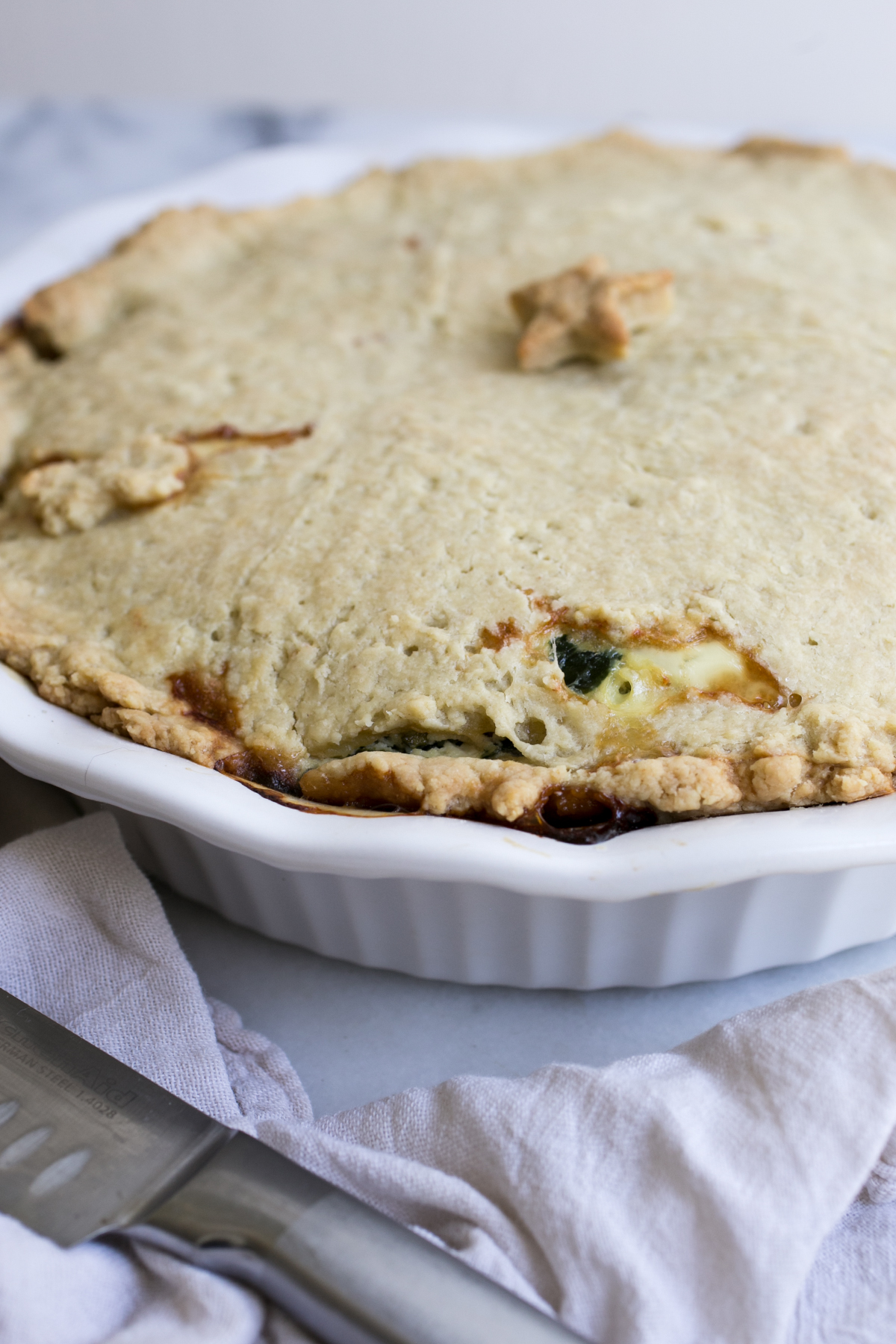 In the meantime, I'm tiding myself over with one of Annette's favorite Italian dishes. This Torta Pasqualina is a traditional Easter offering that's typically served cold, so it's perfect as an easy, make-ahead brunch recipe for a crowd. It's impressive-looking, too, thanks to the whole eggs that bake right in the center of the torta to be revealed in all their glory with each slice. But the best part of this recipe, in my opinion, is the crust. A cup of olive oil (yes! a cup!) makes for a richly flavored shell that embraces the creamy spinach and ricotta filling like a warm hug—yet it comes together much more quickly than a butter-based crust. Just measure, mix, knead, roll, fill, and bake, and you're one hour away from an Italian vacation for your tastebuds!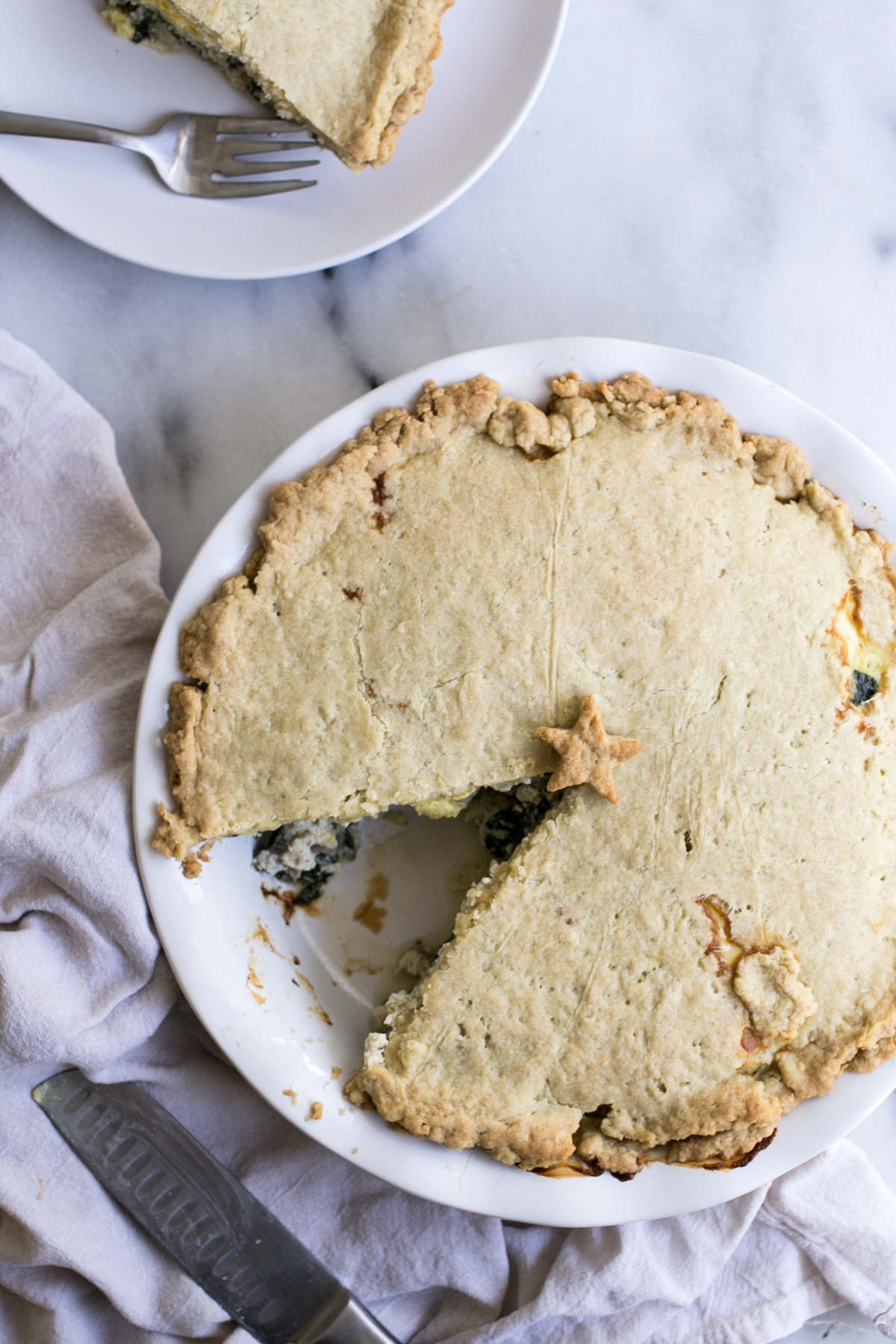 Annette Joseph's Torta Pasqualina
Serves 6–8
For the Crust:
4 cups all-purpose flour
1 cup olive oil
1 tablespoon salt
3/4 cups ice water
Make crust in a food processor or large mixing bowl. Put flour in the bowl and add oil and salt. Pulse the food processor or mix by hand with a fork until pebble-sized crumbs appear, then add water until dough comes together. (You may need to add a little more water to the dough. It should form a soft ball of dough.) Set the dough aside and make the filling.
For the Filling:
1/2 medium red onion sliced thinly
3 tablespoons olive oil
6 cups chopped fresh spinach
1 cup grated parmesan cheese
3 cups fresh ricotta cheese
1 tablespoon dried marjoram
1 egg
salt and pepper to taste
4 eggs + 1 for egg wash
Preheat the oven to 375ºF. In a large sauté pan, add olive oil. Slice the red onion into thin slices, sauté with the oil. Once the onions have become transparent, add the spinach. Add salt and pepper. Sauté mixture until spinach is wilted, about 10 minutes. Cook off as much liquid in the pan as possible. Remove from heat and set aside. In a large bowl, combine cheeses, marjoram and 1 egg. When the spinach mixture has cooled for about 10 minutes, squeeze excess liquid from the mixture and add to the cheese mixture. Combine well and set aside.
Now assemble the pie. Divide crust into two parts, lightly dust flour on a large board and roll dough out to 1/4 inch disk. Place this disk into a 12" pie form or a ceramic pie dish. Make sure the edges of the dough overlap the side of the dish. Fill with the spinach mixture, smooth the top and make four indentations into the spinach mixture with a spoon. These indentations will hold the eggs. Crack an egg carefully into each indentation. Roll out the remaining crust and place on top. Pinch all around the edges and finish with egg wash on top. Bake in a 375ºF oven for 1 hour and allow to cool completely before cutting.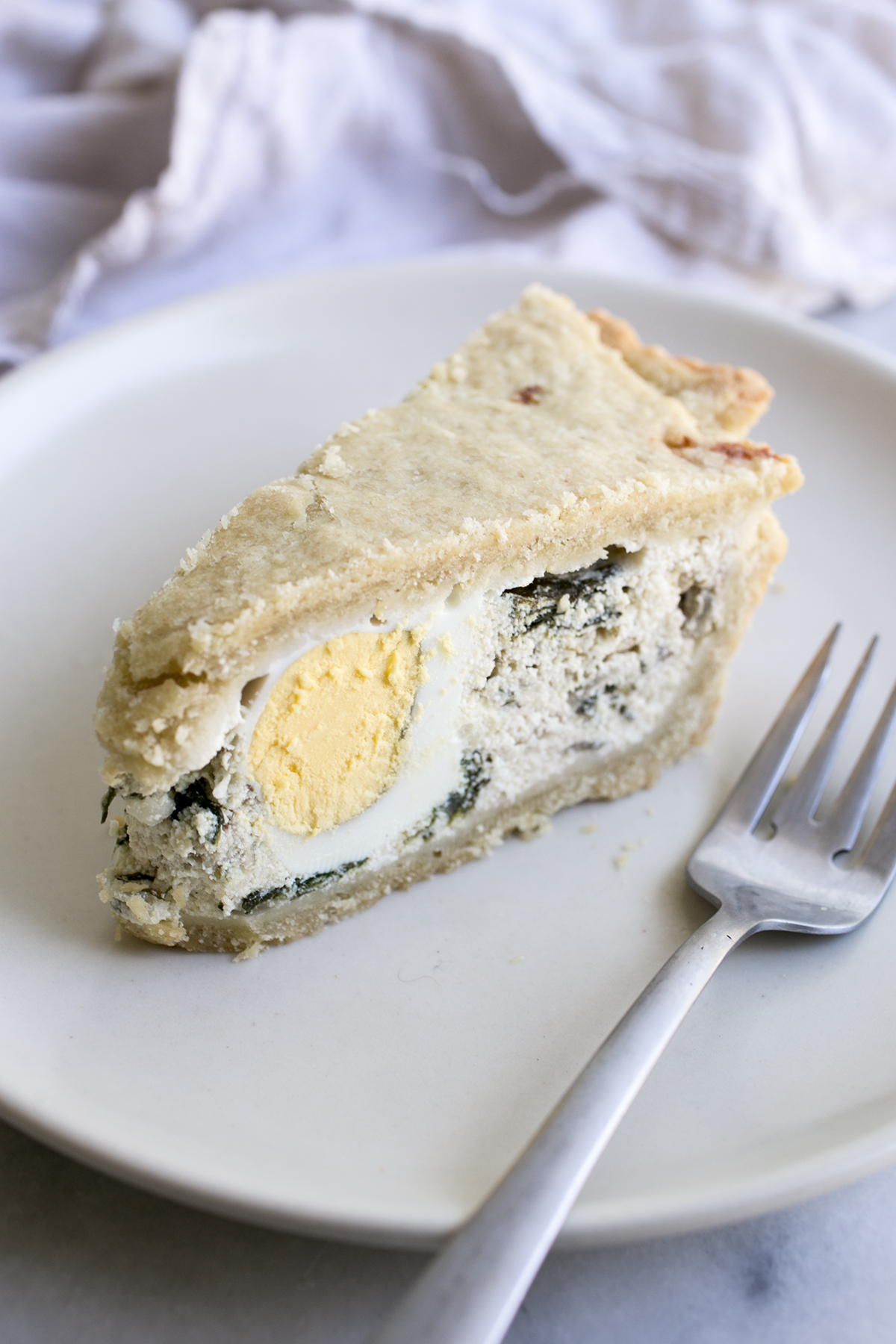 Photos: Anne Sage.