Earlier this spring I shared a recipe for my favorite poppyseed salad dressing. I lowered the sugar content, without sacrificing flavor, by trading the regular sugar in the original recipe for Truvia Natural Sweetener. The results were so delicious that I've been swapping full-sugar sweeteners for Truvia Natural Sweetener in all my healthy dressings ever since! But until now, I haven't been brave enough to see if Truvia could pass a tougher test and replace the brown and white sugar in my perfect chewy gluten-free chocolate chip cookies. After all, baked goods are infamously temperamental to begin with, and my tried-and-true recipe for perfect chocolate chippers has been decades in the making.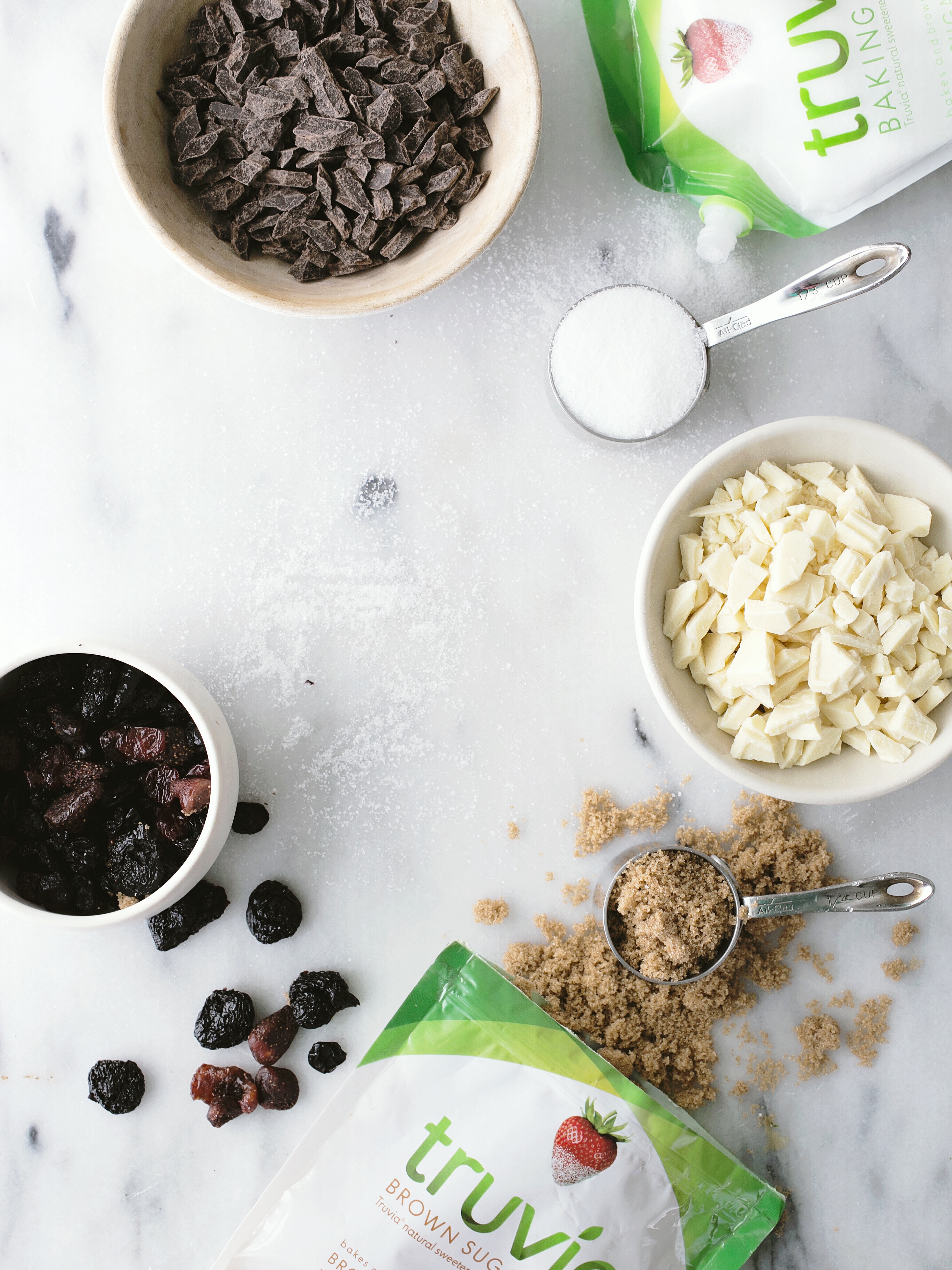 When I say decades, I mean that quite literally! In high school I'd regularly come home after class and whip up a batch of cookies—partly so I could eat the dough as a snack but also because I was fascinated by the big changes that even a small tweak in the ingredients could make. Over the years, after much trial and error, I arrived at the ideal blend of sugar and eggs, vanilla and flour, to yield a treat that is my Platonic ideal of the perfect chocolate chip cookie: chewy and dense in the center, slightly crisp around the edges, and brimming with buttery, chocolatey taste. Then more recently, with the arrival on the market of reliable gluten-free all-purpose flour blends, I discovered that I could make these cookies GF in a pinch!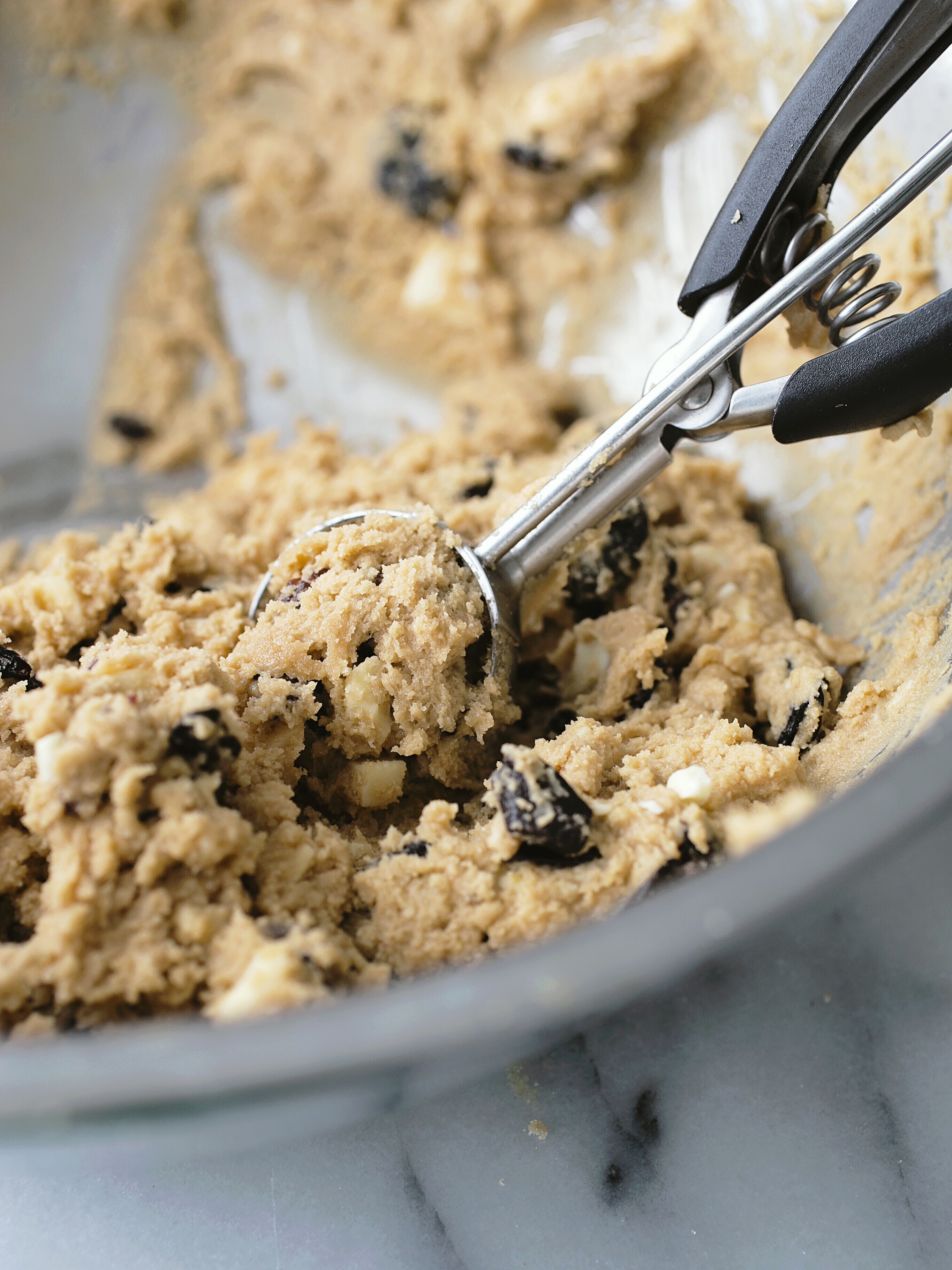 Even though I was hesitant to mess with the good thing I had going, I was also excited to experiment with Truvia's natural sweeteners for baking to see if I could lower the sugar and calorie content in my cookies without sacrificing the taste or texture I'd spent years honing. I used Truvia Brown Sugar Blend—which bakes and browns just like brown sugar—and Truvia Baking Blend, which provides the same clean, bright qualities of regular white sugar. Both sweeteners are a blend of sugar or brown sugar with stevia leaf for naturally sourced sweetness, and both have 75% fewer calories per serving than regular sugar. If the swap worked as well as I hoped it would, it would represent a seismic jump forward in the evolution of my recipe!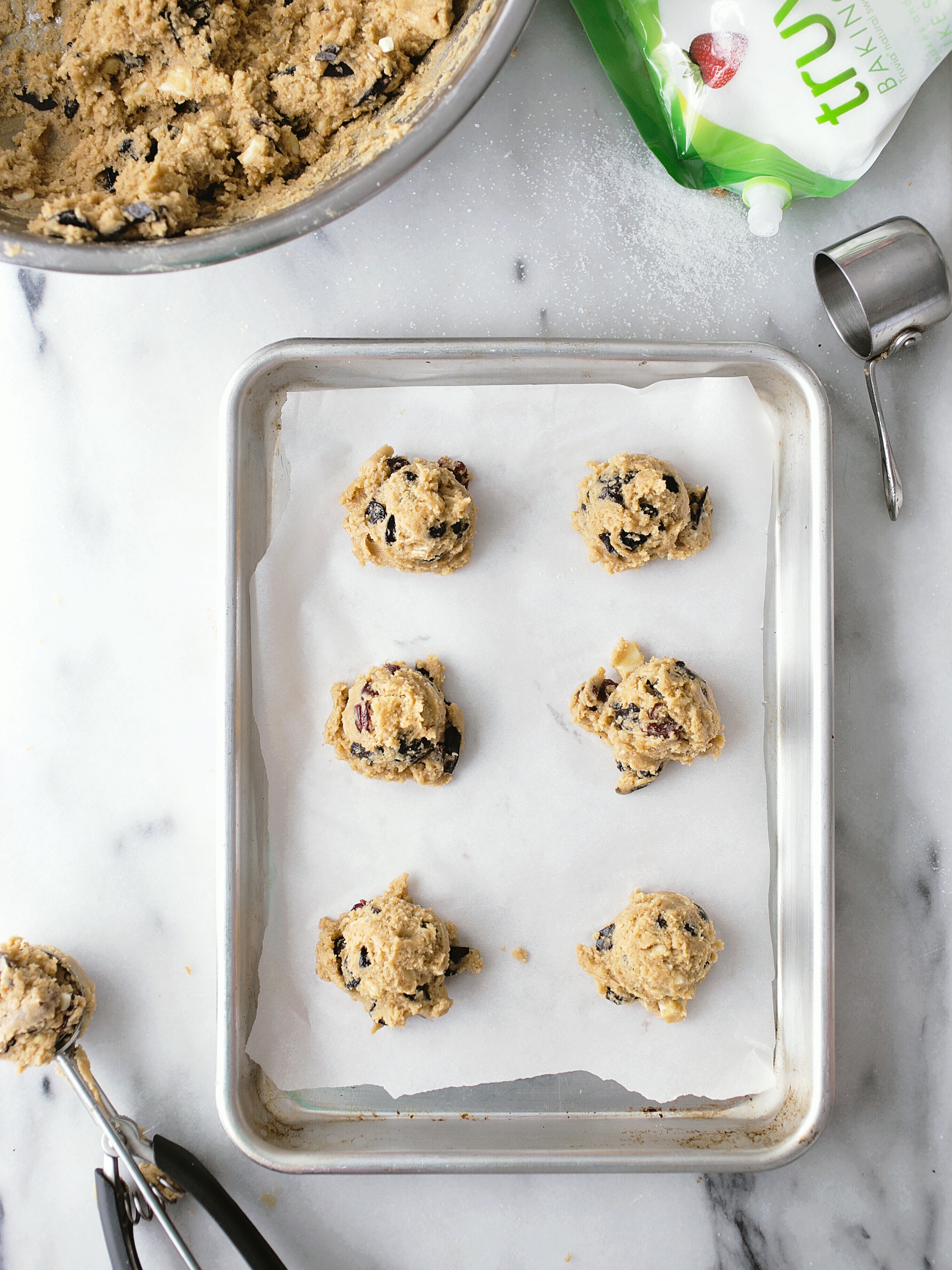 Well, not only did it work, but dare I say these cookies turned out even better than the originals? The consistency of the dough was identical to my classic version, and the shape, texture, and taste of the finished result was dangerously addictive! All the key flavor components came through with flying colors—the molasses-y warmth of brown sugar, the crisp bite of white sugar—and that critical contrast of melty middles and crunchy edges remained. For the cookies shown here I used a mix of white chocolate and tart dried berries for fun, but you can go wild with your mix-ins knowing that Truvia has got you covered with utterly delicious cookies that over-delivers on all your expectations, and have less sugar and fewer calories!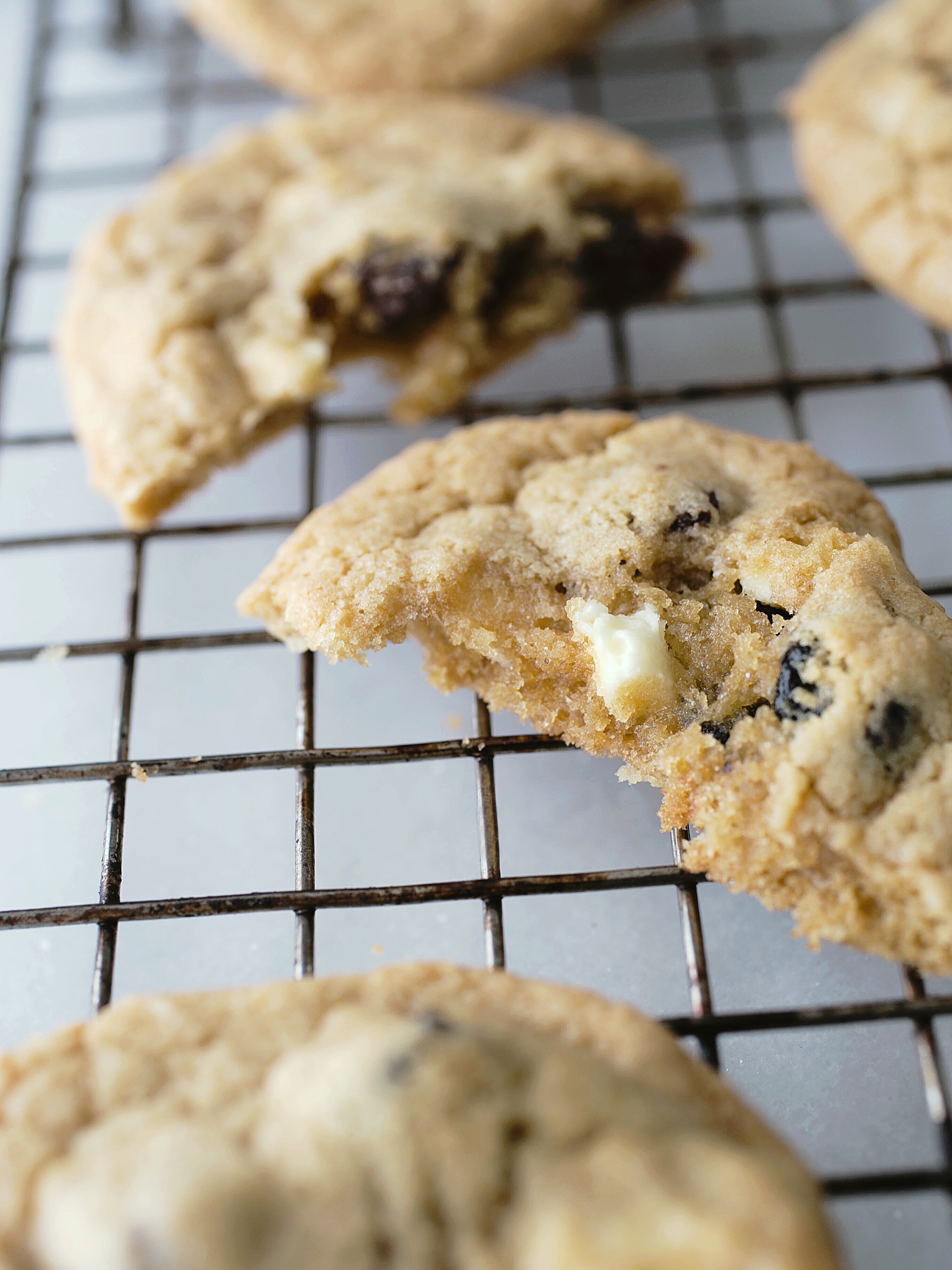 Perfect Gluten-Free Chewy Chocolate Chip Cookies with Less Sugar
makes 2 dozen cookies
2 cups gluten-free all-purpose flour blend (choose your favorite!)
1/2 tsp baking soda
1 tsp salt (or 1.5 tsp if you like 'em a extra salty like I do!)
3/4 cup unsalted butter, softened
1/2 cup Truvia Brown Sugar Blend
1/4 cup Truvia Baking Blend
1 egg
1 egg yolk
1 tablespoon vanilla extract
2 cups mix-ins of choice (here I used 1 cup white chocolate chips and 1 cup dried mixed berries)
Preheat the oven to 325 degrees. In a large mixing bowl, combine flour, baking soda, and salt. Set aside. Cream butter, Truvia Brown Sugar Blend, and Truvia Baking Blend until fluffy. Add egg, egg yolk, and vanilla, mix until smooth and lighter still. Mix in dry ingredients until just blended, then add mix-ins and stir to combine. Drop 2-tablespoon sized balls of dough onto a baking sheet lined with parchment paper. Bake approximately 15 minutes or until edges are lightly browned. Transfer to a baking rack to cool…or eat straight from the pan while hot, melty, and gooey!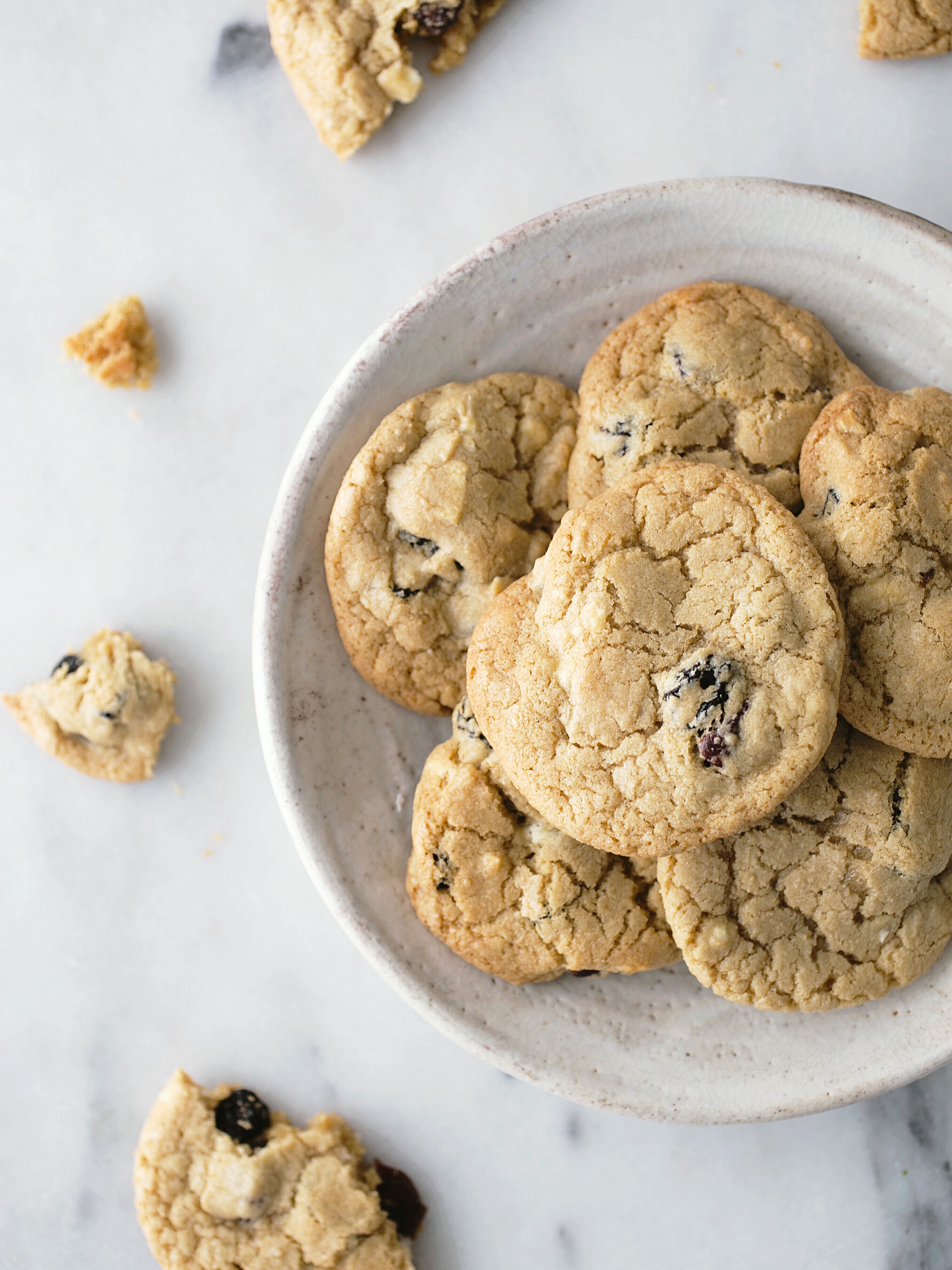 Disclosure: I partnered with Truvia to develop, style, shoot, write, and share this recipe post. All opinions are and always will be my own. Thank you for supporting the brands that enable me to bring you fresh inspiration daily! Photos: Anne Sage