I've been thinking about moms a lot lately. I guess I'm at that age. I'm watching many of my peers enter the mothering phase of their lives; I've been watching my own mother explore a new phase of discovery and identity in her life; and I've been watching my path creep every more closely towards the entrance of a child into my own life. I'm newly married and just shy of 35 years old, so the time is certainly nigh. Yet the nearer I draw towards parenthood, the more aware I am of how utterly courageous an act it is to take full responsibility for another human, let alone an infant one. In fact most days I feel like I need a nanny for myself! So this Mother's Day—possibly my last before I become a mom myself—I'm especially aware of how important it is to celebrate all moms everywhere.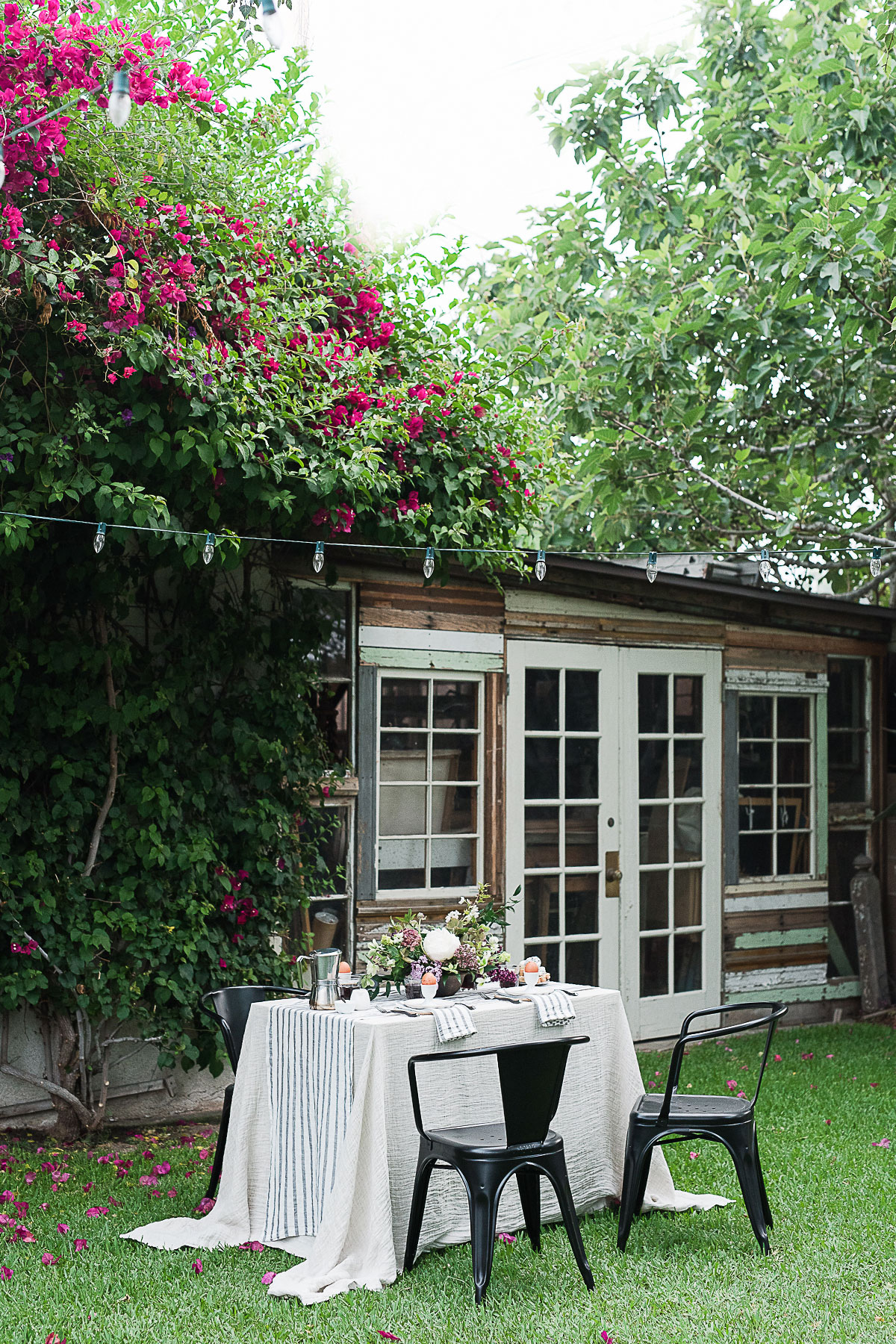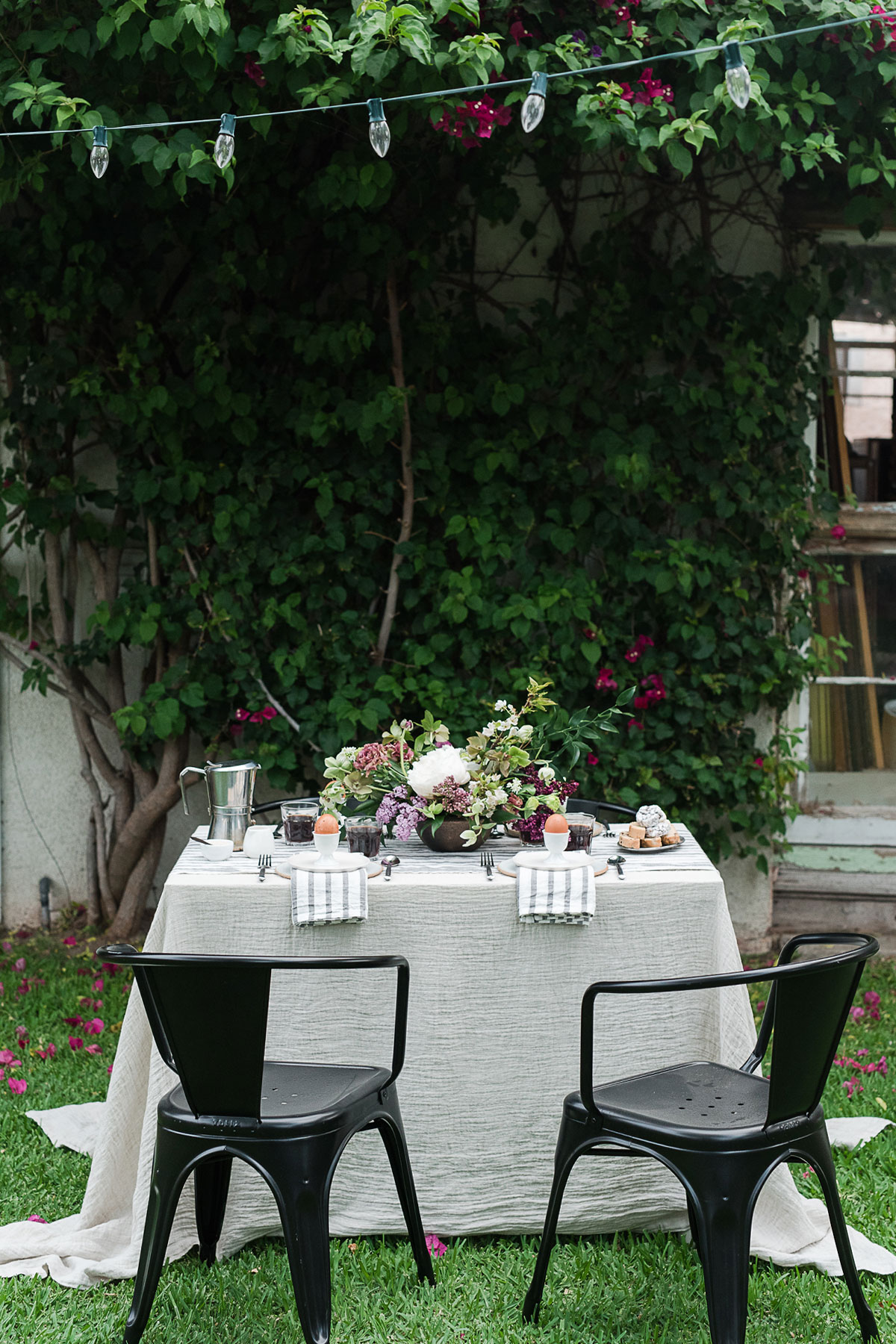 Of course, moms have enough to worry about, so any Mother's Day fête should require minimal effort on everyone's part. When Parachute asked me to share some Mother's Day entertaining ideas that highlight their newly released collection of tabletop linens, I decided to style a brunch setting as stress-free as I'd want the guest of honor to feel when she took her seat at the table. After all, the energy that goes into creating a gathering sets the tone for the event overall! Every detail needed to satisfy the question "Is this easy breezy?"—and there's no better filter for that than a working mom with twins! My dear friend Jess of Taylor + Taylor has identical 7-month-old boys as well as a thriving interiors firm, so I knew if I could whip up a dreamy little spring vignette that came together faster than I could say "sleep deprived", we'd be in business.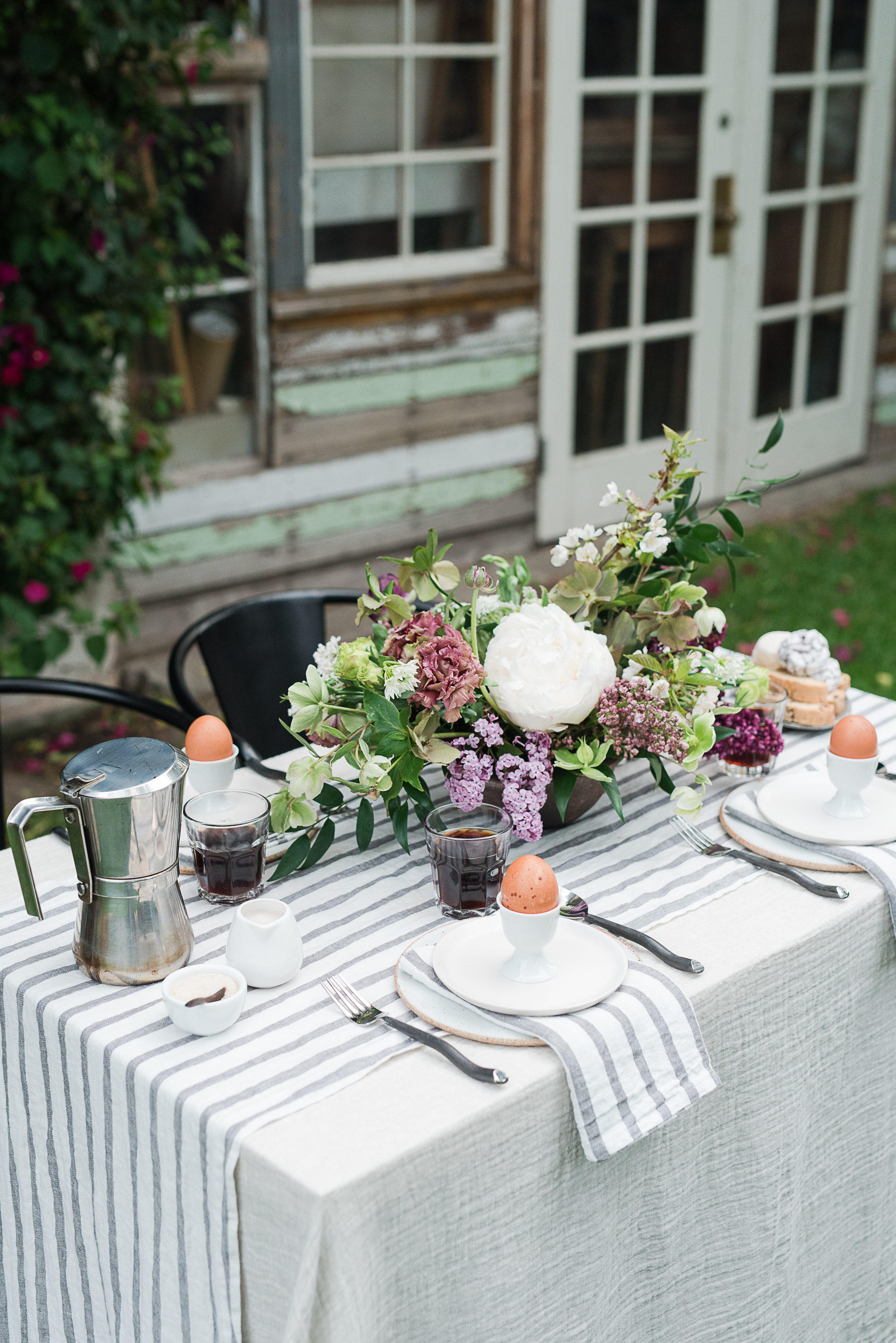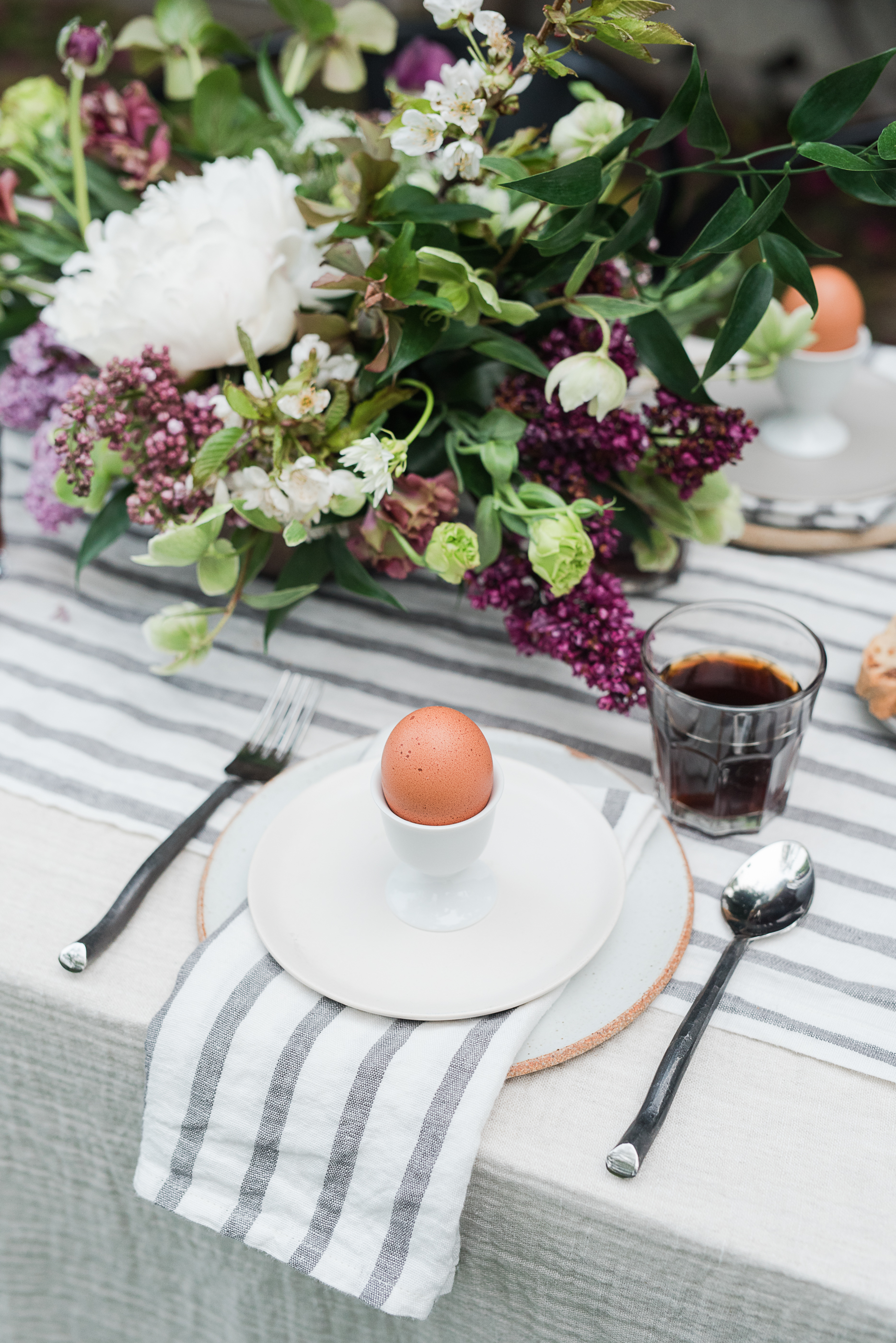 Parachute's gorgeous new tabletop collection was the perfect starting place for our sweet and simple Mother's Day brunch table. Both Jess and I couldn't stop oohing and aahing over how lovely they are. Made from top quality Italian fabrics, the linen napkins, linen tablecloth, tea towels, and beautifully draped table runner are all impossibly soft with a muted palette that lays a quiet, calming foundation for laid-back meals any time of day. The mix of crisp stripes and crinkled solids adds just enough pattern and texture to keep things interesting. I'd describe the entire collection as Elevated Everyday: nice enough to make even a weeknight dinner feel special, but not so fancy that you're afraid to use them.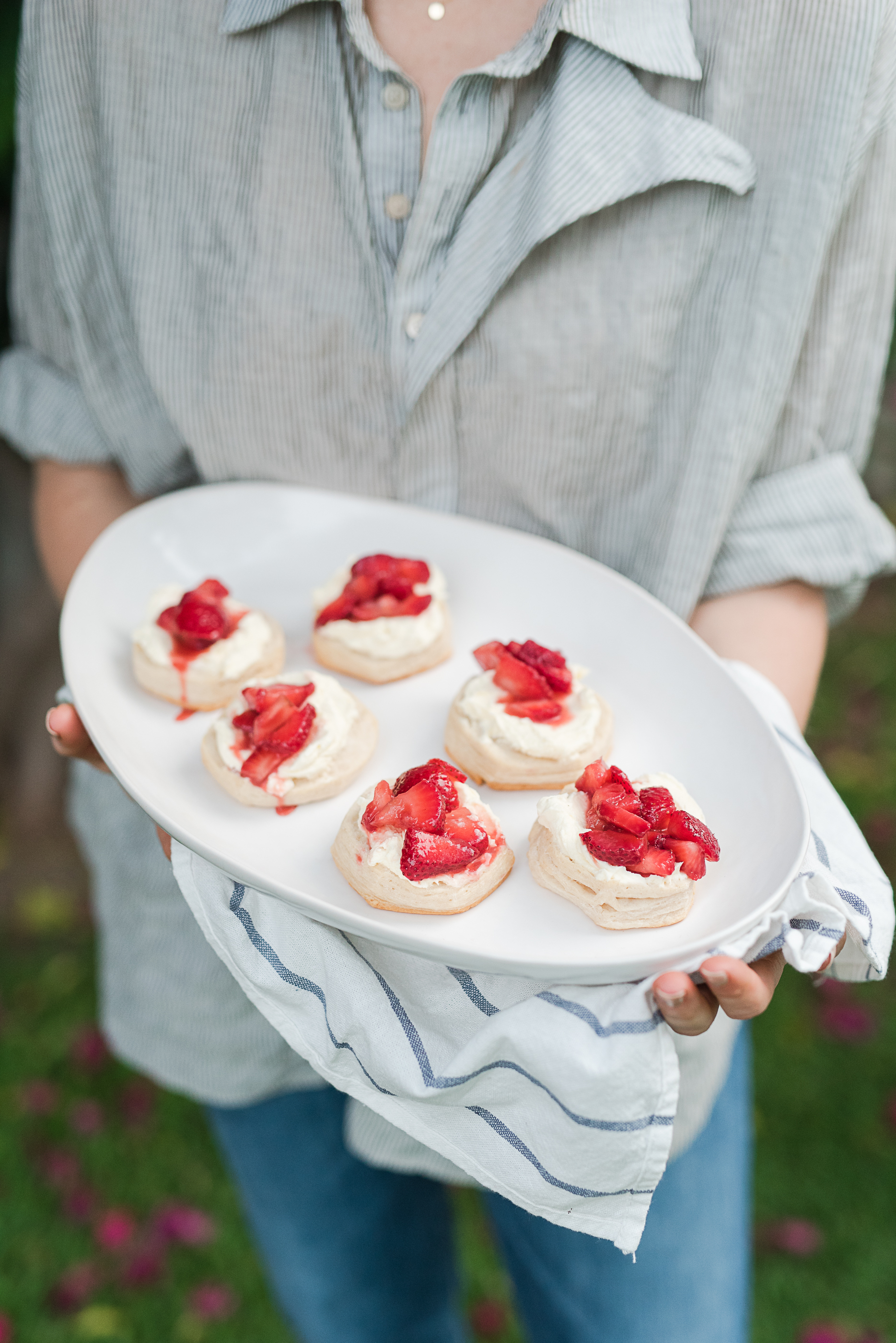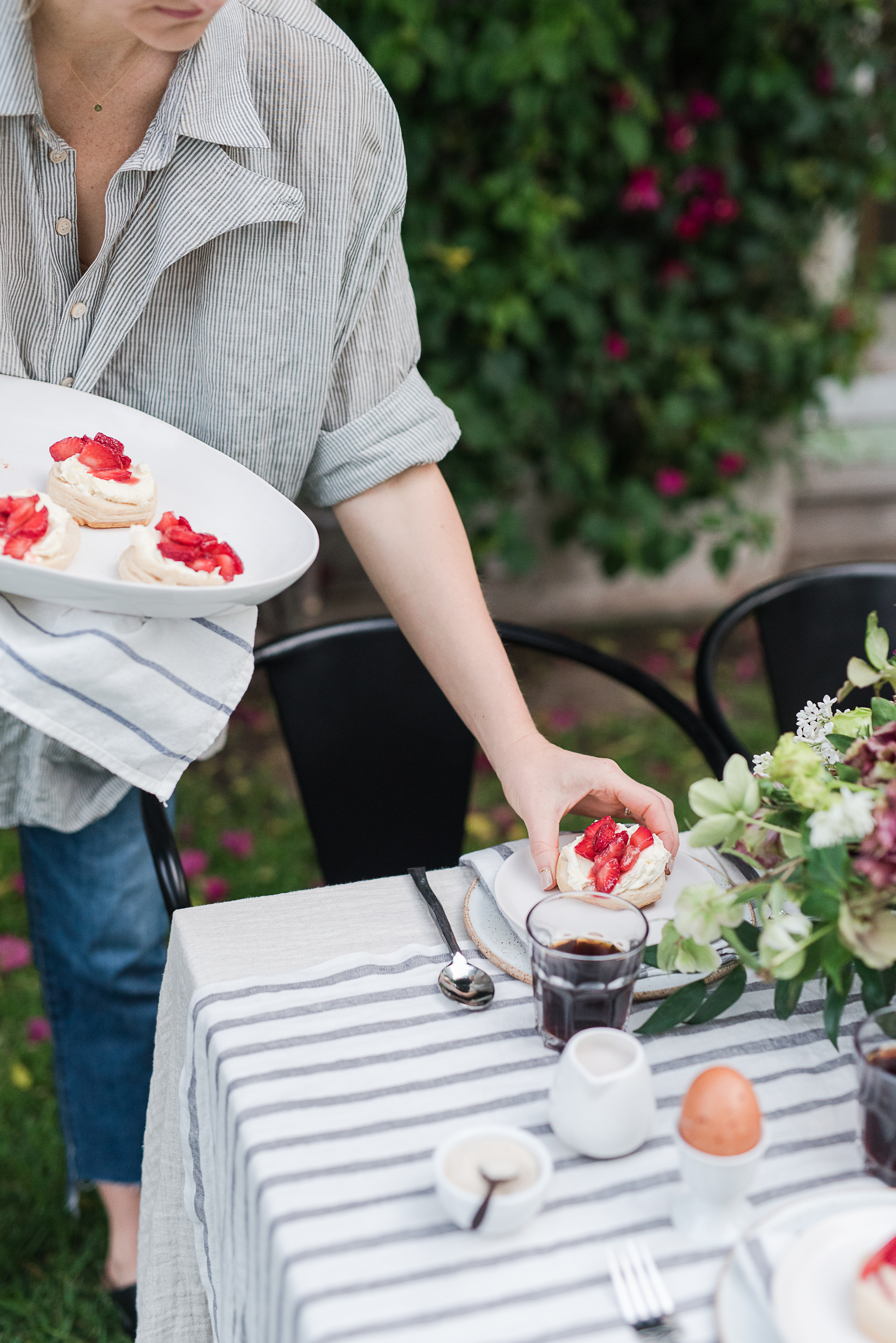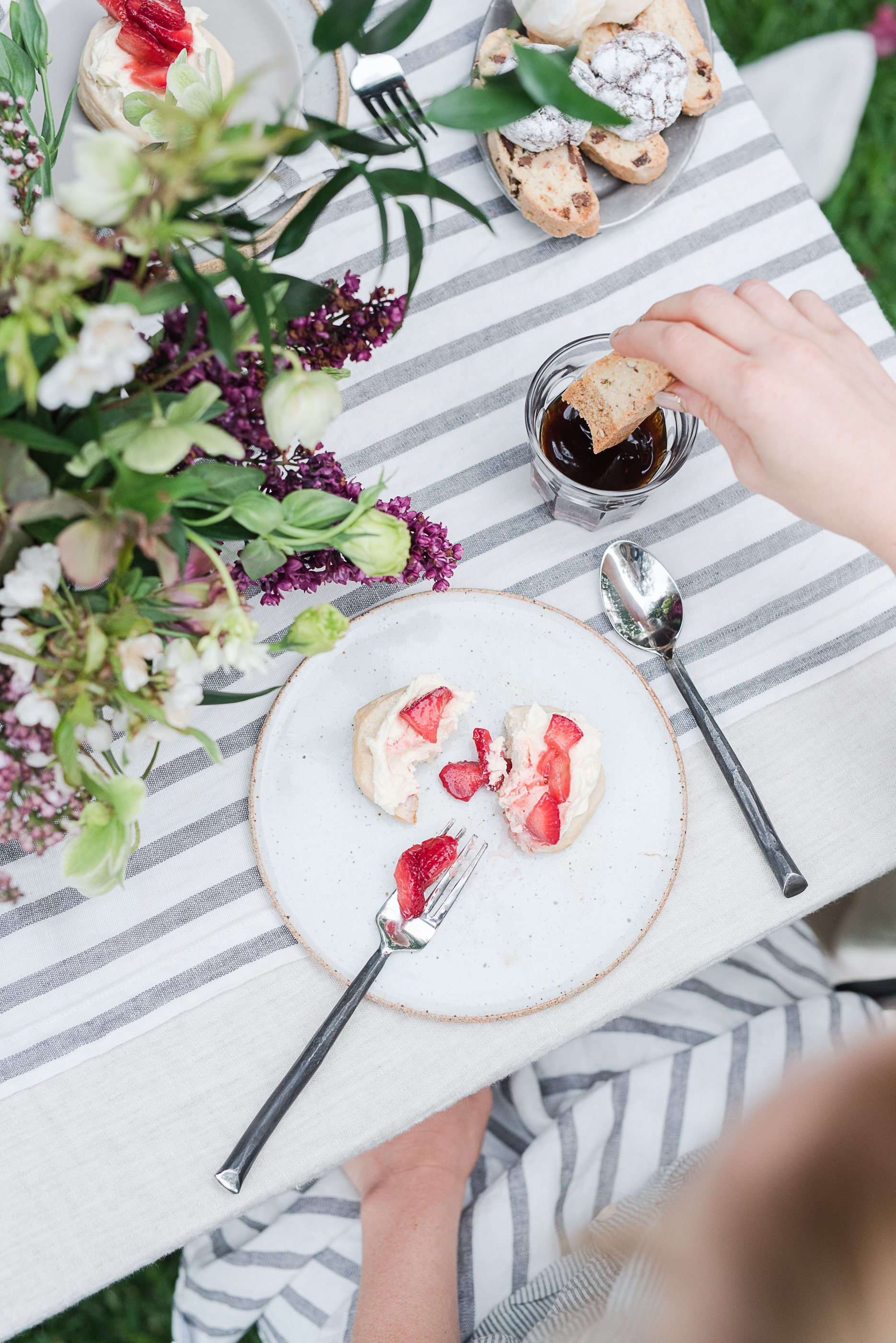 I kept the food for our brunch super straightforward. No need to dirty tons of dishes! Soft boiled eggs get the royal treatment when presented in cute ceramic egg cups. A selection of biscotti and amaretti cookies lend themselves to dunking in hot, fresh espresso. And "homemade" strawberry shortcakes are just biscuit dough from the grocery store refrigerator case, baked up and then spread with clotted cream and sliced berries!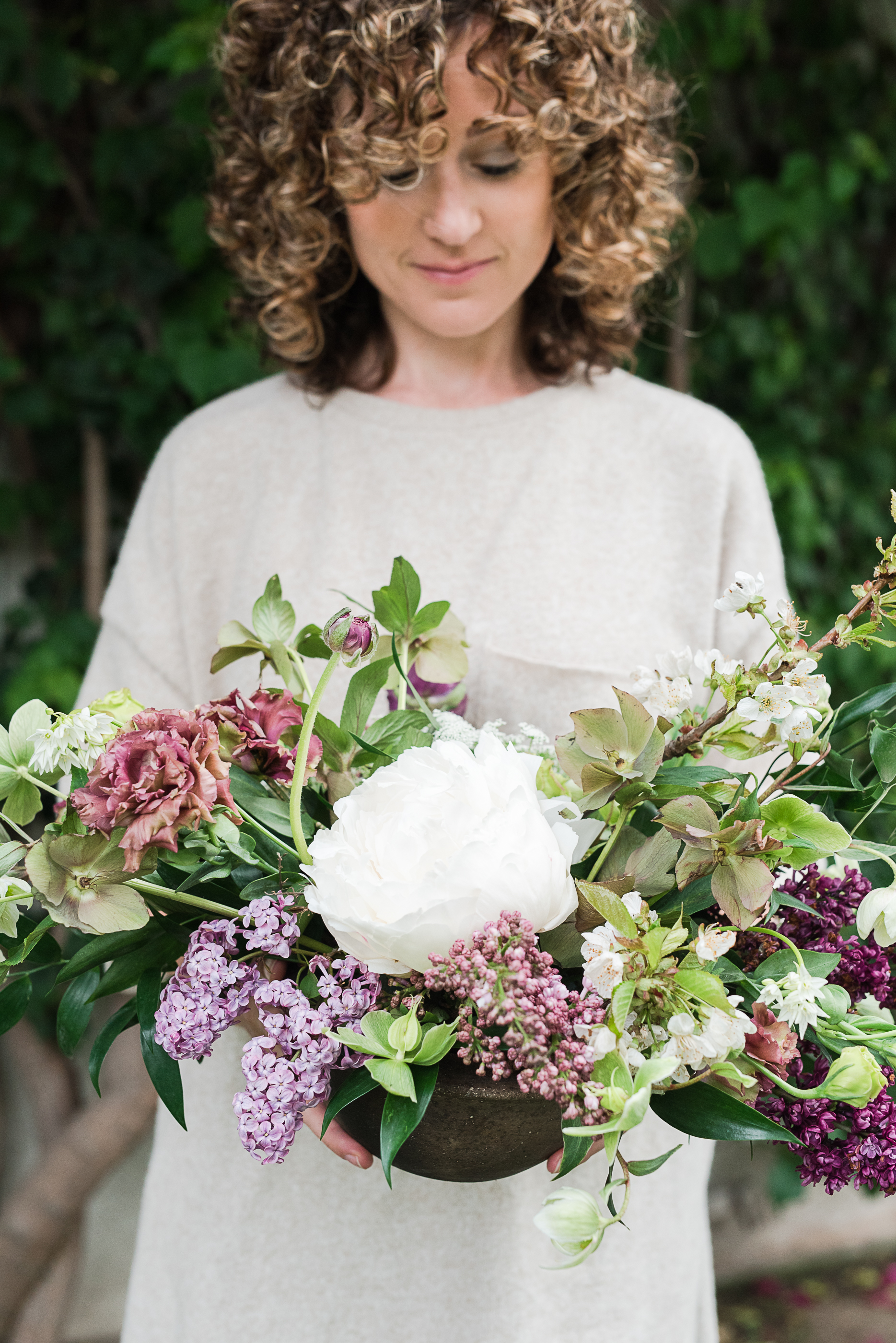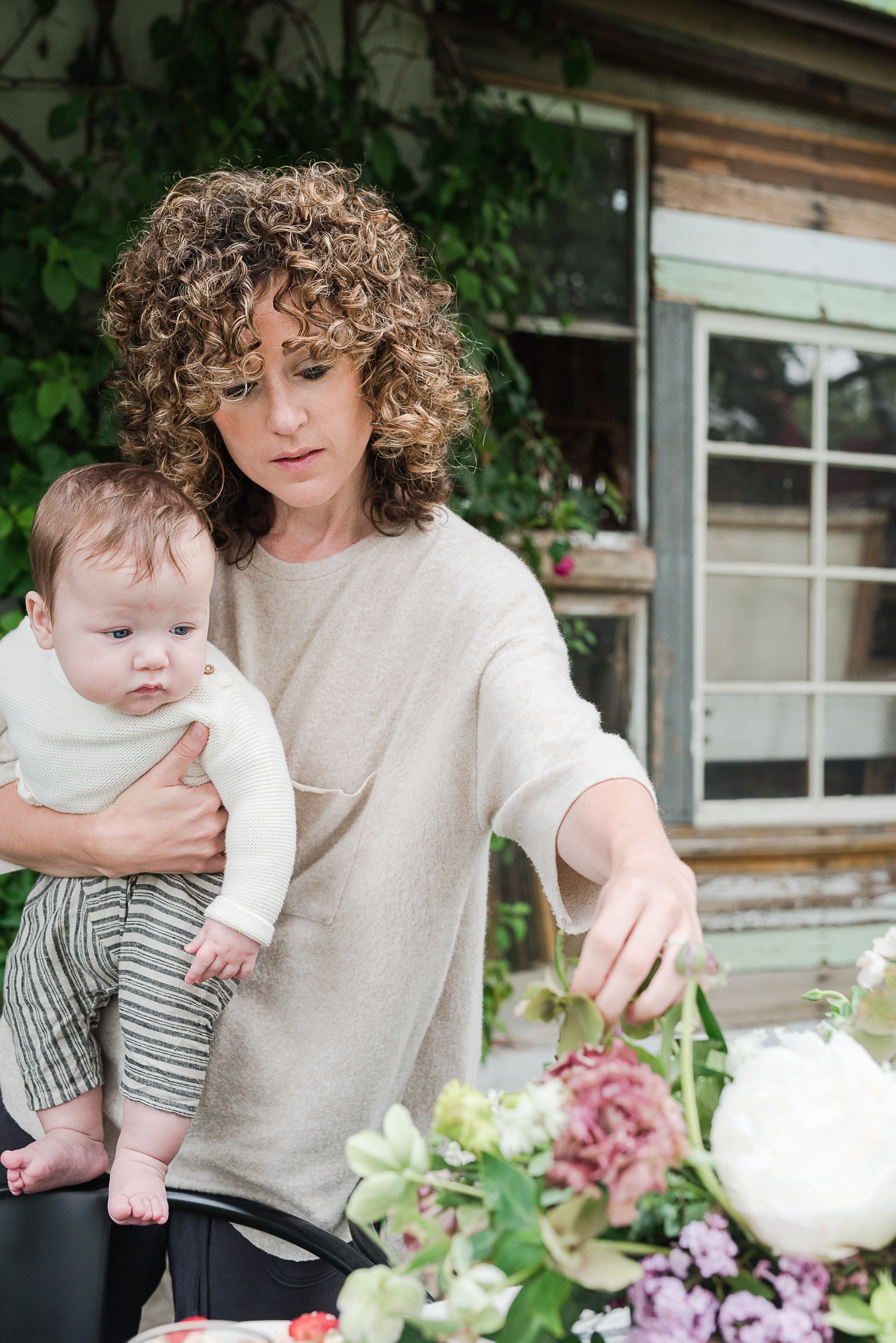 If you've got a mom like Jess on your hands, she may want to use her own celebration brunch as an excuse to flex her creative muscles. So hand her som cash and give her a few hours off to wander the flower market and come home with armfuls of seasonal blooms! Jess designs such exquisite arrangements, and this combination of lilacs, peonies, and hellebores is no exception. It puts the finishing touch on our spring entertaining scene, leaving us free to do what mom's want most on Mother's Day: spend some precious quality time with their littles!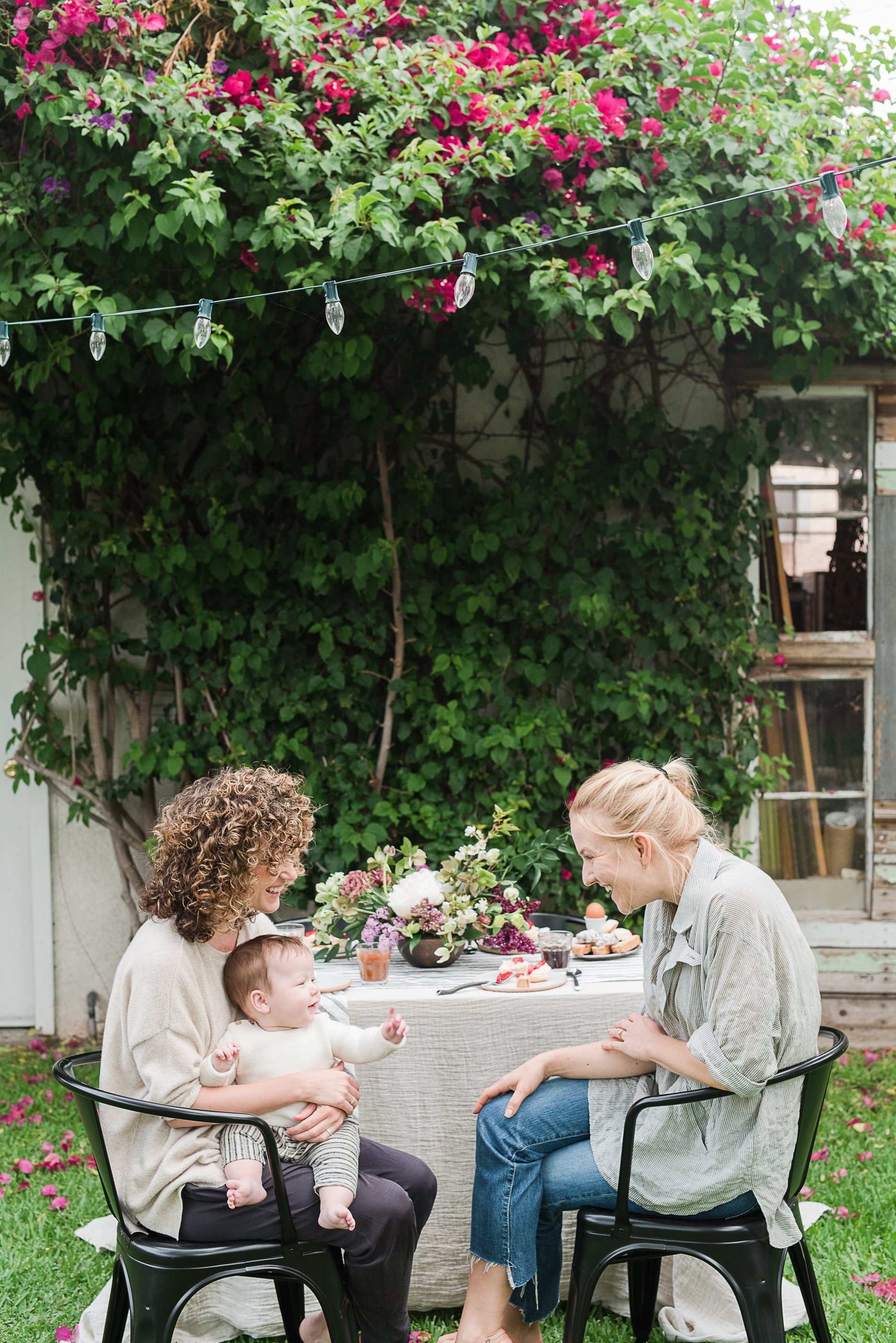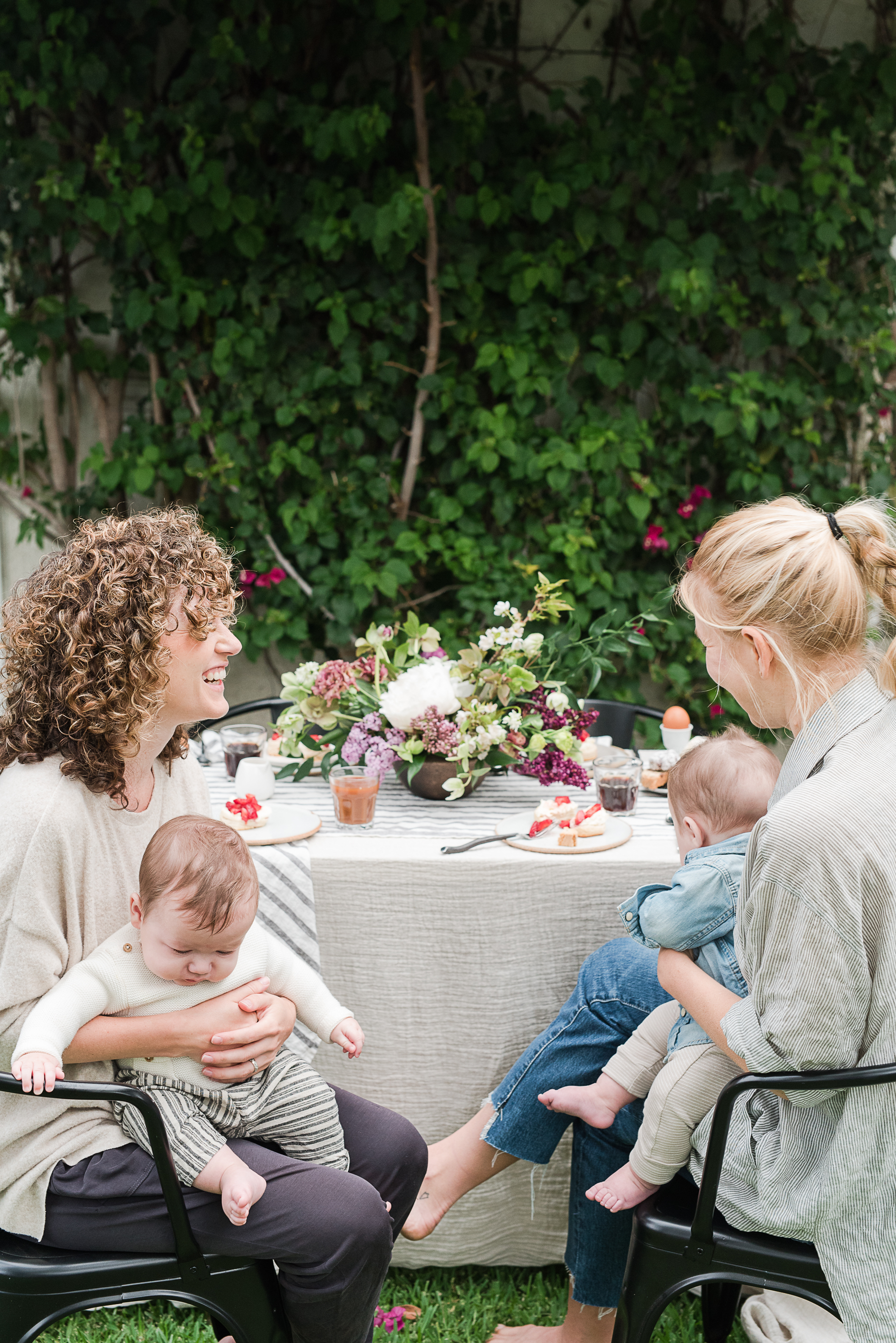 Photos: Brandi Welles Photographer. Florals and Vintage Tolix Chairs: Taylor + Taylor. Concept and Styling: Anne Sage. Disclosure: I partnered with Parachute to concept, style, shoot, and share this post. All opinions are and always will be my own. Thank you for supporting the brands that allow me to bring you fresh inspiration daily!