If food tastes best when it's made with love, then food from the kitchen of Kale and Caramel's Lily Diamond is unapologetically sublime. Lily has one of the biggest hearts of anyone I know, and she pours herself into every dish she makes. Her brand new book, the Kale and Caramel cookbook, embodies the spirit and soul that characterizes her work. It's overflowing with delicious recipes and the heartwarming stories behind them!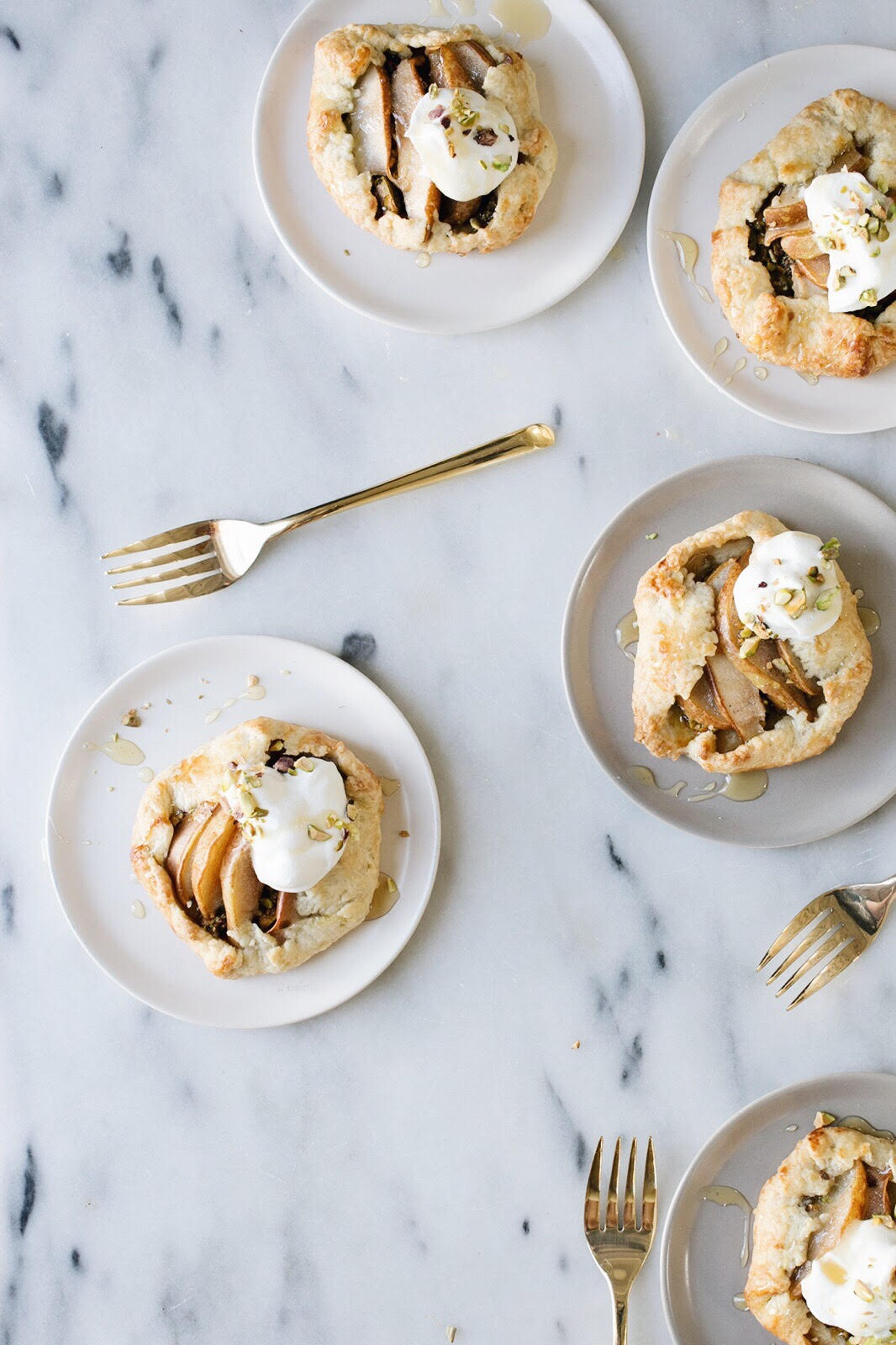 I'm always on the lookout for a versatile baked good that can do double duty at the breakfast and dessert tables, and Lily's fruit galettes fit the bill with aplomb. Like every recipe in the book, they come together quickly and are great for all levels of skill in the kitchen. I'm picky about crusts, so I was thrilled when Lily's checked all my boxes: it's sweet but not too sweet, and it has a delicate crumb but doesn't disintegrate when you bite into it. It could easily become your go-to crust for all manner of pastry delights!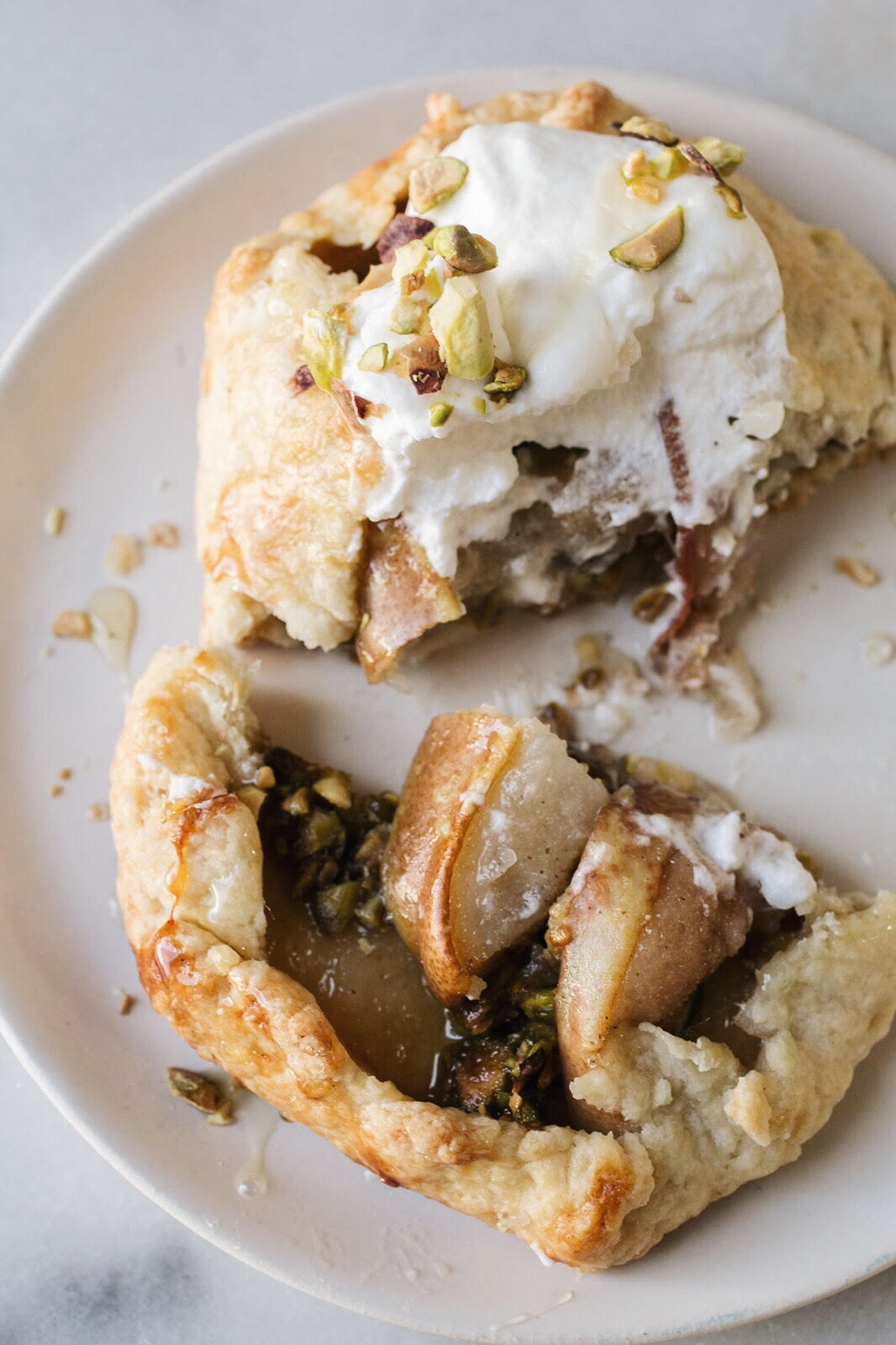 Lily's recipe uses peaches as the fruit in this recipe, but since it's not yet peach season I went with pears instead. The result was fantastic, since the real star here is the pistachio streusel filling that hides beneath the fruit. These would be brilliant at brunch for Father's Day, or stored in the freezer for a late-night, single-serve toaster oven treat. Topped with the rose water whipped cream below, with good old fashioned ice cream, or with nothing at all, there's a whole lotta lovin' in every bite!
Pear Galette from Echo and Earl on Vimeo.
Pear and Pistachio Galettes with Rose Cardamom Cream
adapted from Kale and Caramel: Recipes for Body, Heart, and Table
Pastry Crust
1 1/4 c pastry flour, plus more for rolling
2 tbsp plus 1 tsp granulated sugar
1/4 tsp salt
8 tbsp (1 stick) salted butter, chilled
2-3 tbsp ice water
1 egg (for the egg wash)
Pistachio Filling
3/4 c shilled pistachios, minced
2 tbsp honey
1/4 tsp vanilla seeds scraped from pod, or 1/2 tsp vanilla extract
2 pinches flaky sea salt
Fruit Filling
1 large pear (or 2 small), sliced 1/4 inch thick
2 tsp fresh lemon juice
1/4 tsp ground cardamom
1/4 tsp vanilla seeds scraped from pod, or 1/2 tsp vanilla extract
1 tsp granulated sugar
Rose Whipped Cream
1 c chilled heavy cream
2 1/2 tsp honey
1/4 tsp ground cardamom
1/4 tsp rose water
1. At least 30 minutes in advance, make the crust. Mix 1 1/4 c flour, sugar, and salt in a bowl. Cut the butter into small pieces and use a pastry cutter or fork to work it into the flour until it's almost fully incorporated. Add 2 tbsp water and work dough together for a few moments until it's cohesive. Add more water if it's too crumbly. Separate into 5 equal balls, gently flatten each into a 1/2 inch thick disk, and cover in plastic wrap. Place in fridge. In a small bowl, lightly beat egg and set aside until ready to use.
2. Make the pistachio filling. Combine pistachios, honey, vanilla, and salt in a bowl. Set aside.
3. Make the fruit filling. Place the peaches in a bowl, and douse with lemon juice, cardamom, vanilla, and sugar. Toss lightly to coat, then set aside while you roll out your pastry.
4. Assemble the galettes. Preheat oven to 400 degrees. Lightly dust two baking sheet sized pieces of parchment with flour .When the dough has chilled at least 30 minutes, remove all 5 disks from the fridge and divide them between pieces of parchment paper (the dough will stay on this paper for baking). Roll each disk 1/4 inch thick, and transfer the parchment paper to the baking sheets. Distribute the pistachio filling in a small circle at the center of each disk of dough, about 2 tablespoons each, leaving a 2- to 3- inch perimeter. Reserve extra for garnish. Layer the fruit slices in a circle, about five slices per galette, then fold in the edges of the dough, layering and pinching sections together to prevent any gaps. Brush exposed dough with egg wash. Repeat for each galette. Place baking sheets on middle rackes and bake for 30 to 35 minues, until the fruit is slightly bruleed and the pastry is golden brown.
5. Make the whipped cream. Just before serving, pour heavy cream into a large bowl and add honey, cardamom, and rose water. Whip with an electric mixer until soft peaks form. Spoon some of the rose whipped cream atop each galette, and garnish with extra pistachio filling.
Photography: Anne Sage. Video: Robert Ingraham for Echo + Earl.