When it comes to skincare I'll try anything once—which is how I once ended up with my face dyed yellow after a failed DIY turmeric mask. Home spa fails aside, I love experimenting with the many new beauty releases that cross my desk, and the latest natural skincare offerings are especially good for getting your summer glow on. Not everyone makes the cut and gets an honored spot in my bathroom drawer, but the ones below have earned their place in my June rotation!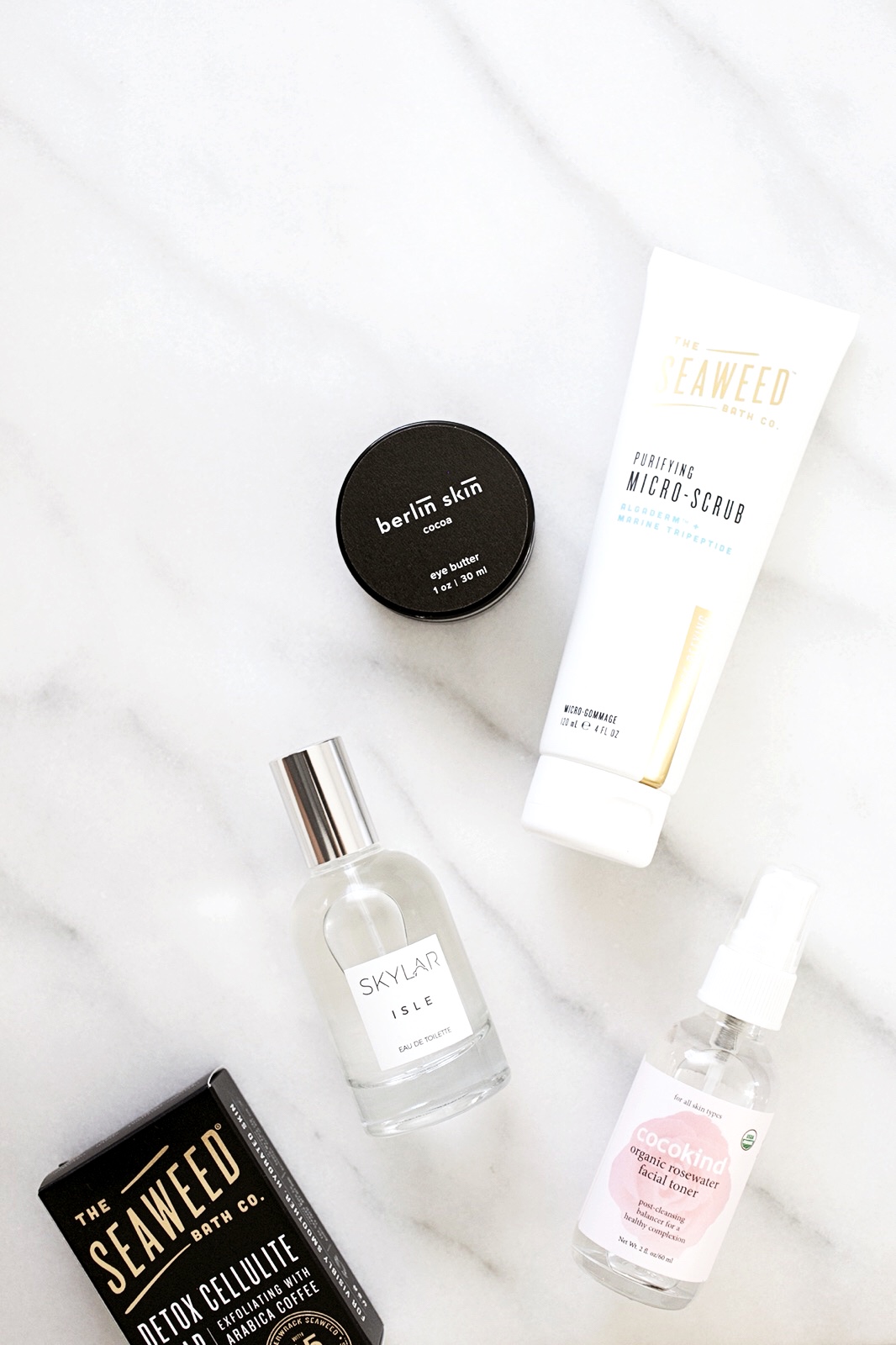 The Seaweed Bath Co.: This fast-growing body and complexion care brand (it's now available at Target!) bases many of its formulas on the minor miracle that is bladderwrack seaweed. The plant's un-sexy name belies its firming, toning, and detoxifying powers, which I've witnessed firsthand since I started using their Firming Detox Cream on my upper legs and bum after every shower. Shorts season? Bring it on!
Skin Owl: Probably my favorite new discovery, Skin Owl means business when it comes to seriously effective natural ingredients for serious results. Their Geranium Beauty Drops is my go-to when my combination skin is acting out, and their Marigold Glow Beauty Steam with dried flower petals is the ultimate for at-home pampering facials!
Skylar: Switch from your heavier cool weather fragrances to a new summer scent from Skylar and you'll enjoy a long list of bonuses: The line's founder is a former employee at The Honest Company and started Skylar to satisfy her own need for fresh, clean perfumes that don't contain harmful chemicals. The direct-to-consumer price points are mighty appealing too!
Berlin Skin: If you're the sort of person who curates the cosmetic products you leave out on your bathroom counter based on how aesthetically pleasing they are (I mean, you gotta have something good to look at while you pee, right?) then the thoughtfully edited and beautifully designed line Berlin Skin is for you. It helps that each product is packed with nourishing ingredients like sandalwood, sage, lavender, and love.
Cocokind: A good facial mist is worth its weight in hydrolyzed gold, and Cocokind's Rosewater Facial Toner freshens on a hot day like nobody's business. Their superfoods-based collection also features handy balms and ointments dispensed in a roll-up stick, like a Turmeric Spot Treatment that's worth keeping within reach for pesky breakouts.
Old Orchard Apothecary: This sweet and simple skincare line contains only a few products but each is packed with concentrated, do-all botanicals. Their No. 1 Beauty Oil features watermelon seed oil, which is especially good for clog-prone summer skin; and their No. 9 Herb Beauty Balm has dreamy aromatherapeutic benefits as well as complexion calming abilities!