One of my most vivid early childhood memories is of the walnut trees that spread themselves low and gnarled over the dusty flats of the Northern California town where I was born. I can remember sitting in the backseat of my mother's car as we drove through the fields outside of Davis, the distinctive silhouettes of the nut trees marking our course as we make our way either west to visit my grandmother in Reno or south for a girls' date in SF. The orchards are a part of California history, so as a native of this state they're a fond part of my heritage too!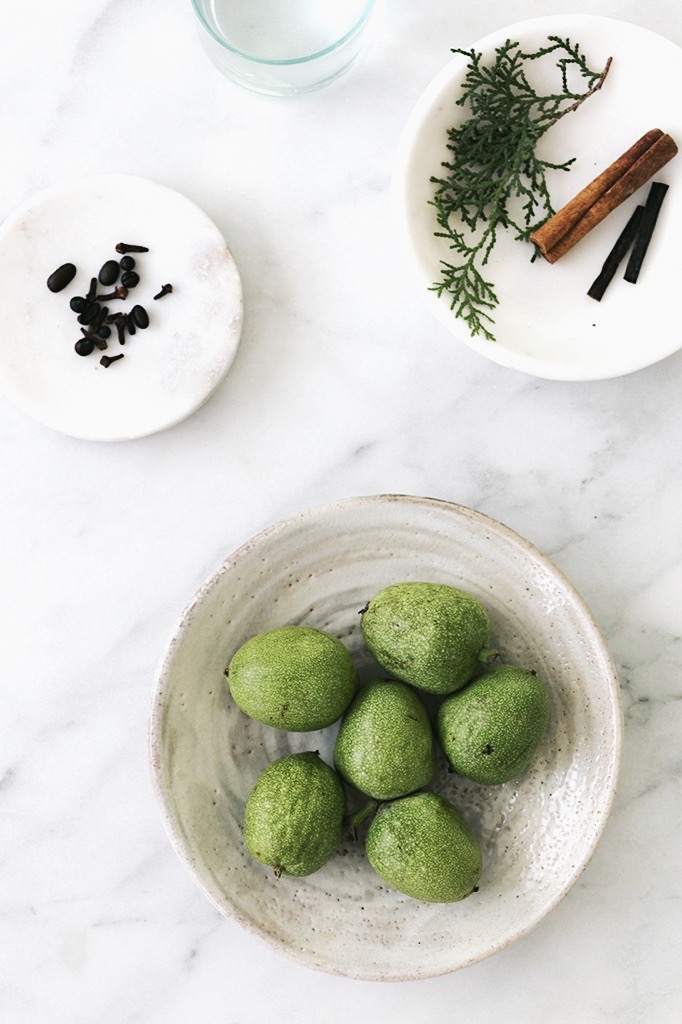 Yet I'd somehow made it to the age of 35 without ever seeing a green walnut fresh off the tree! So when CORKY'S NUTS—an organic family-owned walnut farm with limited-release nuts and nut products—offer to send some my way, my Cali-girl heart beat a little faster! They also sent everything I'd need to make Nocino, an Italian walnut liqueur that takes months to make and is ready just in time for Christmas. Apparently most of the walnuts we buy in grocery stores were picked around 2 years before they reach our shelves, meaning they're rancid by the time they reach us. (Explains those bitter, spit-em-out walnuts we've all had the misfortune to eat!) CORKY'S mails out their nuts and oils at peak freshness, so the natural sweetness and nutritive value of the nuts remains.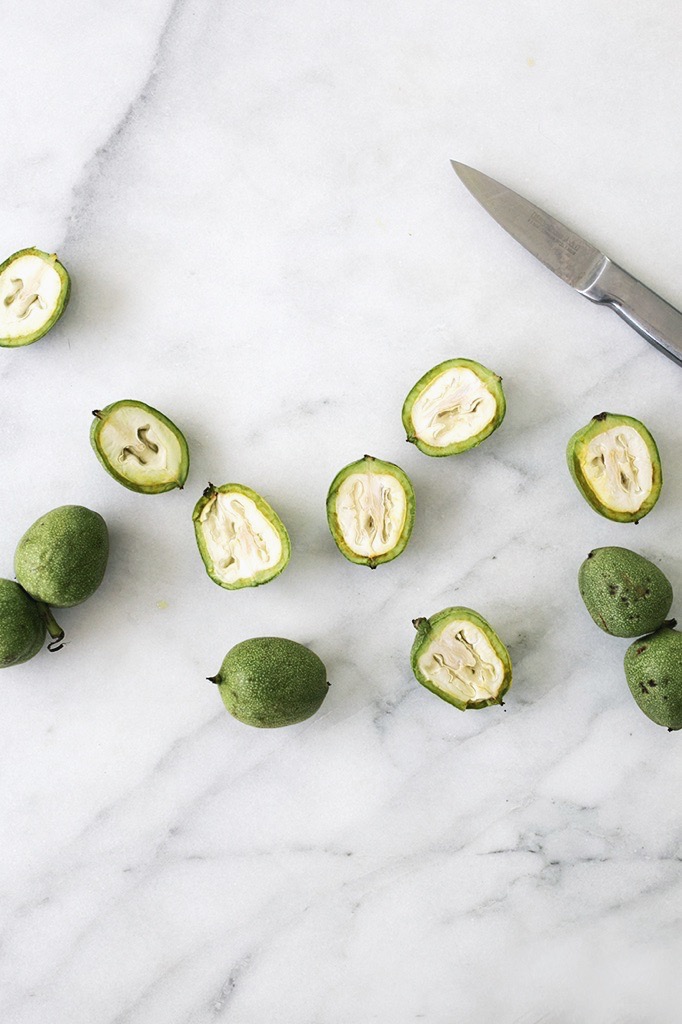 Because the farm is so small, CORKY'S green walnut harvest is sold out; but they have waiting lists and pre-orders for every product in their catalog, including raw organic walnuts and fresh-pressed walnut oil. I've included the Nocino recipe below in case you're able to get your hands on some green ones, and if nothing else, I wanted to make sure that none of us went another day without seeing what a green walnut looks like!
Nocino Liqueur Recipe
courtesy of CORKY'S NUTS; makes a single batch
21 soft green walnuts
1 cinnamon stick
4 cloves
1 vanilla bean, 2″ long
1-3 coffee beans
zest of one orange, in strips
1 juniper branch, 3″-6″ long
1-3 juniper berries
4 c. 80 proof vodka or everclear
3/4 c. sugar (for use in 60 days)
3/4 c. water (for use in 60 days)
pair of gloves to prevent walnut tannins from staining your hands
cheesecloth or nut milk bag
wide-mouth 64 oz glass container with a seal
Rinse green walnuts with water to remove any dust. Cut all 21 walnuts into quarters and place into glass container. Add cloves, cinnamon stick, strips of orange zest, juniper branch, juniper berries, and coffee beans to jar and pour in alcohol. Seal with lid and set where it will receive a couple of hours of sunlight per day for the next two months. Within a matter of hours after pouring alcohol over walnuts, you'll notice the mixture start to brown. This is normal.
Turn the jar upside down a few times every 3-4 days to distribute mixture as it ferments. After 2 months, filter the liquid from the walnuts by straining it with cheesecloth or nut bag into a large bowl. Prepare sugar syrup by dissolving sugar in water in a saucepan over high heat. Bring to a boil, then lower to medium heat and simmer for 10 minutes. Set aside to cool.
Pour filtered Nocino into clean jar, stir in sugar mixture, and return juniper branch. Mix well. Close jar tightly and store in a cool, dark place until Christmas. Remove juniper branch after one month. Taste from time to time—it will only get better with age!