As a kid, I didn't like potatoes. But don't worry! I've since recovered from whatever tragic illness I was clearly suffering from, and I know count spuds as amongst my favorite foods. And what's not to love? They're versatile, provide tons of clean-eating energy, and provide a platform for any number of delicious accoutrements. I'm always on the lookout for ways to make up for the decades lost to my potato-hating past, so my interest was more than piqued when I stumbled on this recipe for hash brown waffle's in Pamela Salzman's new cookbook Kitchen Matters!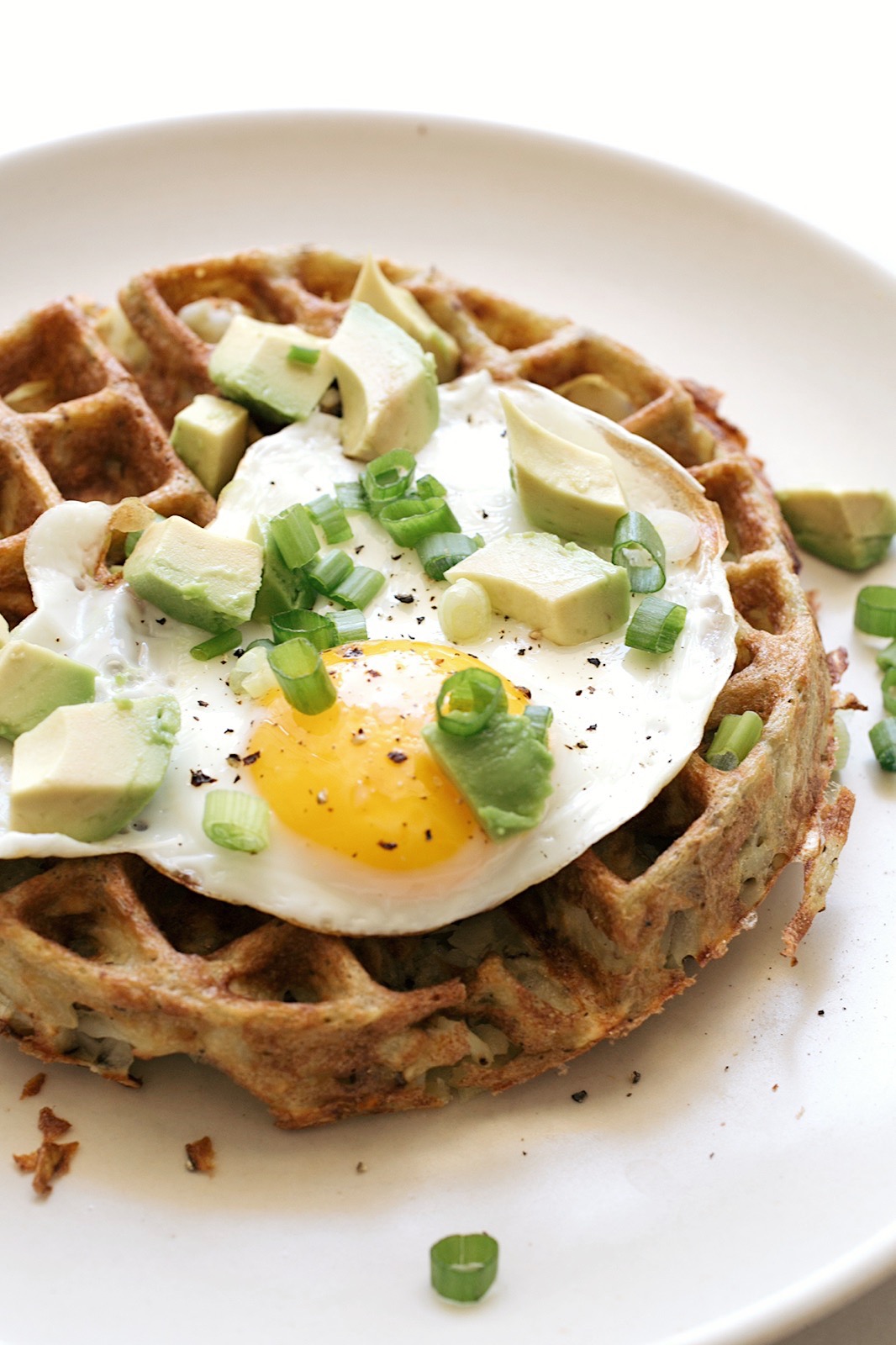 Pamela is an LA-based cooking instructor and holistic health counselor who is known for her accessible yet inspiring approach to eating well. Her new book, which is a must for every kitchen library, is full of recipes that strike a perfect balance between unique, doable, and delicious. Each that I've tried has turned out perfectly on the first attempt, and each has already made a second—or even third!— appearance on my table. (Sweet potato chili for the win, you guys!)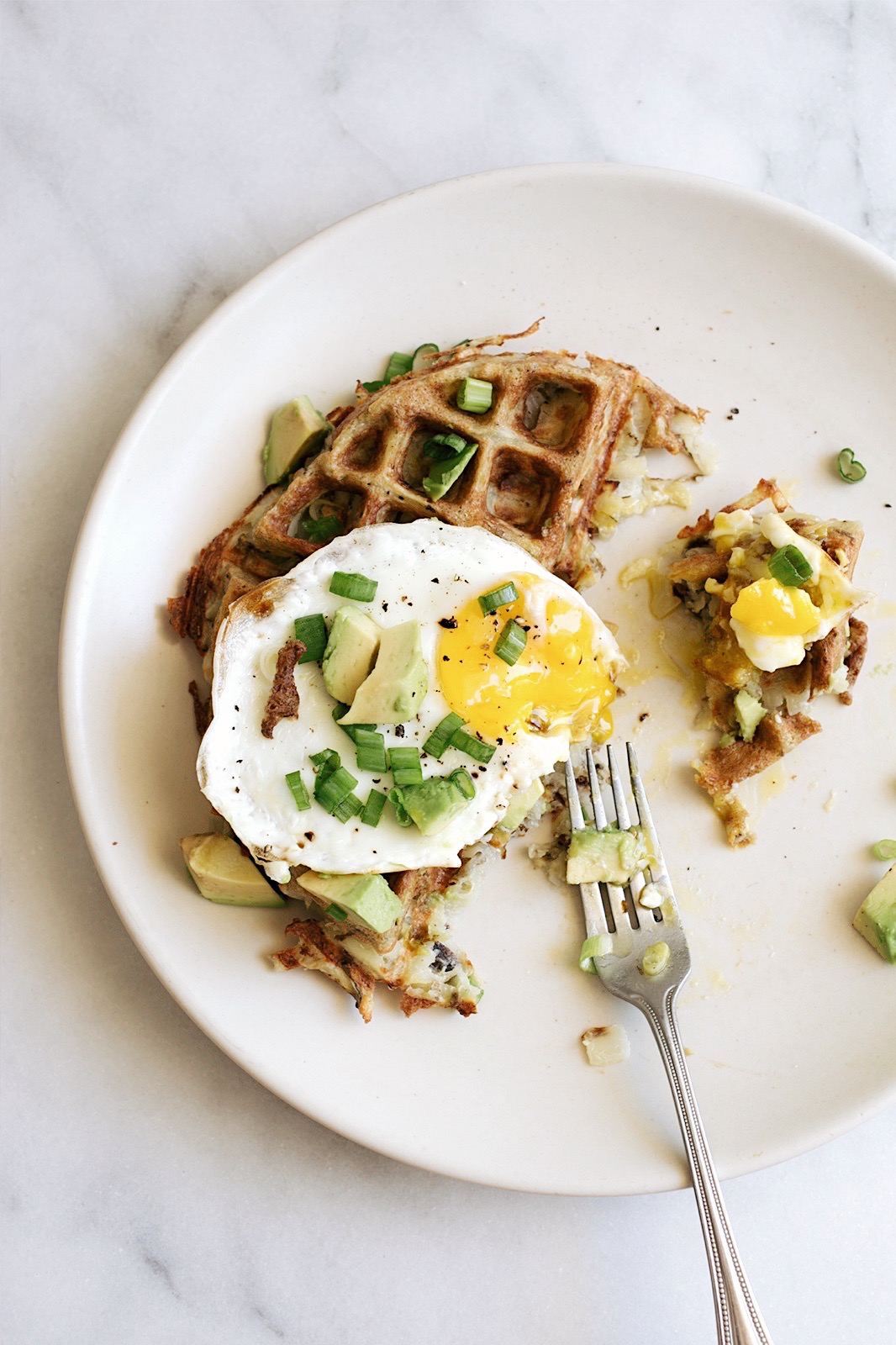 It's these hash brown waffles, though, that have made me a Pamela fan for life. Imagine everything we love about potatoes—chiefly, their ability to acquire a toothsome, crispy skin while still maintaining their creamy, indulgent innards—and bake them into a shape conveniently designed for sopping up toppings. Now add to that the fact that this insanely fast recipe only has basically only three good-for-you ingredients, and you've got an instant hit on your hands! Top them with eggs, bacon, and avocado for a meal. Eat them plain as a snack. Freeze them and reheat in the toaster oven when you're on the go. There's no wrong way to enjoy these addictive and healthy waffles!
Hash Brown Waffles
Makes two waffles; recipe courtesy of Kitchen Matters by Pamela Salzman.
2 large eggs, beaten
2 tablespoons unsalted butter or ghee, melted
1/2 teaspoon salt
a few grinds of black pepper
1/8 teaspoon paprika (optional)
1 pound Yukon Gold potatoes, unpeeled (about two medium, I've found)
Add-ins, up to 2 tablespoons of each: Minced onion, finely diced bell pepper, shredded cheese, chopped chives or herbs, cooked diced bacon
1. Preheat a waffle iron to high heat.
2. In a medium-sized bowl, mix together eggs, butter or ghee, salt, pepper, and desired add-ins.
3. Grate the potatoes with a food processor or box grater. Squeeze any excess moisture out of the potatoes and add to the egg mixture.
4. Brush preheated iron with butter, ghee, or oil. Spread half the waffle mixture on the iron and close. Bake until outside is brown and crispy and the inside is tender. (It could take longer than regular waffles, since we're dealing with raw potatoes here! The ones in these photos baked for about 10 minutes.)
5. If not eating right away, keep the waffles warm in a 300 degree oven on a cooling rack on a rimmed baking sheet.