When I'm decorating a space, I take it as a given that I'm going to have to work around obstacles. Poorly lit rooms, tight oddly proportioned floor plans, and lackluster architecture are all just par for the course when you're designing for real life—and the most sanest course of action is to accept them so you can move on and make the best of them. But there's element in nearly every home that I consistently struggle to accept: The TV. Even as a kid I remember hating the way the TV took over our living room, despising the wires that tangled into nests of dust bunnies, wishing we had a bigger house so we could hide it in a basement rec room. (What can I say, I was ahead of my years!) Over the years, as I've gained an even greater appreciation for the power of design to elevate our mood and improve our life, my frustration with TVs has grown to epic proportions. There's nothing worse than spending months on a thoughtful, well-executed home design only to have the whole thing marred by the black hole of a TV on the wall!
Of course, I could ditch the TV altogether, but my sports-watching husband has nixed that idea. So I've tried disguising it. I've tucked the offending eyesore into media cabinets. I've displayed art around it like a gallery wall. My plan for our new house was to cut an inset in the drywall so I could stick the TV behind a piece of art (which I'd of course have to move every time we wanted to watch something, but I was willing to go to those lengths!) In spite of my best efforts, though, I've never been able to escape the feeling that I'm putting a band-aid on the problem rather than solving it. So when I learned about The Frame, a new TV from Samsung that quite literally looks like a frame hanging on the wall, I devoured as much information as I could about it—and quickly arrived at the conclusion that a savior in the world of interior design is upon us. Because with The Frame, our ugly TV woes are over!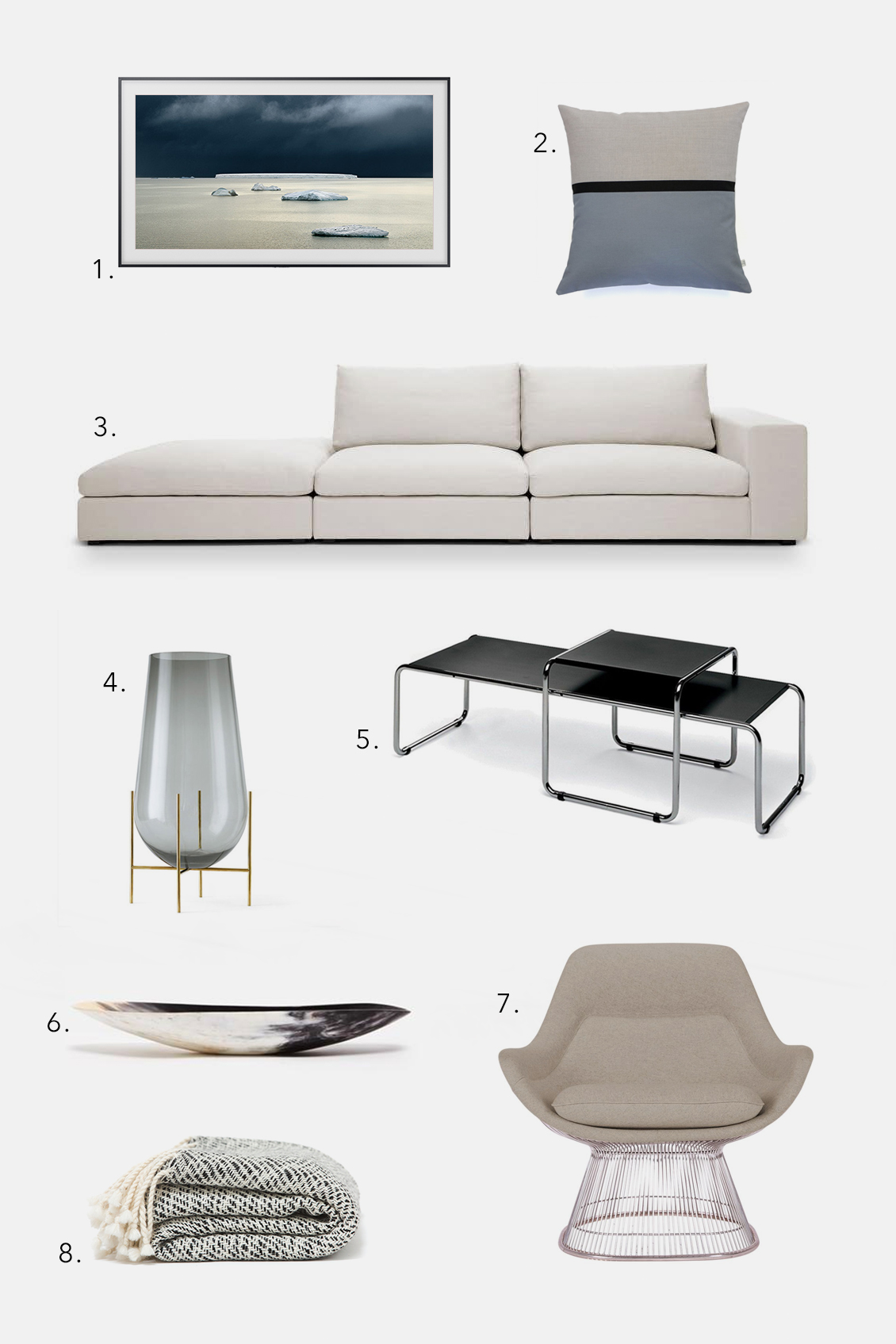 I know. It's a bold claim. But hear me out. For starters, The Frame is less than two inches deep, with a no-gap wall mount, meaning it lies almost flush to the wall just like a frame you'd use to display your favorite artwork and photographs. It comes in a range of custom colors, from charcoal black to natural wood to white. It replaces unsightly wires with a near-invisible transparent optical cable. And just like any other Samsung TV, it pushes boundaries when it comes to picture and sound quality. But the real miracle, the one that I had to see to believe, occurs when the TV is turned off. That's when it goes into Art Mode—and the magic really begins!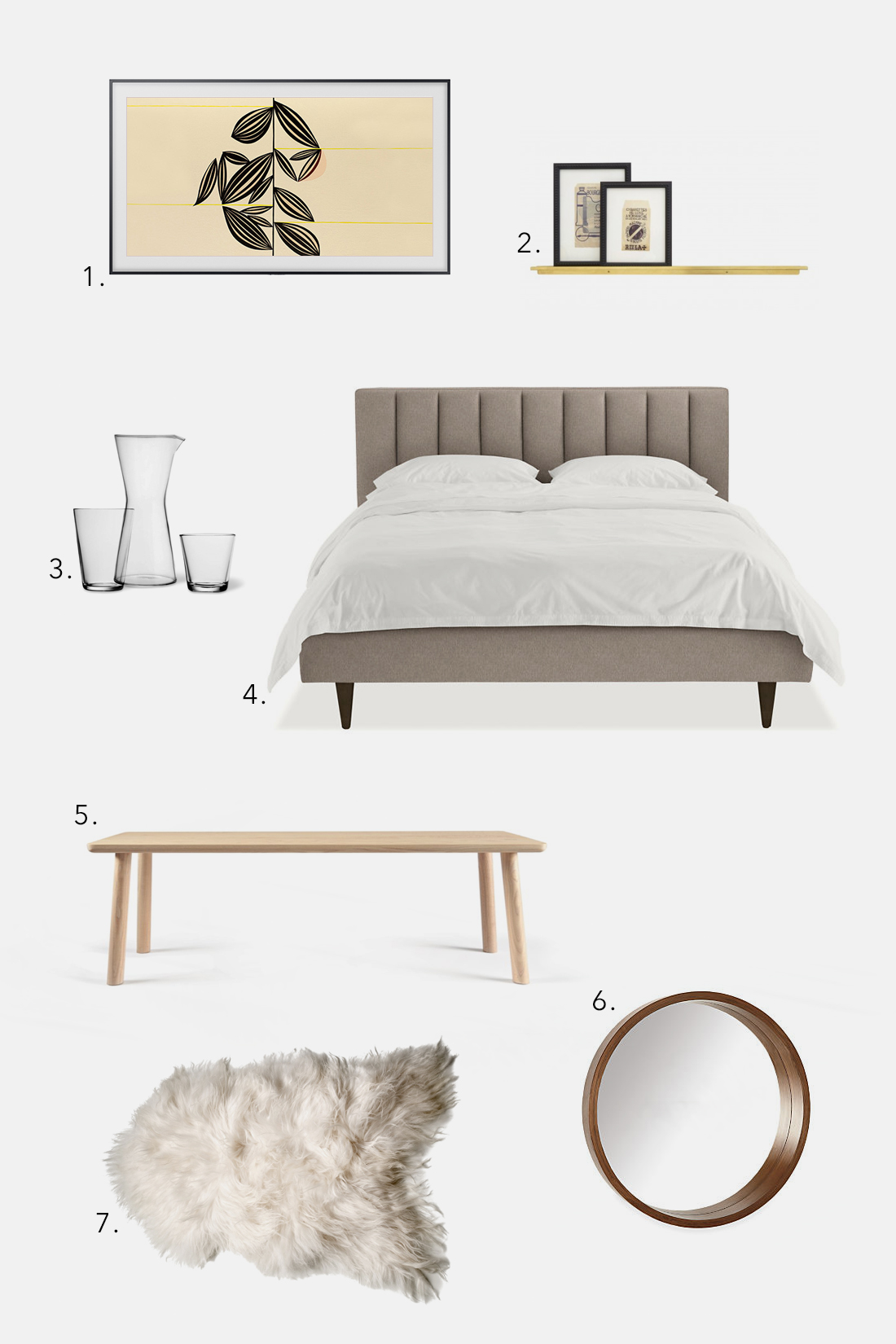 See, Art Mode isn't a screensaver, or a photo slide show, or a recording of a roaring Yuletide fire. The TV's screen actually is off, and its place is a digital print that is indistinguishable from an actual piece of art. You can choose from an ever-expanding range of photography, paintings, and illustrations that Samsung offers, or you can upload your own photos to the display, even select different mattes and photo layouts. With Art Mode, The Frame isn't a TV to be hidden or designed around; it's an integral component of a home's carefully curated decor. And because the style of the frame is so streamlined and versatile, it slips seamlessly into every room and every style of interior—just as in these mood boards I built around it. In short, ever since I learned about The Frame, I've canceled my plans to cut a hole in my drywall and have started counting the days 'til I make one of these game changers my own!
Shopping Guide, Living Room: 1. The Frame 2. Color Block Pillow 3. Modular Modern Sofa 4. Glass Vase with Brass Stand 5. Nesting Coffee Table 6. African Horn Bowl 7. Wire Frame Lounge Chair 8. Alpaca Throw Blanket Bedroom: 1. The Frame 2. Brass Shelf 3. Water Carafe and Glasses 4. Channel Tufted Upholstered Bed 5. Scandinavian Oak Bench 6. Round Wood Mirror 7. Sheepskin Throw Disclosure: I partnered with Samsung to concept, shoot, edit, write, and share this post. All opinions are and always will be my own. Thank you for supporting the brands that enable me to bring you fresh inspiration daily!