When our romance was still budding, my now-husband and I went on a date at the pub of an LA-based brewery called Golden Road. The brewery embodies everything we love about this city's food scene: it's innovative yet unpretentious, serious about its craft and passionate about its roots, yet with an utterly laid-back vibe. Brewed and canned just a mile from our house, Golden Road's beers not only bring to life the many nuanced flavors of Southern California, but the very first photos Ivan and I have of us together were taken in the photo booth at the brewery. So of course we had to serve a selection of Golden Road beers at our wedding—much to our guests' delight!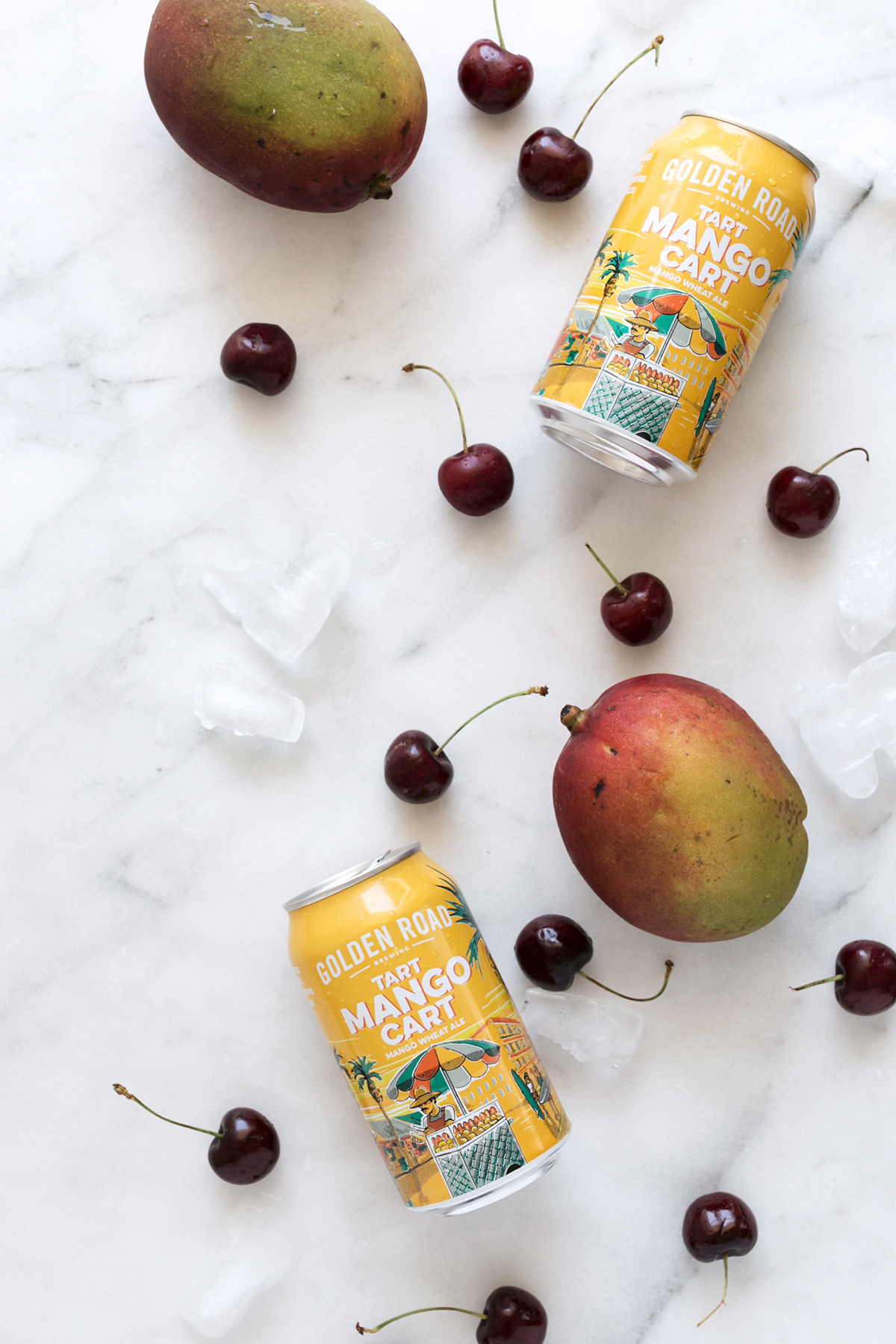 One of the things for which Golden Road is most celebrated are their specialty beers. Their rotating and limited-edition offerings not only make the most of SoCal's local ingredients but also reference tidbits and trivia about LA and its environs. This season's Tart Mango Cart ale is the perfect example of how geography can inspire culinary craft. Anyone who's been to Los Angeles has seen the colorful fruit stands that sell fresh fruit from street corners around town, and this mexican beer recipe tips its hat to the sweet tart mangoes that vendors slice and serve on demand. It's the perfect summer sip: light, effervescent, flavorful, and oh-so-refreshing!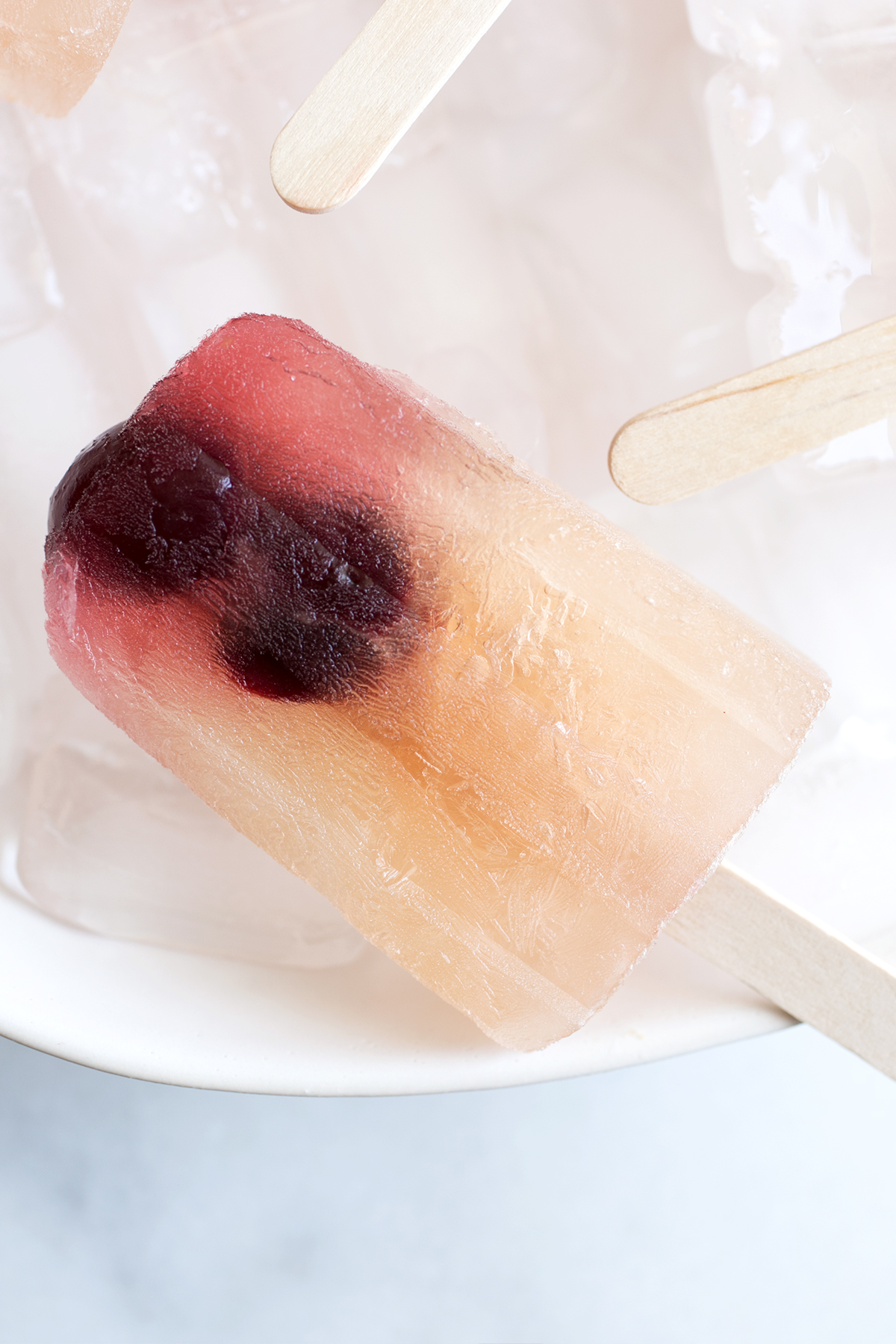 Golden Road's Tart Mango Cart inspired me to roll up my sleeves in the kitchen and pay homage to another LA mainstay, paletas! Paletas are traditional Mexican ice pops, and around here they're a go-to for cooling down when the summer swelters. The cherries in this recipe offer a moody contrast to the lightness of the beer and the mango, and they give the paletas and ombre appearance that calls to mind an LA sunset. And because these particular treats are made with alcohol, they're also perfect for summer entertaining. Make a big batch for your next barbecue and enjoy a little taste of Southern California no matter where you live!
Mango Beer Paletas with Fresh Cherries
makes 8-10 pops
1/2 cup water
1/2 cup sugar
1 12 oz can Golden Road Tart Mango Cart Beer (or another fruity wheat ale)
1/2 c mango nectar
1 c fresh cherries, halved and pitted (about 16 cherries)
1/3 c sugar
juice of 1 lemon
1. Make a simple syrup by placing 1/2 cup water and 1/2 cup sugar in a saucepan over medium heat and stirring until sugar is completely dissolved. Remove from heat and let cool. 
2. Combine simple syrup with beer and mango nectar in a bowl, then refrigerate until chilled and carbonation has settled a bit.
3. Meanwhile, prepare cherries by placing fruit and 1/3 cup sugar in a nonreactive saucepan over medium heat. Cook, stirring regularly, until sugar has dissolved. Lower heat and add lemon juice, then simmer until liquid is a syrupy consistency. Remove from heat and strain cherries from liquids. Save liquid for another use (cocktails!) and chill cherries until cold.
4. Using an ice pop mold, pour about 2 tablespoons of the beer mixture into the bottom of each mold and place in freezer for about 30-45 minutes. Remove and drop a few cherries into each mold, then fill to top of each mold with remaining beer mixture. Place lid and ice pop sticks over mold and freeze until completely set, at least 6 hours. Enjoy on a hot day!
Photos: Anne Sage.