One of my favorite looks is a crisp, clean, all-white outfit that centers around a pair of white jeans. And tragically, one of my biggest fashion conundrums is how to wear all white—without feeling like a hospital orderly or a Heaven's Gate acolyte. All summer long, I watched wistfully from afar while creamy monochromatic looks ruled Instagram and street style blogs, unable to justify the purchase of a full-price pair of white jeans for fear that they would sit, unworn, in my drawers. Le sigh, right?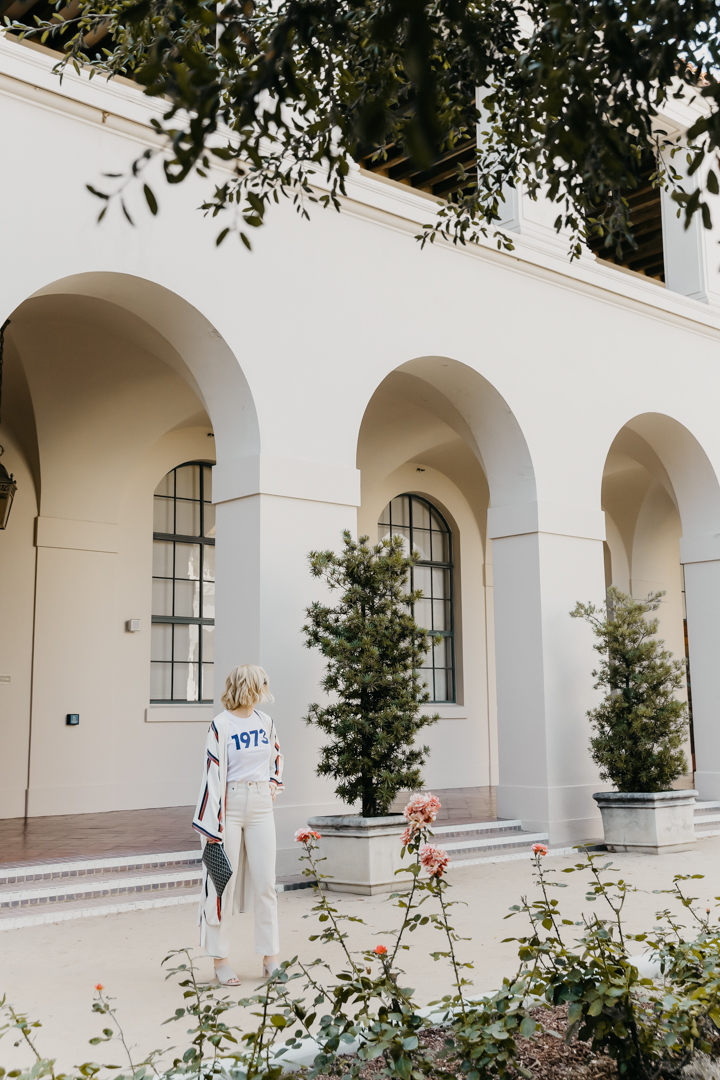 But then, towards the end of the summer, I spotted this striped kimono robe at Enze Apparel, a cutie-patootie new LA boutique that specializes in Mediterranean designers. The shop's breezy, luxe, yachting-with-Jackie-O vibe is right in line with my personal style mantra of "Italian woman on vacation", and I fell hard for the robe's silky drape, sharp stripes, and on-trend silhouette. But most of all, I fell for the vision I had of incorporating it into pale, monochromatic ensembles this season and beyond. So I brought it home with me, determined to figure out how to wear all white once and for all.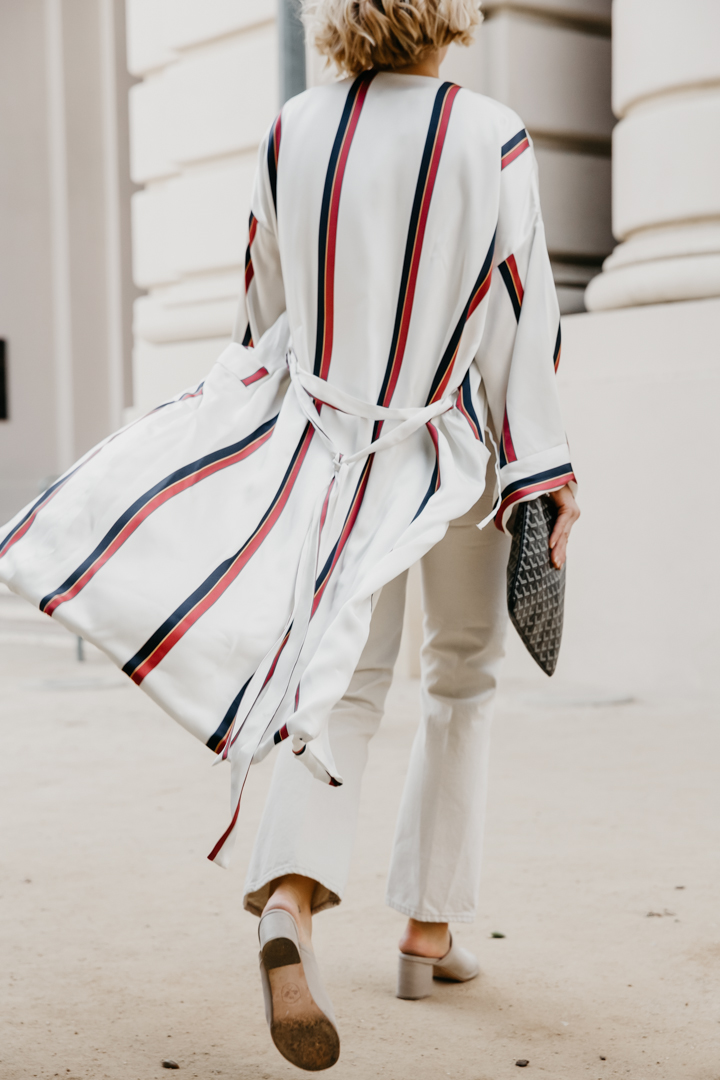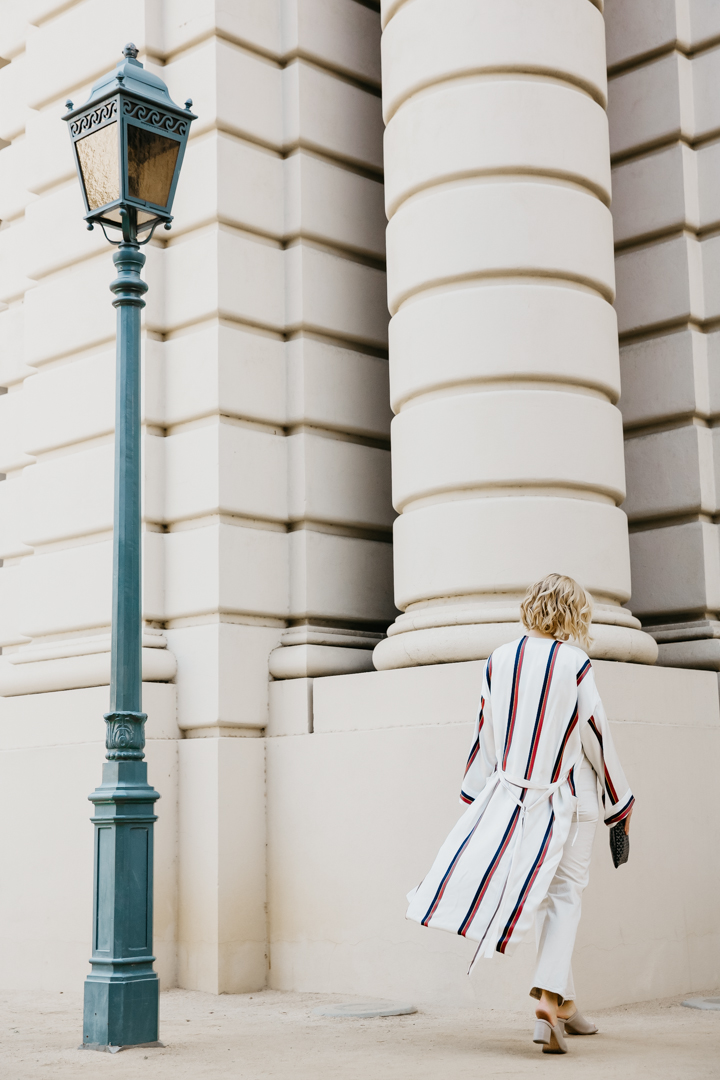 As it turns out, September is the perfect time to buy white jeans, because they're all on sale! I picked up these perfectly cropped white jeans for a song—I think I paid $45 when all was said and done!—and they're ideal with a long topper like this robe, since their slim lines hint at my shape under the volume of the kimono. A cool graphic tee (this one alludes to the year Roe v. Wade was passed) echoes the bold contrast of the stripes, as does the patterned clutch. Block-heeled mules in an ever-so-slightly smoky shade maintain the lightness but add a dynamic tonal layer too. The success to this look lies in the presence of pattern and a variety of materials from silk to denim to suede. Yes, it's an all-white outfit, but there's enough going on to make it patently clear that I'm not here to take your blood pressure or offer you a dixie cup of kool-aid. Monochromatic mission accomplished!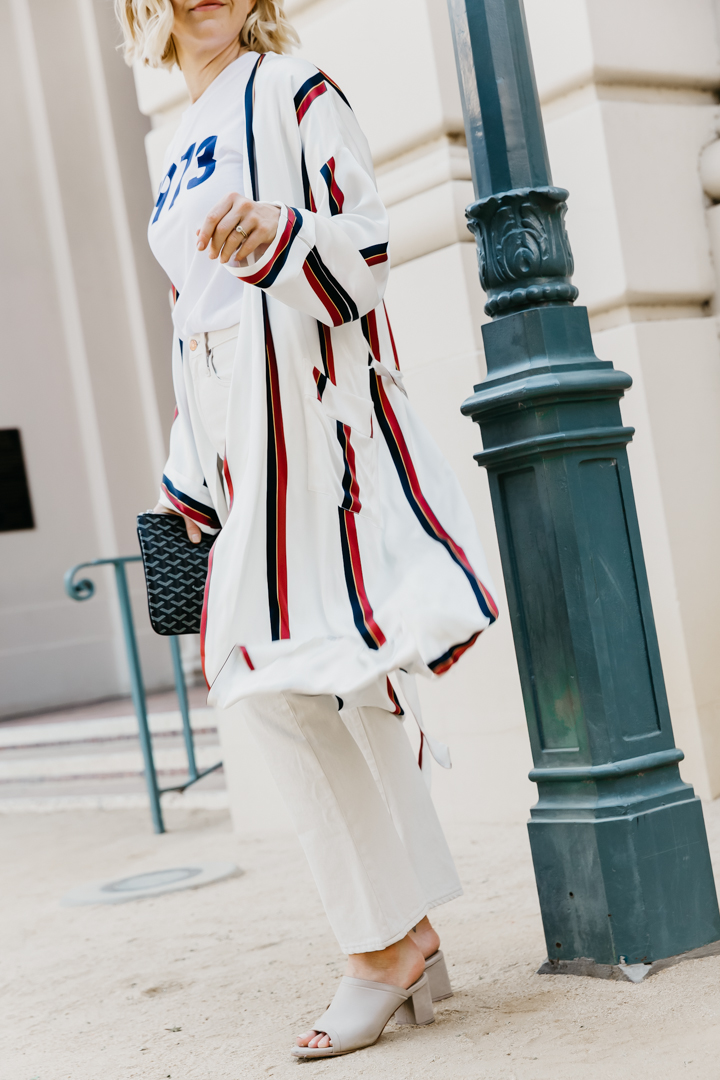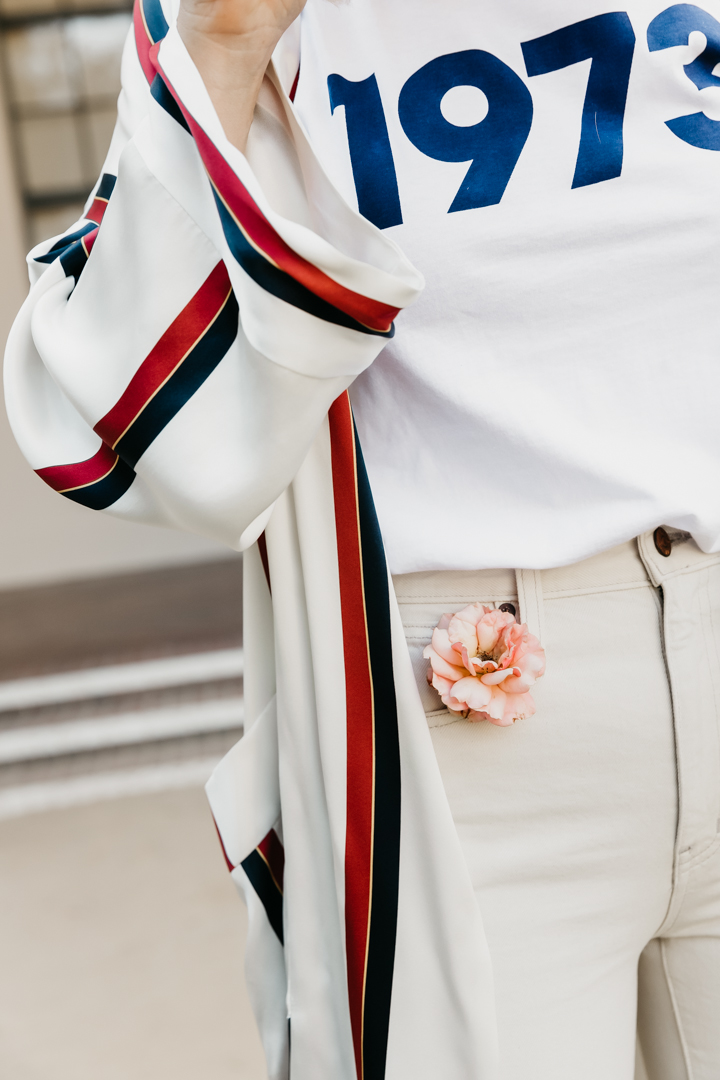 Shopping Guide: 1973 Graphic Tee, Prinkshop. Striped Silk Kimono Robe, Asceno Clothing at Enze Apparel. Cropped White Jeans, Madewell. Block Heel Mules, Poppy Barley. Clutch, Goyard. Photos: Eslee.