Because I'm a glutton for punishment, in addition to renovating our kitchen right now we're also re-doing the living and bedroom. It's chaos chez moi at the moment, but there will soon come a day when it all gels simultaneously and the mess of the last couple months is but a distant memory! More than it's been annoying to step over boxes all the time, it's been so much fun to come up with a vision and pick out the pieces to bring that vision to life! And browsing the fab selection of modern coffee tables and side tables at Rove Concepts has been one of the best parts, for sure!
I've been obsessed with Rove Concepts ever since I discovered them earlier this year. The Vancouver-based company is on a mission to deliver handmade midcentury furniture to us little people. They do it by sending many of their pieces as flatpacks, saving on shipping and labor at their end and putting their budgets where it counts—on craftsmanship and materials! But don't worry, they include simple, straightforward how-to videos for each piece on their website, and to my knowledge no marriages have been harmed in the assembly of a Rove Concepts piece. (Which is more than I can say for a certain other flatpack furniture retailer…ahem…)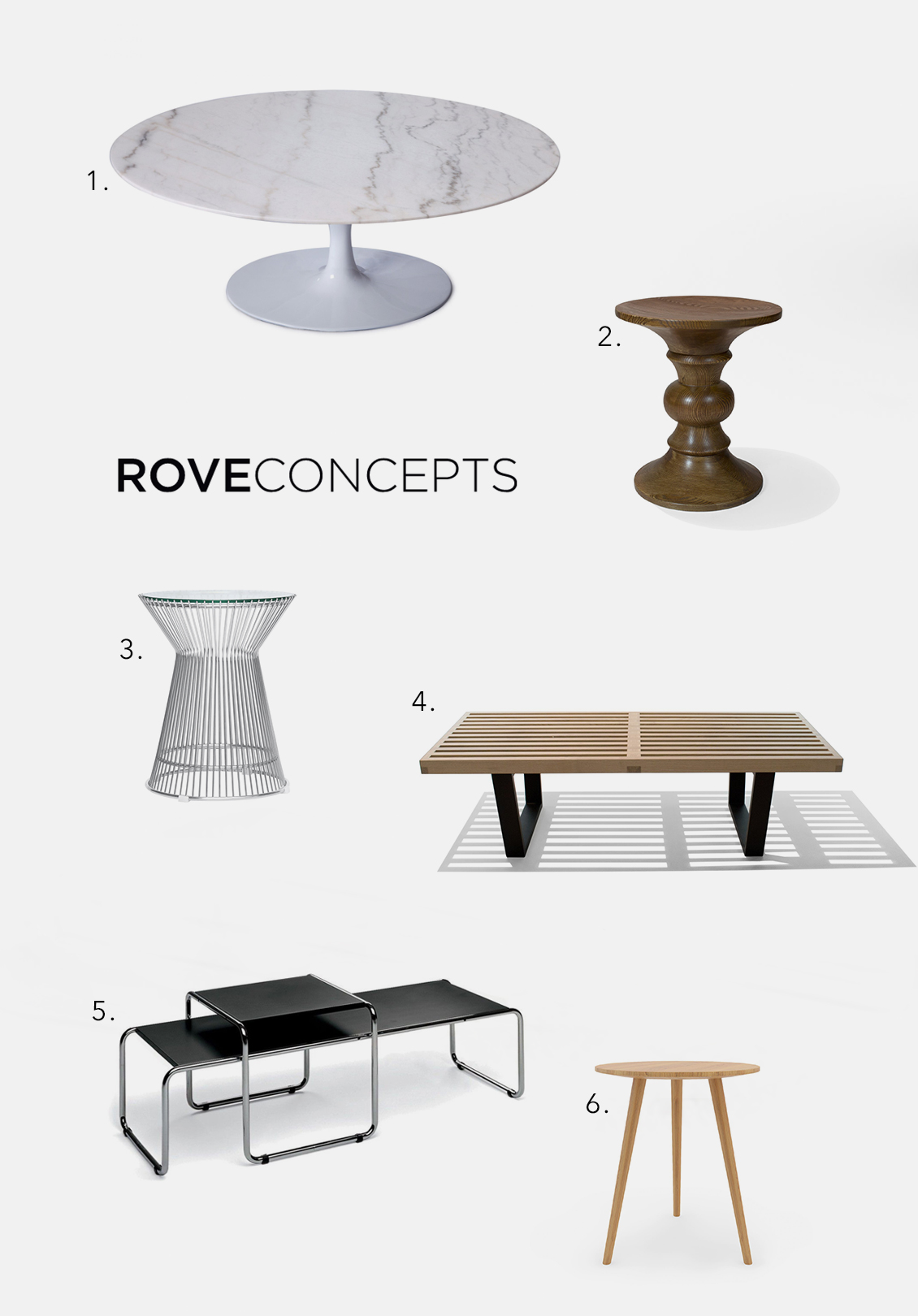 Their entire catalog is totally lust-worthy, a combination of high quality, Scandinavian-inspired basics and iconic, scene-stealing design classics. They've got every room of the house covered, so don't stop at the roundup of modern coffee tables and side tables below; head on over to Rove Concepts get your own whole-house makeover under way!
Shopping Guide: 1. Tulip Coffee Table 2. Walnut Stool 3. Chrome Wire and Glass Side Table 4. Nelson Platform Bench 5. Laccio Table 6. Jens End Table Images.