This post was created in partnership with Truvia. Whenever December arrives, memories start flooding my mind. I have so many fond recollections of holiday seasons past, most of them involving time spent with my mom for our many festive preparations! We'd hit the flower market for pine boughs to adorn the house, pop into the German bakery for our family's traditional treats, and of course stop for a piping hot drink to keep us going in the cold! From rich cocoa with marshmallows to spicy gingerbread lattes topped with whipped cream, the sweet, warm sips we enjoyed together were integral to my experience of the season.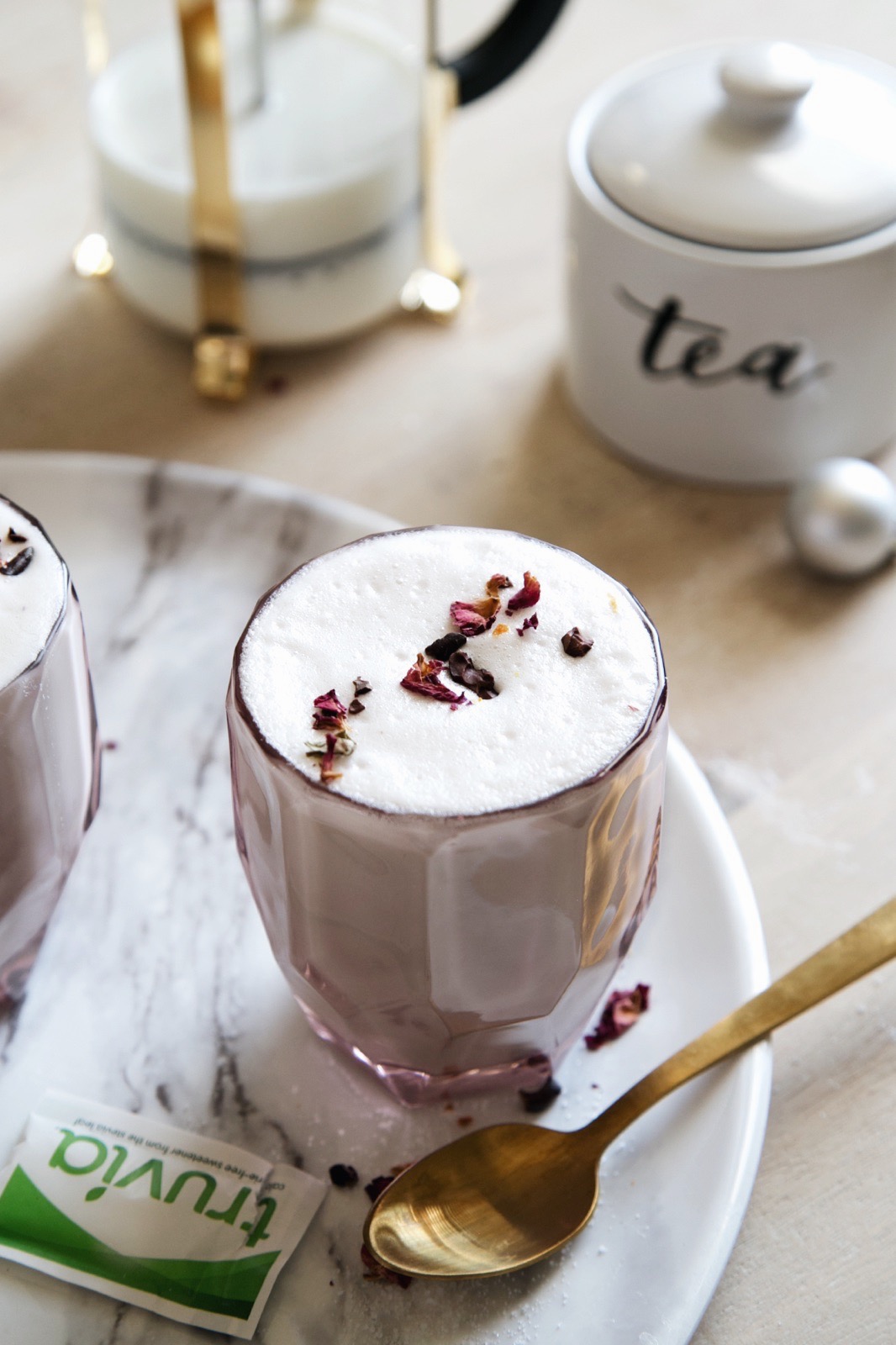 I've steered my eating habits in a much healthier direction in the years since I lived at home, so it's been awhile since I drank any beverage with marshmallows melting in it! But my love of cozy, warming drinks in the winter hasn't abated one bit. These days, I like to sneak both flavor and smart choices into my cup, and lately I've been creating lattes from herbal teas with a touch of calorie-free Truvia Natural Sweetener. Truvia is made with stevia leaf extract, a plant extract that is 200 times sweeter than sugar, so a little goes a long way. I'm especially fond of the handy packets for drinks, because the sweet taste perfectly complements all the flavor notes of coffees and teas. Since one packet provides the same sweetness as two teaspoons of sugar without the calories, it's a no-brainer substitution for hot beverages—in the kitchen or on-the-go.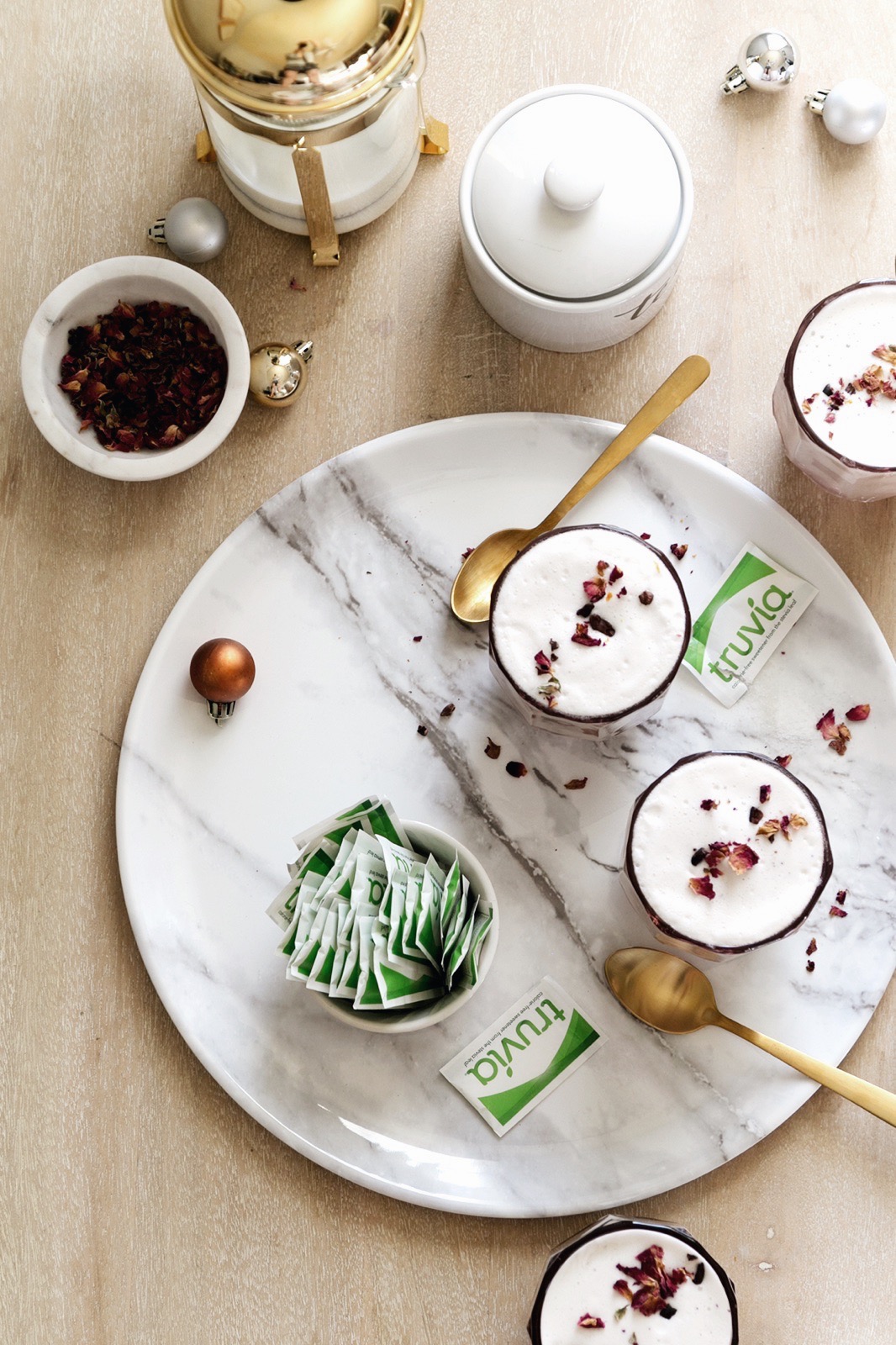 This particular recipe was something of a surprise creation for me, since I don't usually care for teas with floral notes. But then a friend ordered a rose tea latte at a local cafe and I tried a sip—and I was pleasantly surprised by the delicate taste and soothing aroma! That version definitely packed a caloric punch, but I went home determined to make my own with less sugar, and thus this recipe was born! It's ideal as an afternoon delight when you're craving a treat but also need sustenance to get you to your next meal. The rose and Truvia curb sweet cravings, while the protein in the collagen powder adds a creamy texture as well as substance to offset pre-dinner hunger. I'm headed to Toronto to visit my mom later this month and I'll definitely be making this for her. I can't wait to combine our classic holiday traditions with some healthy new ones!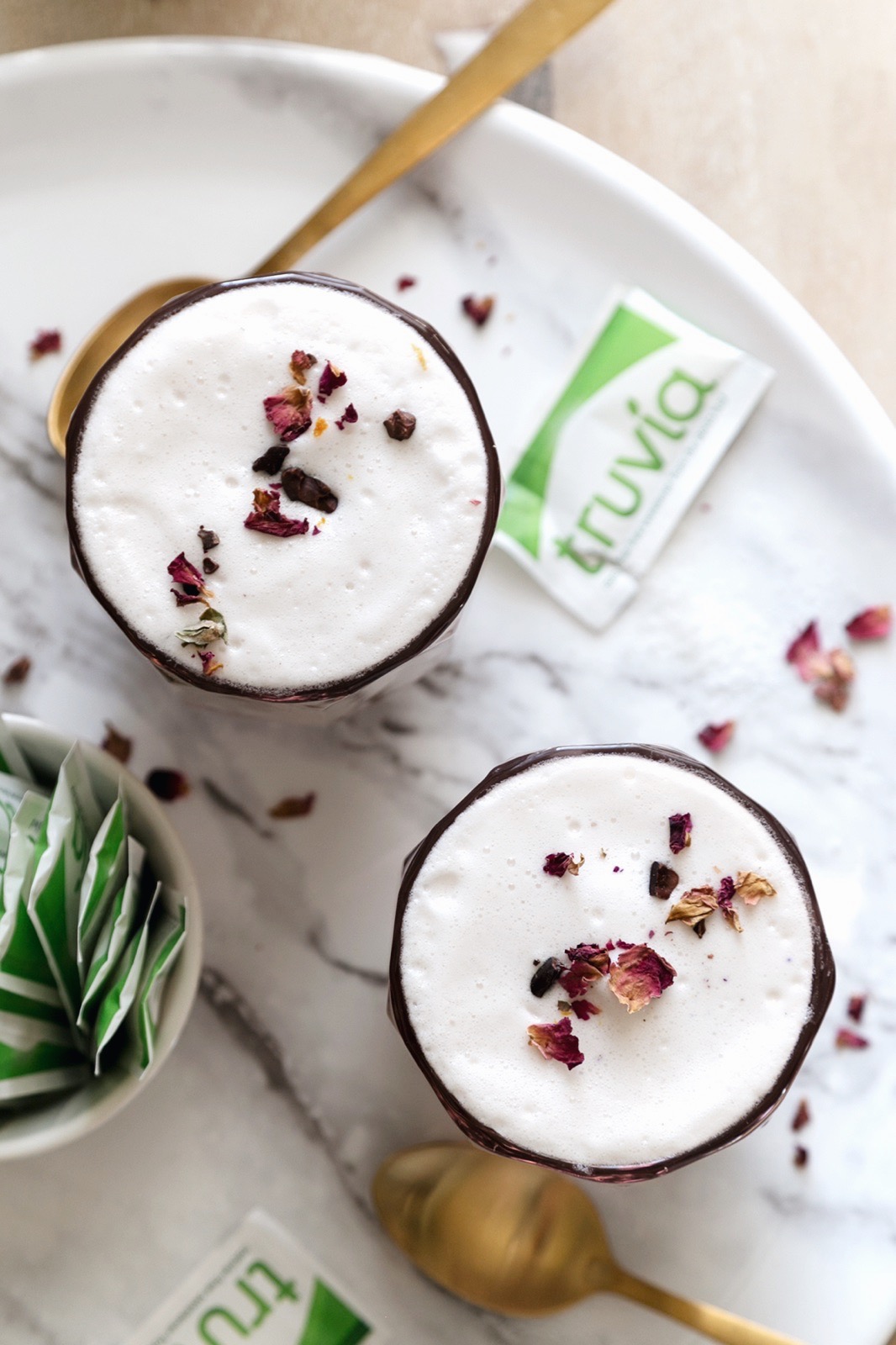 Rose Tea Protein Latte with Lower Sugar
(makes four 8oz services)
3 rose teabags
16 oz hot water, just off the boil
16 oz unsweetened almond milk or other unsweetened milk of choice
1/4 teaspoon pure vanilla extract
2 scoops unflavored, unsweetened collagen protein powder
2 packets Truvia Natural Sweetener (or more/less to taste)
Place 2 rose teabags in hot water; steep according to package directions, usually about 6-8 minutes. Remove teabags and discard. Heat milk in saucepan over medium heat until just barely simmering. Remove from heat. Combine tea, vanilla, collagen protein, Truvia Natural Sweetener, and 12 oz. of the hot milk in a blender container. Pulse to combine, then divide into four mugs or glasses. Froth remaining 4 oz. of hot milk (I don't have an electric frother, so I put milk in a French press and pump the handle up and down to create a foam). Top lattes with foam. Tear open the third tea bag and use a sprinkle of rose petals from the tea to garnish the top of each latte. Enjoy!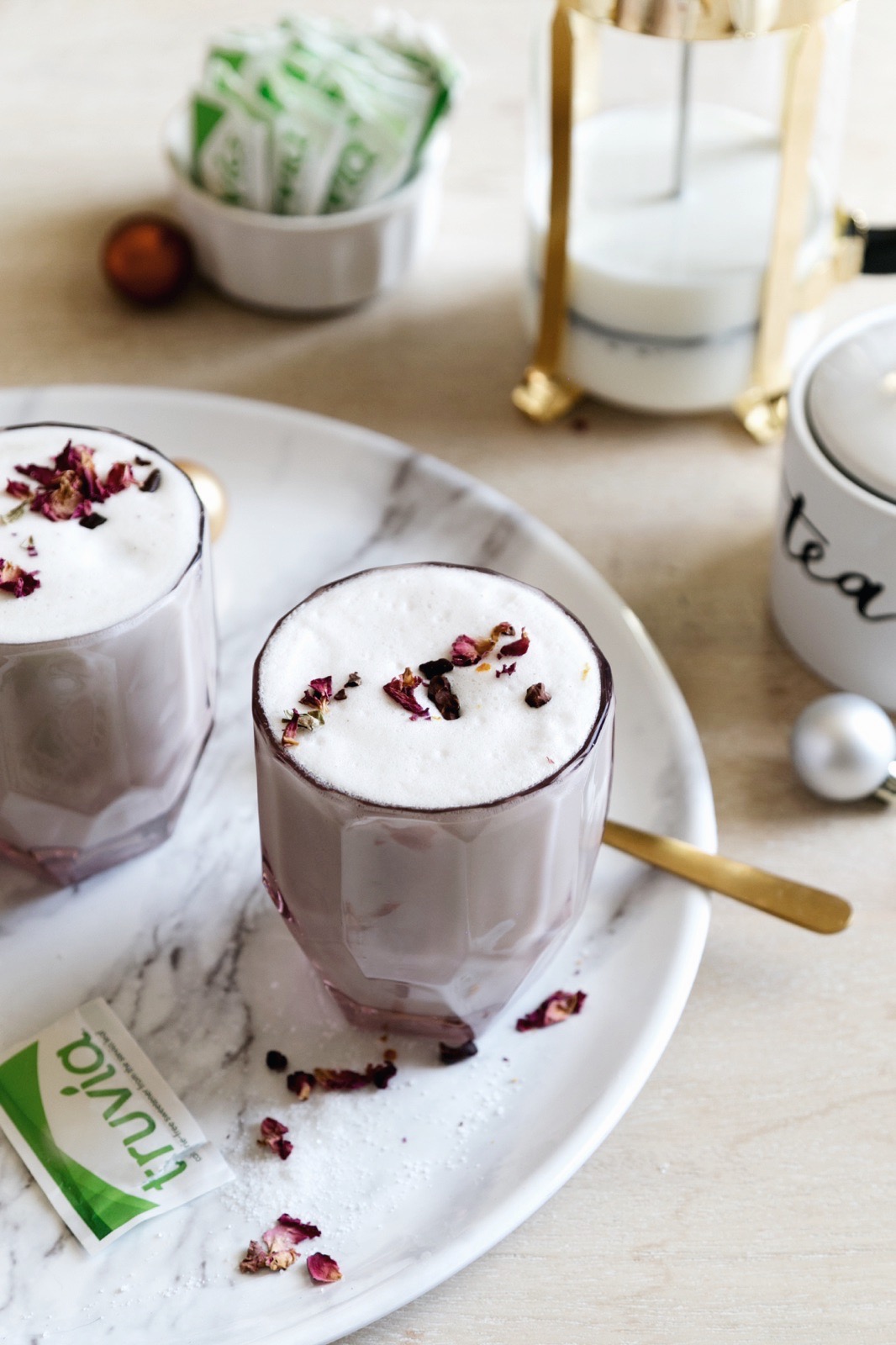 Photos: Anne Sage. Disclosure: I partnered with Truvia to concept, style, shoot, write, edit, and share this post. All opinions are and always will be my own. Thank you for supporting the brands that enable me to bring you fresh inspiration daily!