We talk a lot about giving this time of year. From the gift guides and the charity drives to the seemingly endless loops of ads featuring elaborately wrapped presents, the theme of generosity runs deep in December. It also runs frequently to excess (do people really put big red bows on cars?!), for when we're caught in the festive whirlwind, we can forget to pause and ask ourselves if the gifts we bear have true and lasting meaning. We get so swept up in the hoopla that we give simply for the sake of giving, and we lose sight of the purpose of our generosity—which is, of course, to evoke feelings of warmth, delight, and joy!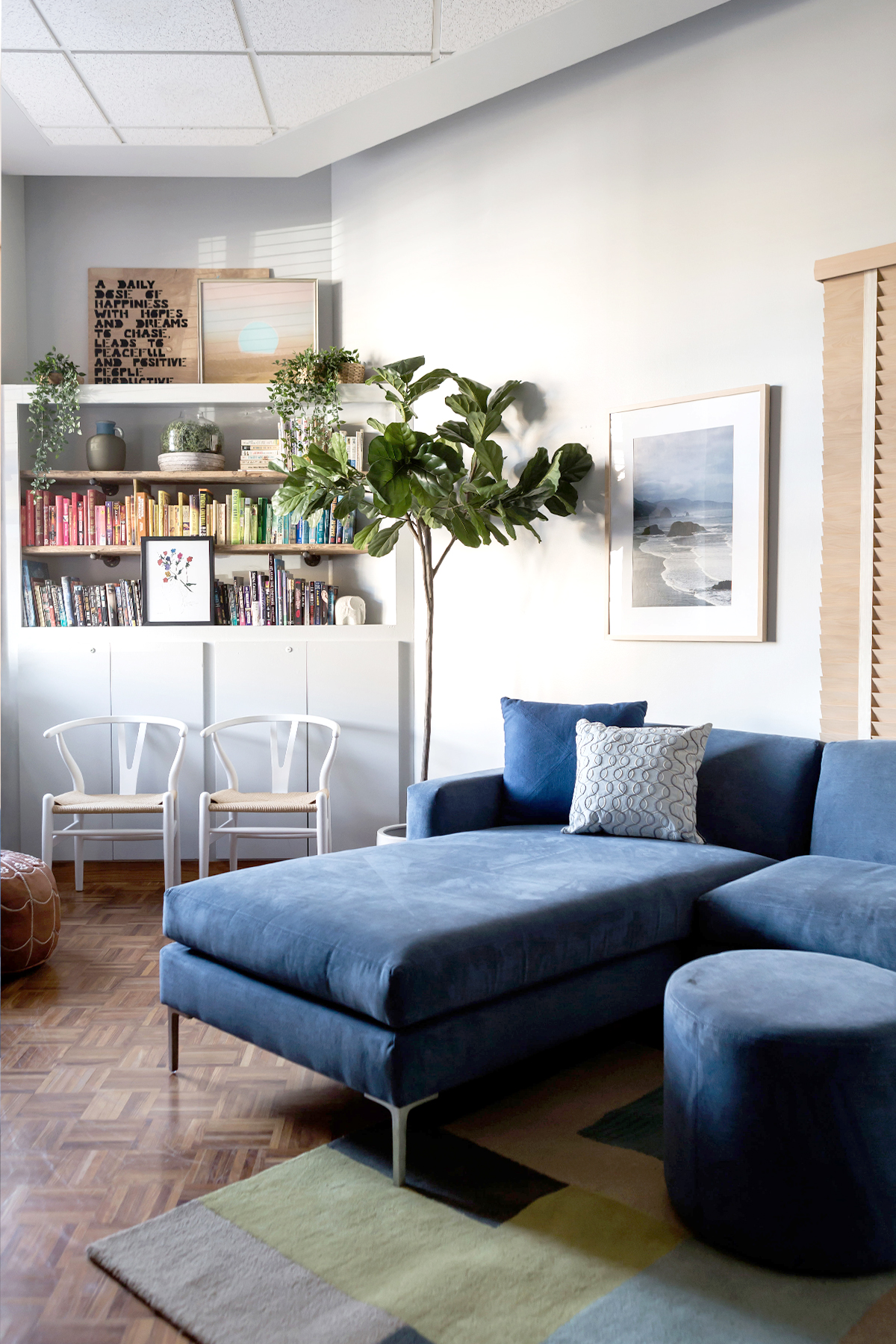 Yet a thoughtful and intentional gift, one that's selected with attention to the recipient's interests and personality, can inspire all those feelings and more. Give your favorite creative the tools to pursue a new hobby, and you're giving the gifts of passion and curiosity.  Give the foodie on your list an exotic cookbook, and you're giving her nourishment and adventure. What's more, the impact of our generosity extends beyond the material goods involved in the exchange. When we put time and thought into finding a gift that truly fits, we can make our family and friends feel seen and heard, cherished and valued. With the perfect gift, we're saying, "You are known, and you are loved."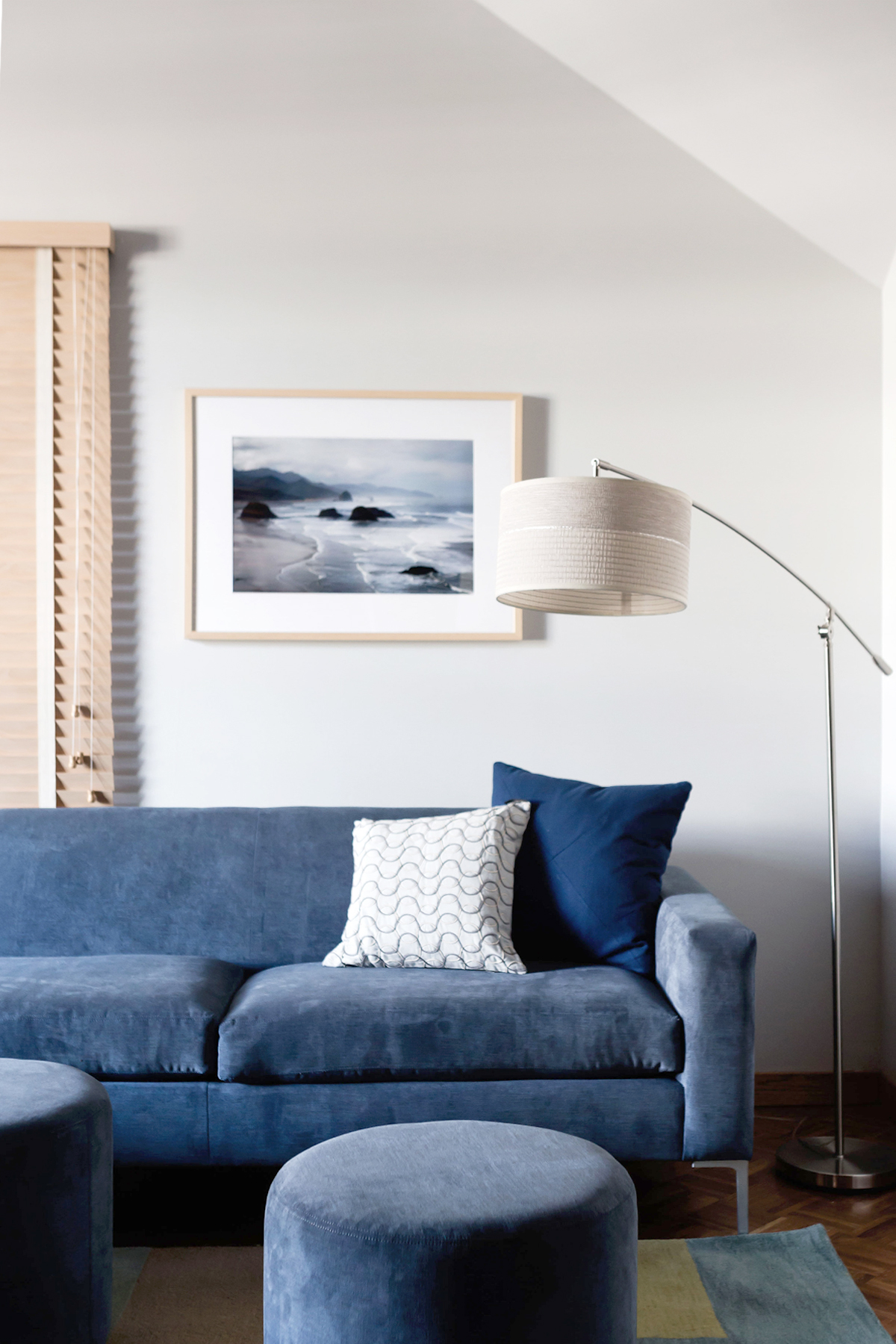 One gift that checks all the boxes for substance and meaning is art. Because it's such a broad and subjective category, a framed print or photo can feel like a risky thing to present to another person—heck, sometimes I'm nervous choosing art for myself—but it can also be an act of trust in your own instincts for how deeply you know your recipient and her taste. Plus, it's a risk that's worth its rewards, since art has such power to transform both mindset and mood. A real-world example of this power? When Art.com recently reached out to me and invited me to explore the ways in which art can be a meaningful gift, I jumped at the chance to demonstrate the huge impact that art can have by incorporating some Art.com pieces into a room I recently designed for a youth shelter here in LA!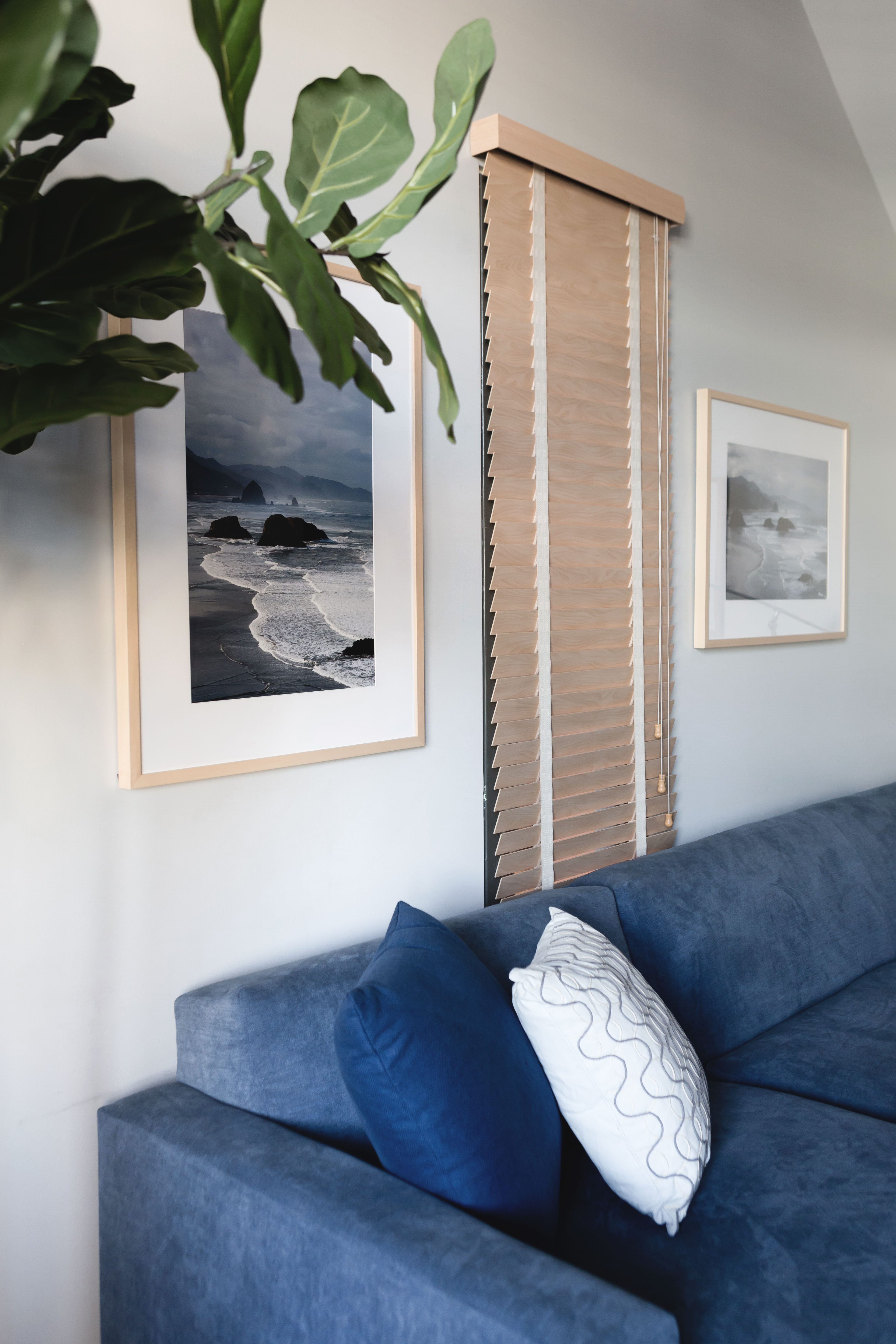 This project has been under wraps for a while, and there will be lots more details on it to come, but for now I'm excited to share a sneak peek through the lens of the effect that art can have on a space and its inhabitants! The initiative was born when the shelter asked me to transform a disused room into one where the residents could meditate, meet with their counselors, and generally find respite from their day. The role we wanted the space to play in their lives informed the words that guided our decor choices: peaceful, calming, grounding. In other words, we wanted this room to be the environmental equivalent of a slow, deep breath that leaves the youth feeling focused, recharged, and empowered to carry that same energy to all they meet.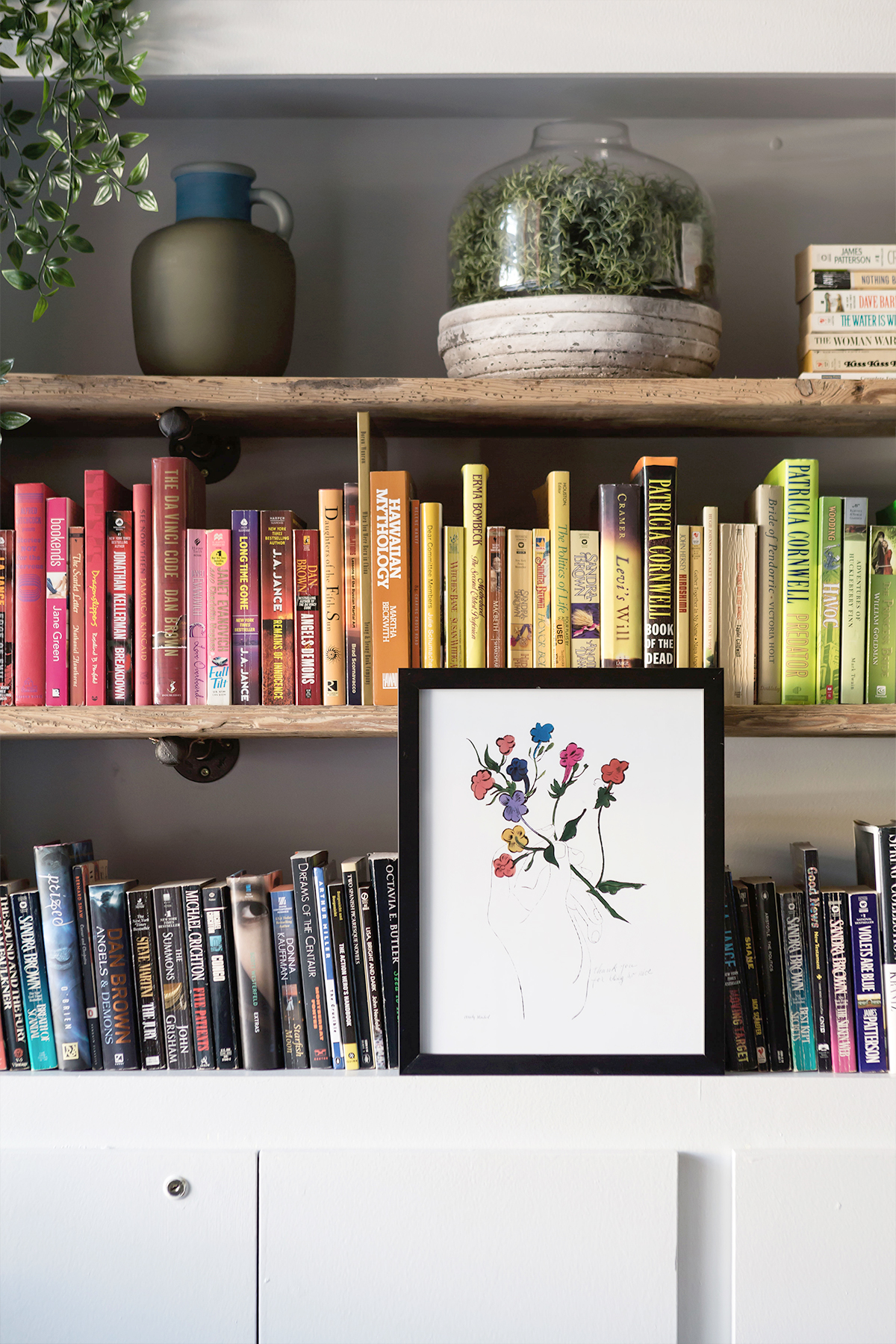 We opted for a mix of painting, illustration, and photography to complement the seating and library areas, taking into consideration both the subject matter of the artwork as well as factors such as color, palette, and overall vibe. Two ocean landscapes hang over the sofa, their rolling waves and shades of sea foam and indigo calling to mind a breezy, rejuvenating afternoon at the beach. On the top shelf sits a print of a well-known Andy Warhol work; its golden sunset hues and tonal color washes remind me of the fuzzy, warm feeling I get after a yoga class, and it so beautifully complements the awesome inspirational painting that one of the shelter residents did! Finally, amongst the books rests another Warhol piece, this one uplifting in tone with its rainbow of flower blossoms and the inscription that the artist penned for all who pass: "Thank you for being so nice."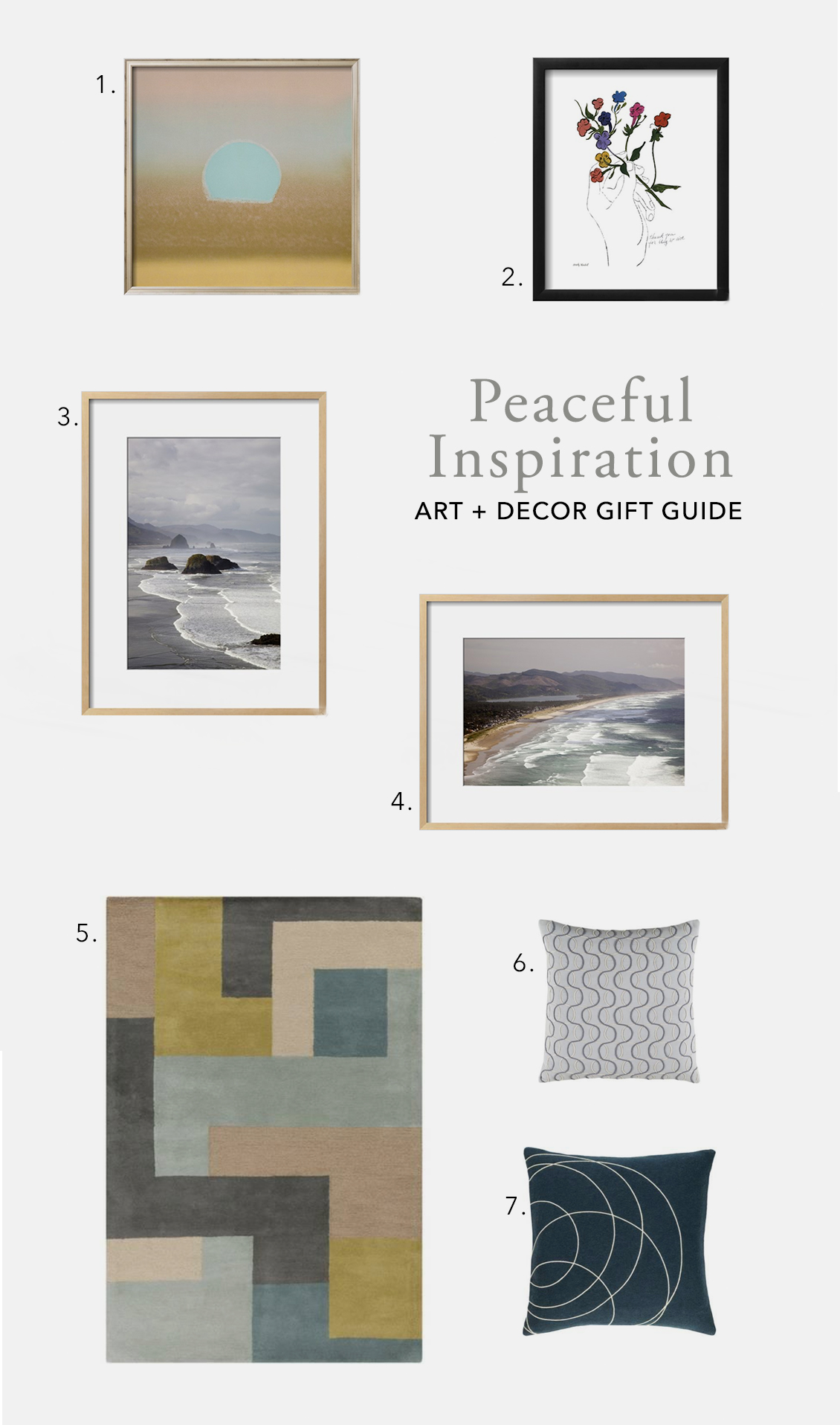 The questions I posed when I was selecting art for the youth shelter are the very same to ask yourself when shopping for art to gift a loved one. "What feelings to I want to evoke with this art? What colors, genre, subject matter are most likely to produce those feelings, given what I know about the person I'm buying it for?" Some artistic elements have a pretty universal effect—blues and greens are known for their soothing qualities, for example, and nature photography is always stirring to the soul—but others will represent unique things to your recipient. At Art.com, the selection of inspirational art, landscape art, and classic art reproductions is vast enough that you'll easily find exactly the right piece for everyone on your gifting radar; and you can choose from a range of custom framing options to fit their decor perfectly! Gifts with meaning, substance, and style are just a click away—and they're guaranteed to have emotional resonance that echoes long past the moment that the wrapping paper hits the floor!
Shopping Guide: 1. Andy Warhol Sunset Print 2. Andy Warhol Flowers Print 3. Vertical Ocean Print 4. Horizontal Ocean Print 5. Color Block Rug 6. Small Grey Patterned Pillow 7. Large Blue Throw Pillow