The more time I spend in the world of interiors, the more passionate I become about incorporating one-of-a-kind items into my space. Perhaps it's a reaction to the prevalence of big box stores that have made it so easy for everyone's homes to look the same. Or maybe it's my response to the hundreds of homogenous images I scroll through on Instagram and Pinterest. Whatever the reason, lately I'm craving a look that's all my own—and I'm determinedly encouraging others to pursue the same. For as I've discovered as I've trod off the beaten home decor path, there are tons of ways to customize your decor without spending untold thousands of dollars! For example, I recently partnered with a local carpenter to create an entryway console built to fit my specific needs, and it cost no more than if I'd bought a similar piece from one of the usual online retailers!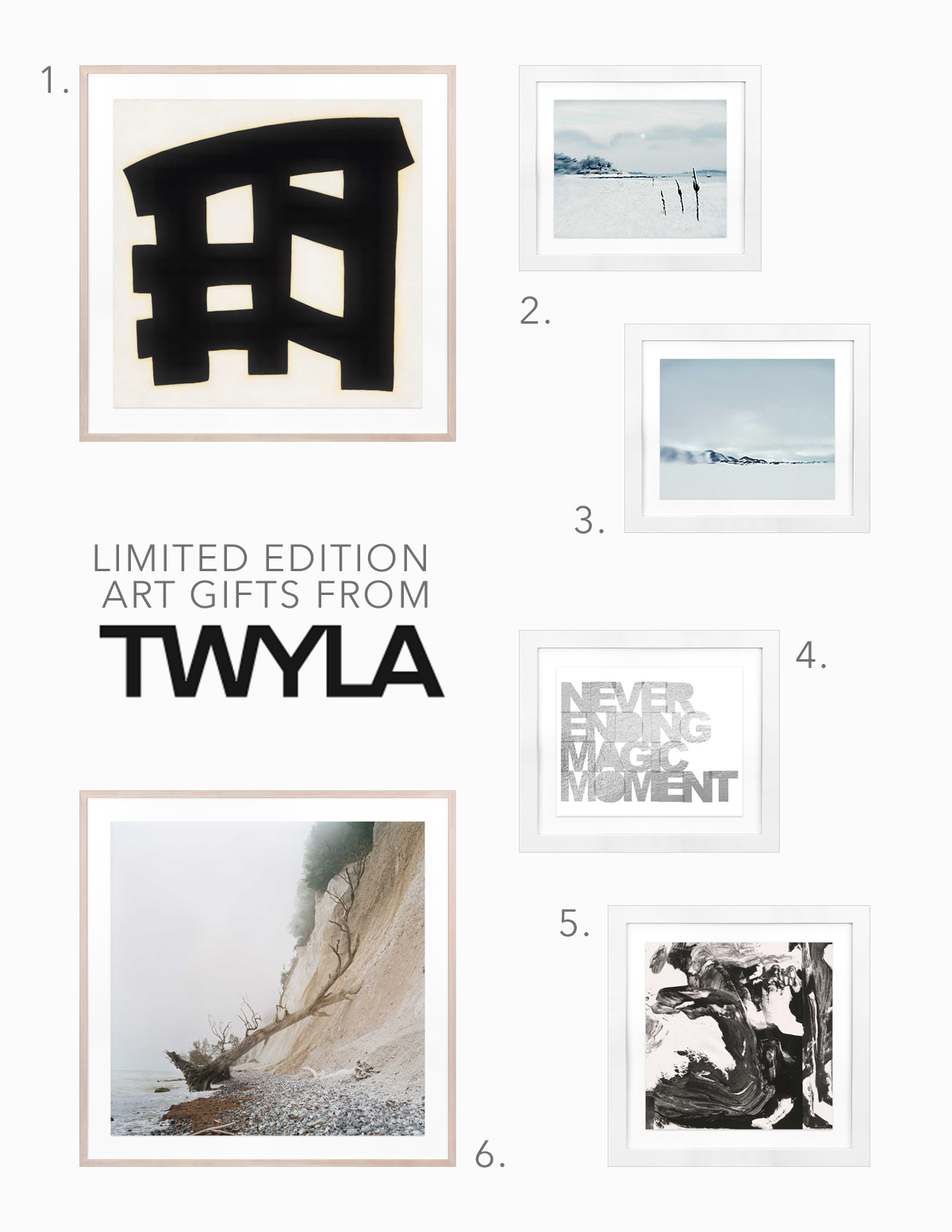 Of course the simplest and most straightforward way to put your personal stamp on a room is through artwork, and lately there are more resources than ever for art enthusiasts seeking unique yet accessible pieces. Twlya has quickly become one of my faves, both for its vast catalog of limited-edition works from renowned artists, but also for their commitment to making the art buying process an easy one. Once you've decided on a print from their collection of landscapes, abstracts, and figurative works, you can order the framed piece risk-free to try in your home for 30 days. If you decide to keep it, they even send an expert installer to hang it for you! If you're on the hunt for a statement-maker in your own home—like the oversized graphic print we recently welcomed into our bedroom!—Twyla is offering 10% large prints from Dec 1st through the 22nd. And if you're in the market for a gift that your recipient won't find anywhere else, the site's holiday collection features giftably-sized works by some of their most popular artists, framed and ready to hang for only $130. Each purchase, big or small comes with a signed certificate of authenticity (such a cool connection to the working artist you're supporting!). And best of all, each one is the ultimate way to make a room your own!
Shopping Guide: 1. Oversized Graphic Print 2. Graphic Quote Print 3. Frozen Landscape Photo 4. Snowy Landscape Photo 5. Black and White Abstract Art 6. Cliffs Landscape Photo Image: Eslee.