I'm a firm believer that while the holidays can be a magical time under any circumstances, they're beyond special when there are kids around. Viewing the world through the eyes of little ones makes every moment just even more miraculous! I don't have kids myself (yet!), but more and more of our peers are growing their families and I'm happily playing the role of spoiling them with stylish finds! And when it comes to kids' goods, no one beats Bitte for chic, sustainably made clothing, toys, and accessories. So I asked Bitte founder Maia to put together this modern kids gift guide with her top picks from the stores current collection. Take it away, Maia!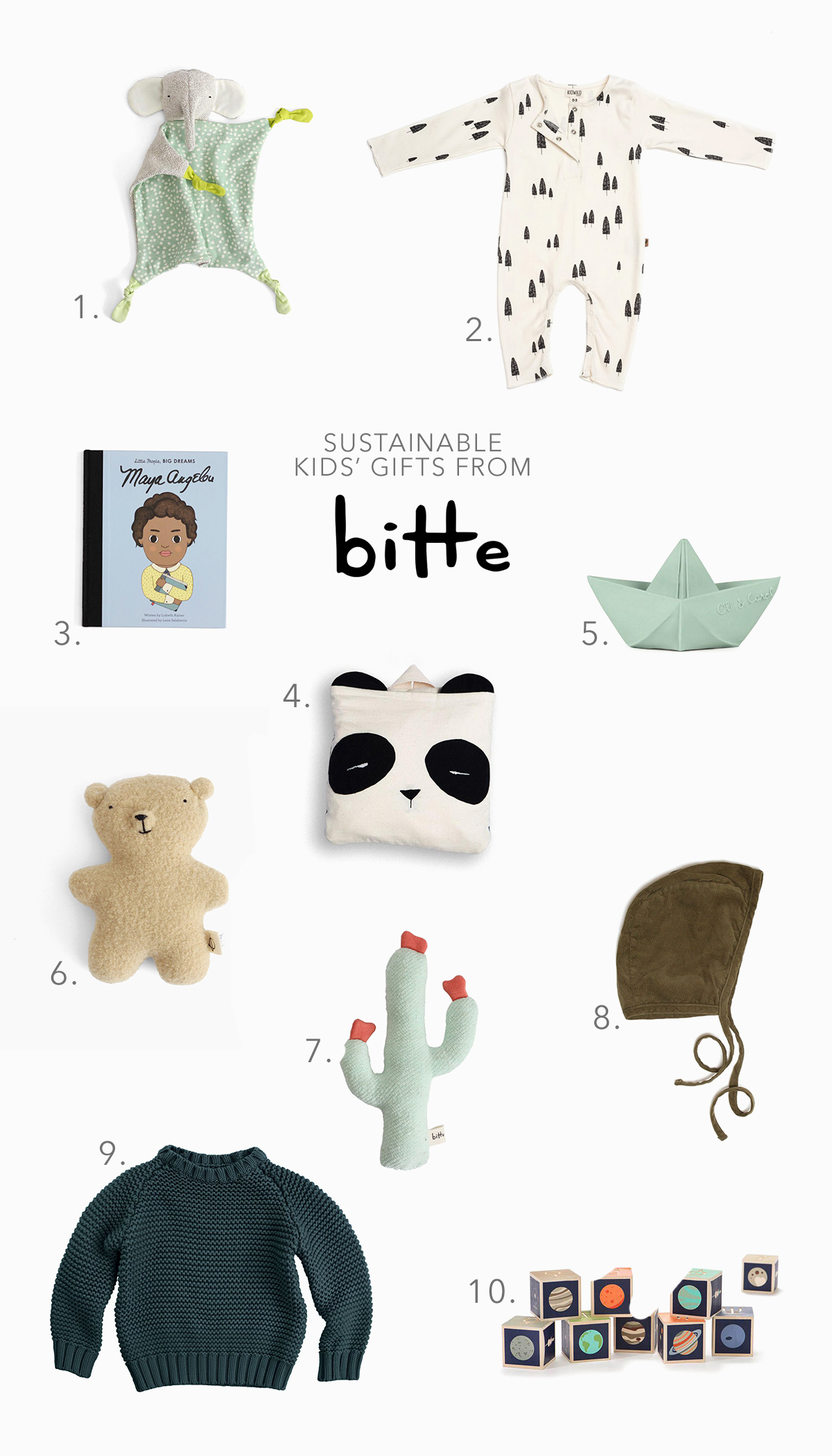 1. Lovie Ellie: Our super popular and adorable lovies are one of my all-time favorite products. Part blankie, part snuggly friend, Lovie Ellie is easy for baby to hold, with different textures and plenty of chewy knots for teething. Plus it's handcrafted in the USA out of organic cotton and is completely machine washable! It's the perfect newborn baby gift.
2. Organic Henley Playsuit: A classic Henley meets a playful romper made from the softest organic cotton knit. With the sweetest Allover hand drawn forest print, it's perfect for a Christmas Eve PJ party!
3. Maya Angelou: Books are always a great gift to give, and I especially love the inspiring 'Little People, Big Dreams' series. They highlight the lives of outstanding women, from designers and artists to scientists and adventurers. All went on to achieve incredible things, yet all began life as a little girl with a dream. This one is about Maya Angelou but we also have Frida Kahlo, Rosa Parks, Marie Curie, Emmeline Pankhurst, and more. A great way for little girls and boys to learn about some of the amazing women in history.
4. Nomad Travel Blanket: The perfect travel companion for your child's adventures! The Nomad Travel Blanket was created to inspire children to wander and wonder at all the world has to offer….and since most adventures have that moment when stopping and cuddling up is essential, the Nomad is an easy and adorable fix. It's made with 100% washable organic cotton flannel and folds conveniently into a clever pocket to become a pillow!
5. Origami Rubber Boat: The perfect stocking stuffer, this eco-friendly Origami Boat creates endless fun for babies and kids. It provides entertainment in the bathtub or serves as a baby teether. It's hand-crafted from 100% natural latex rubber with no holes, so when it's floating about, no bacteria or mold is present!
6. Little Wooly Bear: This sweet wooly bear is one of our most popular items, and it's clear why. Handcrafted by a mother/daughter duo in Montreal from up-cycled wool sweaters and pure wool stuffing. The sweetly simple design perfectly marries sustainability with a modern aesthetic.
7. Cactus Rattle: A delightfully simple and all-natural rattle that's easy to grasp and has a great nubbly "cactus" texture for Baby to teeth on. Handmade in the USA from organic cotton and hemp blend French terry.
8. Corduroy Bonnet: The sweetest classic 'pilot cap' bonnet made in Brooklyn from the softest 100% cotton baby-wale corduroy. The color is a lovely olive green, perfect for the holidays!
9. Crew Neck Sweater: Cozy up for holiday snuggles with this classic crew neck sweater in a soft dark teal green.
10. Planet Blocks: I love toys that are classic, beautiful, and can grow with your child. These planet blocks are the perfect example of that. Blocks in general are a great gift because they are the type of classic toy that your kid will come back to again and again and play with at different ages. And these planet blocks have the added bonus of being educational and beautifully designed, so they can delight even while just sitting on the shelf.