If I could only eat one cuisine for the rest of my life, it would be Mexican with no questions asked. I was a huge taco fan decades before #TacoTuesday was a thing, and my adoration for that country's food has only evolved in recent years since marrying into Ivan's large and loving Mexican family (remember his Bella's pozole recipe from last year?). The more time I spend with them, the more I come to appreciate that Mexican cooking extends well beyond what most Americans think of, including tons of healthy, veggie-based options (it's not all gooey enchiladas and cheesy burritos). And I'm not the only one having this realization lately: Tons of chefs in the U.S. are bringing a wider range of Mexico's regional cuisines stateside, and we're all the better for it!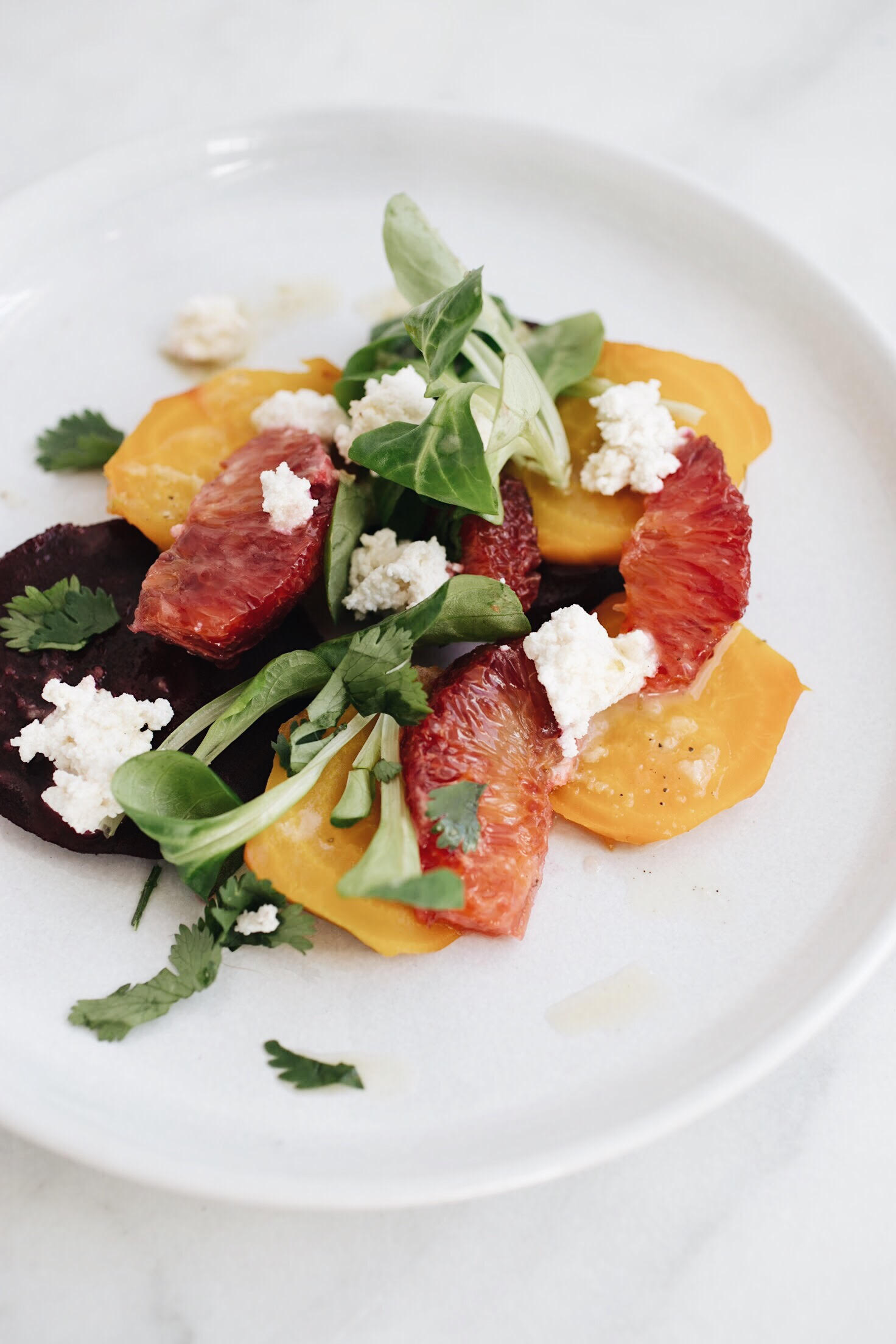 One of these chefs leading the charge is Dona Savitsky of Oakland's Doña Tomás restaurant. The eatery's menu changes seasonally and uses the best of California's bountiful harvests to bring traditional Mexican flavors to the modern table. Chef Dona also has a cookbook that features plenty of her greatest hits—like this roasted beet salad with blood oranges that is the perfect antidote to the mid-winter blahs! Bright, in-season produce is married by a lime vinaigrette that you'll want to put on everything once you taste it. Bring this salad to a Super Bowl party with a bowl of homemade guac and some thick, crunchy corn chips, or pack it in your lunch bag for the office. It's healthy Mexican dining at its very finest!
Roasted Beet Salad with Blood Oranges and Queso Fresco
Recipe courtesy of Doña Tomás: Discovering Authentic Mexican Cooking. Serves 6.
4 fresh beets
2 tablespoons olive oil
1/8 cup kosher salt
3 blood oranges, peeled
zest of 2 limes
juice of 2 limes
1 shallot, chopped
1/4 cup red wine vinegar
3/4 cup extra-virgin olive oil
Freshly ground black pepper
1/2 pound queso fresco, pulled apart
Leaves from 2-3 bunches of watercress
1/2 bunch cilantro, stemmed and chopped, for garnish

Preheat the oven to 350 degrees F. Slather the beets with the olive oil and salt, and place on a small baking sheet. Cook on the center rack for about an hour, until the beets can be easily pierced with a knife. Allow to cool slightly, then wipe the skins off with a paper towel. Trim the tops and the roots and cut into bite-sized wedges. The beets can be refrigerated up to 3 days.
Hold a peeled orange in your hand over a bowl and carefully cut the segments out of the membranes, letting the fruit and any juice fall into the bowl. Repeat with the remaining oranges.
Combine the lime zest, juice, shallot, and vinegar in a small bowl and mix well. Whisk in the extra virgin olive oil. Season with salt and pepper to taste. The vinaigrette can be covered and refrigerated for a few days but should be whisked before using.
Place the beet wedges in a large bowl with the oranges and their juice, the cheese, and the watercress. Toss with just enough vinaigrette to evenly coat, adjusting seasoning as desired. Divide the salad among 6 plates, garnish with cilantro, and serve immediately!