When we finally finished renovating our kitchen late last November, we were so ready to move back into it! We'd been cooking on a hot plate in our bathroom for three months at that point, our foodstuffs were stored in boxes in the living room, and poor Ivan had worked with the electric hum of our old fridge in his office for the duration of the construction. In fact, I was so desperate when the day at last arrived to start using our new kitchen, that I just loaded the drawers and cupboards willy-nilly, without giving any thought to organization. Although a part of me wanted to agonize over finding the perfect arrangement of organization tools and functional kitchen extras—you know, all those little details that truly complete a space—I knew that the best route was simply to start living in the kitchen to get a feel for its ins, outs, and idiosyncrasies.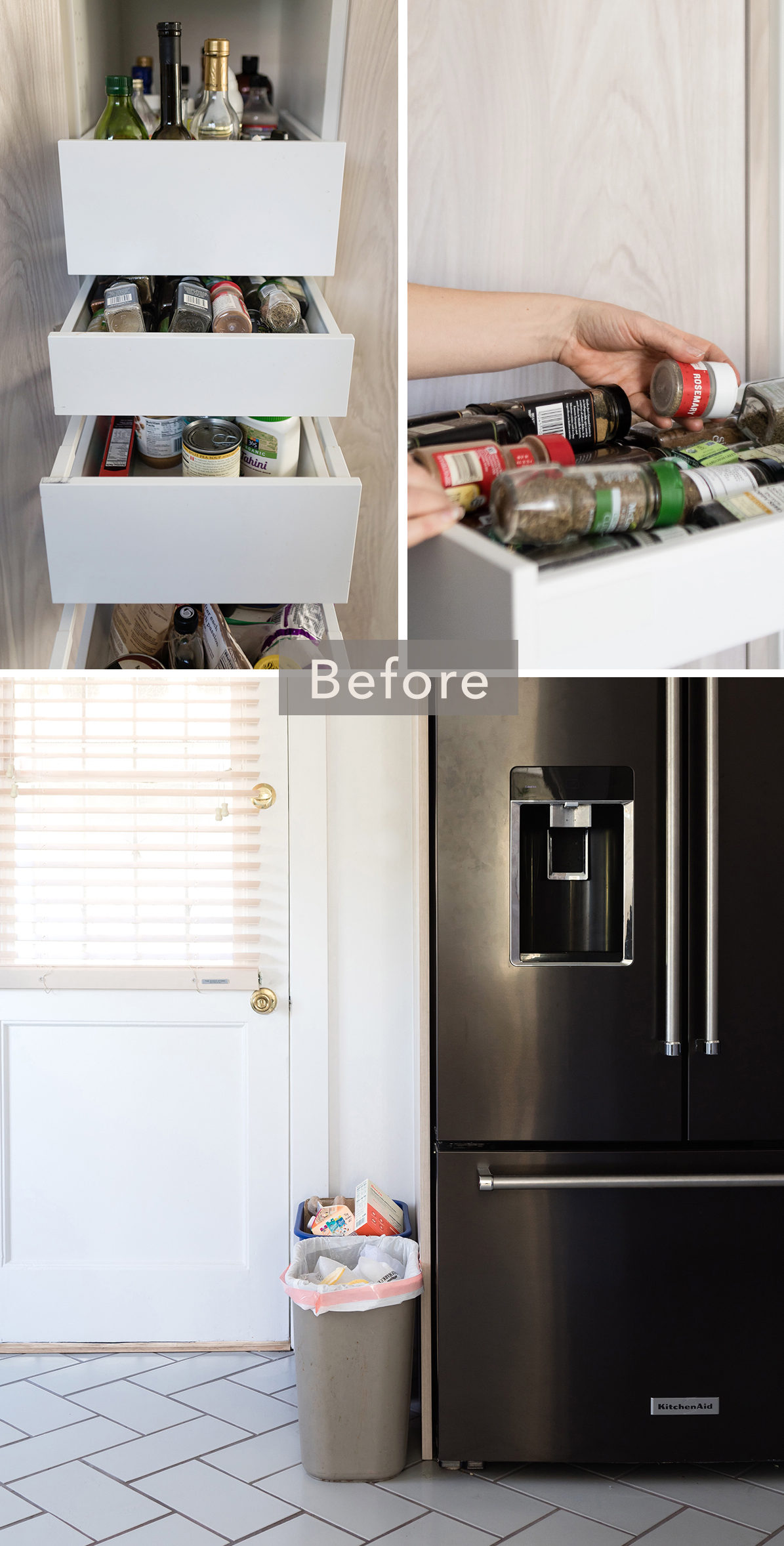 But then, after two months of cooking and cleaning in our new kitchen, the moment had definitely come to implement those finishing touches. For one thing, our tall pantry cabinet was an utter disaster, crammed full with products whose bulky original packaging made the drawers impossible to navigate. Then, because our dry goods weren't stored properly, we developed a serious moth problem—which meant I had to toss a heartbreaking quantity of food. Finally, a few eyesore items were hanging on from our previous kitchen: A ratty broom, two battered trash bins, and a paint-splattered footstool were seriously harshing my aesthetic vibe! So when Bed Bath & Beyond approached me to share some of my favorite kitchen and pantry organization tips—and to illustrate them using finds from their huge selection of stylish homewares—the timing couldn't have been better! And as I planned, shopped for, and implemented a few small but impactful upgrades, I realized something really important: as much as the project was driven by aesthetics and function, truly thoughtful kitchen organization is about so much more than improving how a kitchen looks and operates. By impacting how a kitchen works, the right touches can transform how you feel when you're in it. Here's how!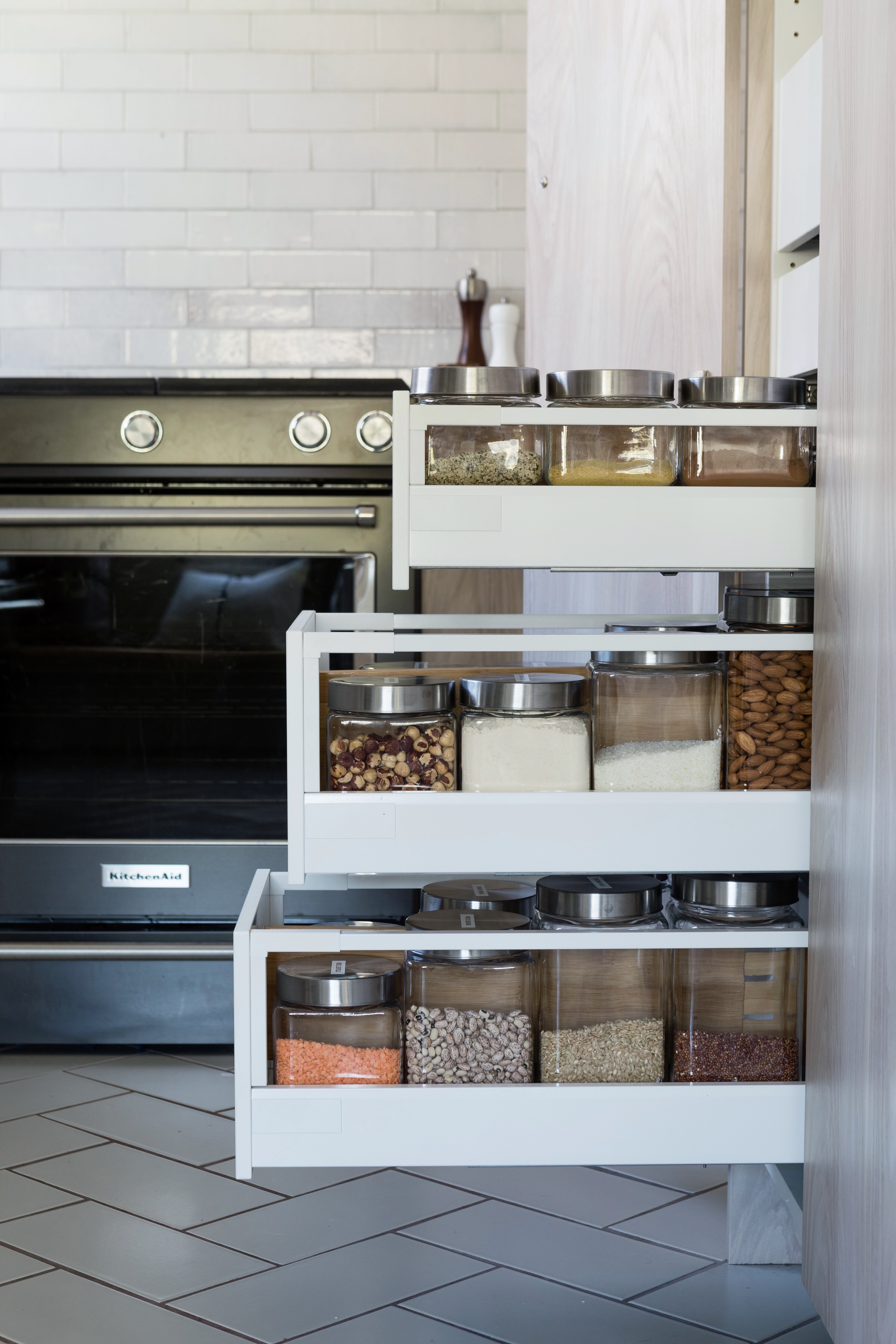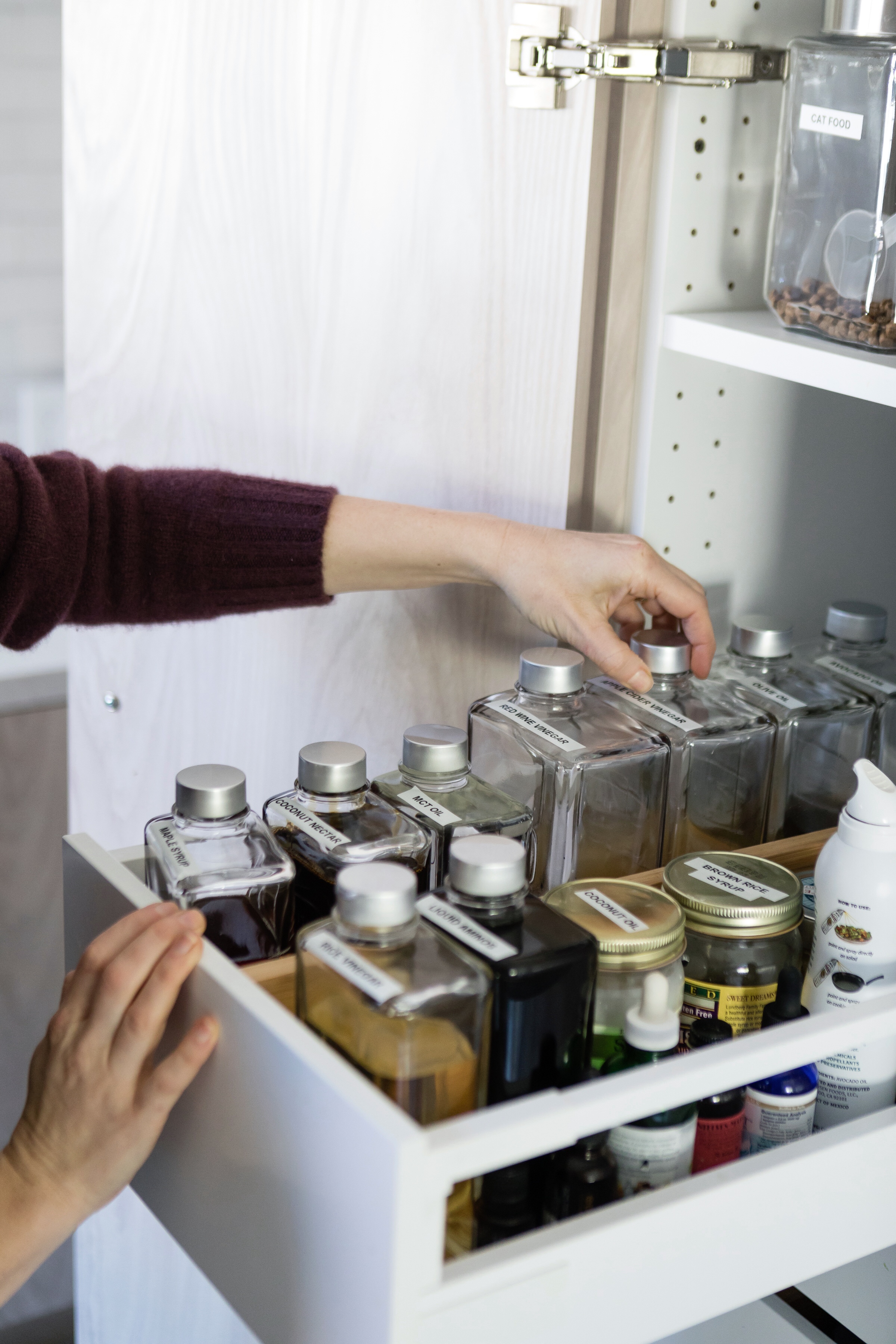 1.  The Satisfaction of Saving Money + The Environment: You know the toasty glow that wells up inside of you when you're behaving like a responsible grownup?! I love that sensation, and feeling on top of things around the house is one of my favorite ways to get it. In the kitchen, that means sticking to a grocery budget, and making choices that benefit the planet as much as possible—like buying in bulk, which is markedly more cost effective and cuts back on packaging to boot! Yet economy-sized quantities aren't exactly cupboard friendly, especially in a small kitchen like ours, so decanting manageable amounts into storage jars is essential. (We store the excess in a sealed bin in the garage.) The clear glass containers and glass bottles that I chose are square, allowing me to fit the maximum number neatly into our pantry drawers. Their screw-top lids seal tightly to keep ingredients fresh (and to keep pests like our darn moths away), thus preventing wasted food. I even picked up some adjustable drawer dividers to keep the jars from sliding around, because I always get a little thrill of confidence when I open a drawer and see my storage canisters all tidy in a row. When I look at them, I think to myself, "Gosh, if I can get my pantry in order, then certainly I'm capable of whatever else the day may send my way!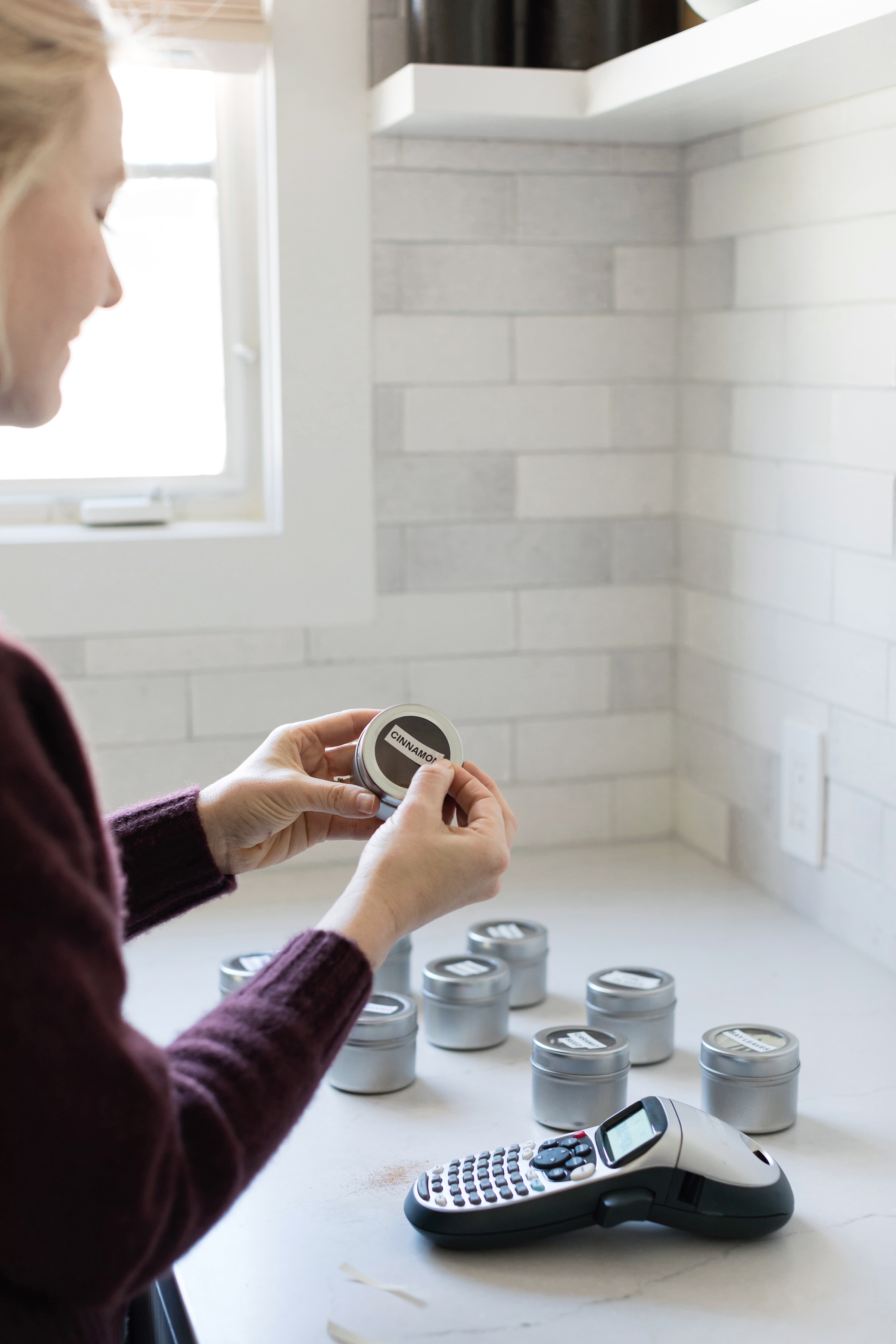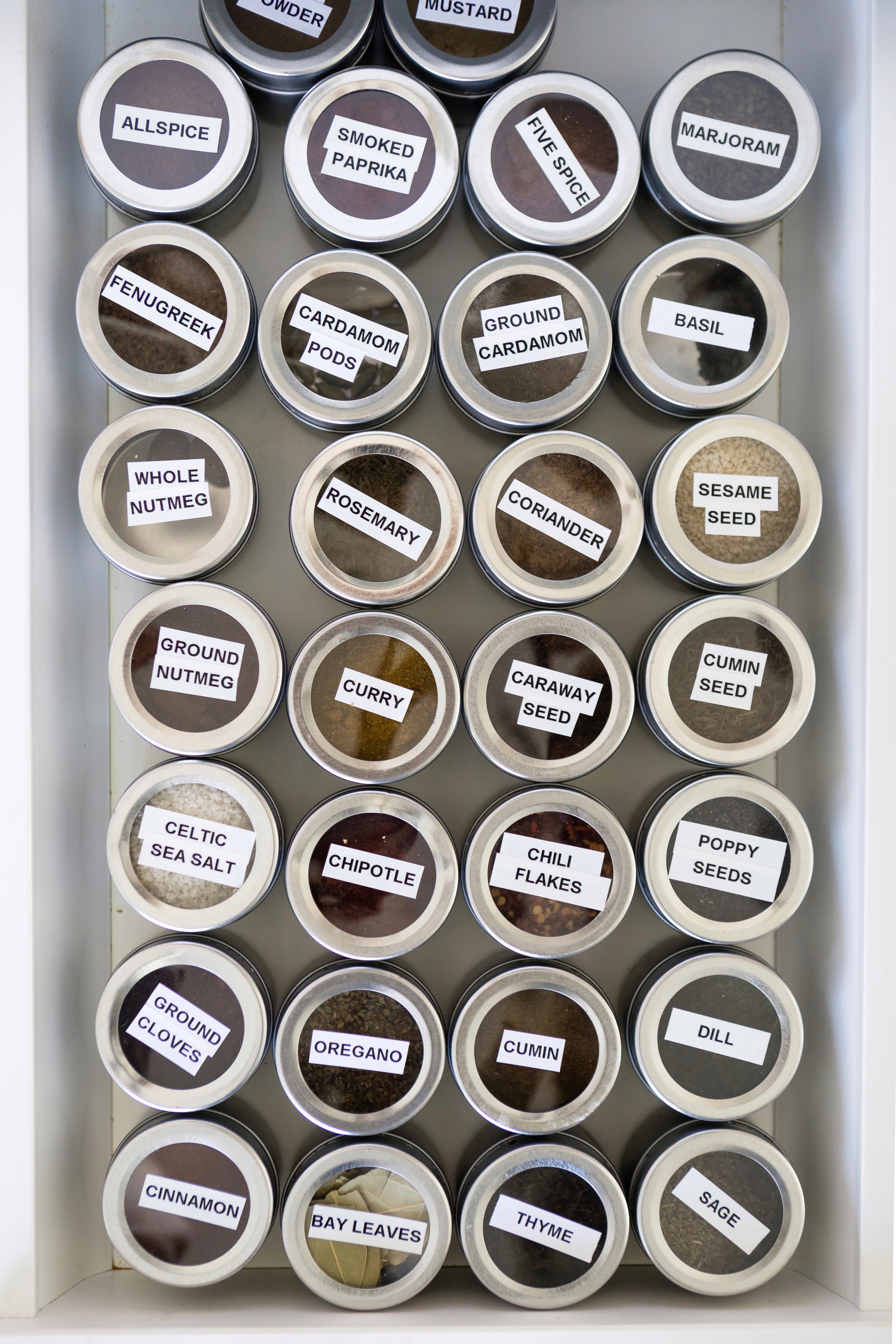 2. The Ease of Cooking at Home for Better Health: Without a doubt, the thing I missed most during our renovation was having the space to indulge my love of cooking! I always feel so much more energetic when I'm preparing my own fresh, nutrient-dense meals at home, and having my menu repertoire limited by the hotplate in the bathroom definitely led us to reach for the takeout menu more than I liked. Having all my tools back in action after the renovation reinvigorated my desire to try new dishes—and having my stockpile of ingredients so tidy and accessible after this pantry upgrade has taken my kitchen momentum to a whole other level! The see-through jars and bottles for dry goods, oils, and vinegars let me know when they're running low, so I can refill them before they empty. (So important to have staples on-hand I decide to experiment with recipes on a whim!) The uniform rows of spice tins enable me to ditch the odd-sized packaging that most spices come in, so I can fit more into my drawer for a broad range of international flavors at my fingertips. And wooden tea storage boxes keep my previously out-of-control teabag collection in check. I used a label maker to print all those labels and stick them facing up, which makes quickly grabbing ingredients no-brainer—and returning them to their designated spot a cinch. It's a dream come true to have my kitchen set up in a way that allows me to create delicious, healthful meals without worrying about tripping over functional obstacles. (And of course, if cooking isn't naturally your thing but you're striving to do it more frequently in support of your health, then streamlining the process is key for you too!)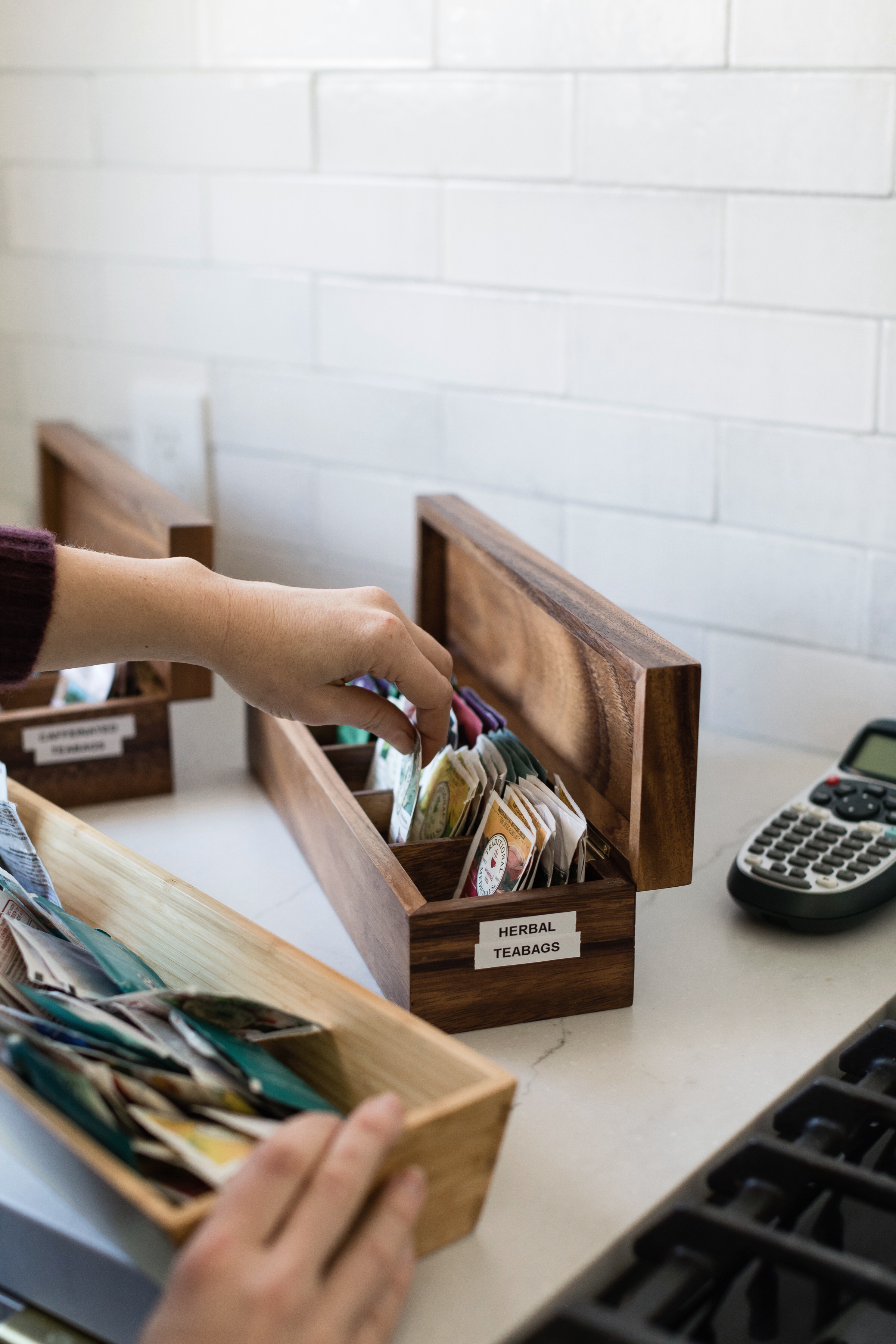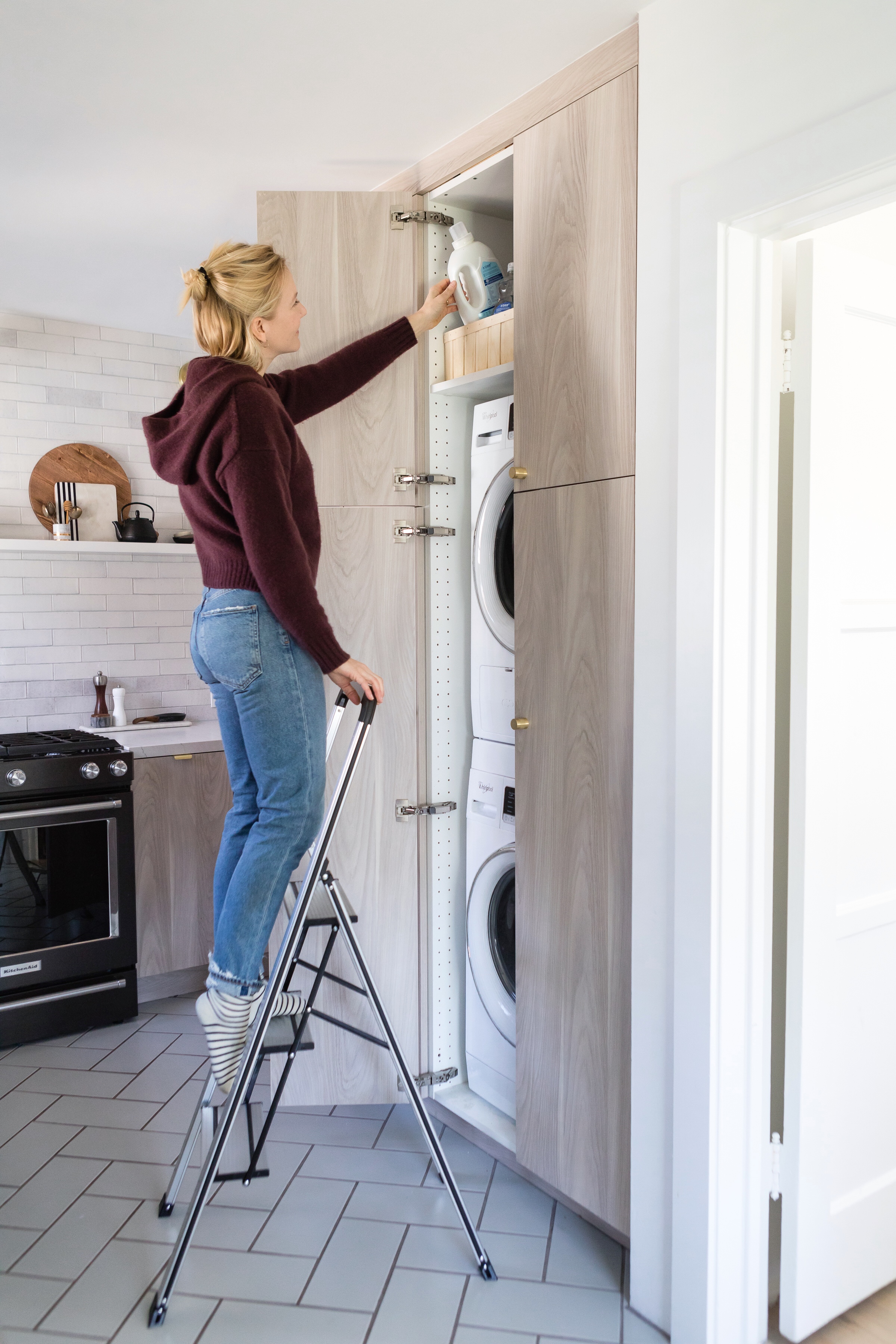 3. The Joy of Reveling In the Details: This is perhaps the most subtle effect of our kitchen and pantry organization upgrade, but for me it's the most important. I simple hate the unsettled feeling of a project left incomplete. After all, follow-through and attention to detail is what makes good things truly great! Going to so much effort to design and install a beautiful, efficient kitchen, and then using a broom that was held together with duct tape to sweep our gorgeous new tiles, well…let's just say it felt like I'd dressed up for a red carpet event only to wear dirty hiking shoes with my gown! I replaced our busted broom with a simple, utilitarian wood broom whose beech handle matches the materials palette of the kitchen. Out went the sloppy trash bins and in came a stainless steel trash and recycling can whose narrow profile perfectly suits our tight floor plan. And bye-bye to the rickety footstool that was well past its prime; hello to the aerodynamic, lightweight stepladder that stows in our laundry cupboard when not in use! Sure, these final touches seem small in the scheme of things, but they're big for someone like me who takes personal pride in knowing that I've cut no corners, left no stone unturned. Now, six months since we tore down the first walls and began our renovation, I can say that the kitchen is really, truly complete. And you know what? It feels so darn good!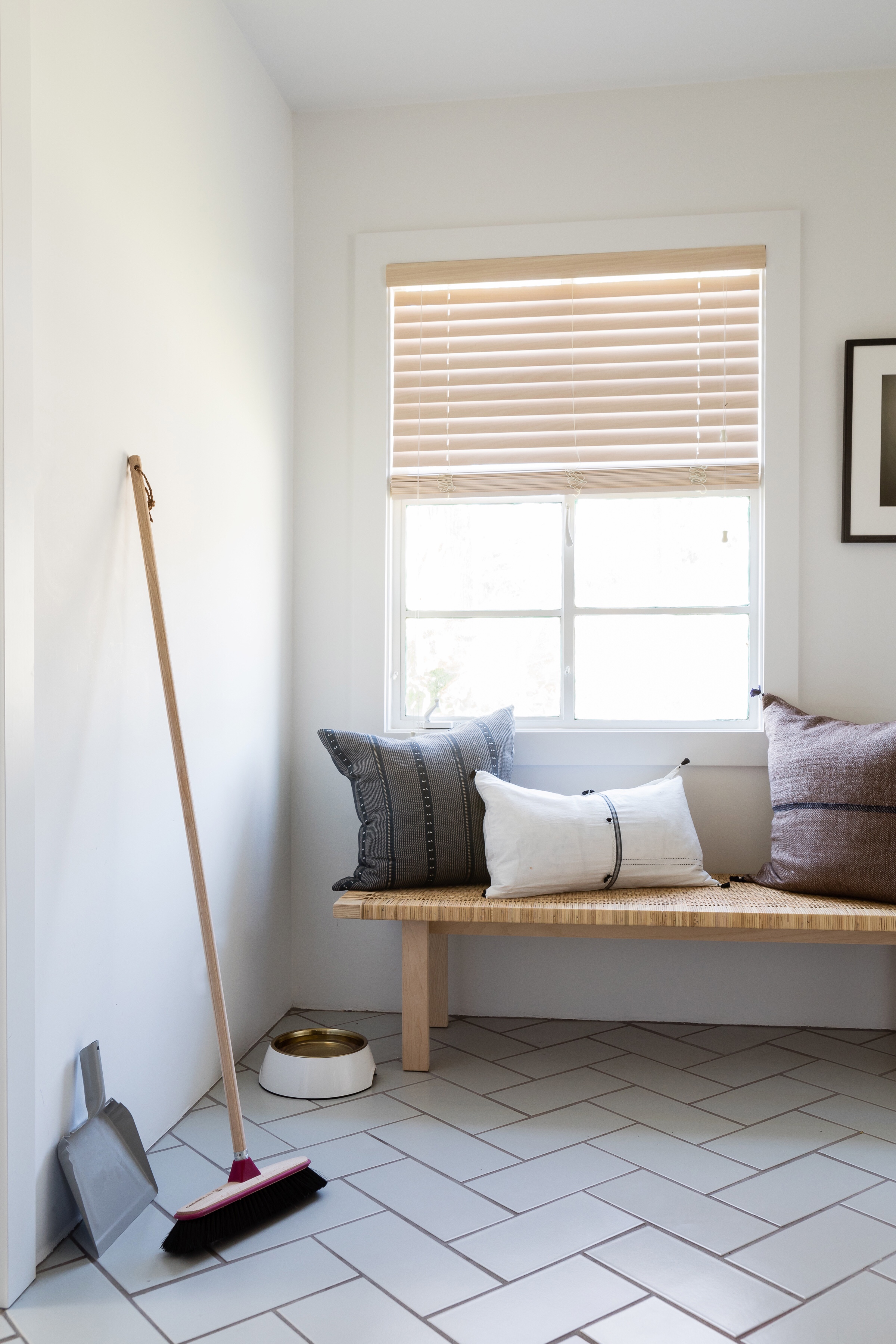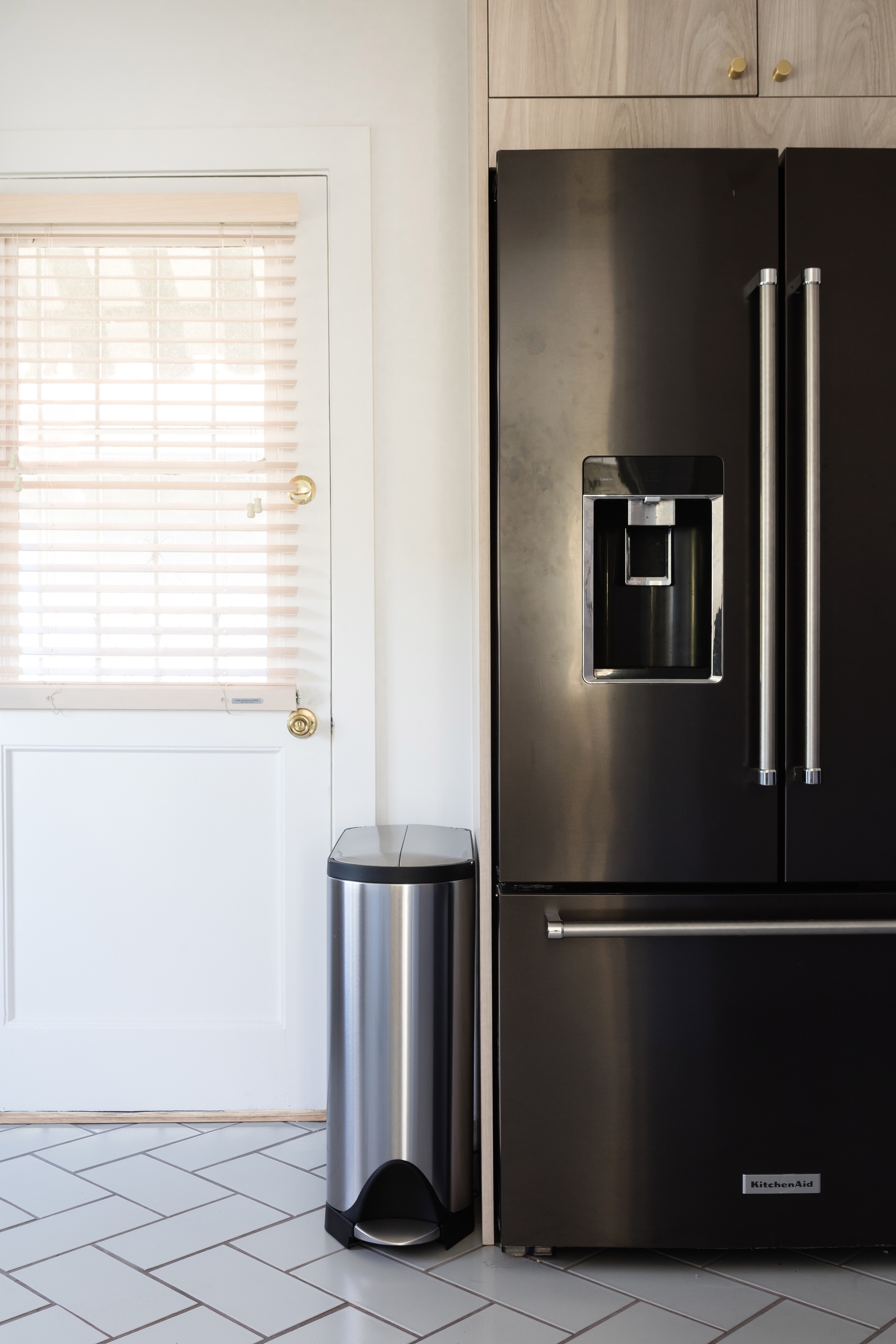 Our Complete Pantry Makeover Shopping Guide: 1. Square Glass Food Storage Canisters 2. Large Glass Storage Bottles 3. Small Glass Storage Bottles 4. Metal Spice Tins 5. Label Maker 6. Bamboo Drawer Dividers 7. Wood Tea Storage Box 8. Lightweight 3-Step Stool 9. Utilitarian Wood Broom 10. Simplehuman Recycler Trash Can Photos: Monica Wang. Disclosure: I partnered with Bed, Bath & Beyond to concept, produce, style, shoot, write, edit, and share this post. All opinions are and always will be my own. Thank you for supporting the brands that enable me to bring you fresh inspiration daily!