Disclosure: I partnered with Brother to concept, produce, style, write, edit, and share this post. All opinions are and always will be my own. Thank you for supporting the brands that enable me to bring you fresh inspiration daily! 
I am always a little awestruck by people who can rock a great DIY. You know the ones I mean. It's like they snap their crafty fingers and voila, a custom, one-of-a-kind creation appears from seemingly out of nowhere! As much as I'd love to churn out my own DIY's—I'm all about heartfelt expressions of individual style, after all—I generally lack the foresight and patience to make them happen. So any time I come across an opportunity to make something unique with my own hands, without having to put a ton of time and effort into it, I jump on it! And the new Brother P-touch Embellish is the perfect example of a best-of-both-worlds crafting tool: It's a quick and foolproof way to print any word or phrase you want on ribbon and tape, thereby putting a thoughtful touch on everything from gifts to decor and more. I used it to create these DIY personalized party favors in less than 10 minutes!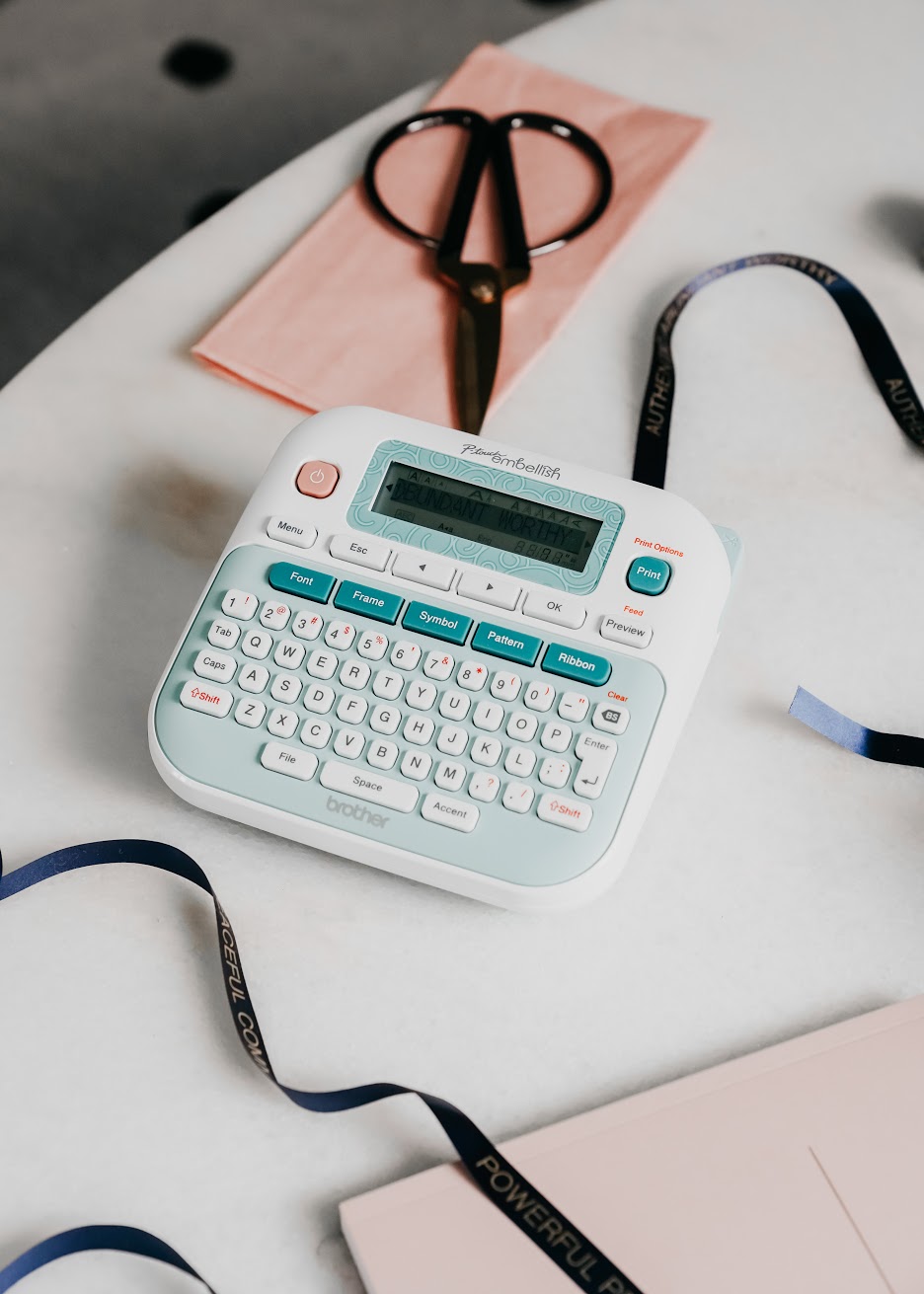 I can remember as a kid, when my dad's office bought a label maker, spending many happy hours sticking clever phrases on every object I could find. The P-touch Embellish takes the thrill of customization to a whole new level, with over 14 fonts, 90 borders, 400 symbols, and 25 patterns to choose from. Plus, there are 5 satin ribbon colors, 3 pastel tapes, and 9 tape patterns available, making it easy to enhance whatever project is on your plate. When I slid the P-touch Embellish from the box, my imagination started reeling with the possibilities. Have one at baby shower so guests can print out best wishes for baby and mama, then incorporate those ribbons into the nursery decor! Use it to put an extra special touch on holiday baking or care packages full of homemade goodies! Get the kids involved and ask them to type their own messages for birthday party, teacher, or grandparent gifts!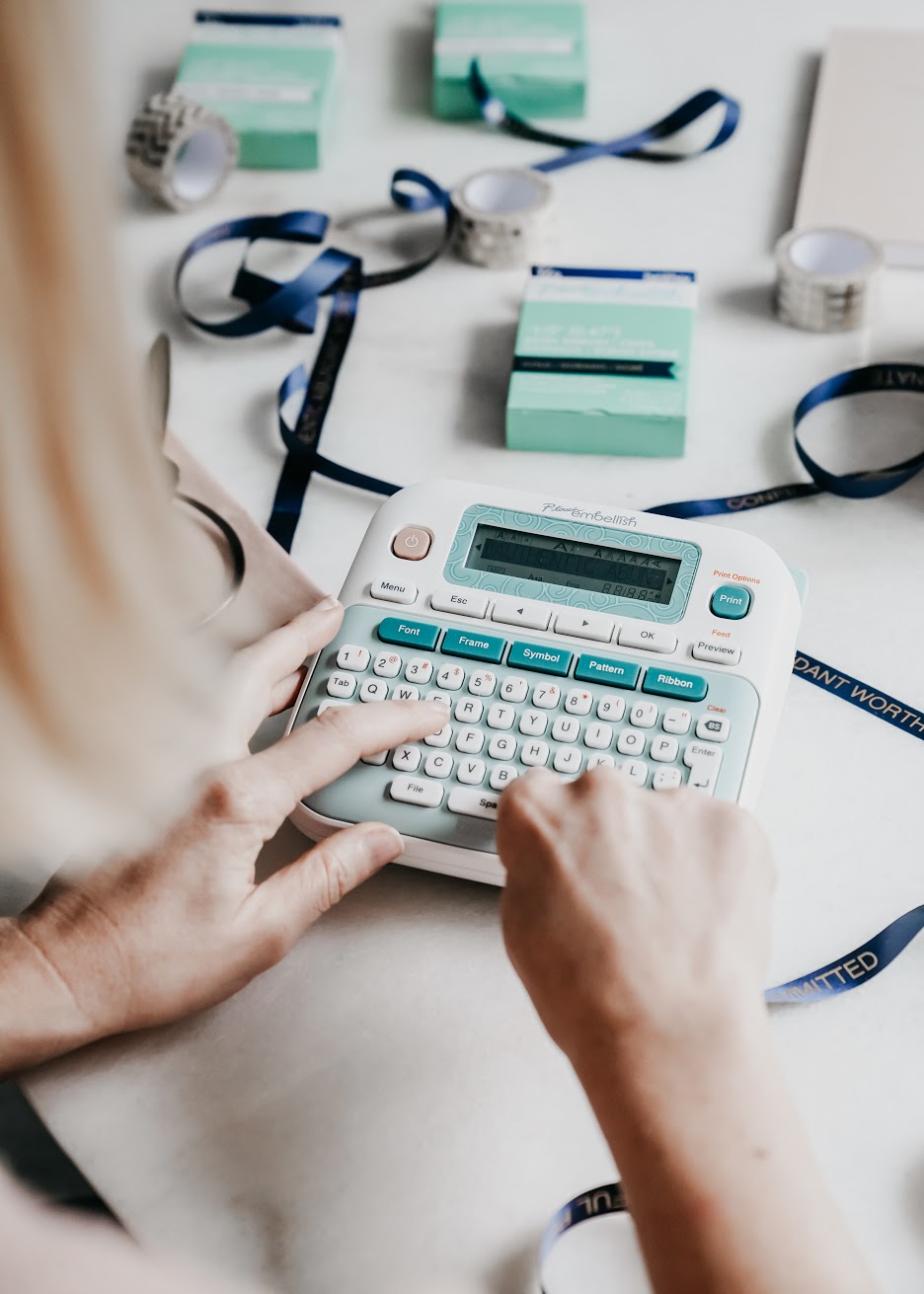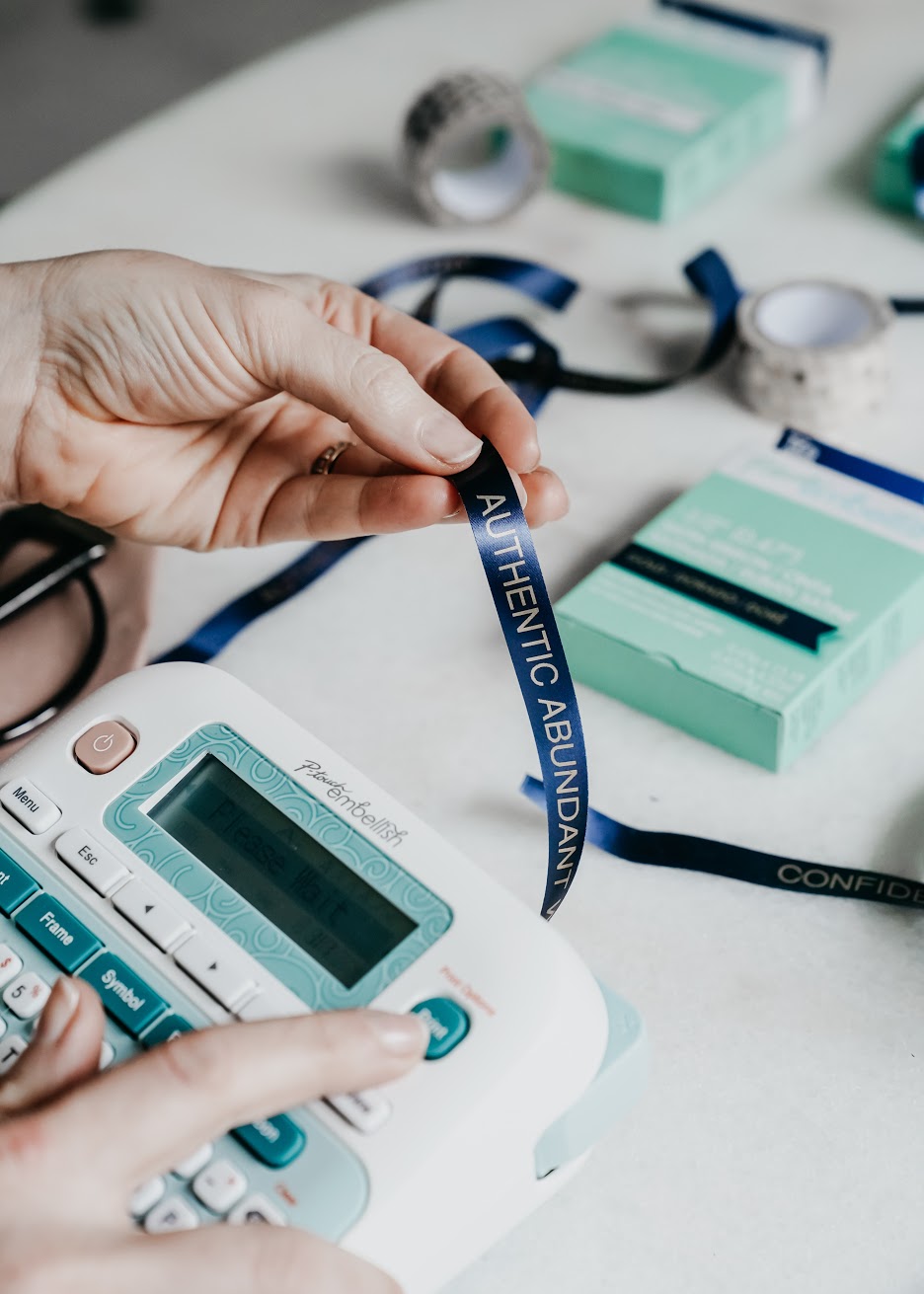 The idea that I put into action was one inspired by a gathering recently hosted by my main gal Caroline at our studio Light Lab. She invited several women in the creative and entrepreneurial fields to come together and celebrate their accomplishments of the past year—because really, how often do we take time to acknowledge the big and small achievements of ourselves and others? In a flash of inspiration, I thought how sweet and inspiring it would be to ask each guest in advance to send a list of three words that encapsulate how she sees herself when she's at her best (confident! courageous! passionate!) and then print those words on ribbon using the P-touch Embellish. I then used each ribbon to wrap a simple, sophisticated journal to send home with each guest. How fun, then, to display the journals together and ask guests to find theirs by identifying their three words! Everyone in attendance could also learn how the other women in her company see themselves, and remind her of those three words when she's feeling down. It's a project that's straightforward, cost effective, and incredibly quick to execute, but really special too. All with no advanced DIY skills required!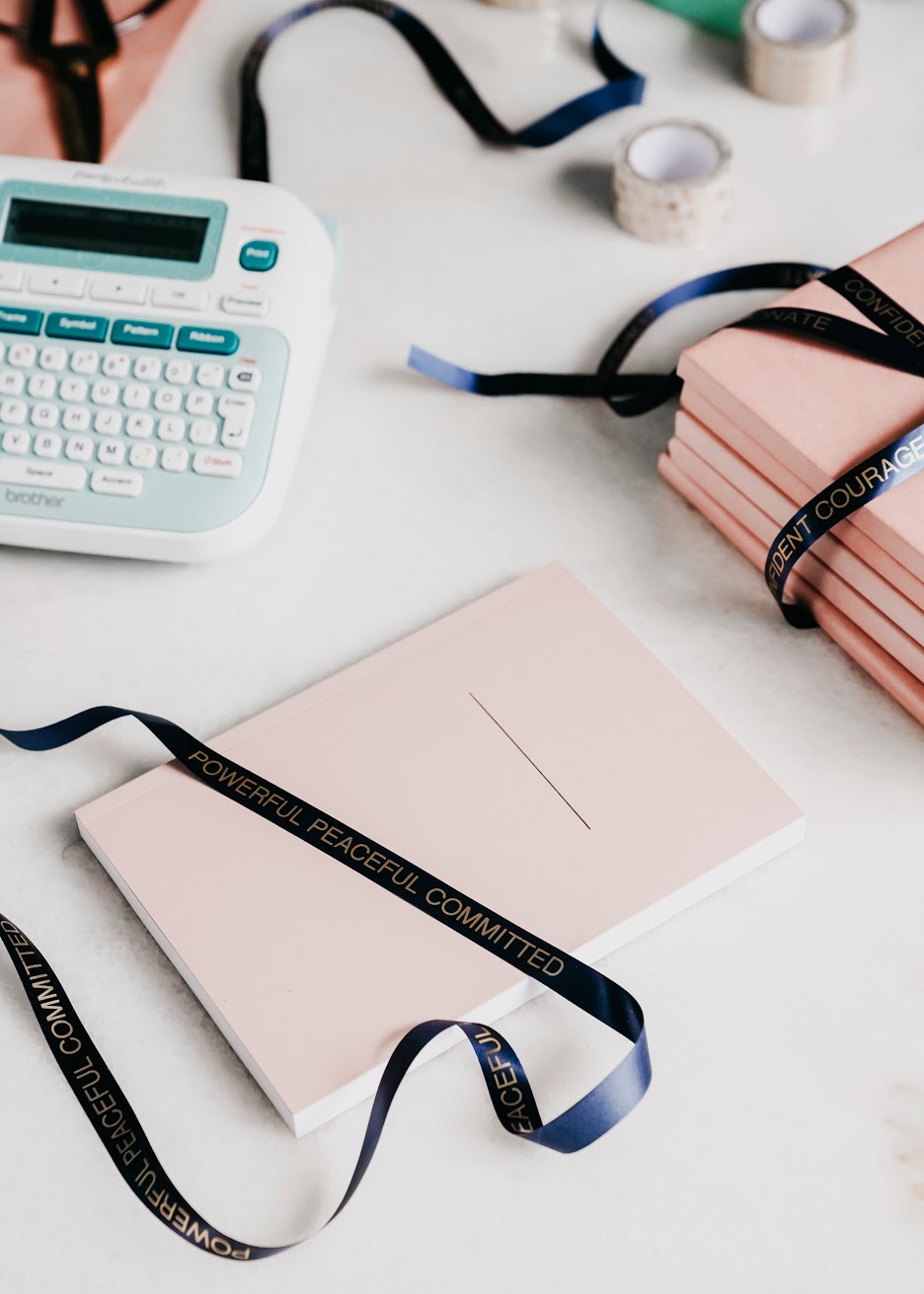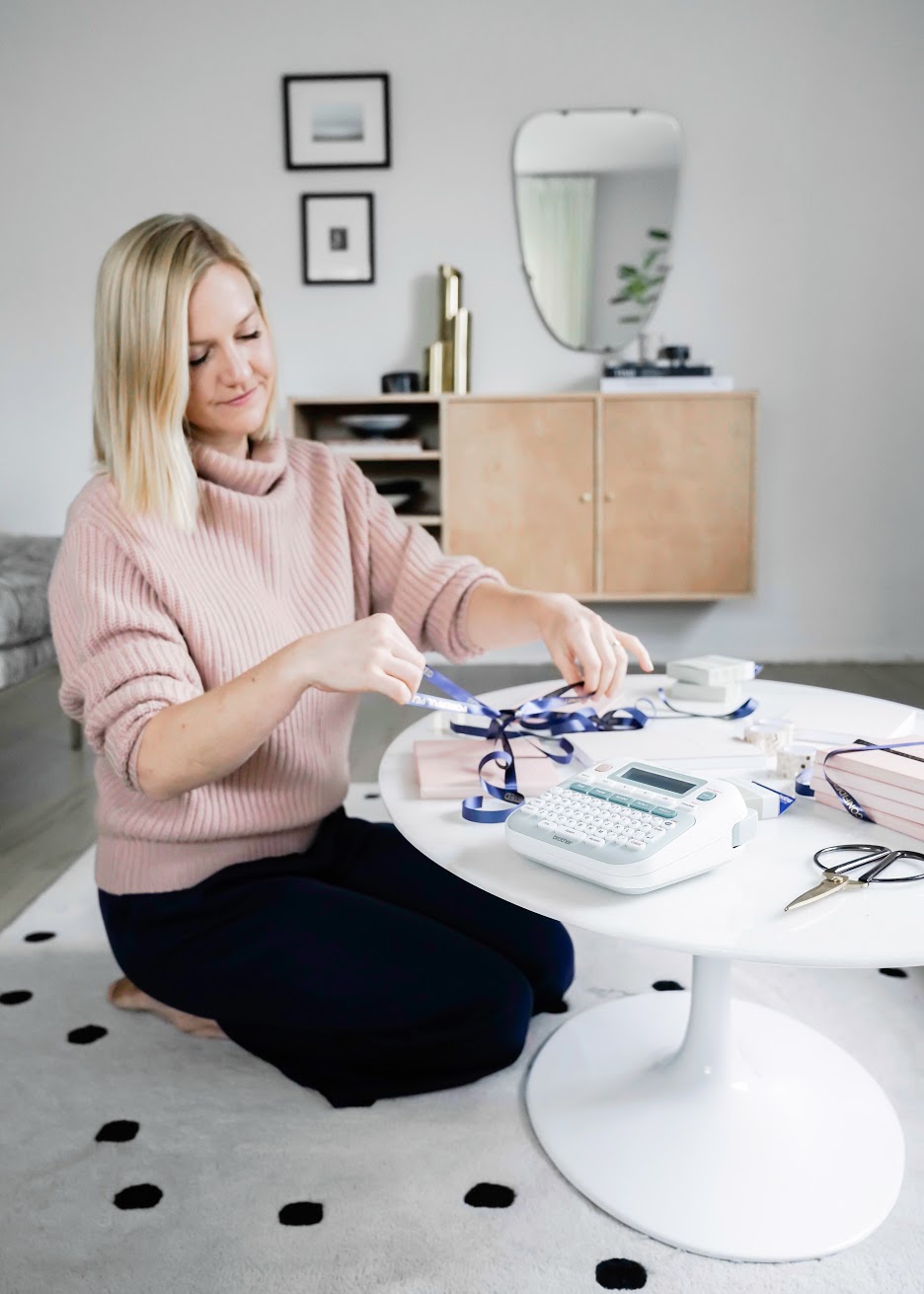 Photos: Eslee.