Exactly one year ago, I was wrapping up an epic adventure in India with the team from Jaipur Living. In the time since then, it's been wonderful to watch all the great things the company is up to. They're consistently at the forefront of the trends with their ever-evolving collection of rugs and other home textiles; and with their sustainable, high-quality approach to design and production, each piece they create is destined to become an instant heirloom. The brand's visionary aesthetic offerings come courtesy to Creative Director Li Kurczewski and the like-minded team she's surrounded herself with. Li previously helmed the ship at interiors mecca ABC Carpet & Home, and she now brings her keen eye and sharply honed market instincts to Jaipur Living. I recently asked Li  for her insights on 2018's hottest looks in rugs and textiles, and she more than happily gave me the scoop!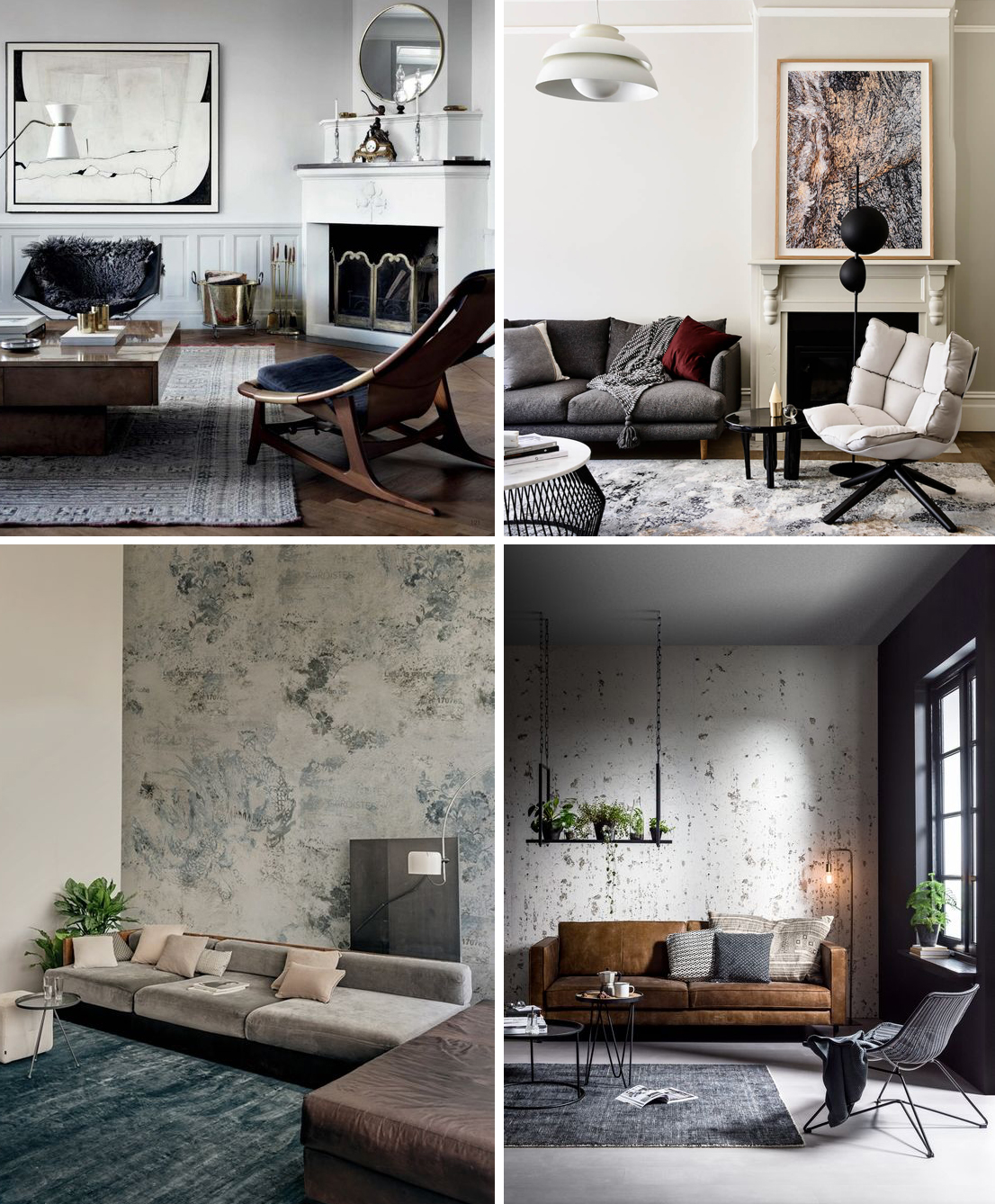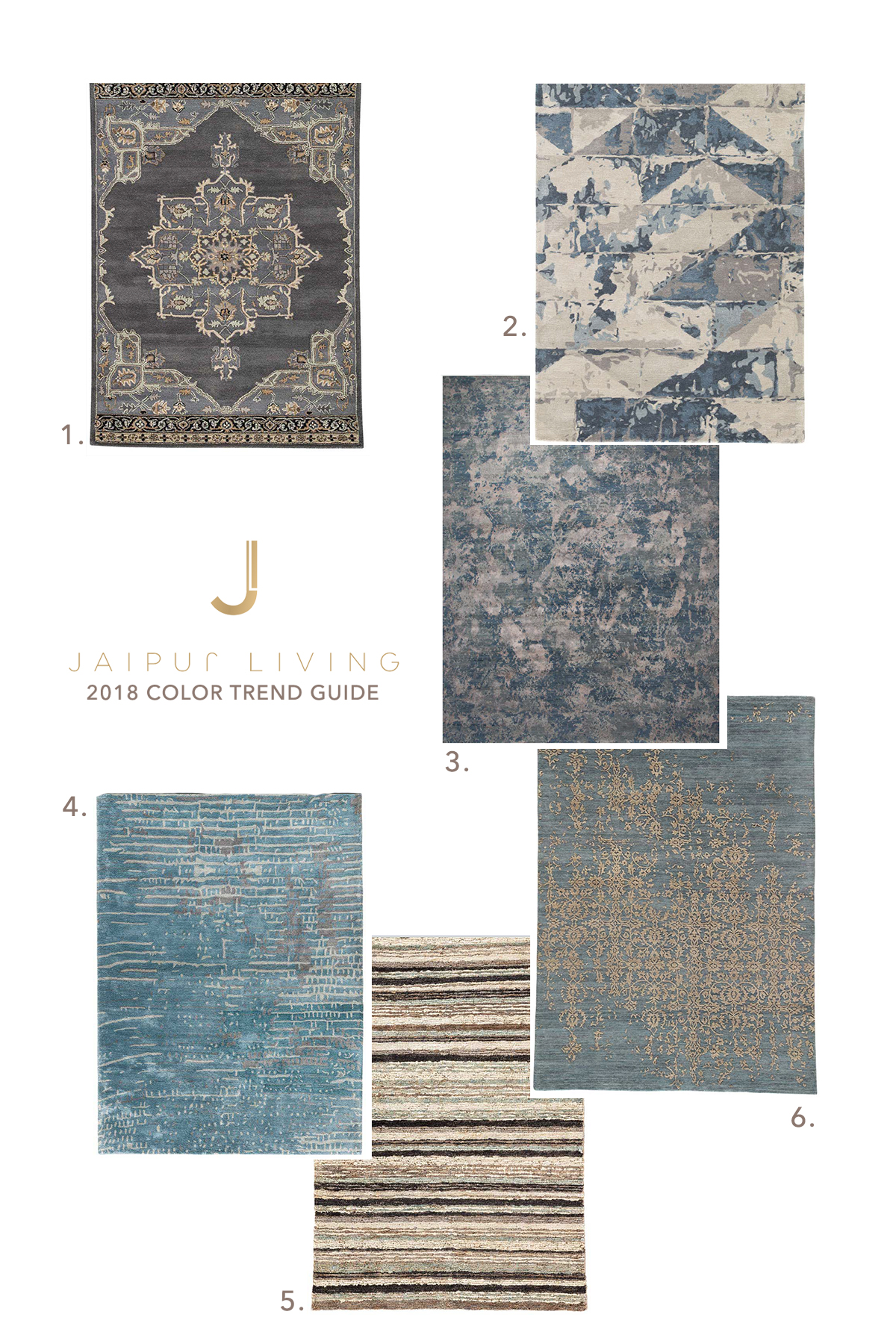 According to Li, there are two color stories that the Jaipur team predicts will be huge for the coming year (and beyond!) First up is a sultry, sophisticated take on shades of blue. Inky indigo, deep navy, and saturated teal add depth and weight for spaces that Li describes as "deliciously rich". She especially loves when countered with cooling, contrasting tones such as iridescent silvers and icy oatmeals. Mid-range hues such as robin's egg blue and sun-bleached denim round out this updated take on everyone's perennial favorite color! As for me, I'm especially appreciative of the versatility of this palette: As seen in the selection of Jaipur rugs above, it can skew classic with traditional motifs, but works equally well for deconstructed and abstract patterns. 
On the other end of the spectrum—literally!—Li sees a movement towards interiors in warm red tones. She adores the many evocative words that have been floating around to describe this color story, phrases like deep clay, soft copper, pink earth, terra cotta, and sun-bleached brick. I don't usually think of red as being a color that draws me in, but this trend explores red in all its many incarnations, from ruby reds to barely-there blush pinks, giving it appeal for even the most neutral of sensibilities! And just as with the aforementioned blues, it plays equally well in spaces of any style. As above, graphic or marbled applications give contemporary interiors a toasty glow, while ethnically-inspired wovens bring global gravitas to modern and vintage-inspired rooms alike. There's something for everyone, and the only hard part is choosing what you like best from all these gorgeous options!
Shopping Guide: Blue Rugs: 1. Traditional Medallion Pattern Rug 2. Watercolor Inspired Modern Rug 3. Abstract Blue and Grey Rug 4. Blue and Neutral Modern Patterned Rug 5. Light Blue and Neutral Striped Rug 6. Deconstructed Damask Rug Red Rugs: 1. Global Patterned Rug 2. 3. Jute Geometric Patterned Rug 4. Vintage-Inspired Medallion Rug 5. Southwestern Inspired Rug 6. Marble Patterned Rug Image Credits: 1. Jaipur Living 2. 3. 4. 5. 6. 7. 8. 9. Disclosure: This post was created in partnership with Jaipur Living. All opinions are and always will be my own. Thank you for supporting the brands that enable me to bring you fresh inspiration daily!