Last night Ivan and I had one of those terrible before-bed arguments that leaves you feeling too worked up to sleep. The subject? Air conditioning, and the fact that we don't have it. We've been incredibly fortunate to have only cool days so far this year, but I can feel the heat waves looming and I'm terrified of a repeat of last summer's tortuous discomfort. (On a few occasions, it was over 100 degrees at 10pm, and we had to escape to a motel just so we could sleep!) We were bickering because I've been attempting to spearhead an A/C install before the temps climb, whereas it's seemed to me that Ivan has been dragging his feet on committing to one option or another. (This is a common theme in our relationship.) In reality, we've both been responsible for the delay in our own separate ways, and today we both took the bull by the horns and made several requests for quotes from local businesses.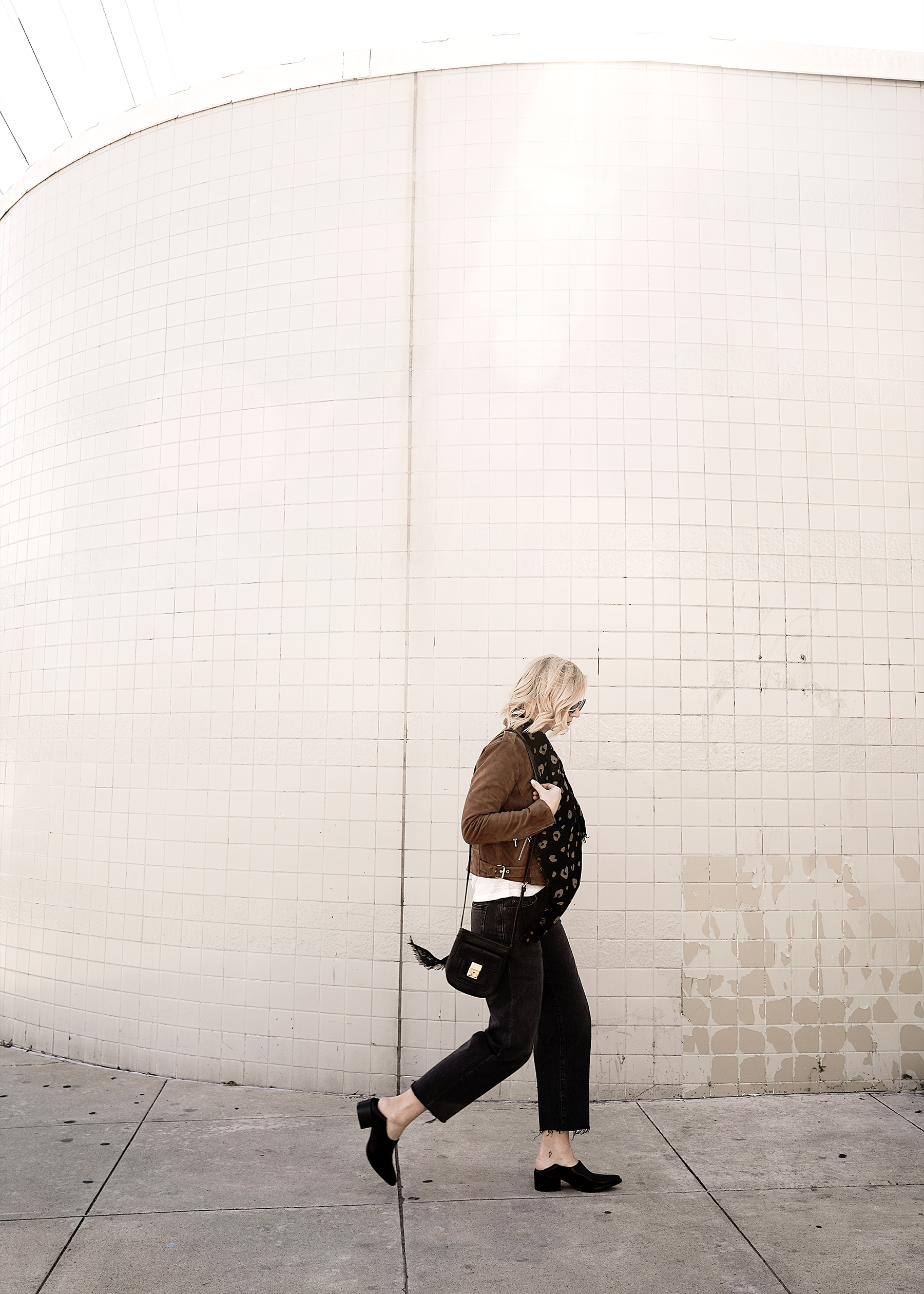 All that to say, until the mercury rises I'm squeezing every last ounce of wear from this soft and slouchy biker jacket by Sezane. It's the ideal suede jacket for summer, lightweight enough to be your go-to for cooler mornings and breezy evenings. Its versatile styling gives sweet sundresses a touch of downtown edge, and also brings casual structure to jeans and shorts. Plus it's the kind of piece that will only get better with age, shaping to your body as it evolves from an anticipated investment to a treasured fave. Oh, and can we talk about that dreamy cognac hue?!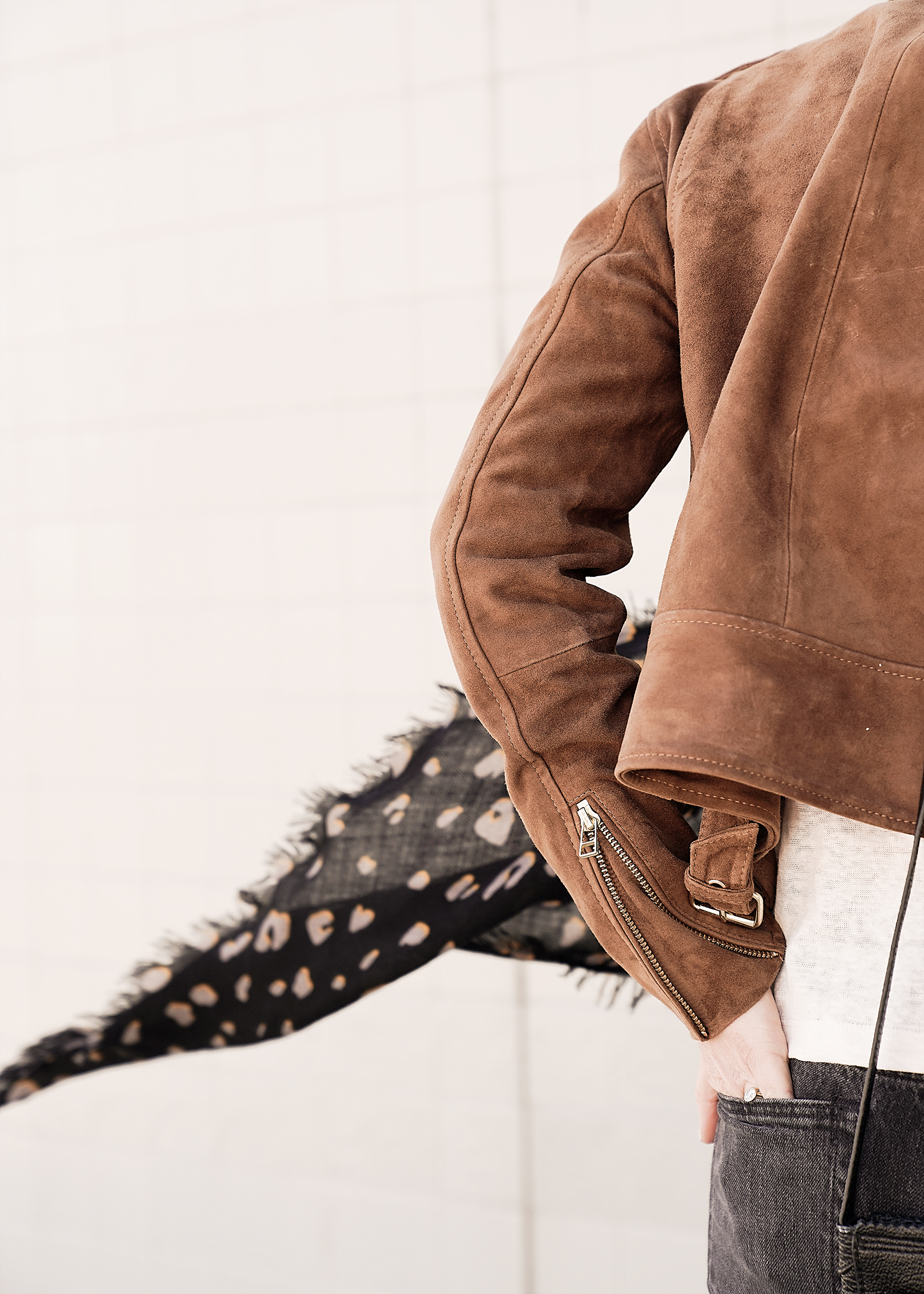 The outfit pictured here is inspired by my recent desire for a hint of 90's nostalgia. (With the operative word being hint, unlike the guy I saw today at the post office wearing wide wale cords and a denim bucket hat; that's taking throwback fashion way too far.) A wide-leg jean in faded black denim echoes ever so slightly of grunge, but with a cropped length to keep it current. Pointed western-inspired booties remind me of a pair I once coveted in the pages of Seventeen Magazine, and tortoiseshell cat eye sunglasses are a softer, rounder version of Drew Barrymore's signature 90's vibe. In warmer weather I'll team up the jacket with the same accessories and a white linen shift dress, but for now I'm riding this cool summer weather for as long as I can!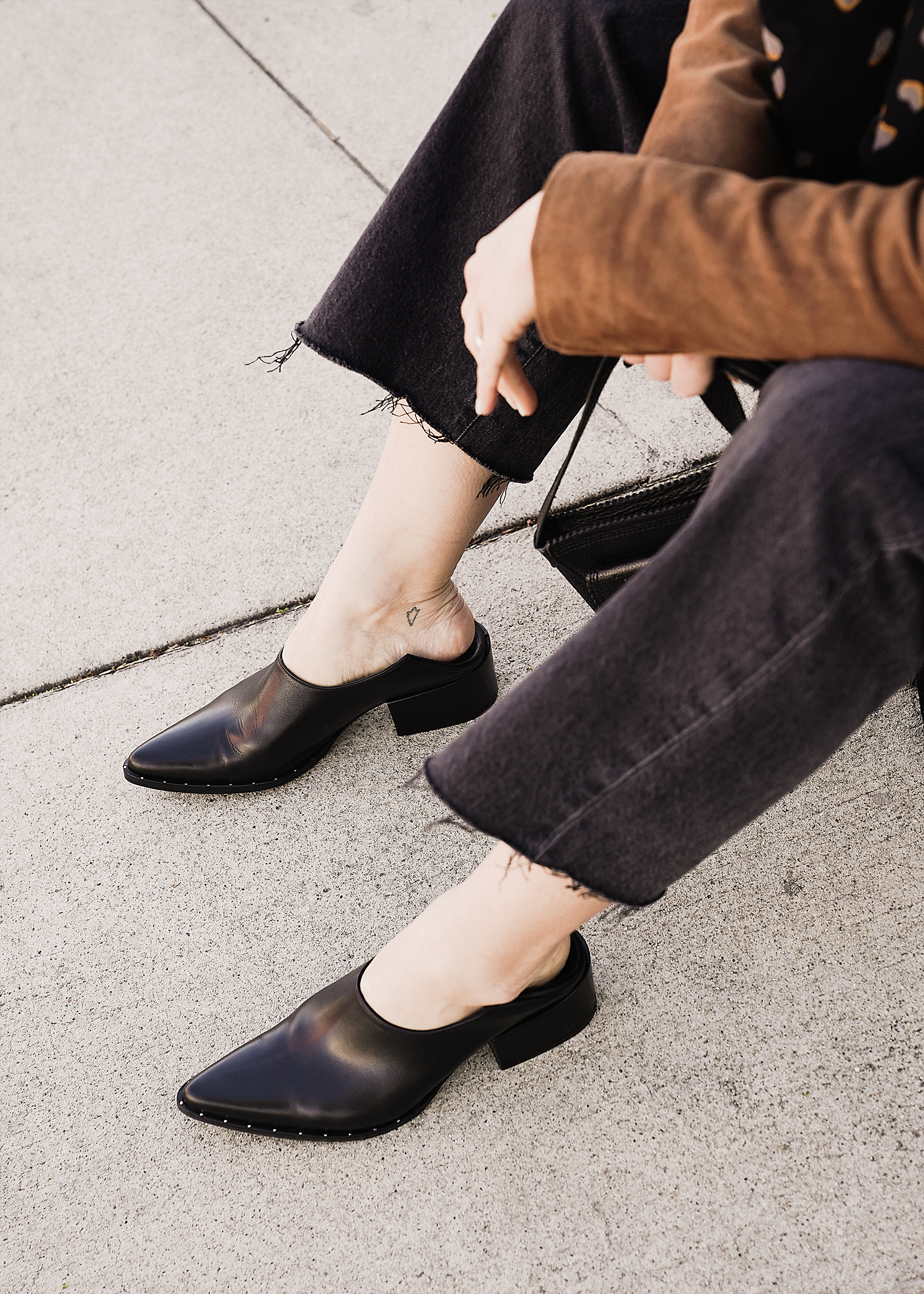 Shopping Guide: Sezane Suede Jacket. Simon Miller Wide Leg Jeans. Acne Studios Linen Tee. Freda Salvador Western-Inspired Booties (similar to shown). Thacker Black Saddlebag. Scarf, Aritzia (similar to shown). Komono Cat Eye Sunglasses. Photos: Eslee.