It's been so fun sharing the highlights from the studio makeover that my work wife Caroline and I created for her sister Margaret! The positive feedback the space has received since the big reveal last week has been overwhelming. We're so thrilled you guys are loving the space as much as we do! Frankly, I'm still pinching myself that it came together as beautifully as it did, largely because I did much of the design virtually, selecting all the pieces in a quick two week period then keeping my fingers crossed that everything would jive together in real life as well as it did in our plans. The ultimate source of our success was to be meticulous when selecting the brands we incorporated. We only shopped from those with with large, clear website images, comprehensive product info, and a spotless reputation for quality—and when it came to choosing the floor coverings, Jaipur Living was my first and only stop!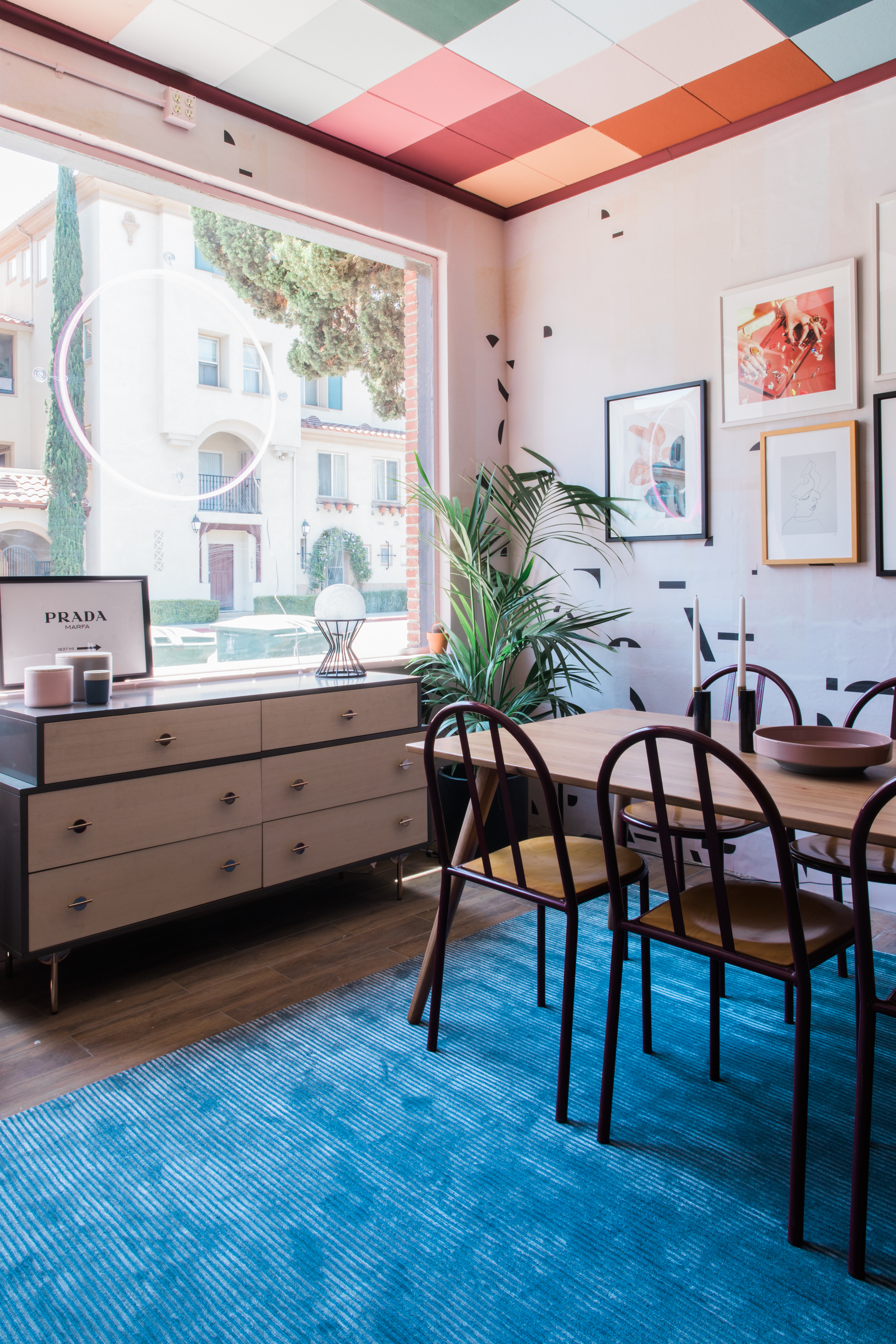 Shopping for furniture and decor online can be a challenge, but it's especially tricky when it comes to rugs. So much of a rug is in the details: the feel of it under your feet, the special weaving techniques that can only be appreciated up close, the way light hits to give each viewing angle a unique visual impact. Because I considered all the other elements of this space so carefully, I wanted the rugs to check every box as well. Plus, in a project that was all about color, I was conscious of the risk inherent to selecting rugs based solely on my computer's screen settings! But the Jaipur Living website takes all that guesswork and turns it into certainty. First, I was able to search for the exact style and color family I was seeking. Then, once I'd narrowed down my options, each rug's listing had an exhaustive description complete with qualities like how soft the hand is, whether the finish is lustrous or matte, and how textured the piece is. In addition to providing product images from multiple perspectives (so key for seeing pile height!) the site also lists the exact Pantone color codes of each fiber used, so I could cross check against my paint and fabric hues. Oh, and Jaipur Living also provides full availability info, which was amazing because we had such a tight project turnaround. I filtered my search according to items that were in-stock and ready to ship, guaranteeing that I'd only look at rugs that worked for our schedule. (It's the worst when you fall for something that has a 16-week lead time, right?)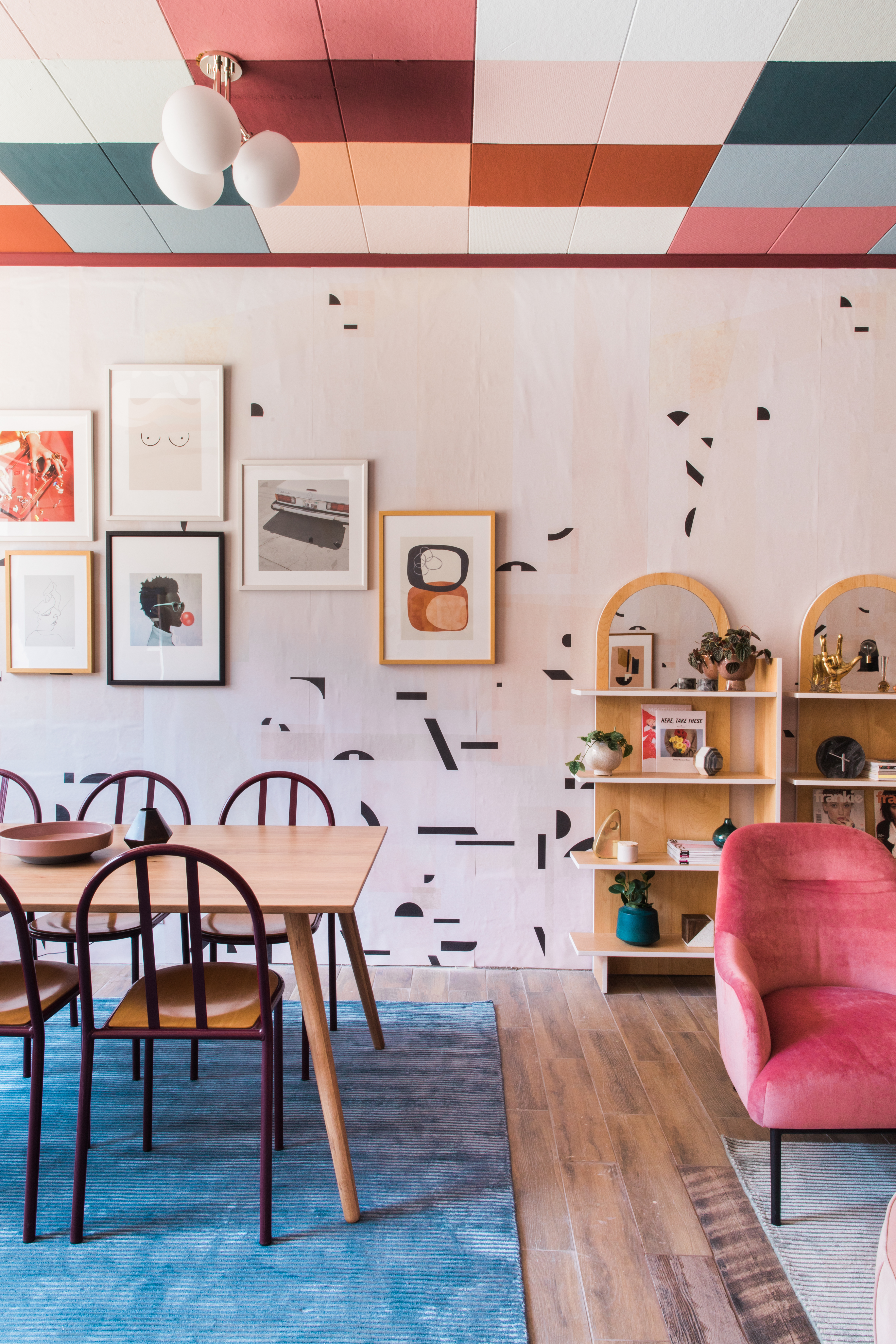 After lots of back and forth (it's hard to choose from the brand's seemingly endless catalog!) we settled on two blue rugs from Jaipur Living's Basis collection. The collection is a designer's best friend, consisting as it does of timeless solids designed to suit a range of project needs. These rugs are fantastic as foundational basics—but basic is never boring thanks to a linear textural effect that is the best of both worlds between colorblocking and pattern! My goal for this space was that the rugs not only anchor the work table and lounge area, but also that they help the two functional zones relate to each other. The light blue rug under the sofa has greyish undertones that echo the chest of drawers beneath the window; while the tones of the darker indigo rug also are reflected in velvet sofa. Both shades are also present in the ceiling. I can't imagine this room with any rugs other than these, which I guess is a sign of a mission accomplished with flying colors!