I've just received a sneek peek of the raw images from earlier this month when we shot the living and dining room makeover I did for Kim at Eat, Sleep, Wear. It's always so satisfying when a project turns out even better than you expected, and after seeing the pics I can say that I'm very satisfied indeed! While the shots are being edited, I wanted to share the process I used to select artwork for the space. All the art came from Minted's huge selection of original framed art prints, and I really let my perfectionist flag fly when choosing the pieces that would comprise several vignettes around the room. I'm not exaggerating when I say that I looked at every single piece of art and tried dozens of combinations before landing on the arrangements in the graphic below. Since I was working on a time crunch I knew the selections needed to be just right before I placed the order, so there would be no trial and error on the install. Here's the process I used to create the perfect gallery wall design before you ever order a single piece of art!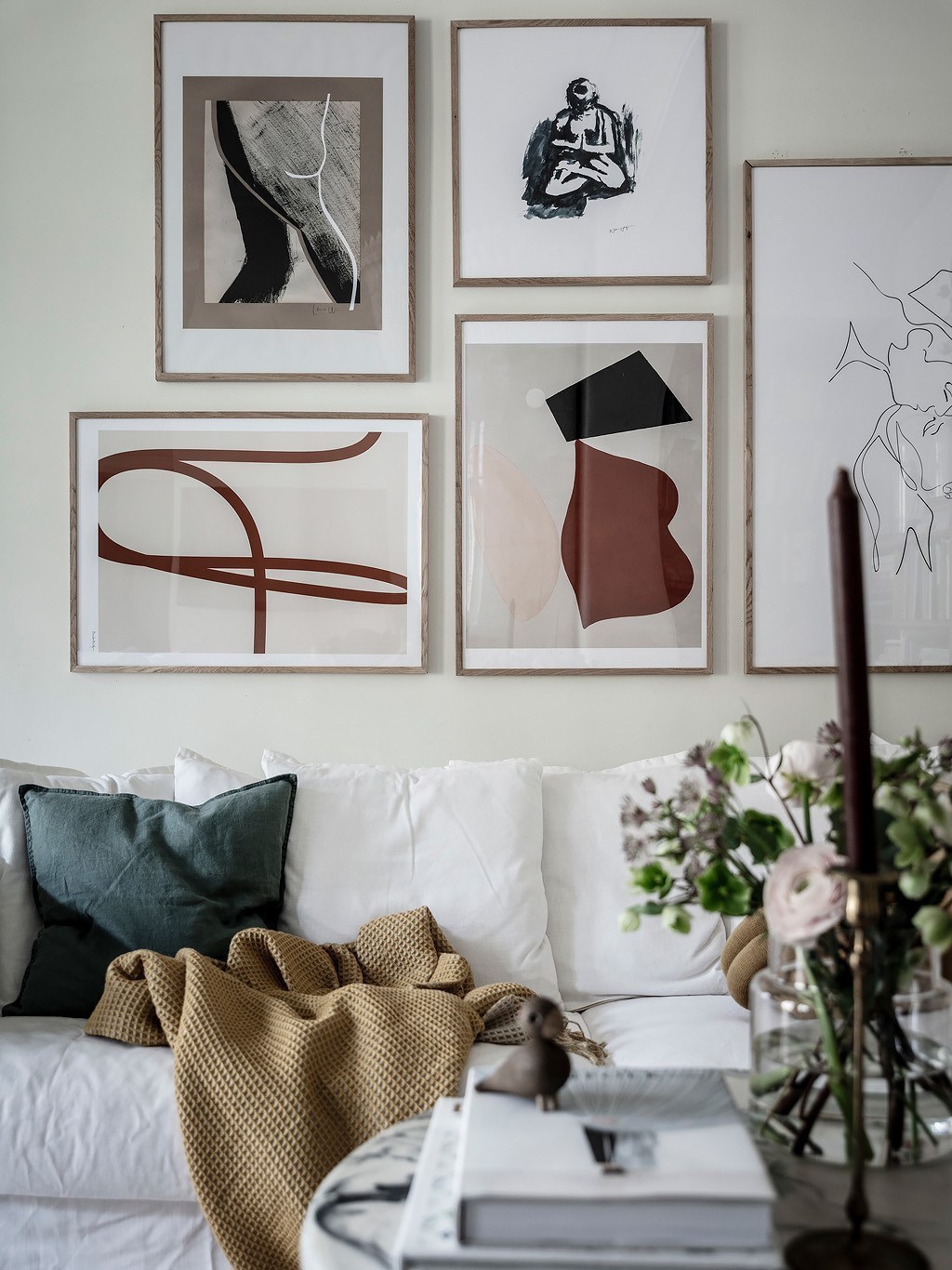 1. I started by combing through the Minted website and pinning a handful of art prints that caught my eye, in this instance focusing on a mix of photography, illustration, and collage, all in neutral shades of black, white, brown, ecru. Once I had a decent sampling for Kim to review, I asked for her feedback and then used what she was drawn to most as my guide for pinning several dozen more prints. The goal was to build a critical mass of options to choose from before starting to play with layout combinations.
2. To play with layouts, I use Google Presentation. It's great for tasks such as this as it's super easy to drag and drop images into your file and play with sizing and positioning; plus you can share the file and view real-time changes. To get started, I inserted screenshots of the furnishings around which the art would be arranged, specifically an entryway bench, a dining room console, and a living room media console. 
3. From there, I created a folder on my desktop and filled it with screenshots of the art prints I had pinned. In most instances, I tried out several different framing and matting options for each print (since building an art wall isn't just about which art you choose but also which frames you use!) This desktop folder became the collection I pulled from when I was laying out my vignettes in the Google Presentation file.
4. I knew there were a few favorite prints that we definitely wanted to include in the mix, so I started with those and then built around them. Things came together slowly but surely as I tried out the many possible layout permutations, trying out different placements, frames, and sizes and eyeballing the size proportions by using the furniture as my foundation (since the furniture dimensions were fixed). I also played with different orientations, trying out a mix of vertical and horizontal 
5. In making decisions about which pieces to place where, I strove to create a balance between light and dark, negative space and positive space. This sense of visual weight is definitely one most important factors in creating a well-designed art vignette. I also looked for continuity amongst pieces that had similar shapes and lines so that there would be visual echoes throughout the room. 
6. As I honed in on the prints that looked best together, I noticed themes developing; those themes in turn helped me fill in the final holes of my selections.  For example, I really liked the way two botanical prints vibed together, so I chose three more leaf-y black and white pieces to round things out. By the time I was done with my digital layouts, not only was I able to order everything with full confidence that it would all look great together in real life, but Kim had a map for exactly where to place it all when it arrived. The result is an eclectic but cohesive mix that completes the design beautifully, and I can't wait to share it with you in situ!

Entryway: Patagonian Winter Oversized Landscape Photo
Dining Console: 1. History Repeats Abstract Collage Art Print 2. Last Tuesday Abstract Wall Art Print 3. Quest Abstract Painting Art Print 4. Pebbles Mixed Media Art Print 5. The Edge Black and White Art Photo 6. Wild Radish Botanical Drawing 7. Island Yogi Black and White Photo 8. Joshua Tree Landscape Photo 9. Havana Architectural Art Print
Media Console: 1. Yesterday Collage Art Print 2. Aurum Sand Gold Abstract Painting Art Print 3. Paper Flower 1. Black and White Art Print 4. Black 01 Drawing Print 5. Praia da Ursa Beach Photo 6. Gather & Gaze Black and White Leaf Photo 7. Composed Figure Drawing Print 8. Wistful Figure Drawing 9. Standing Figure Drawing Print