A couple months back, I teamed up with my friend Elizabeth Messina to host one of the inaugural meals in Sunday Suppers new global dinner series, Sobremesa. The concept behind the dinner series is simple: Sunday Suppers provides the menu and hosting how-to's, and you do the rest! The photos Elizabeth shot of our event are truly stunning, just like everything she does! They're slated for publication on a large entertaining site soon, and we'll also be sharing them ourselves once we're able. But in the meantime, I absolutely have to let you in on one of the recipes that Sunday Suppers included in the meal—because I've been making these coconut cacao black beans on repeat ever since first trying them out at our dinner party!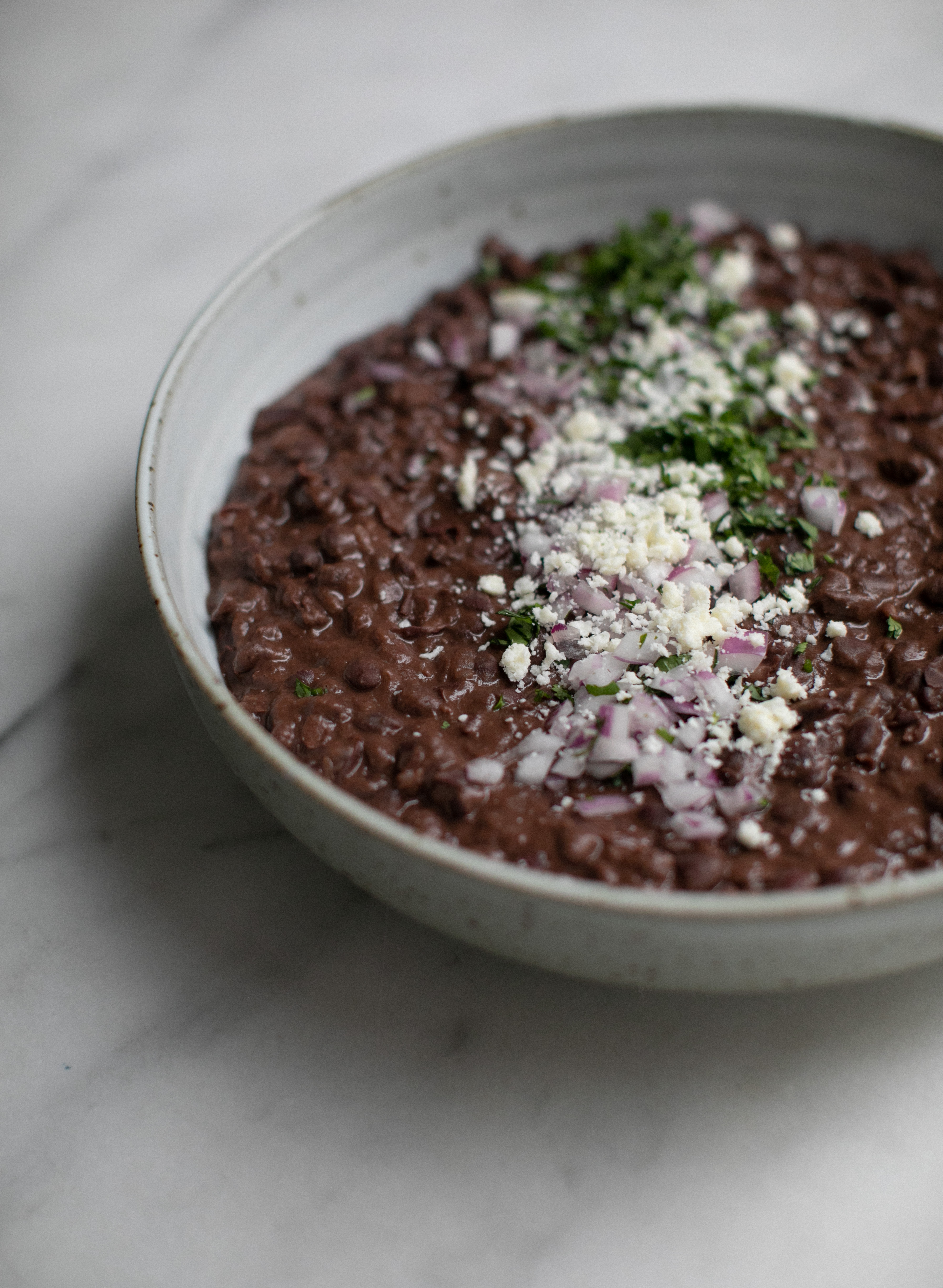 There's so much to love about these beans, I don't even know where to begin. For starters, they're insanely easy an inexpensive to pull together, requiring just a few very basic ingredients and a little simmer time on the stove. Yet for how simple the recipe is, the flavors are complex and sophisticated, and the final result is warming, versatile, and perfect for make-ahead meals. The recipe also makes a generous quantity, so you can enjoy them now over rice or sauteed greens, then later in tacos or even on eggs for huevos rancheros! Oh, and they're so stinking good for you, packed with healthy fats from the coconut oil, fiber and protein from the beans, and antioxidants from the cacao. I promise once you give these beans a go, they'll become part of your regular rotation!
Coconut Cacao Black Beans
recipe by Sunday Suppers
for the beans
6 tbsp coconut oil
1 1/2 red onion, diced
4 tsp sea salt
8 cans black beans
4 c water
7 tbsp red wine vinegar
4 tbsp cacao powder
for serving
1/2 c chopped cilantro
1/4 c crumbled cotija cheese
1/2 red onion, diced
In a large pot, heat coconut ooil over medium-high heat. Add onions and sauté until soft, 5-7 minutes. Season with 1 tsp salt, add beans and water. Bring to a simmer, add red wine vinegar and cacao, and season with remaining salt. Reduce heat to medium-low and simmer for 1 hour. To serve, garnish with chopped cilantro, cotija, and red onion.
Photos: Elizabeth Messina.