Housekeeping has never been, ahem, one of my strengths. In fact, I suffer from a strong aversion to cleaning that I believe is common amongst many creative people. Because my brain is always five steps ahead of whatever I'm doing, when the time comes to tidy a mess that I've made, I'm already diving into the next thing—and consequently leaving a path of destruction in my wake! Of course, since Ivan and I both work from home, I definitely have to maintain a modicum of clean in order to save our sanity. So I'm always on the lookout for tools that make cleaning up as painless as possible—and the Shark ION W1 is quickly becoming the most valuable player in my housework arsenal. It's a design-driven, modern vacuum that actually (dare I say it?!) makes me want to clean house!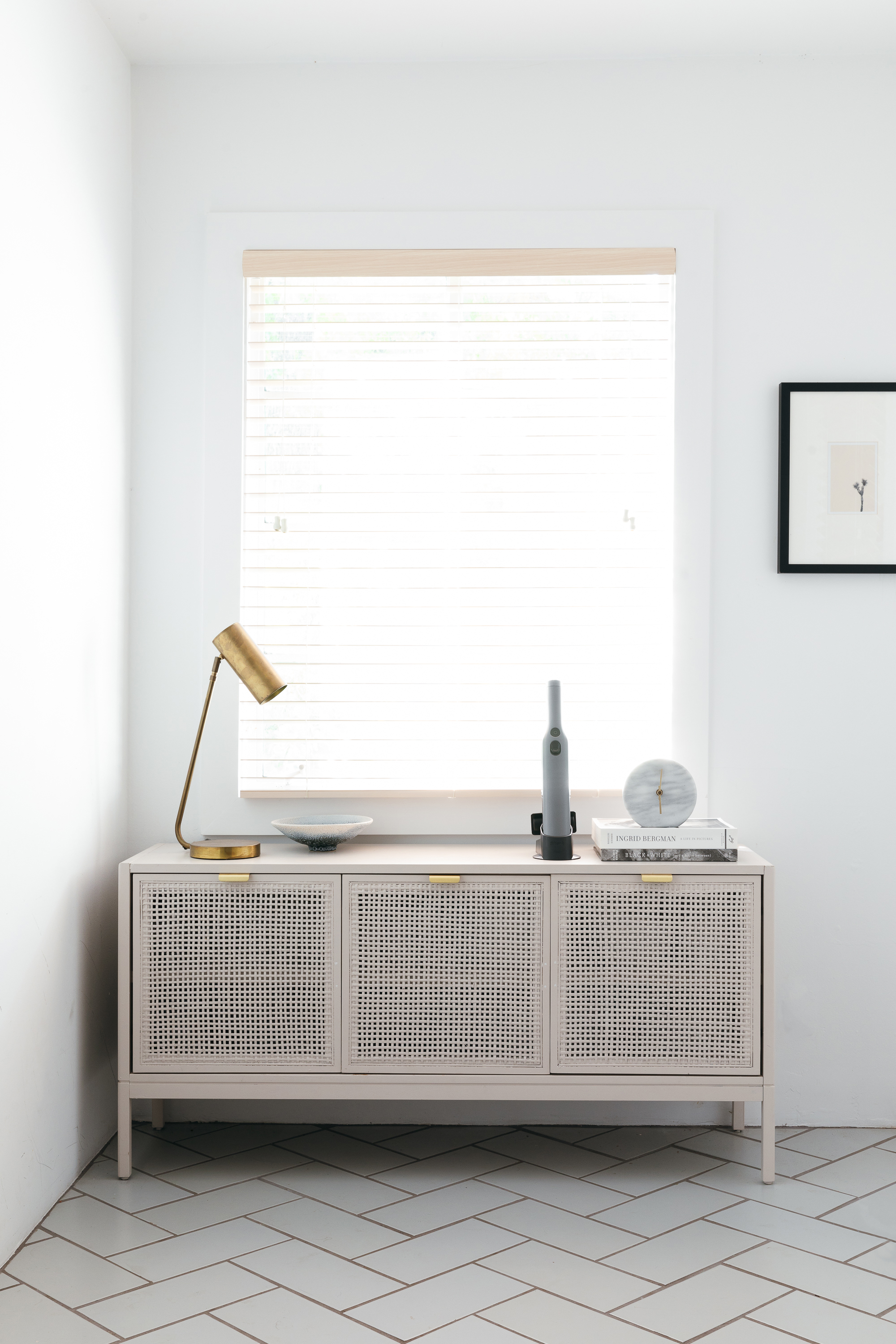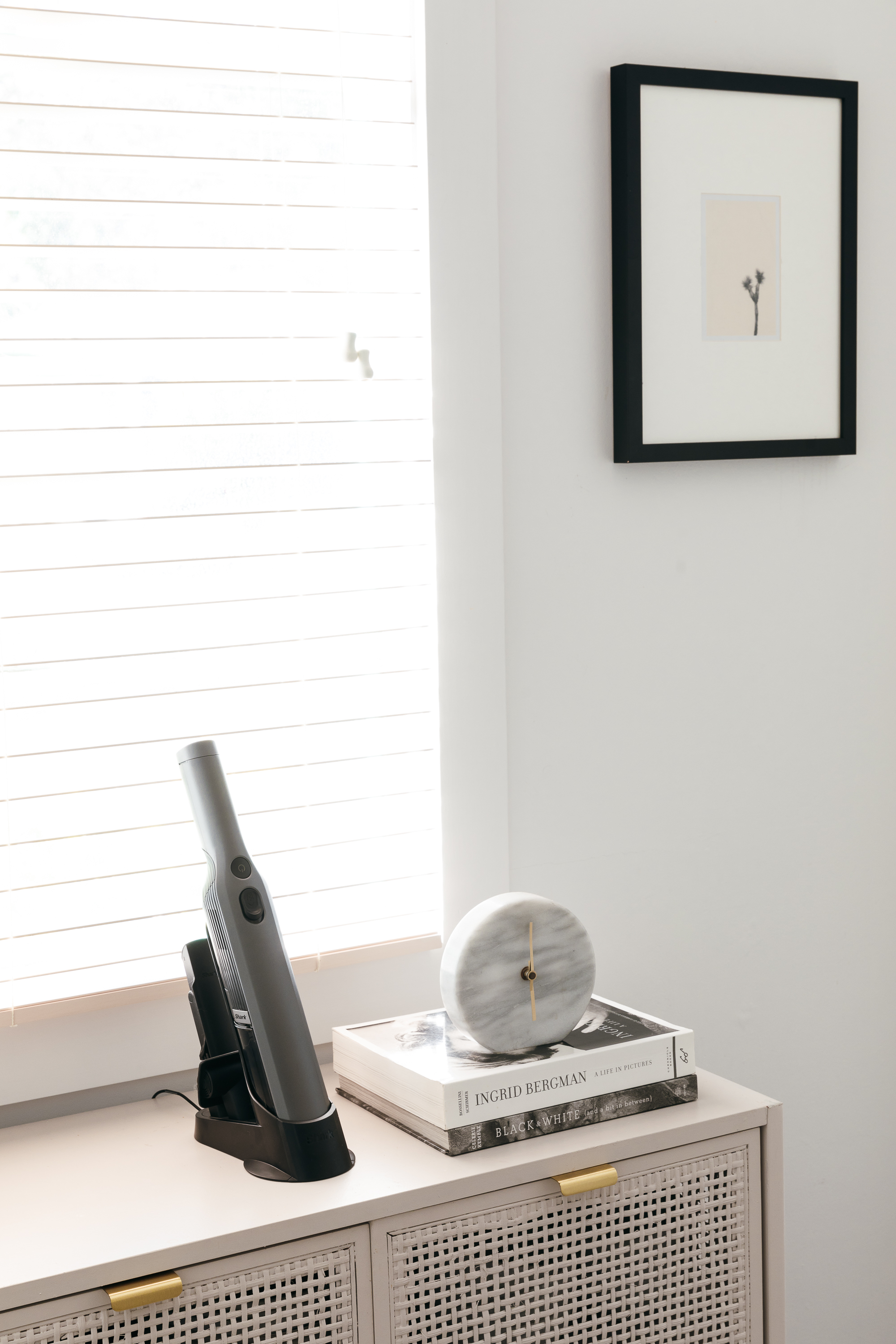 When it comes to vacuuming, the biggest beef I have is that every vacuum I've ever owned has been either ugly, bulky, inefficient, or all three. Before moving in with Ivan, I had a compact canister vacuum in a chic shade of white, but its suction was pathetic at best. Ever since, we've been using Ivan's old upright, with its hard-to-change filters and huge, heavy construction. The absolute last thing I want to do at the end of a long work day is drag it from the closet where I've hidden it away and push it clumsily around the house—and forget about trying to get into tight crevices with all its clunky attachments! Oh, and if I had a dollar for every time I've tried to empty its dustbag only to have it explode all over me, well, let's just say I could pay someone else to clean my house every day!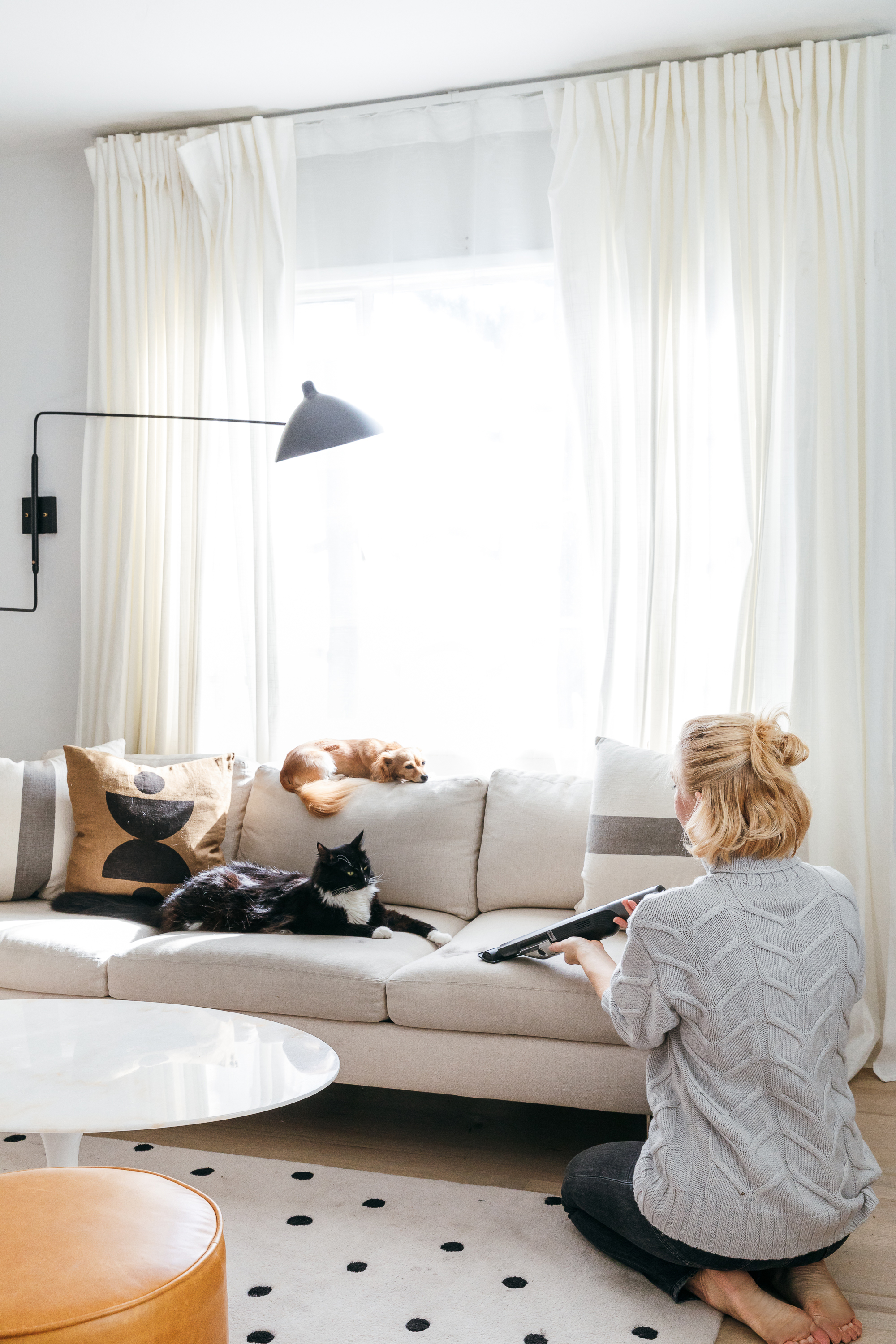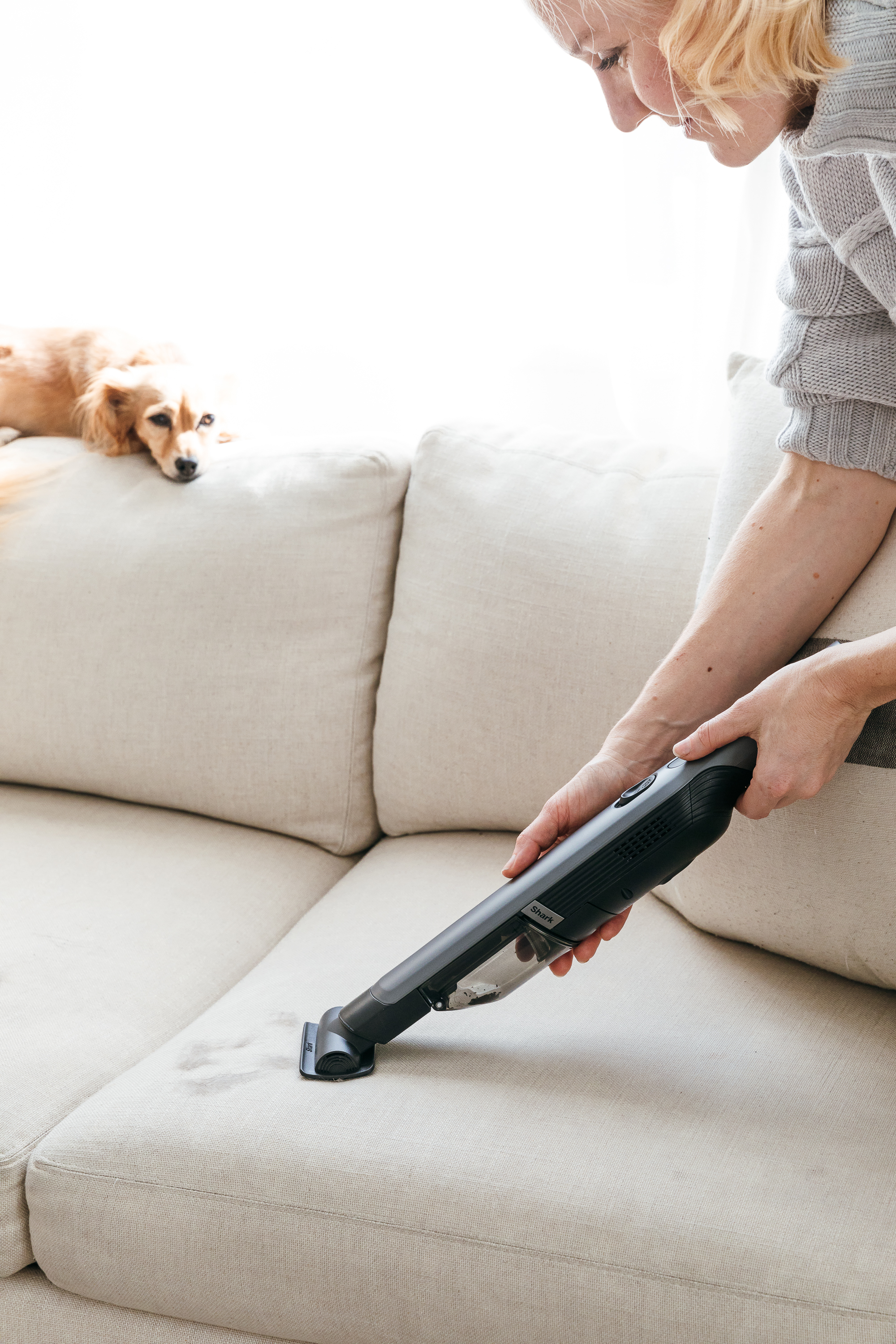 But the Shark ION W1 solves all those conundrums and more! For starters, its sleek design and understated charging base make for an appliance that I happily store in full view, meaning it's always just an arm's length away when there's a mess to address. The vacuum weighs an unbelievable 1.4 pounds, so it's incredibly easy to maneuver, yet it has a high-speed, brushless motor that sucks up even the most stubborn debris! Plus emptying the detachable dust cup when its full is a breeze—no more time-consuming cleanup when your vacuum burps its contents all over the floor!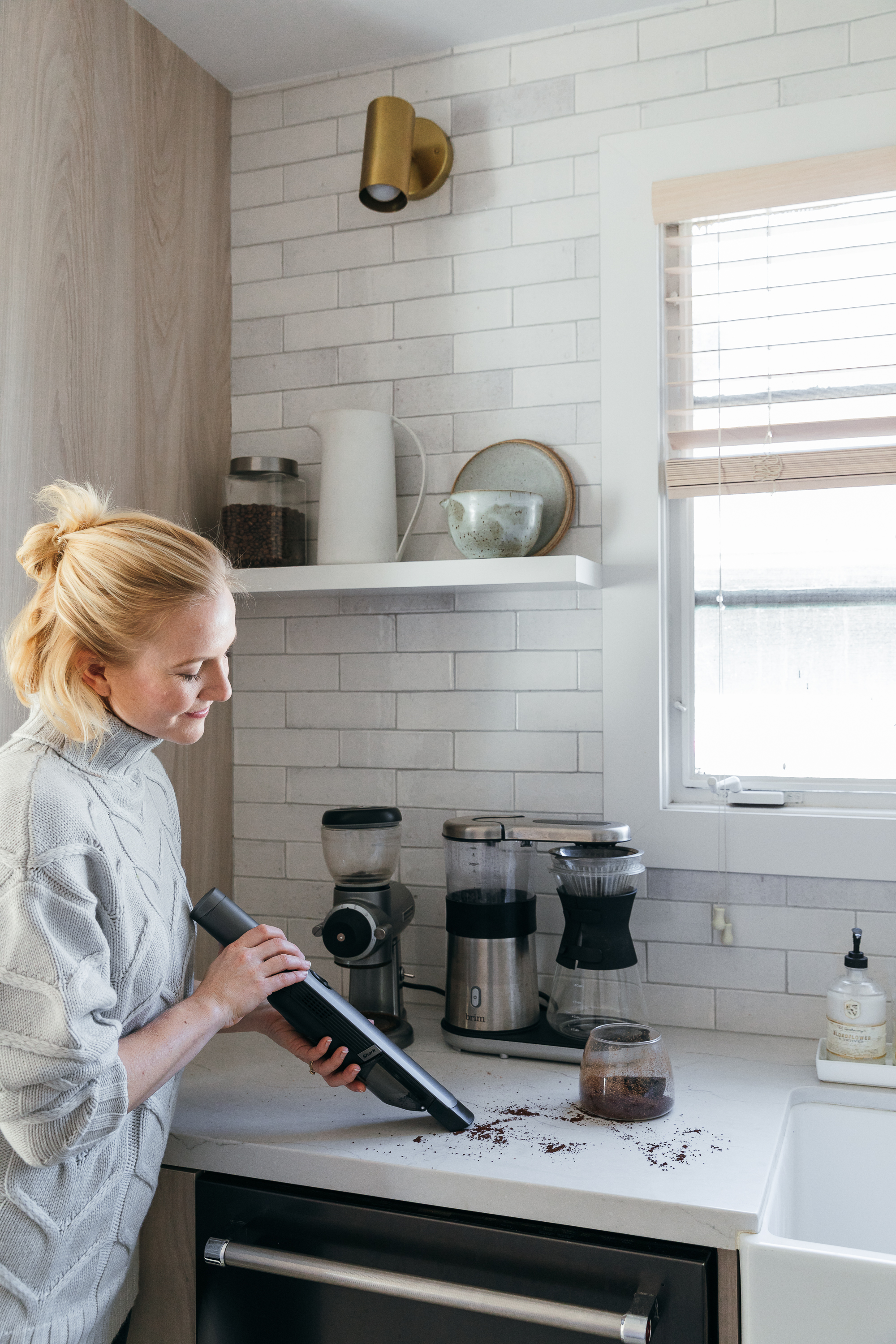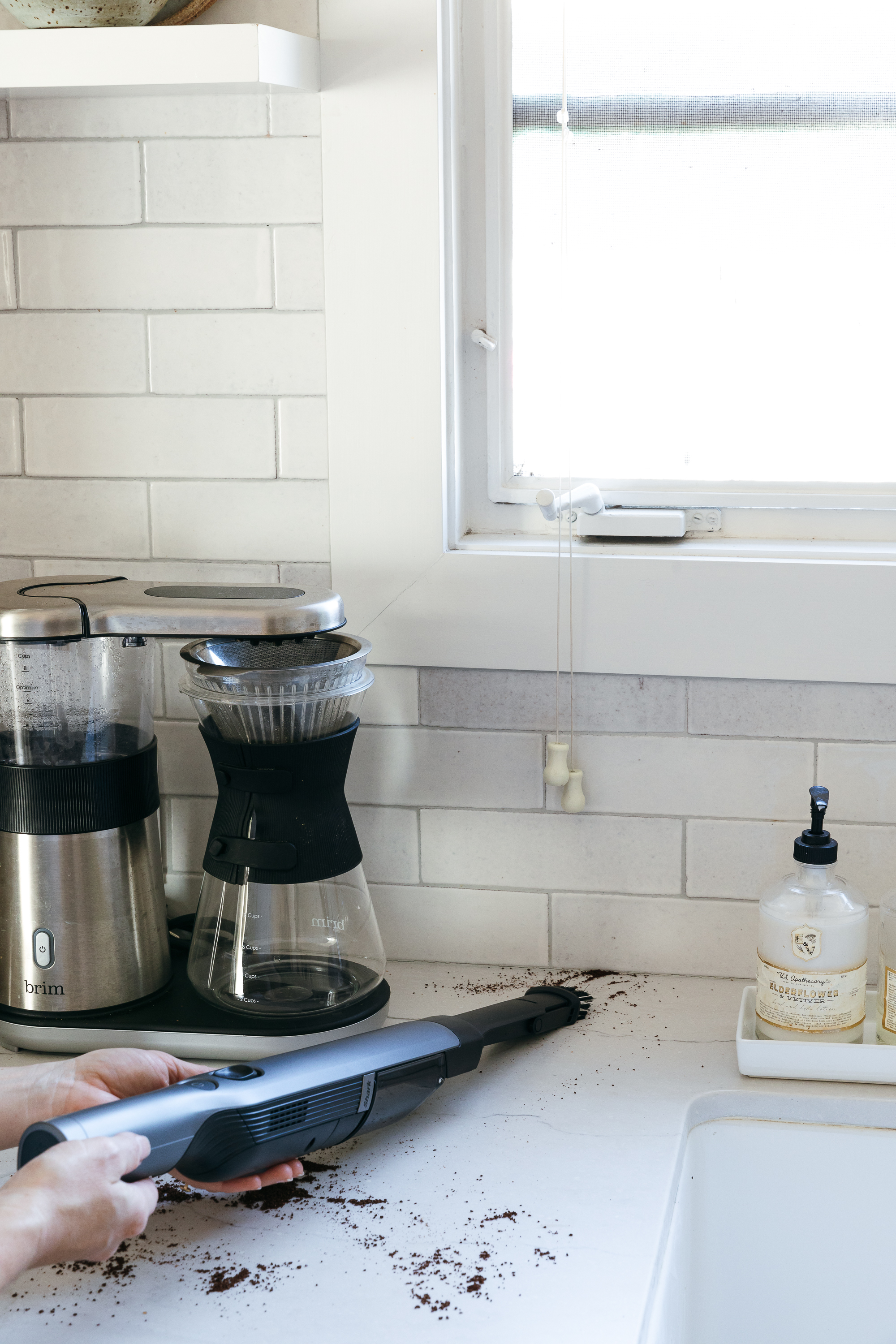 The Shark ION W1 also comes with a pair of handy attachments that enable it to clean particularly pesky things like tight crevices and pet hair—two things we know an awful lot about, since we live in a 900 square foot house with our four pets! I've found the best way to stay on top of messes like coffee grounds in our grout, stray spices in our cabinet, and cat hair on the couch is to tackle them when they first appear, rather than wait for them to build up and become overwhelming. With the Shark ION W1 always at hand, adopting that stop-drop-and-clean mentality seems much more doable. I may never live out my dream of convincing my pets to clean house for me, but this definitely feels like the next best thing!
Disclosure: I partnered with Shark to concept, product, style, edit, write, and share this post. All opinions are and always will be my own. Thank you for supporting the brands that enable me to bring you fresh inspiration daily! Images: Monica Wang Photography.