I get so many questions about the DIY rattan cabinet we use for kitchen storage, I figure it's long since time to put up a how-to! When we renovated our kitchen and replaced our upper cabinets with open shelving, I knew I'd need to create an alternate storage solution for all our dishes and glassware. Fortunately, the footprint of the kitchen includes a little nook near the back door, which serves as the perfect spot for a small cabinet. I didn't want to spend a ton on the piece that would go here, since we'd just forked over a healthy sum on the renovation. But I also wanted something that would meet the style quotient of the rest of the space. When I spotted Target's 54″ Minsmere Caned TV Stand, I fell hard for its woven texture and clean lines. Not only was it the perfect size, but the $199 price tag was pretty attractive too. The only problem was the natural wood color that it came in—but I knew with a coat of paint, it could check all my boxes!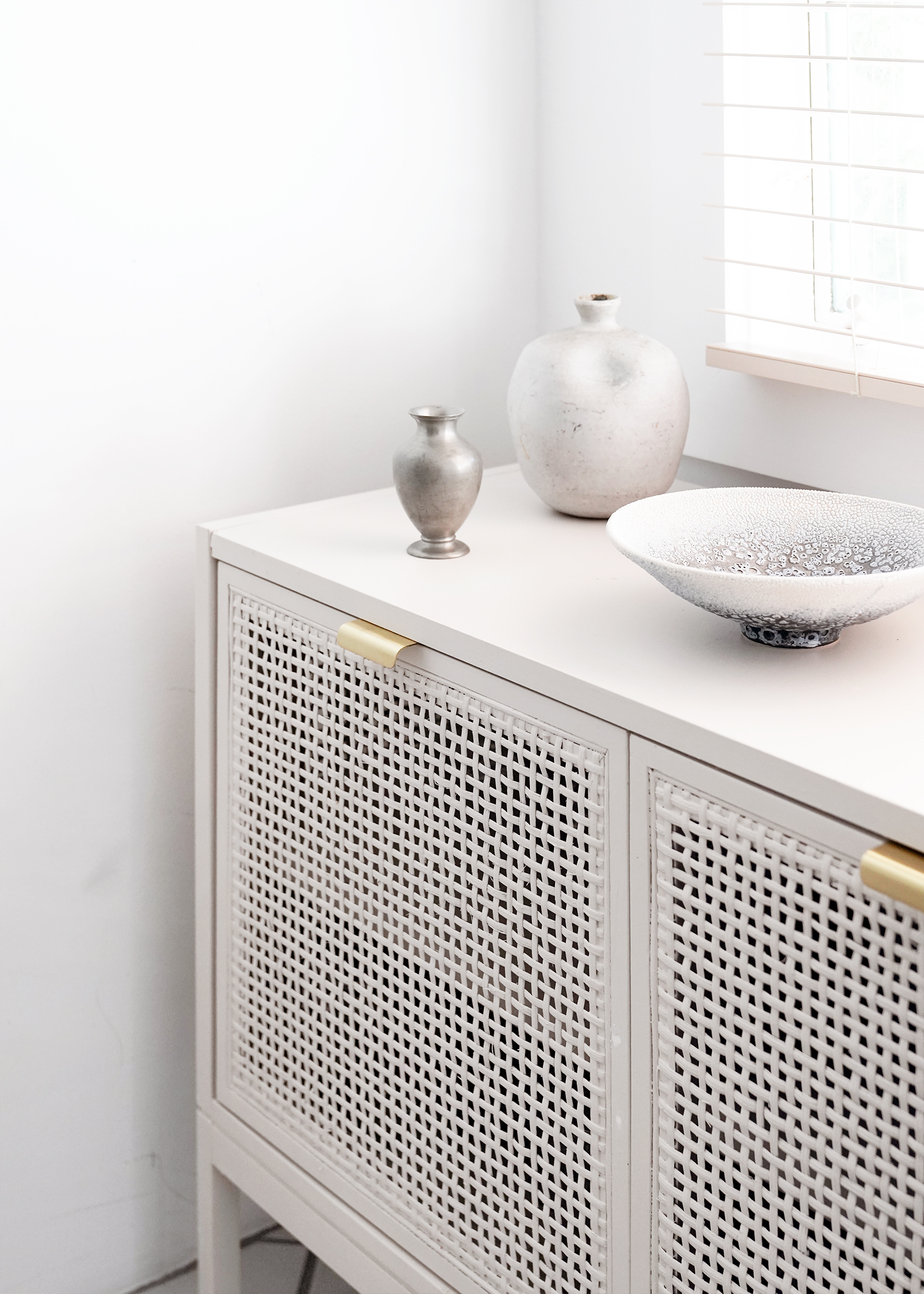 The cabinet comes in a flat pack format and requires assembly, which was actually ideal since it's much easier to get a uniform finish when you paint the separate pieces and then assemble the cabinet. We primed using one coat of a spray primer so that we could avoid brush strokes. I was hoping to use spray paint for the grey top coat as well, since I knew those woven doors would be murder to paint with a brush or roller. Unfortunately, none of the available spray paint colors were quite what I had in mind, so I picked up a can of Behr Cappuccino Froth in an almost-matte eggshell finish at Home Depot. It's a lovely shade of warm greige that perfectly complements our kitchen's monochromatic palette. That said, if you can find your choice of color in a spray paint, I highly recommend taking that route. After some experimentation, we found that using a sponge to dab paint into the woven texture was the best way to get even coverage on the doors. However, it's definitely tedious and spray paint would go much quicker.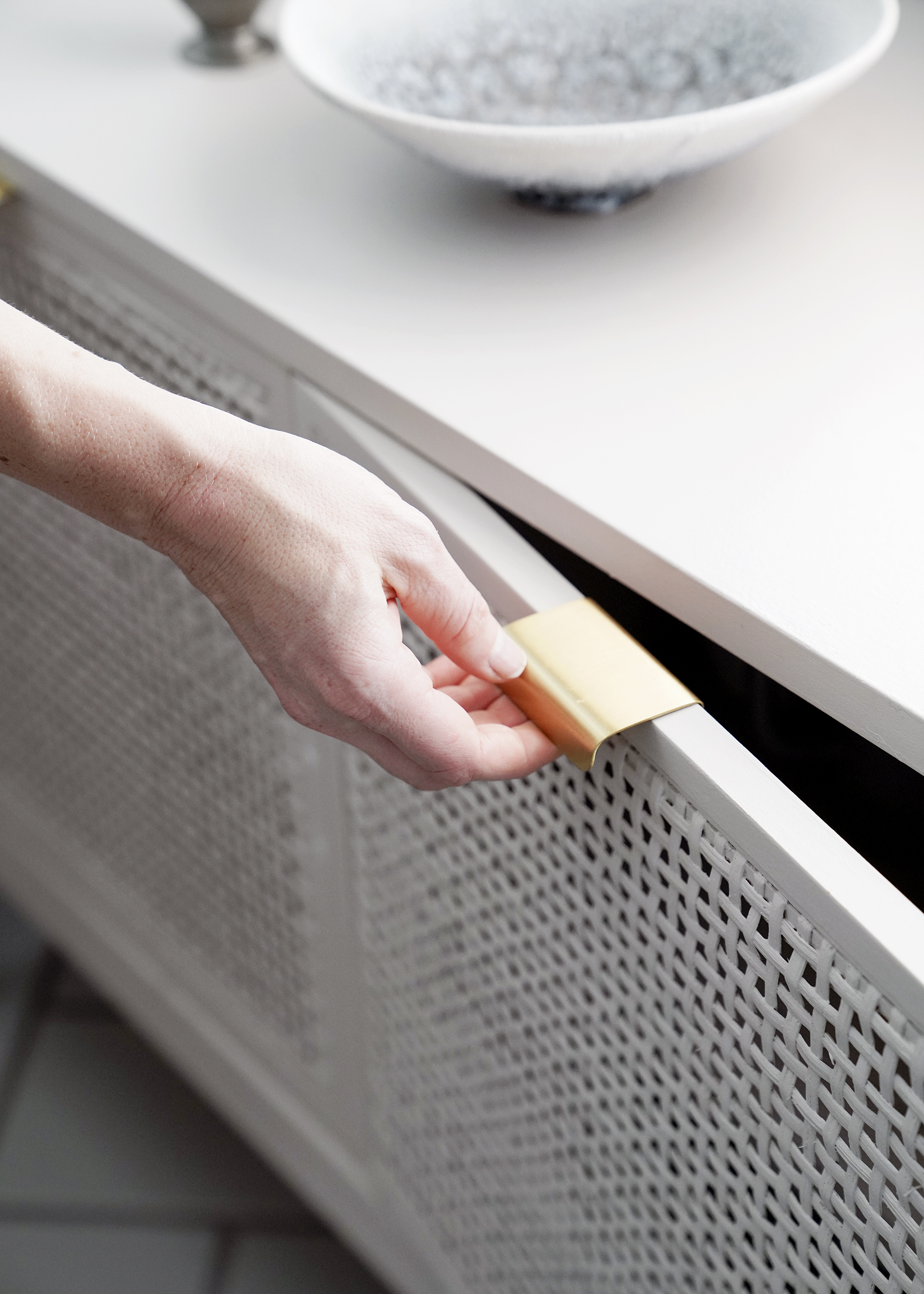 The other change we made was to relocate the door pulls from the middle of the doors to the top of the doors, so that the hardware would match that in the rest of the kitchen. These handles are the Rejuvenation Small Drawer Edge Pull in brass, in the 2″ size. Ivan drilled new holes for the brass pulls and used putty to fill the pre-drilled holes that the cabinet came with. If you didn't want to swap out hardware, you could easily just paint the handles the cabinet comes with and then attach them according to instructions. As you can see below, the cabinet is nice and roomy with just enough space for our dishes! Also, the Minsmere collection has several other pieces (like a bookshelf and a desk!) and they're all really fab. If you've got your eye on one but want to give it a custom touch, I highly recommend this little weekend DIY. Woven and cane furniture is having such a moment right now, and this piece makes it easy to see why!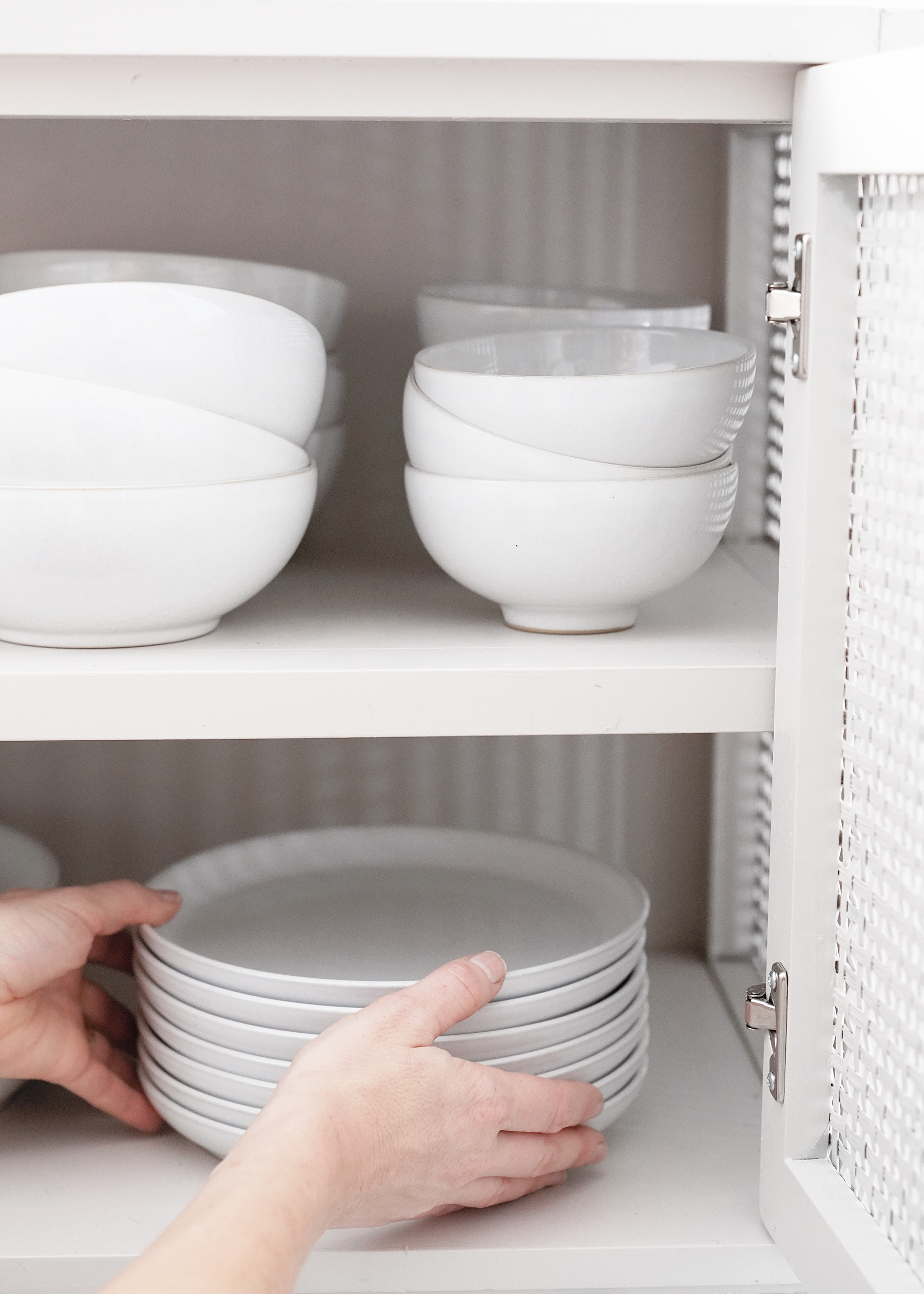 Images: Eslee.