My complexion, which is not the most cooperative to begin with, has really been through the wringer these past few months. For much of November I was pregnant, dealing with all the skin woes that the first trimester can bring. Parts of my face were flaky and red, others were broken out and oily, and none of them seemed happy at all. Then, when I miscarried, I rode a hormone rollercoaster that seemed to manifest itself in every pore. Add to that a trip to Toronto for Christmas, followed by a trip to Palm Springs for New Year's, and the cold air teamed up with the dry air and the plane air to put the nail in my confused complexion coffin. In the two weeks since then I've been doing everything I can to restore order, and as we head into the second half of January, I've finally settled on a winter skincare routine that's bringing things back into balance. And the hardest working skincare stars in my lineup definitely deserve a shoutout.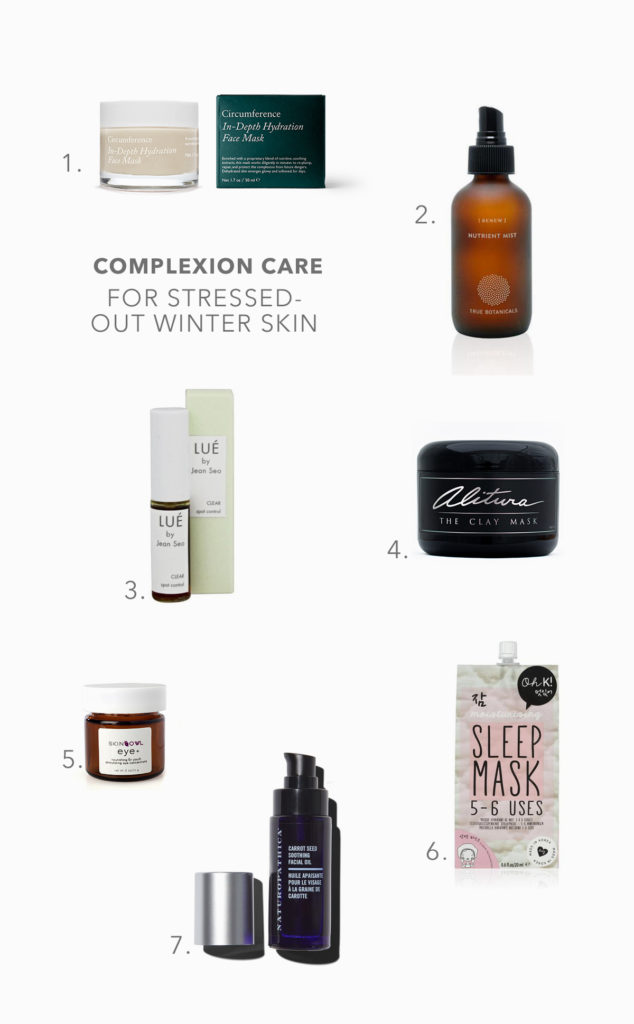 Circumference In-Depth Hydration Face Mask: I will cry a river the day that I use the last little drop of this mask. It transforms my cheeks from chapped to pillowy soft, and it smells like an extremely expensive spa treatment. I apply it first thing in the morning and let it hydrate me while I go about my a.m. routine, and the glowiness of my skin is directly proportional to how long I leave it on!
True Botanicals Renew Nutrient Mist: I swear I can feel my skin breathing a sign of relief every time I spritz this mist. It's infinitely calming, with algae extract to nourish and kombucha to balance pH, and it's a brilliant midday pick-me-up for when skin is feeling tired. The aromatherapeutic scent promises a mood boost, too!
LUE by Jean Seo Clear Spot Treatment: Even though my skin has been so dry, I still get breakouts and clogged pores. In lieu of blasting the whole area with pimple product—and thus stressing my complexion even more—I dab this spot treatment on a few times a day to shrink any offending blemishes. It has a satisfying but not off-putting medicinal smell that has me convinced it's working extra hard to clear things up!
Alitura Clay Mask: I've sung the praises of this one before, but it's definitely worth an honorable mention again! This mask really is a do-all, combining several types of clay with all-natural exfoliating and restorative ingredients to address dryness, congested pores, a lackluster complexion, and whatever else ails you! I also appreciate that it comes in powder form, meaning I can customize my masking experience depending on what liquid I mix it with. Honey is a favorite these days!
Skin Owl Eye+: I have really sensitive eyes and can't stand anything too creamy or goopy migrating into them, so the cooling and lightweight gel consistency of this product is right up my alley. Dark circles look brighter and puffiness recedes with just one application. Keep it in the fridge for extra ahhhhh power!
Naturopathica Carrot Seed Soothing Facial Oil: A little while ago I started incorporating lymphatic massage into my skincare routine, when some pretty dramatic before-and-after pics convinced me of the technique's puff-reducing powers! (This YouTube video says it all.) This face oil is the ideal accompaniment to a massage session, with anti-inflammatory ingredients that help calm redness and leave skin feeling balanced and renewed!
Oh K! Overnight Moisturizing Sleep Mask: I snagged this from a display next to the checkout counter at Nordstrom Rack, and it's fast becoming my most valuable impulse buy ever! Its deeply penetrating moisture kept me from turning into a lizard when we were visiting Ivan's parents in Palm Springs over New Years, and the small, 6-use package makes it fantastic for air travel—when skin is especially in need of TLC!