As promised, here's the complete breakdown on the nursery I designed for Kim of Eat Sleep Wear! From the get-go, our biggest goal with this space was to create a nursery that didn't feel too much like a nursery. Kim and I both wanted a space that felt warm and inviting—the perfect room to welcome her baby Otis to the world—but we also wanted a space that met Kim's standards for style and design. Plus, it was important that the room be able to grow and evolve with Otis, rather than feeling baby-ish in a year or two.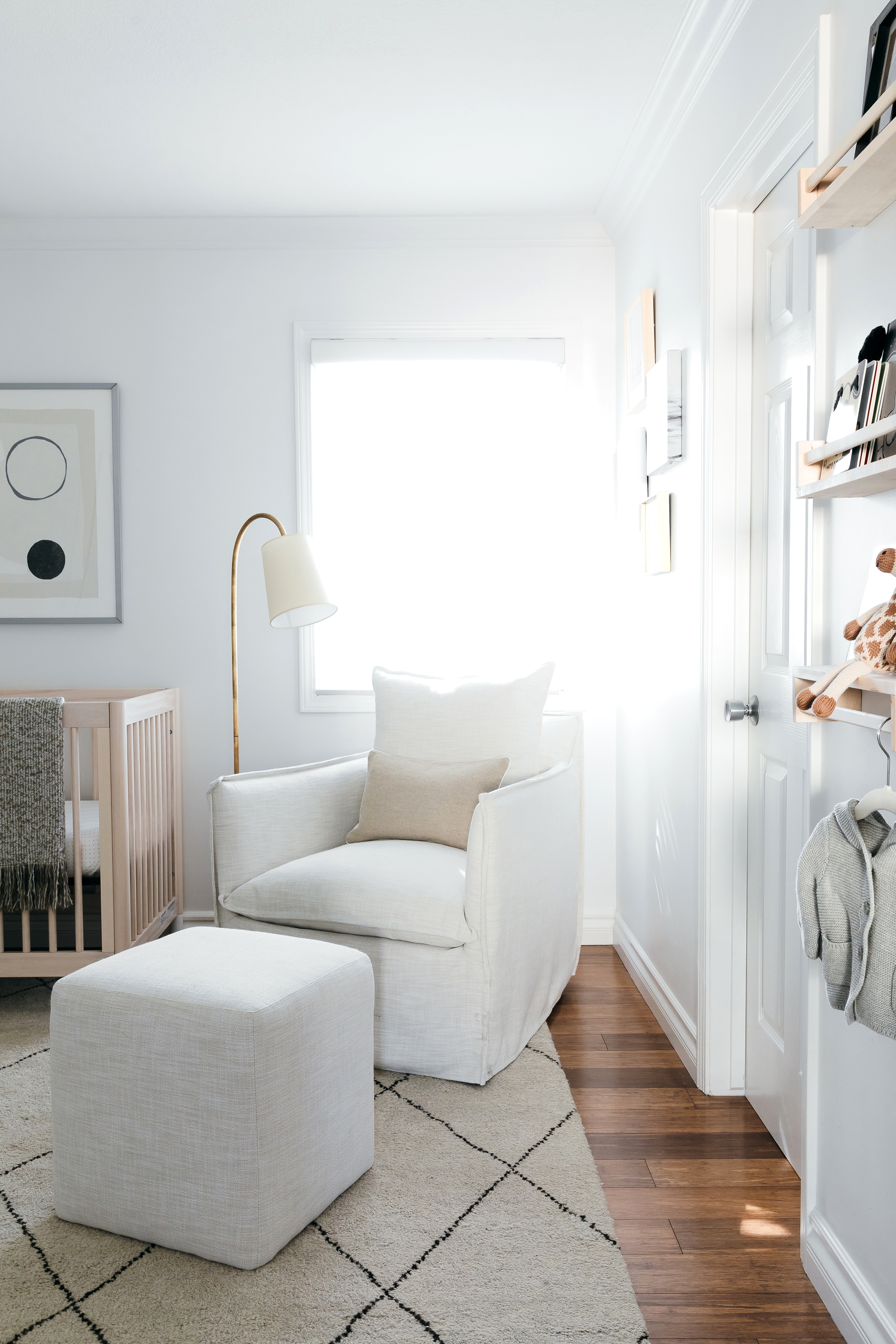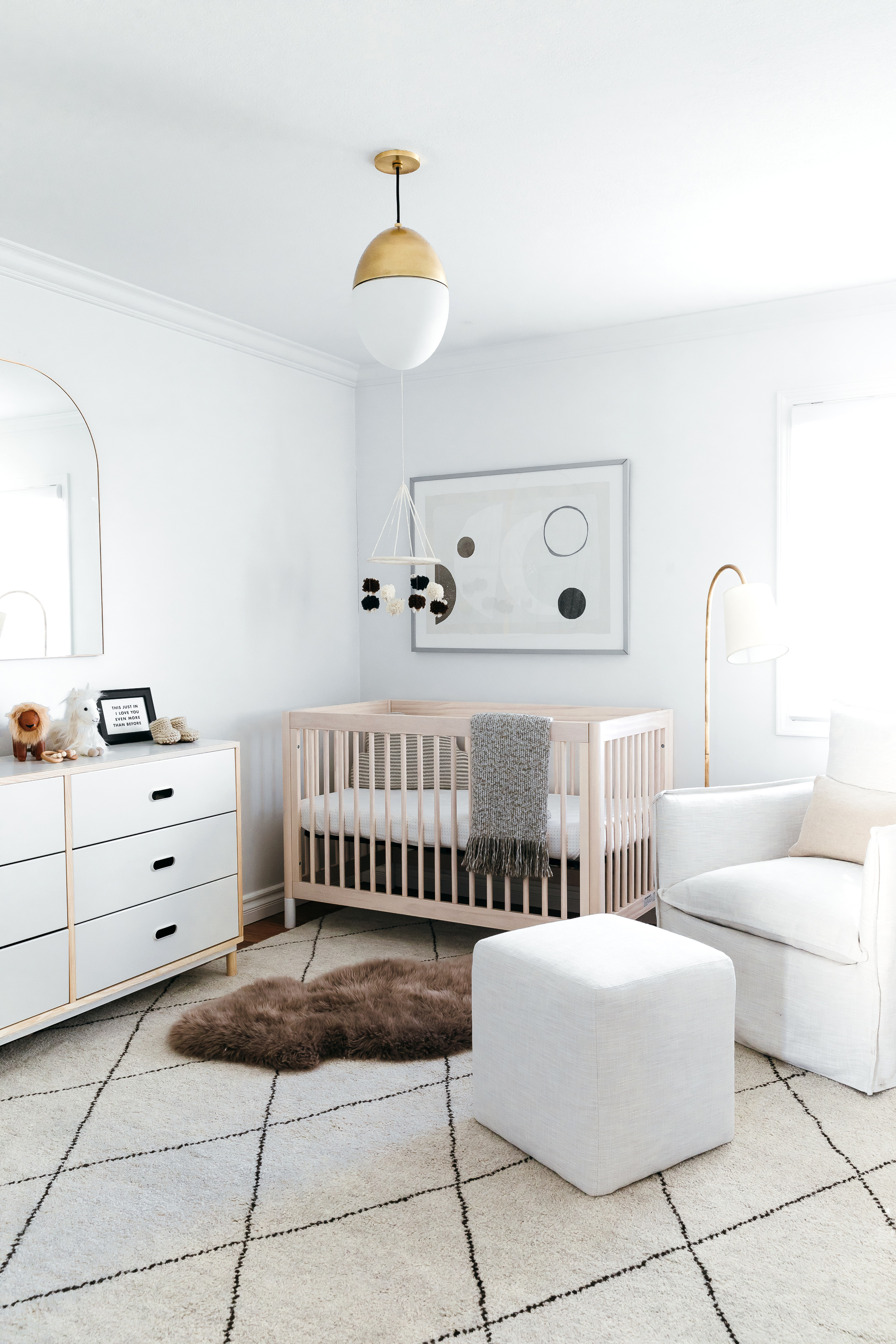 We knew without a doubt that this in terms of the color palette, this would be a gender neutral nursery—simply because both Kim and I prefer neutrals over any particular color scheme! Moreover, Kim's drawn to the light, bright, breezy neutrals of modern Scandinavian design, so it was a no-brainer to favor tons of earthy texture over color. We mixed woods, incorporating ash, beech, and warm teak, then added in tactile linen and suede, burnished brass, and plush sheepskin and wool. Although the space is very tonal, it feels really rich and layered!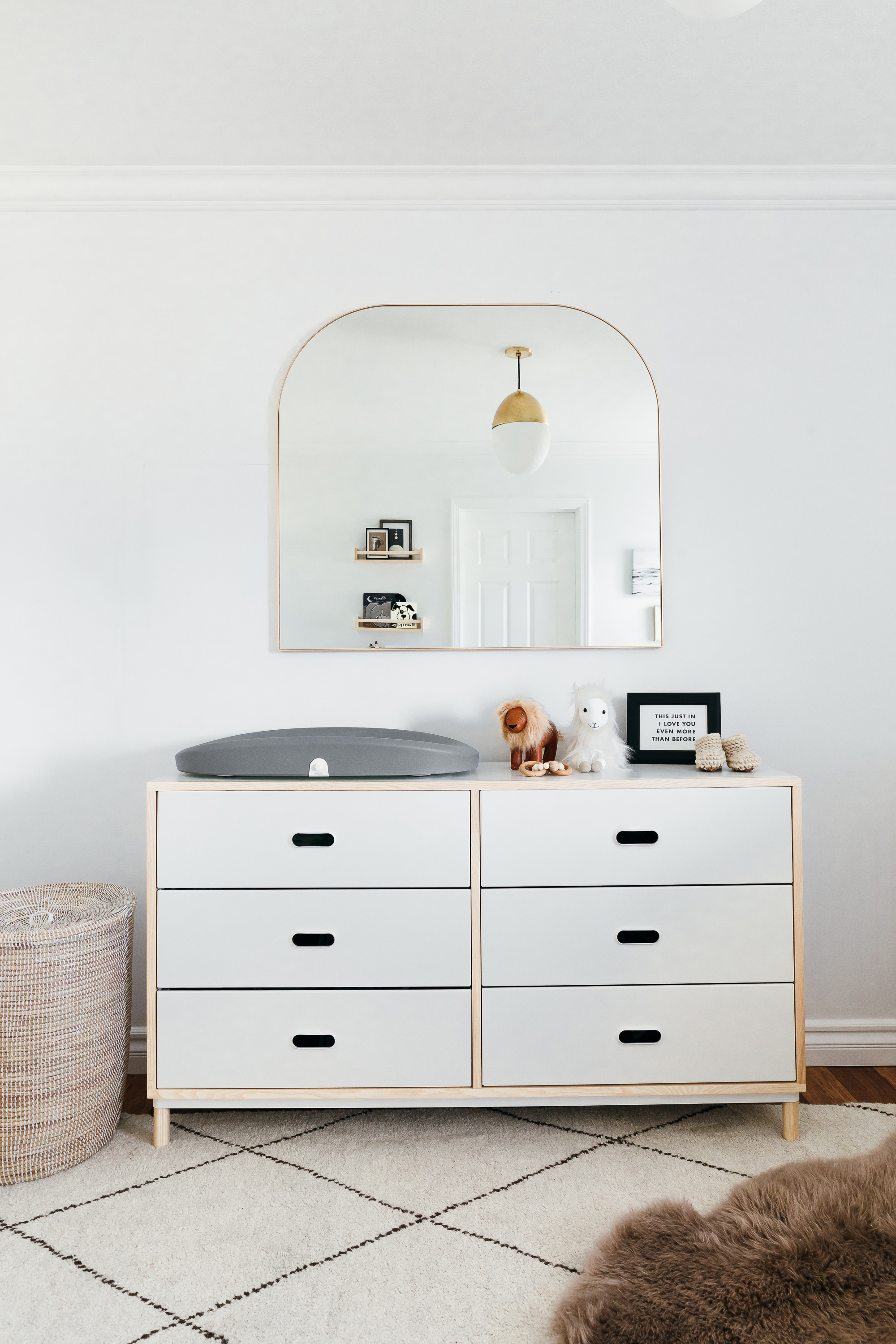 Because we were looking for pieces that would have staying power in the room as Otis grows, we wanted the core elements of the room to have stylistic and functional longevity. The dresser we chose from Rypen is a total classic: clean, modern, and elegantly proportioned, with a versatile mix of white and wood tones so Kim can make other changes in the room without worrying whether the dresser will still match. Similarly, the Dash & Albert Moroccan-inspired rug sets a neutral foundation with woven threads of grey, white, and brown. Its pattern is a bit boho but in a subtle way. and its hand-knotted wool construction is super soft for Otis' little feet! For overhead lighting that makes a statement, we installed a Mitzi pendant lamp that I had left over from a previous project. I knew the warm brass finish and appealing egg shape would be a charming update to the lackluster fixture that had been there before.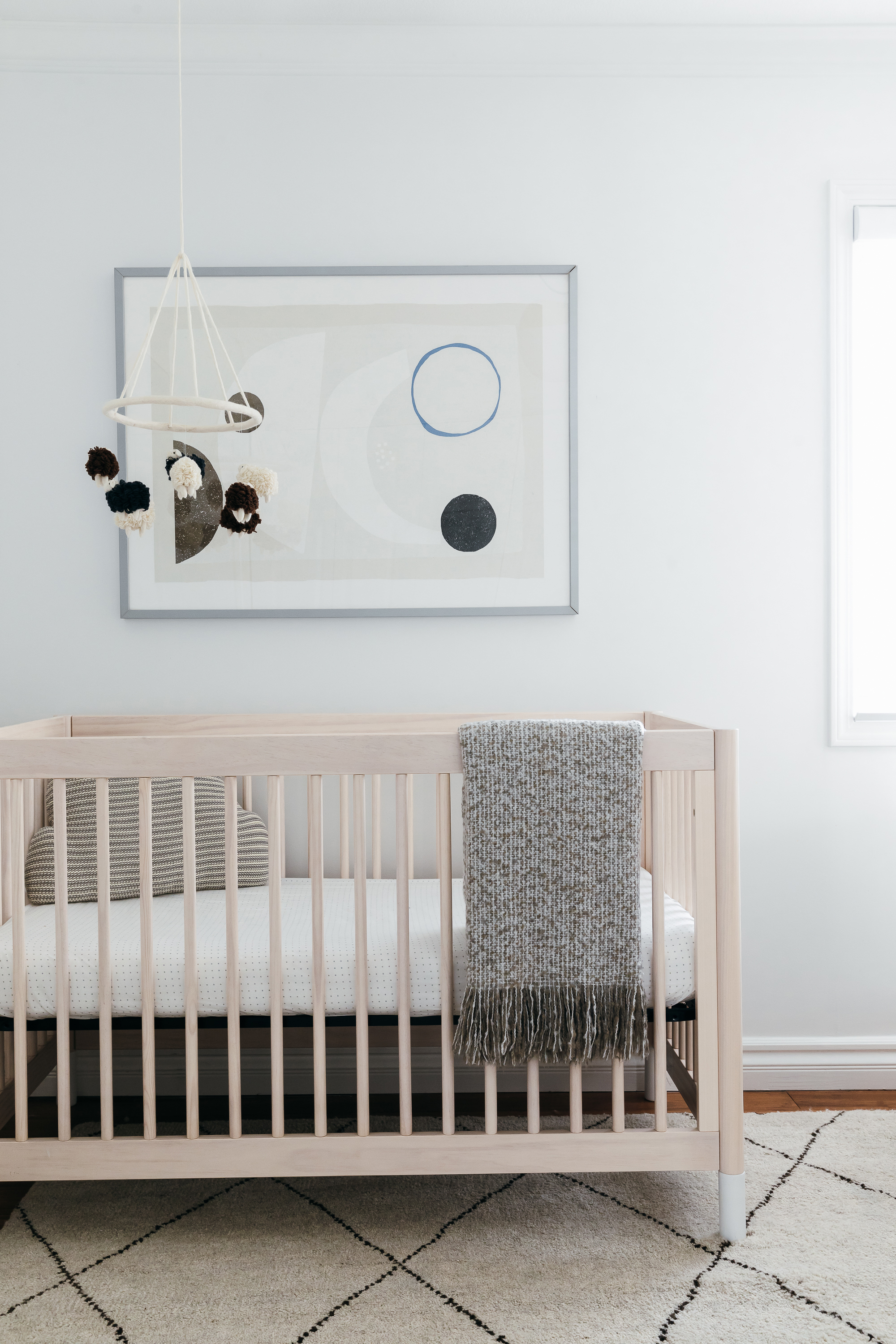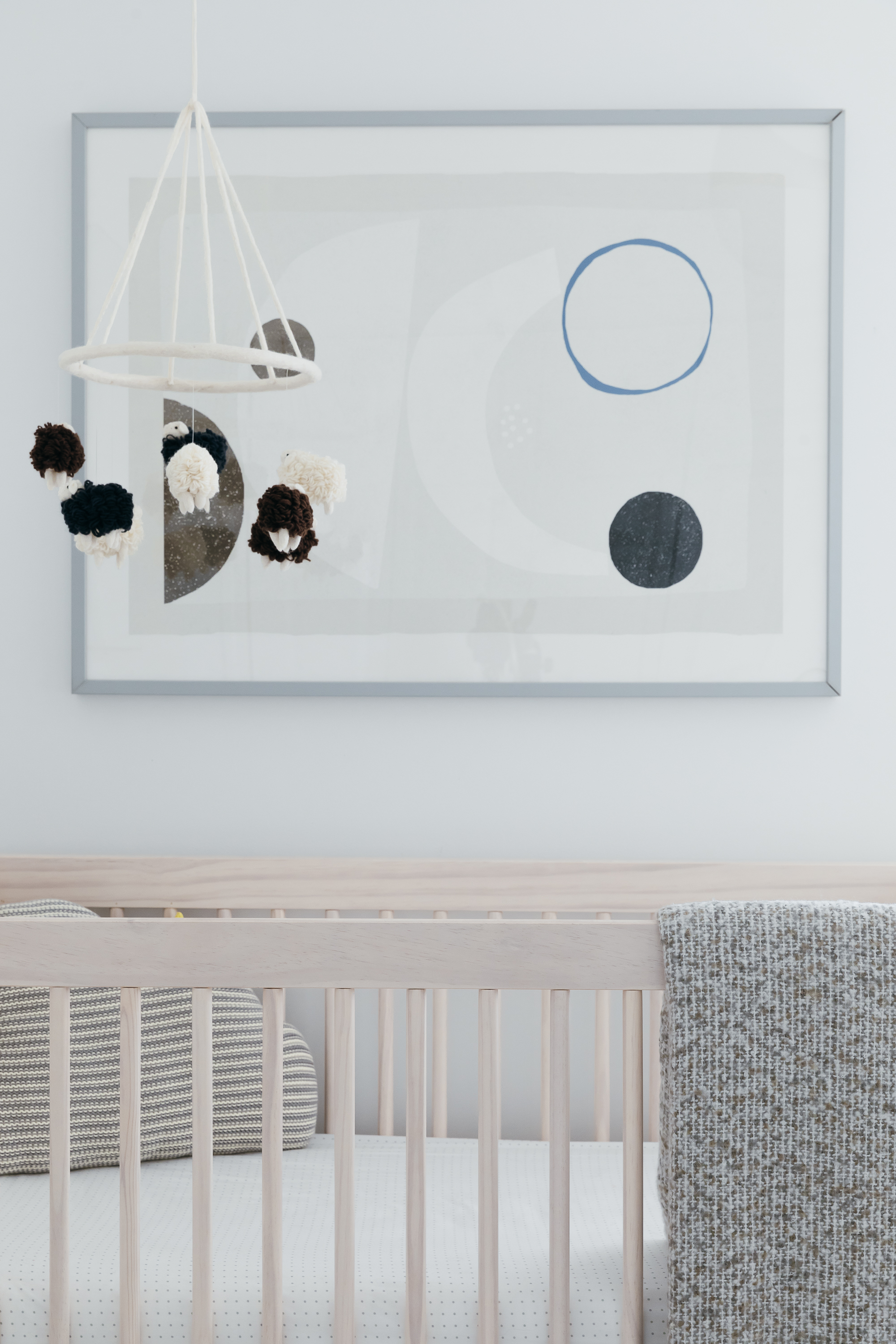 I spent hours mulling over the art in the room. Searching for just the right combination of framed prints to complement the overall vibe. The final selection is lighthearted but still feels really elevated; I'd describe it as 'child-inspired but not childish'. Every piece in the room is from Minted, a resource I love both for affordable original art and high-quality custom framing. We selected pieces that are informed by the theme of primitive, dynamic shapes and restful colors to strike a balance between playful and contemplative. It's artwork that kids and adults can appreciate alike!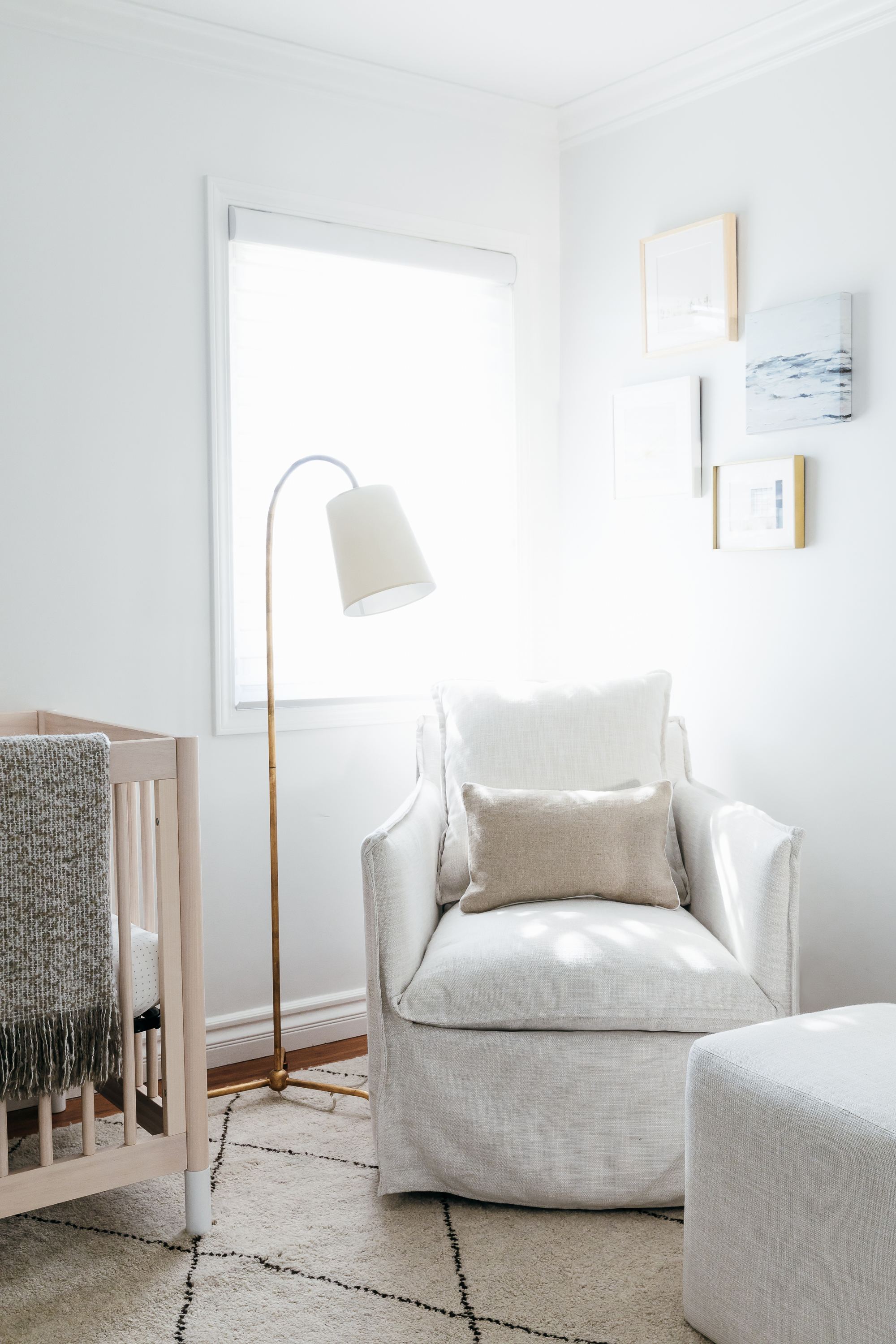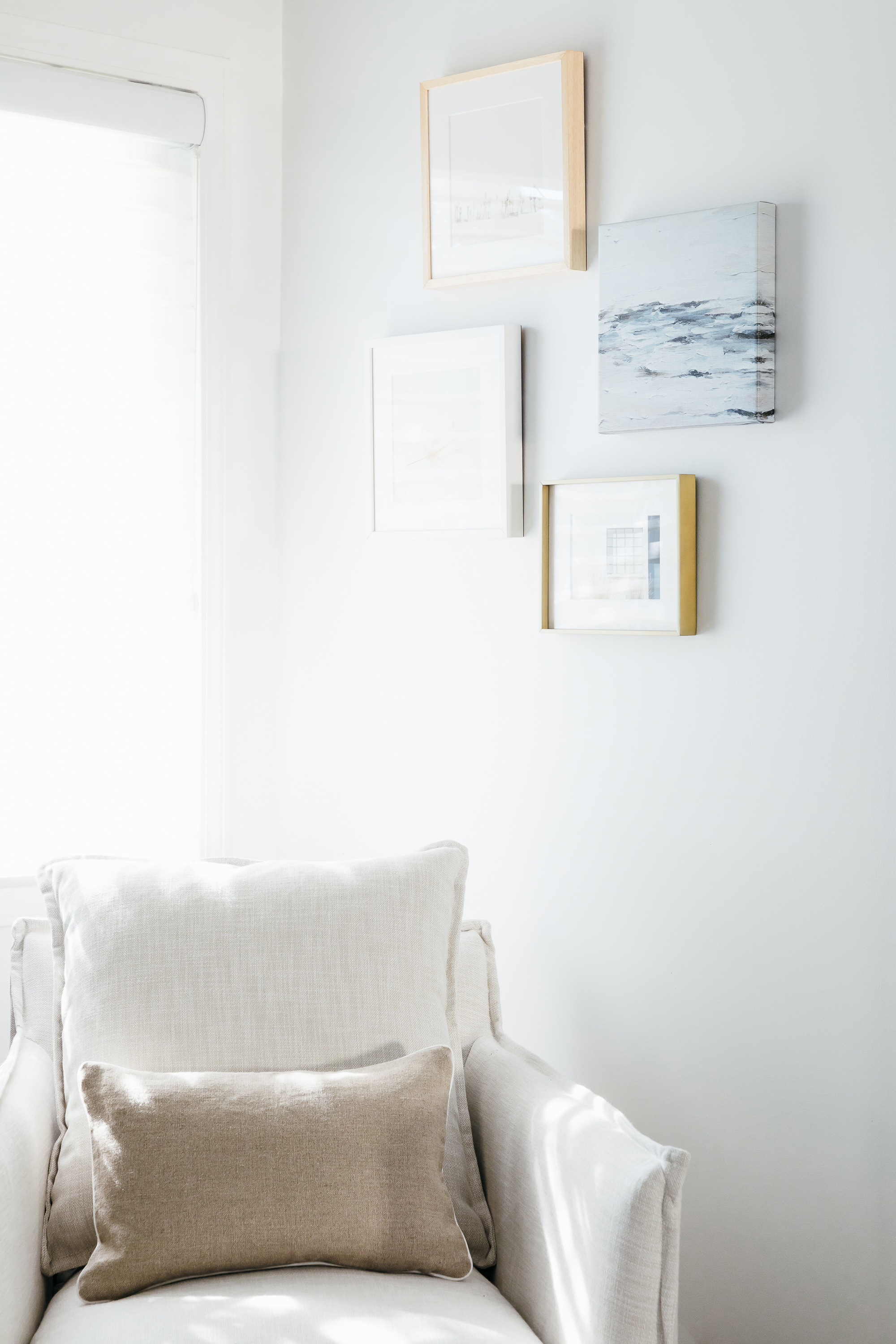 Because Kim would be sitting in them for long hours nursing Otis, the glider + ottoman were top priority for us. Serena & Lily is a fantastic resource for nursery furniture that doesn't look too twee, and the glider we eventually chose is chic enough that I'd use it in any room, not just a nursery! It's roomy to sit in but has an overall compact footprint, and it's covered in a performance linen for longevity. Also in that corner, a pretty suede pillow provides lumbar support as well as visual interest; and a curved brass floor lamp offers a warm glow.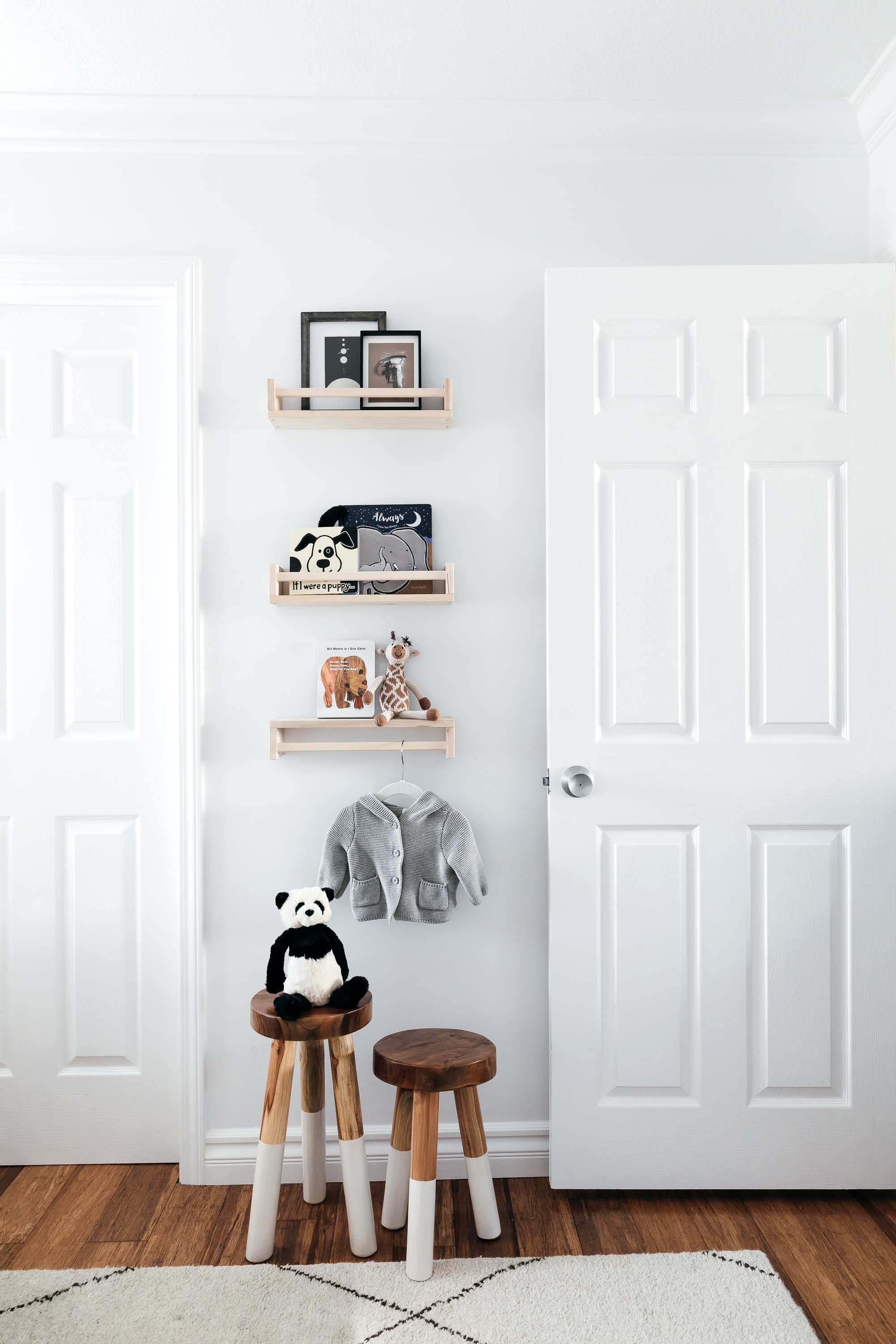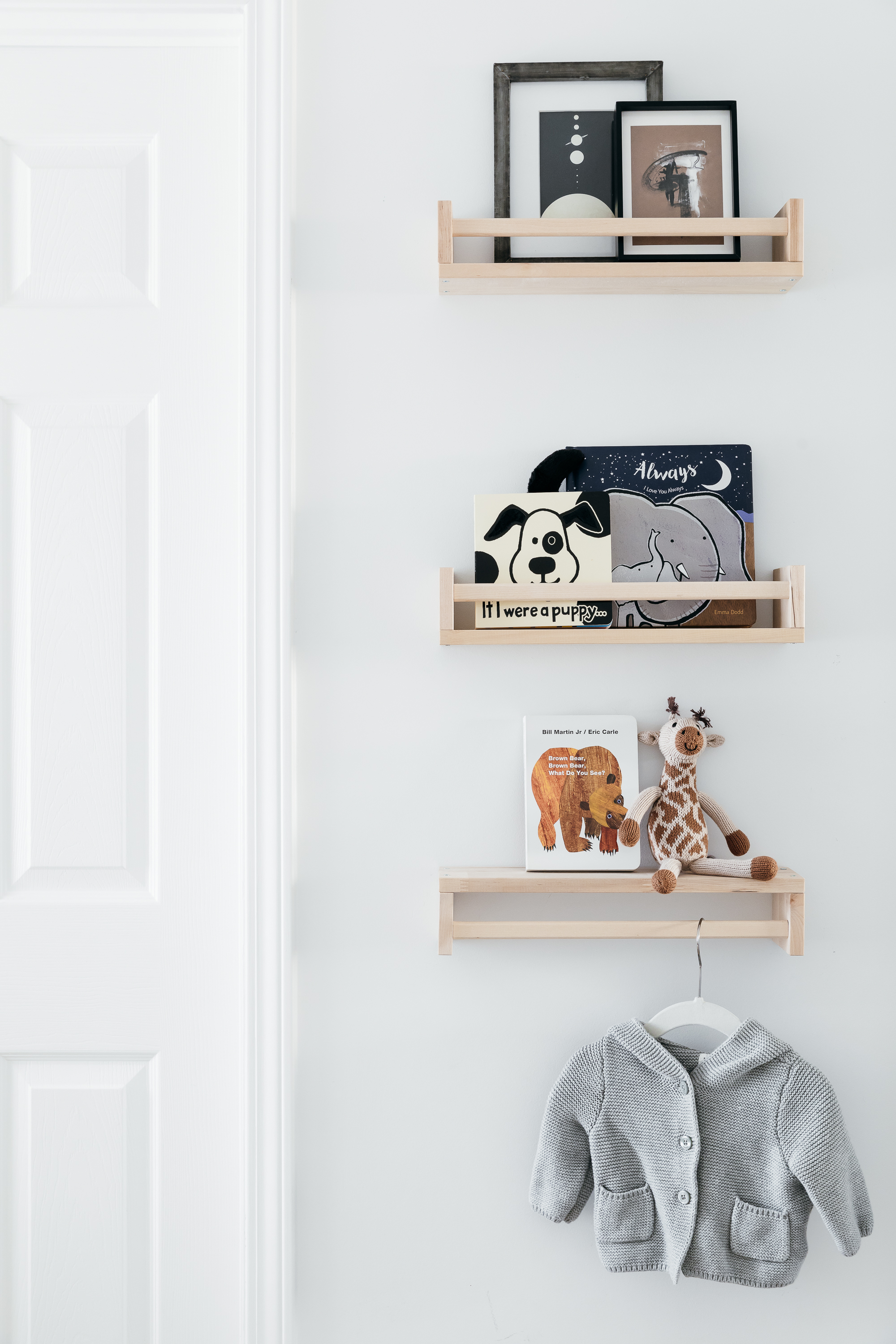 One fun moment I adore is the wall-mounted shelves just inside the door to the room. They're actually IKEA spice racks, which can be used to display books and artwork when mounted right-side-up, or to hang tiny clothes when mounted upside down. We anchored the shelves with a duo of dip-dyed stools on the floor beneath. The whole vignette offers an opportunity to swap out the styling with different books and toys. Which is a great way to keep an otherwise basic layout feeling fresh!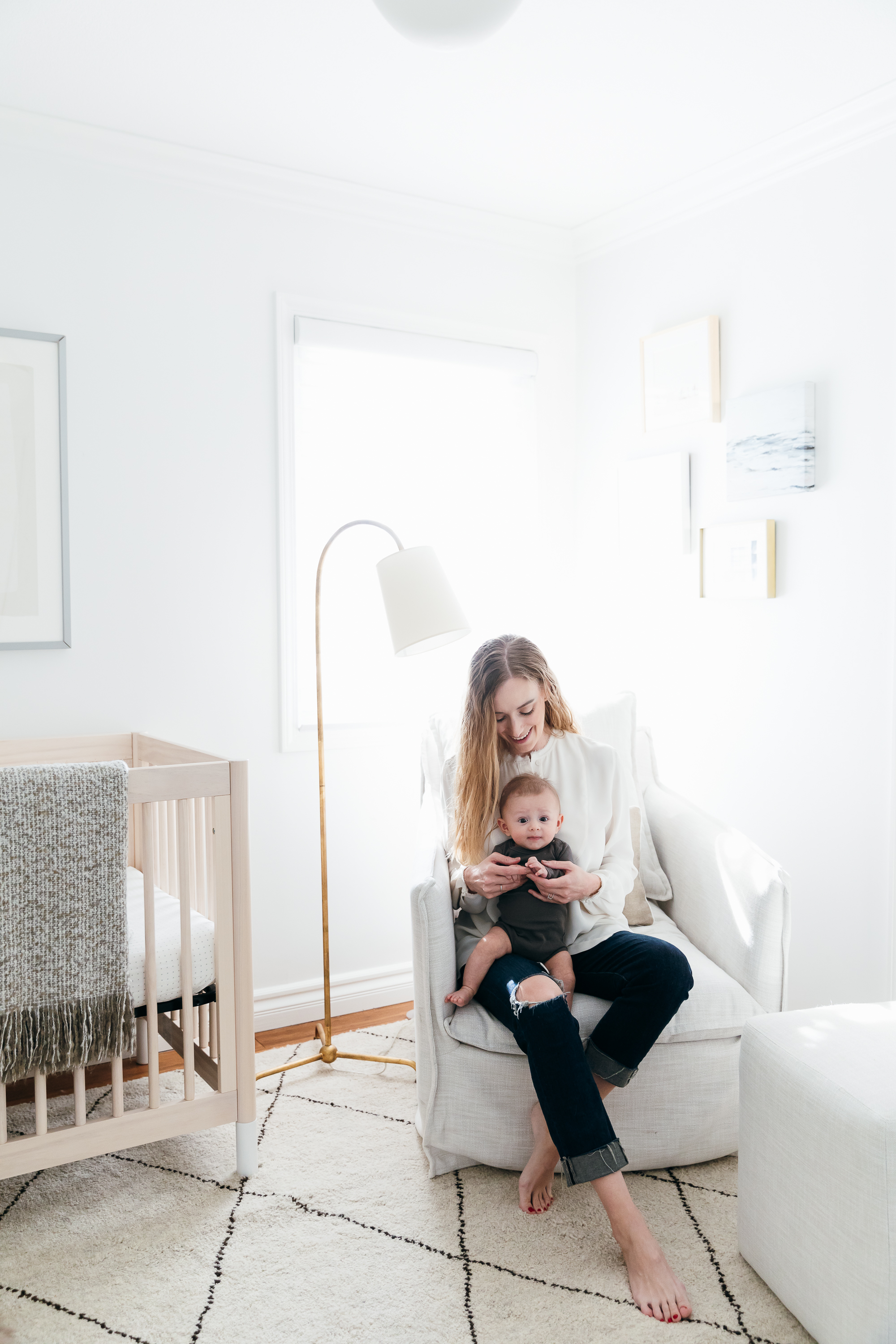 And there's the little man himself! Isn't he absolute perfection? I really connected with this project at an emotional level, even more so than I usually do. It's a huge honor to design the first room a child will know as he grows! Babies and children are like sponges absorbing everything about the world around them. I wanted Otis' room to be one where he feels safe to explore, play, and feel how unconditionally loved he is. Plus, I knew that Kim's transition into motherhood would be that much smoother if she had a nursery that was a joy to spend time in!
Look at it this way, there's nothing at all that attracts us bettors more than the sexy casino ambiance with its range of games, the free beverages and the audio of noisy music. However, for many people out there, appointments to brick-and-mortar casinos will be sadly just possible once in a green moon. Nevertheless , if this happens as the case for you, casino PayPal offers a payment entrance to help you perform casino video games provided that visiting the likes of Las Vegas is out of the reach. Okay, so there may not become free refreshments available online.
But you may be wondering what makes up for it really is that PayPal Casinos sites have an array of games will not fall short of what's offered at land-based internet casinos. In fact , you will find more game titles via gambling establishment cpaymentmethods.com: paypal casinos on-line than at your typical land-based types! Moreover, participating in at a PayPal Gambling establishment sites is not going to enable you to consider your select from the best internet casino games the internet has to offer, but actually will also enable you to acquire amazing bonuses which can be only available to gamblers who also choose on the web casinos with PayPal because deposit and withdrawal technique!
Images: Monica Wang Photography. Complete Resource Links: Crib, Glider, Ottoman, Pillow, Rug, Sheepskin, Dresser, Little Shelves, Pendant Light, Floor Lamp, Art Over Crib, Art Over Glider 1, 2, 3, 4, Art On Dresser, Art On Shelves 1, 2, Crib Mobile, Hamper, Stools.