Baking is one of my longest standing hobbies. My parents have a photo of me covered head-to-toe in bread dough, baking with my dad when I was two! And while I'll always have a soft spot for  ooey-goey traditional sweets, I love having a roster of healthy baking recipes in my back pocket too. (Case in point: These quinoa chocolate chip cookies are one of my most popular recipes, plus they're gluten-free and no-bake too!
So when Sweet Laurel Bakery, an allergen-free bakery here in LA released their Sweet Laurel cookbook, I immediately bought it and started working my way through the recipes! I've tried several so far—all with great results—but these grain free alfajores cookies definitely stand out as a star!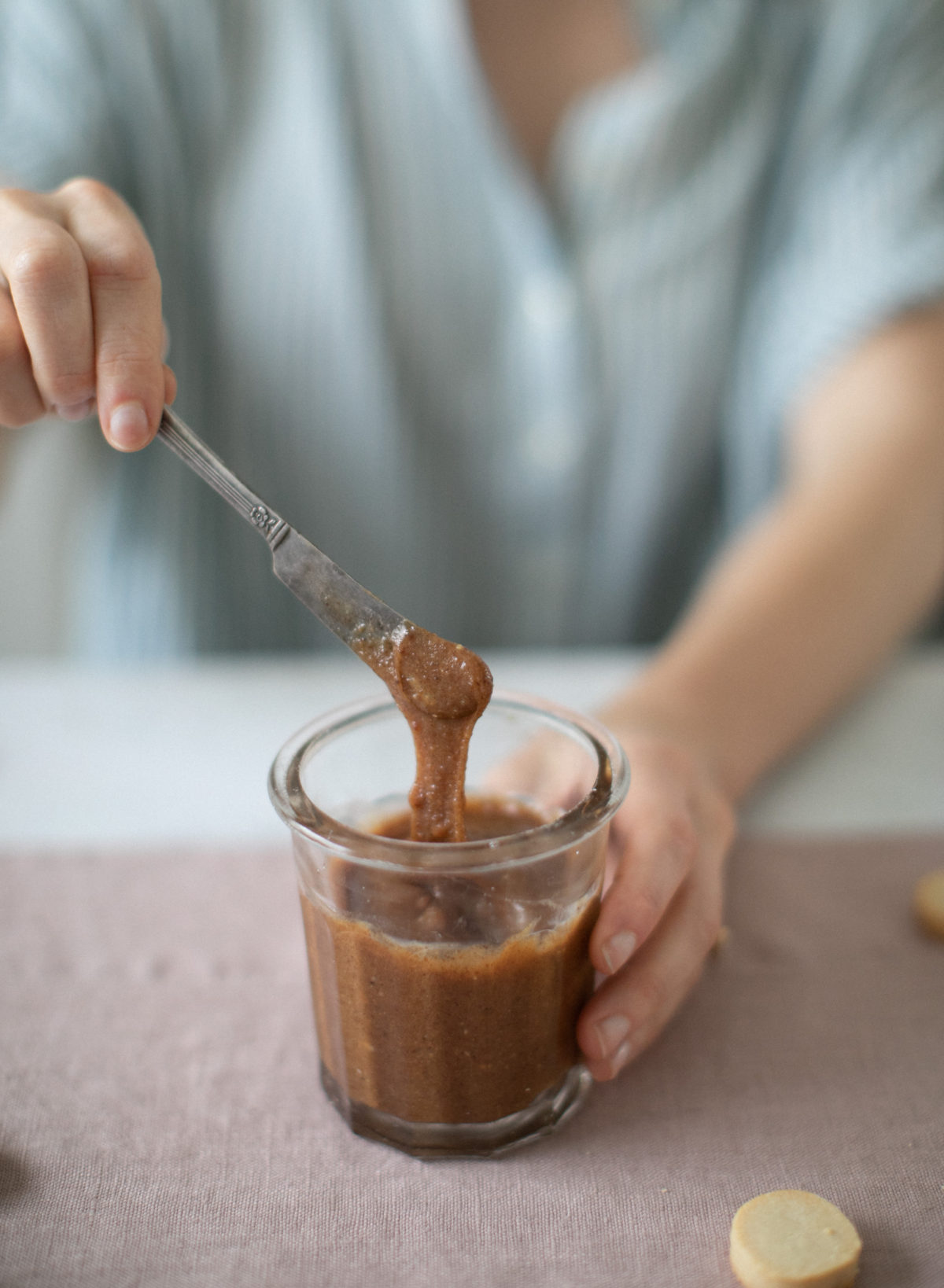 Alfajores are a traditional Argentinean treat consisting of soft, buttery cookies sandwiching a layer of luscious dulce de leche. Sweet Laurel's grain free alfajores cookie recipe retains the essential flavors and textures of the original—not to mention the fun sandwich format!—but eliminates the dairy, flour, and refined sugar for a snack that fits into almost any eating plan.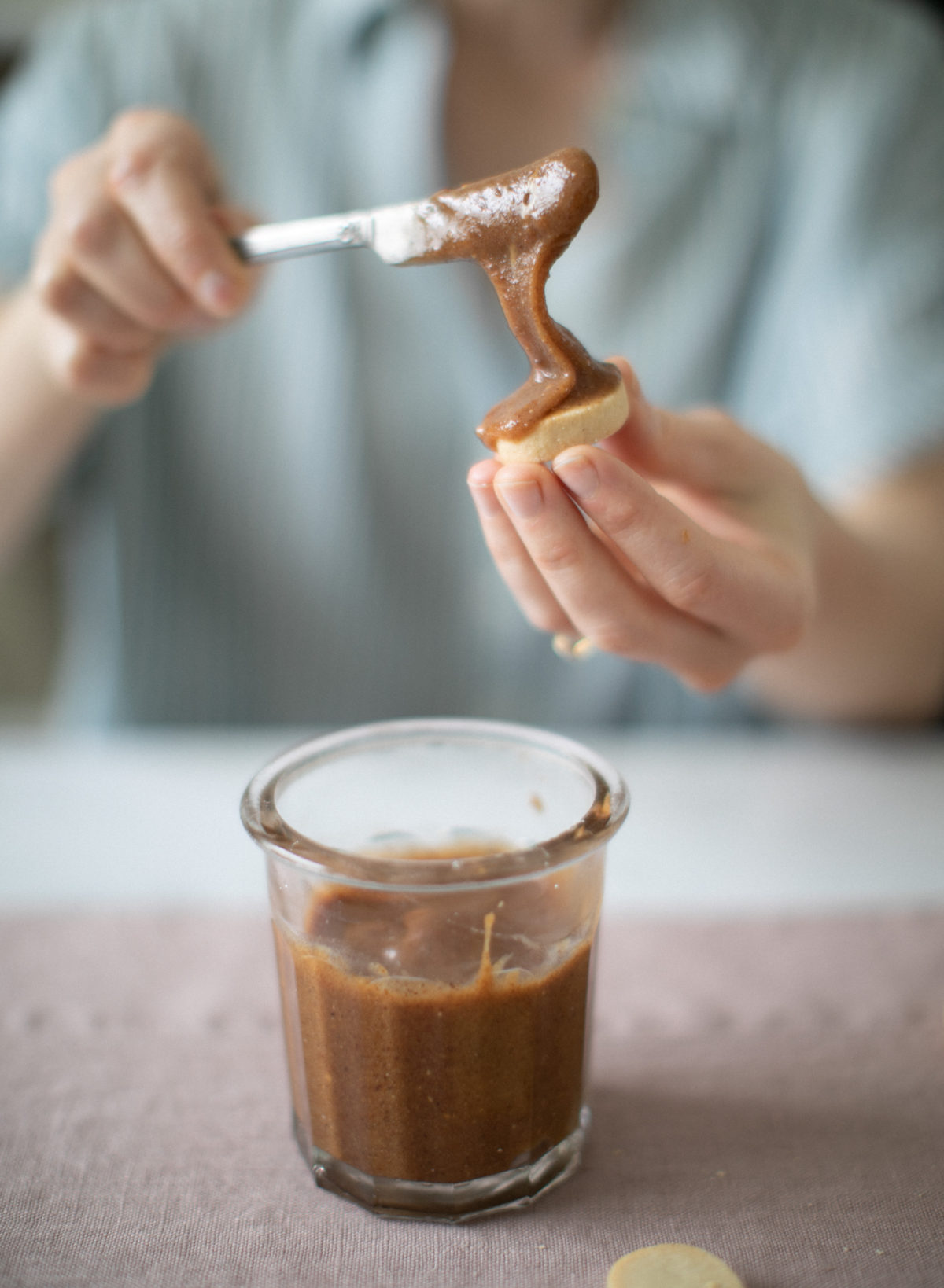 The other brilliant thing about this recipe is that it's really a two-fer! The cookies lend themselves nicely to containing any number of sandwich fillings. Chocolate hazelnut spread would be divine, for example. And they're also a golden, chewy-meets-crisp bite on their own! As for that vegan caramel, I've slathered it on everything from roasted sweet potatoes to vanilla ice cream, and even admit to eating it straight from the jar with a spoon!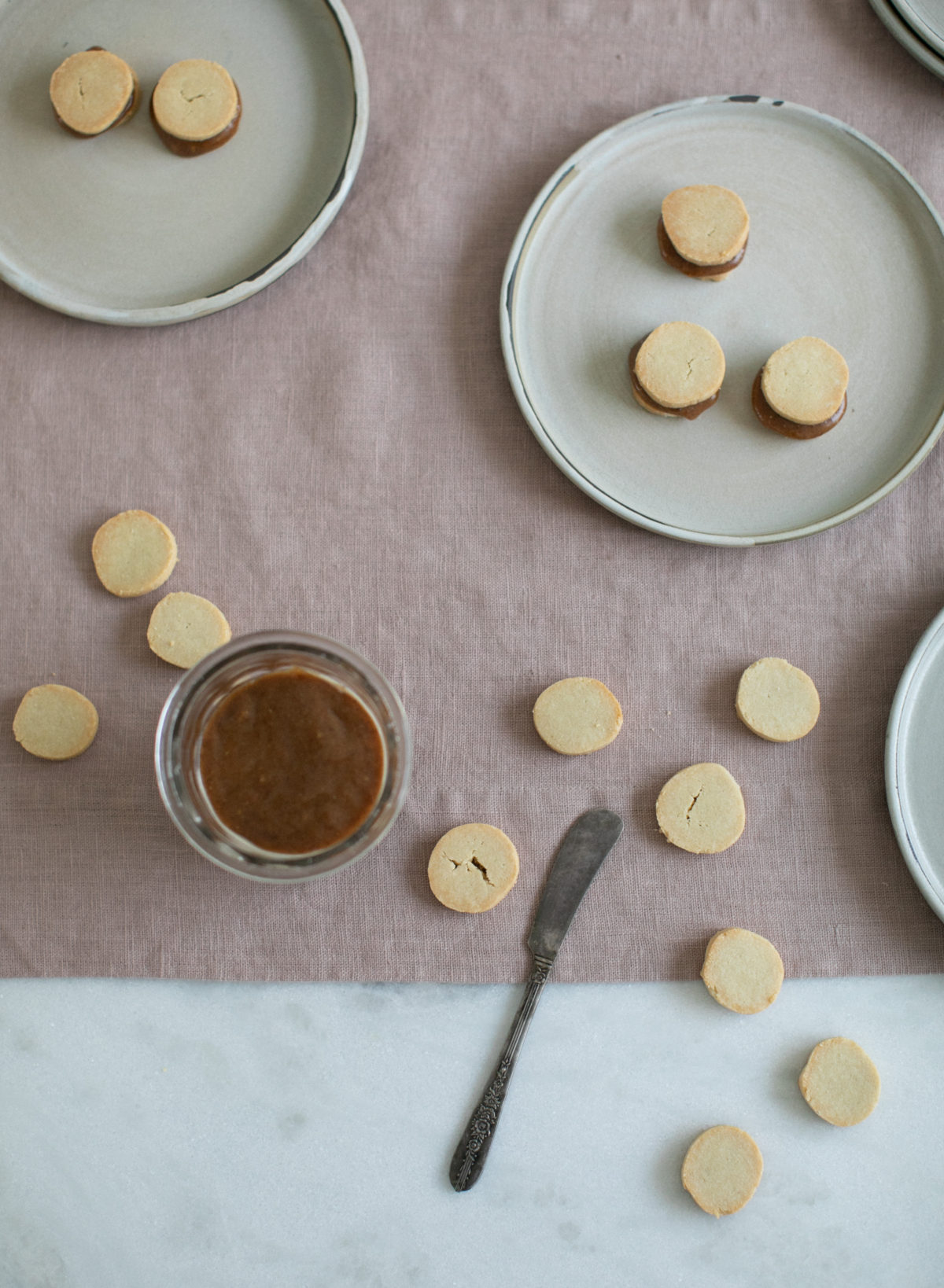 The recipe instructions for these grain free alfajores cookies suggest rolling and cutting the dough with a round cutter. When I made them, I wanted to prep the dough in advance so I rolled it into a log, wrapped it in parchment paper and stuck it in the freezer. When I was ready to bake, I pulled the dough log from the freezer, sliced it into rounds, and baked as directed below. It made the sandwich aspect of these cookies feel less daunting since it definitely sped up the process! But however you choose to make them, I know you'll love 'em as much as I do!
Grain Free Alfajores Sandwich Cookie Recipe
makes 18 sandwich cookies; recipe courtesy of Sweet Laurel by Laurel Gallucci & Claire Thomas
2 cups almond flour
1/8 tsp Himalayan pink salt
1/4 c coconut oil, melted
1/4 c maple syrup
vegan caramel (recipe follows)
1. Pre-heat oven to 350 degrees. Line a baking sheet with parchment paper.
2. In a medium bowl, whisk together the flour and salt. In a small bowl, combine coconut oil and maple syrup. A littel at a time, add the dry ingredients to the wet, stirring until a dough comes together.
3. Place the wet dough between two pieces of parchment paper and roll it about 1/8 inch thick. Remove the top piece of paper and using a 1 1/2 inch round cookie cutter, cut the dough into circles and place on the prepared baking sheet. Bake for 7-9 minutes, until the edges of the cookies begin turning golden brown. Transfer the cookies to a rack and cool completely while you prepare caramel.
4. Gently spread 1-2 teaspoons of vegan caramel onto a cooled cookie, then sandwich together with another cookie. Repeat with the remaining cookies and serve. Store in a sealed container at room temperature for up to 5 days, or in the freezer indefinitely.
Vegan Caramel
makes 1/2 cup
1/4 c almond or cashew butter
1/4 c maple syrup
2 tbsp coconut oil, melted
1-2 fresh dates,pitted
1 tsp vanilla extract
pinch of Himalayan pink salt
1. Place all ingredients in a blender or food processor and puree until smooth.
2. Transfer the caramel to a glass jar and place in the refrigerator to chill. The caramel will stiffen up in the refrigerator, so if your recipe calls for it to be spreadable, let it sit at room temperature for 30 minutes to an hour, and give it a good stir before using. The caramel will keep for about 1 month, refrigerated.
Images: Elizabeth Messina. P.S. If you're in a sandwich cookie mood, my recipe for tahini sandwich cookies is right up your alley!