I've just returned home from a week in Tulum with my mom. Even though I got home Friday, I'm still reintegrating into normal life. City life is definitely an adjustment after spending six days in a tropical paradise! In Tulum, our experience of the natural environment was totally immersive. Every morning we rose and watched the sunrise over the ocean, then splashed in the waves along the shore. In the evening, we walked a narrow road through the jungle to outdoor restaurants where waiters carried umbrellas—just in case of a surprise rainstorm. And we stayed at a rough-meets-luxe property called Amansala Tulum, an eco resort in Mexico that's so in tune with its natural surroundings, it feel less like it was built and more like it sprung one day from the earth. Here's the breakdown on what made it so divine.
The Grounds: Amansala is right on the beach, with an infinity pool that directly overlooks the sea. Take three steps down from the pool deck and you'll sink your toes into fine, white sand dotted with rows of cushioned lounge chairs for sunbathing. The resort's dining terrace also looks out onto the ocean, meaning you can enjoy your coffee as the sun comes up and a cocktail as it goes down. The property is quite intimately sized, so it never feels too crowded or touristy. And as for the rooms, they're nestled in tall, rambling structures made of stucco with palm leaf roofs—the closest you'll get to sleeping in the Swiss Family Robinson treehouse!
The Rooms: Speaking of the rooms, the outdoors merge seamlessly with the interiors at Amansala Tulum. Smooth stone surfaces throughout not only feel reminiscent of the ocean rocks that line the shore, they keep things cool even in the heat of the day. Simple platform beds built from local wood are sheltered by airy mosquito nets that float in the breeze. The rooms are sparsely appointed in the best possible way; there's no clutter, only exactly what you need. Without phones or other electronics to cause a distraction, it's that much easier to disconnect and stay present to the beauty of Tulum.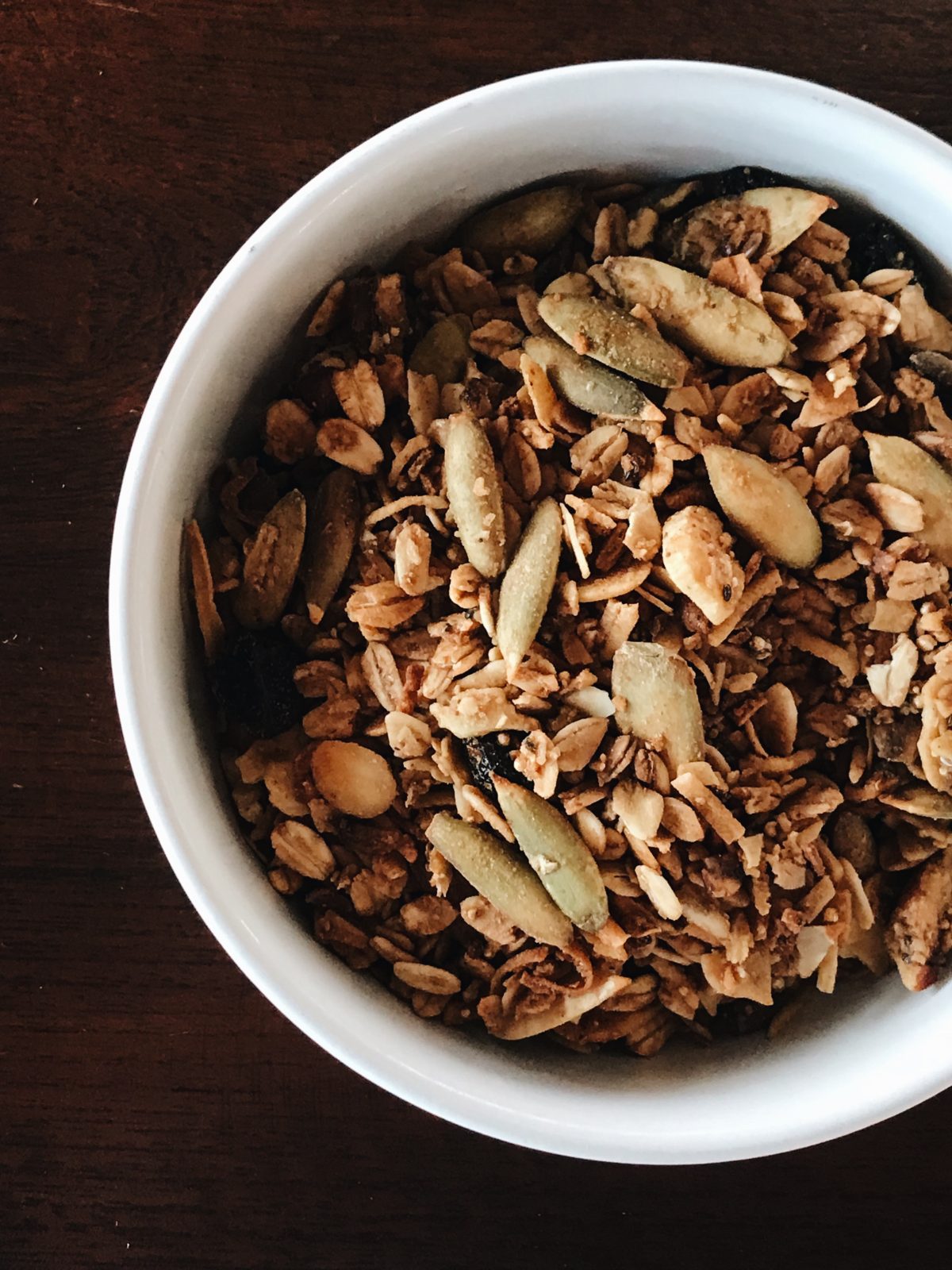 The Food: I have a sensitive system, so I was about how I'd feel after eating travel food for six days. As it turned out, the food at Amansala was so healthful and delicious, I returned to Los Angeles feeling better than when I cook for myself at home! Most meals are served buffet style, beginning with an early breakfast of yogurt, granola, fruit, and freshly baked banana bread that I will dream about for a long time to come. At about 10:30, the kitchen starts producing savory brunch options like salads, eggs, and avocado toast. A mid-afternoon snack follows—common options included black beans, veggie quesadillas, and just-picked mangos—and evening dinner ranged from Mexican to Thai and beyond.
All ingredients were sourced locally, there were always tons of vegan and gluten-free choices, and guests could order from a menu if the buffet options weren't speaking to them. It speaks volumes that the only food photo I took the whole trip is this one of the granola. Everything was so delicious and seductive, I couldn't wait long enough to take a picture before diving right in!
Amansala Tulum offers stays for individuals and also has tons of retreat packages (think yoga, boot camp, etc.). I really can't recommend this spot highly enough. And I cannot wait to go back!