If I could eat one type of food for the rest of my life, it would be Mexican. Aside from an ant egg gordita in Tulum, I've never met a south-of-the-border dish that I didn't love! The more time I spend around Ivan and his family, the greater my appreciation for the variety of flavors and techniques that comprise the country's cuisine. His relatives are all from Mexico, so you can just imagine the repertoire of recipes they have under their collective belt. When we're all in the kitchen together, I'm usually the one taking notes and learning as much as my brain can hold. But on one occasion, I shared a roasted cauliflower taco recipe with them that got an immediate seal of approval! It's one that's too delicious and easy to keep to myself. So I'm passing it along to you guys as well—especially since it makes the perfect Cinco de Mayo recipe!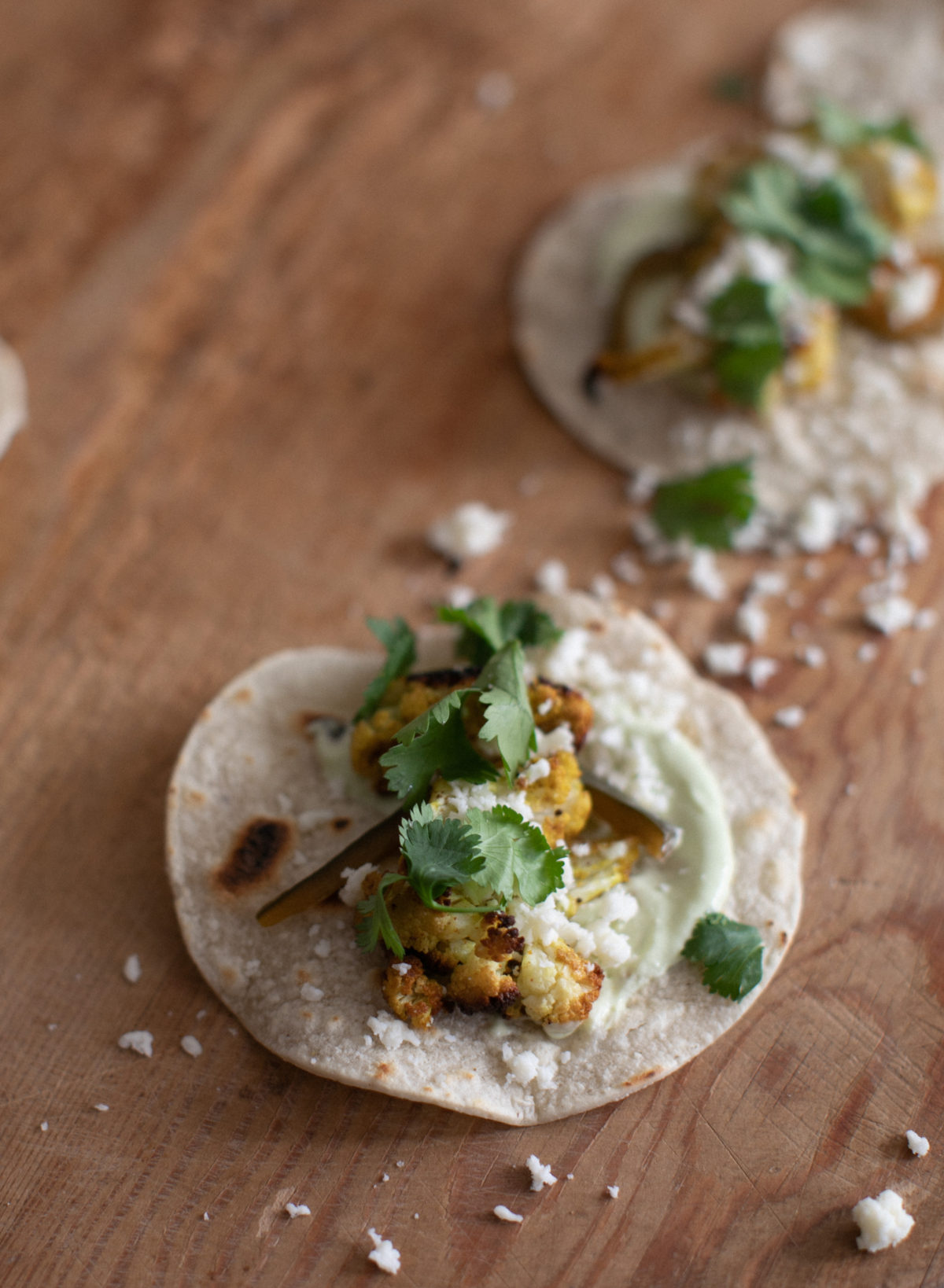 There's so much to love about this recipe that I don't even know where to begin. For starters, it's incredibly fast and simple to prepare. You simply season the cauliflower, pop it in a hot oven, and assemble all the fixin's while it's roasting. Then there are the flavors. The first time I made these tacos I had low expectations since the ingredients list was pretty unassuming, but the spices on the cauliflower combine to create a complex taste explosion in each bite! Last but not least is the fact that these are so good for you! I'm always looking for ways to sneak more plants in my diet, and the crispy caramelized goodness of cauliflower in this recipe proves that there's practically nothing that superhero vegetable can't do.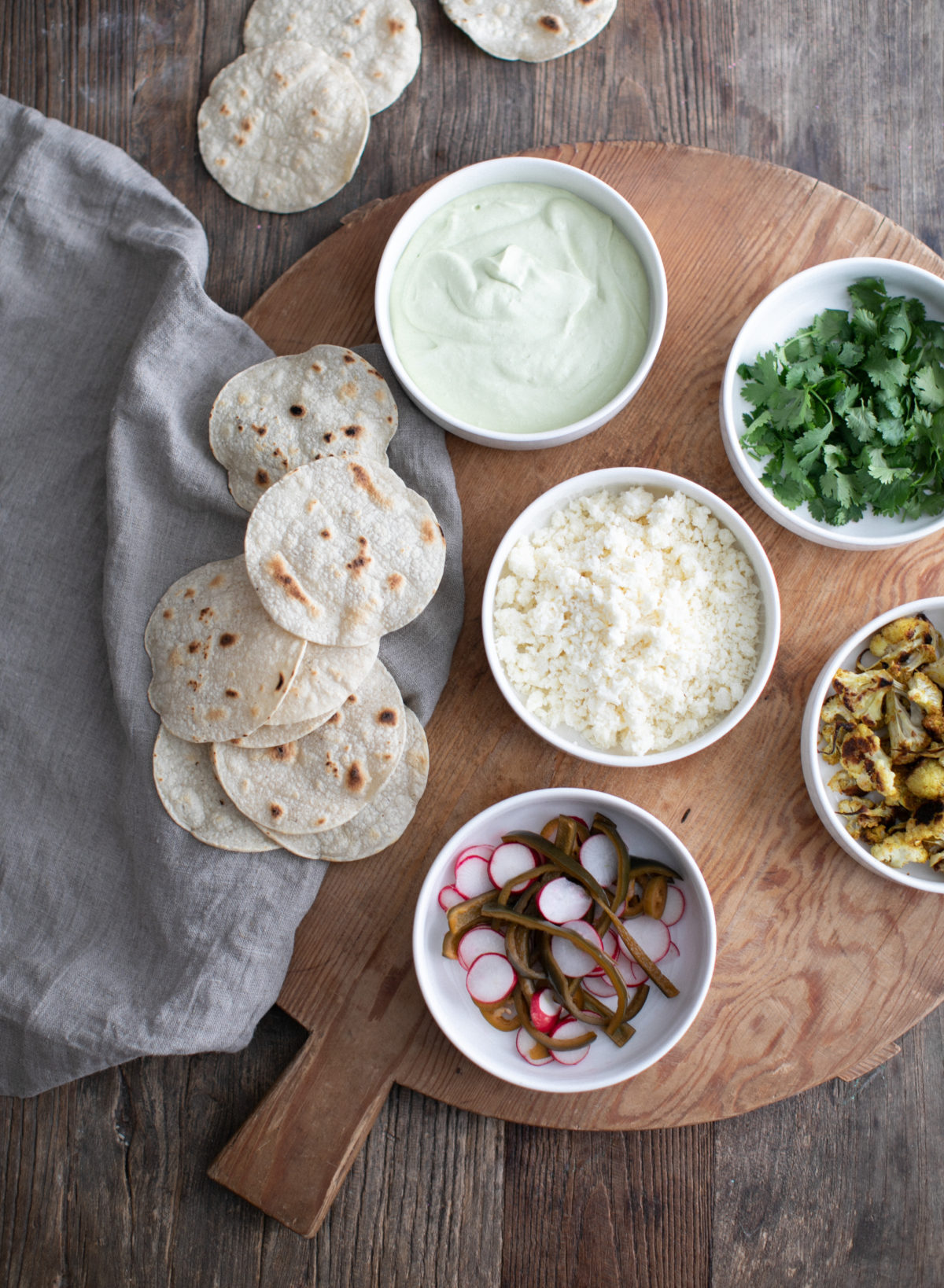 Whether you're making these tacos as a Cinco de Mayo recipe for a crowd, or just whipping them up for a weeknight dinner, I highly recommend making extra roasted cauliflower. For one thing, you'll be glad to have some in the fridge for tossing into salads or bowls at lunchtime. And for another thing, I'd be surprised if you even have any leftovers for the rest of the week. Because this recipe is JUST. THAT. GOOD!

Roasted Cauliflower Tacos
Serves 6, recipe courtesy of Sunday Suppers Sobremesa
For the Roasted Cauliflower
1 large head cauliflower, cut into small florets
olive oil
1 lime, juiced
2 teaspoons curry powder
3 teaspoons flaky salt or other sea salt
Several grinds of fresh ground pepper
Preheat over to 425 degrees. Prepare two baking sheets lined with parchment paper. In a small bowl, whisk olive oil, lime juice, curry powder, flaky salt, and pepper. In a large bowl, toss the cauliflower florets with olive oil mixture and arrange in one even layer per baking sheet. Roast until cooked through and charred in places, 30 – 35 minutes.
For the Cilantro Lime Crema 
1/2 cup creme fraiche
1 cup sour cream
1 tomatillo
1 avocados, diced
2 limes, juiced
1 lime, zested
2 tablespoons water
1/2 teaspoon fine sea salt
Preheat the oven to broil. Line a baking sheet with parchment paper. Place tomatillo on baking sheet and broil until charred and blistered, 12-15 minutes. Remove tomatillo from sheet pan and transfer to a plate to let cool. Skin the tomatillo and place it with all other ingredients in a blender. Puree until smooth. Cover and refrigerate until needed. Crema can be made 2-3 hours in advance of serving. For a vegan alternative, you can make the above with 1.5 cups of vegan sour cream or cashew cream.
For the Tacos
18 small sized corn tortillas
roasted cauliflower (above)
cilantro lime crema (above)
10 oz cotija cheese, crumbled (if you can't find cotija, try romano as a substitute)
1/2 cup chopped cilantro
1 cup thinly sliced red radishes
Heat tortillas one-by-one on a dry griddle pan over medium heat until brown spots appear, storing the heated ones in a bowl or basket covered in a cloth to keep them warm. Place the fillings in separate small bowls, then set them along with the tortillas in the middle of the dining table. Let diners assemble their tacos and stuff their faces!
Images: Elizabeth Messina.