Since moving into our house almost three years ago, we've slowly but surely been decorating each room to suit our tastes. Yet one room has remained untouched until now: the bathroom! It wasn't a total disaster—which is probably why we were able to live with it for as long as we did—but it certainly didn't fit with the rest of our thoughtfully designed home. So when Micro Cotton® reached out to me about incorporating their new Hotel Collection Ultimate Micro Cotton® bath towels into my space, I saw it as the perfect opportunity to implement a weekend bathroom makeover that would turn the space into one I could feel proud of!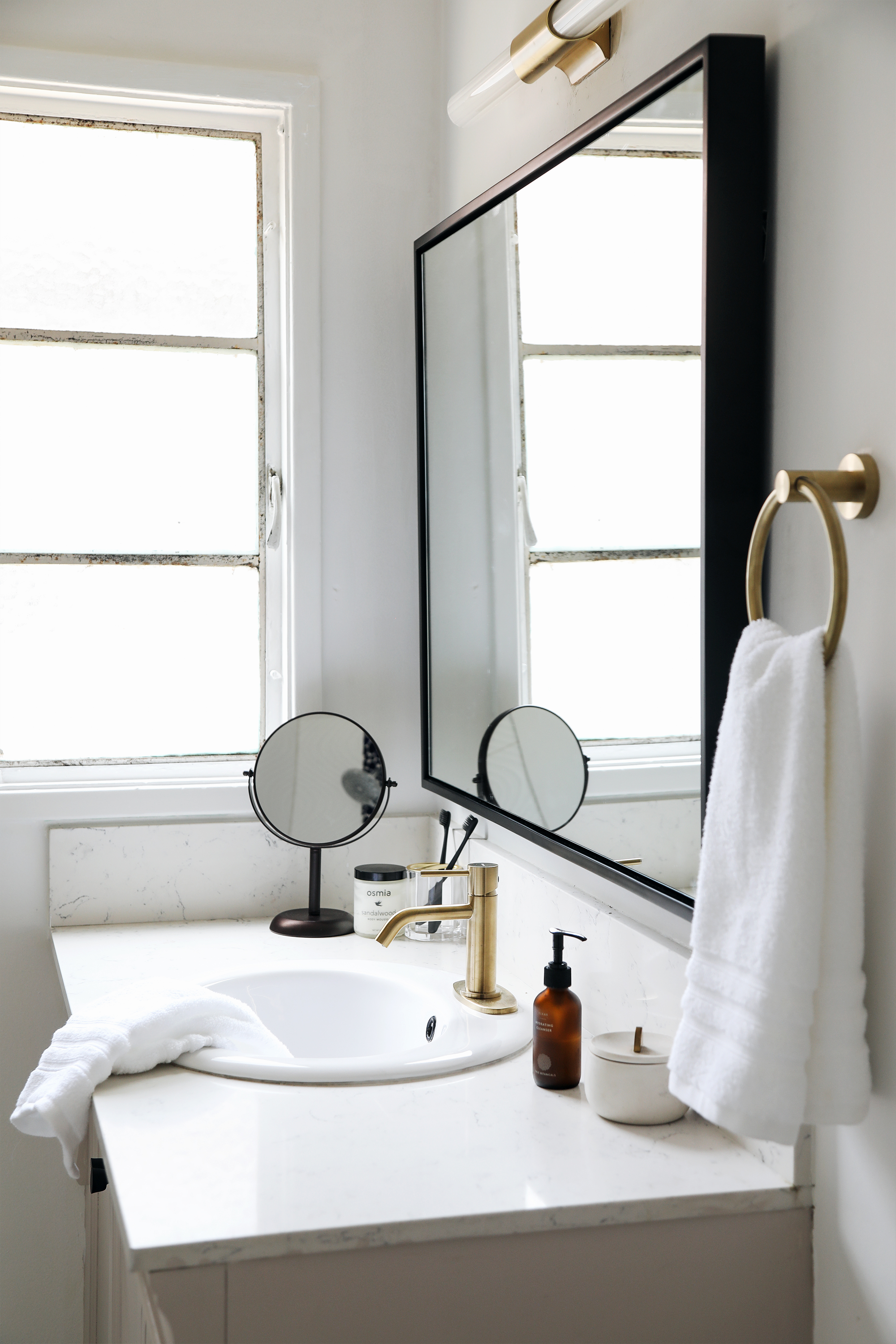 As much as I'd have loved to gut the room and start fresh, I didn't relish the idea of a multi-month renovation. Therefore, with plush, eco-friendly Micro Cotton® towels as my inspiration, I instead focused on creating a bathroom makeover that was light on resources yet heavy on luxury—just like the towels themselves. A few strategic swaps and some polished, high-quality extras, make it more than possible to transform a lackluster bathroom into a stylish self-care sanctuary! What's more, it can easily be completed in a single weekend.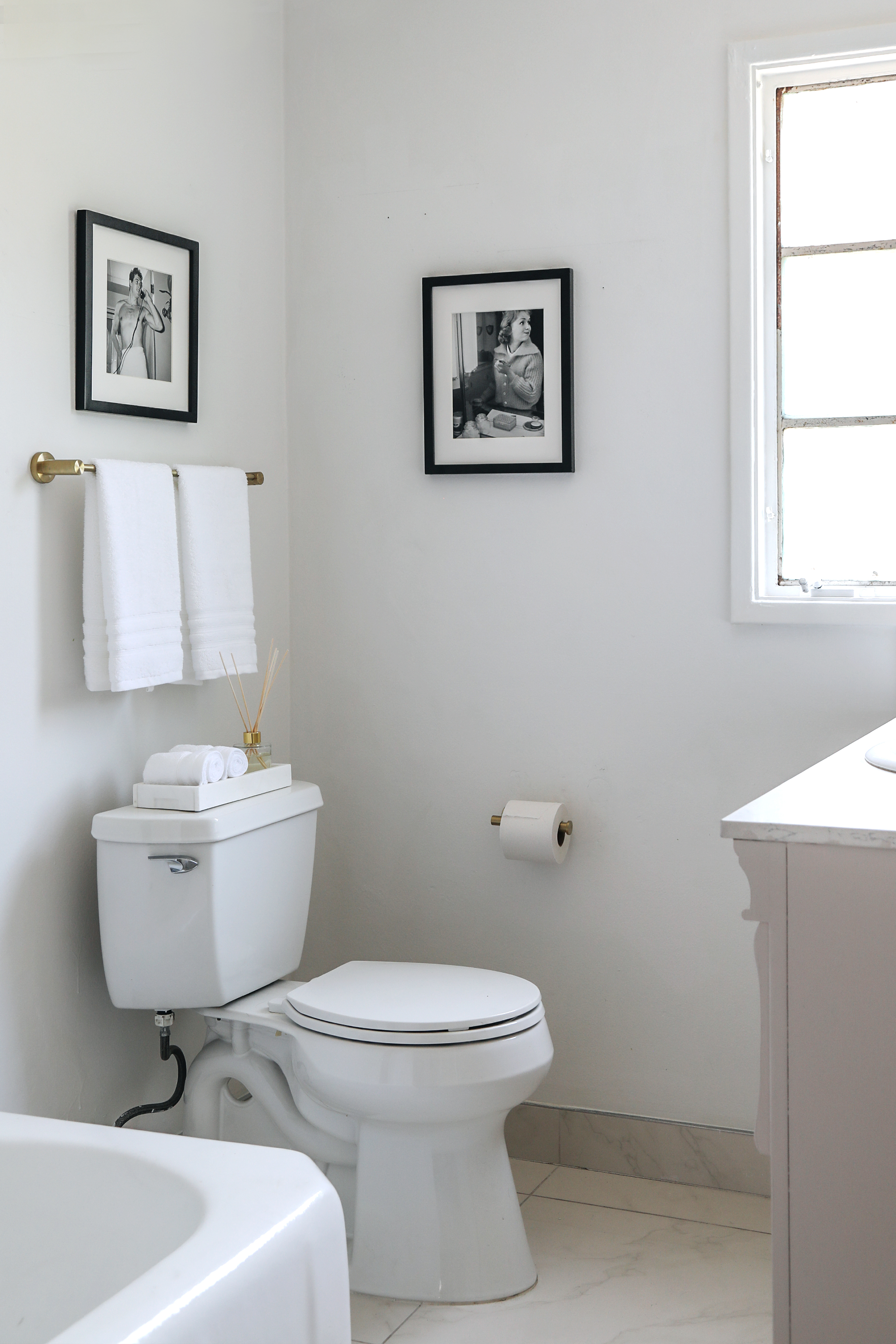 Our first step in this weekend bathroom makeover was to give every possible surface a fresh coat of paint. Fortunately, I had paint left from when we decorated all our other rooms. For no additional cost I was able to cover the dingy, yellowish bathroom walls with the same bright, cool white as the rest of our house. Then there was that tacky vanity! While I couldn't do anything about the stuck-in-the-past shape of it, I could at least bring it into the 21st century with a coat of pale greige paint. As a bonus, this is the same color we used for the console in our breakfast nook. Therefore, not only was I able to create a consistent feel throughout the house, I didn't have to waste time or additional materials finding a different paint. Winning!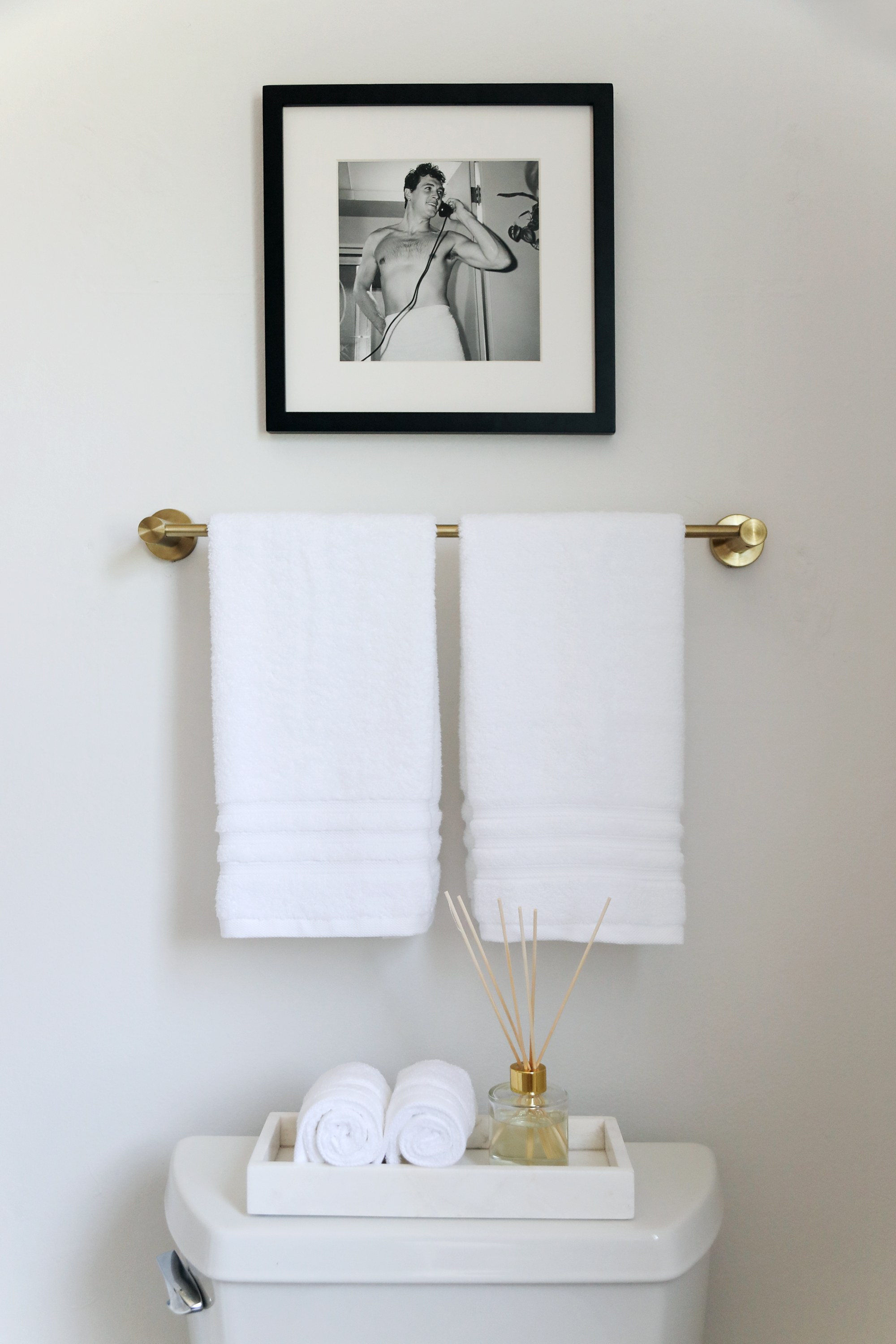 Next up, it was time to swap out all the hardware. We ditched that horrid over-the-toilet-cabinet and the hideous wavy light fixture and replaced them with fixtures that have an elevated vintage sensibility. That large black mirror is the anchor point. Its clean lines and floating glass offer a sleek, streamlined feel. At 40″x30″, it's also a functional upgrade too, since we can now both stand at the sink and see ourselves in the mirror. Matte black knobs on the vanity complement the mirror's finish.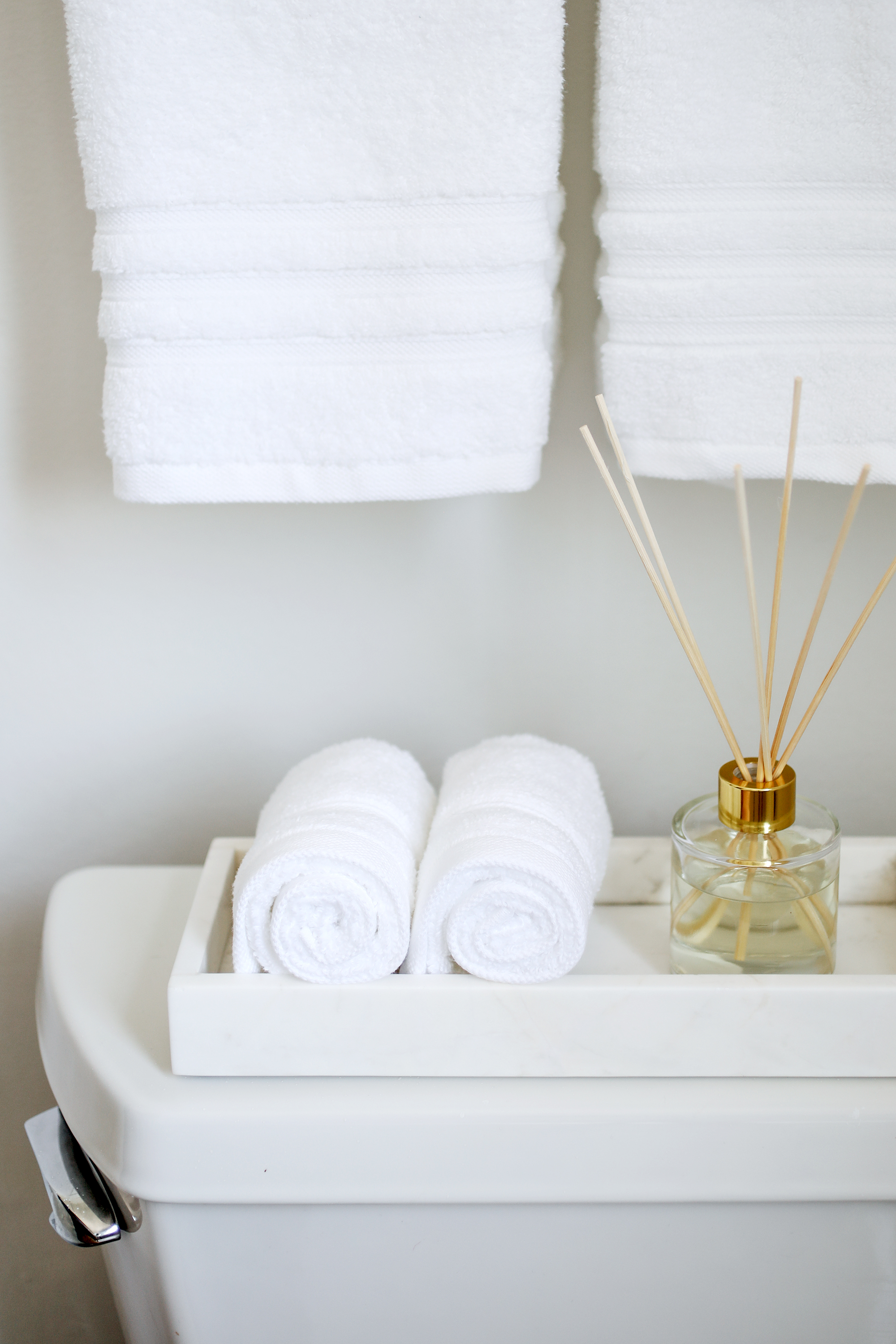 For all the other fixtures in our weekend bathroom makeover, we chose brushed brass for a warm touch. The modern faucet is a huge step up from the blobby chrome one that we had previously, and a retro-inspired brass wall light looks borrowed from a posh NYC hotel. Two brass towel bars and a hand towel ring not only tie everything together, they also make the bathroom feel positively livable. Can you believe this bathroom had no towel bars before? Now that we have them, I'm not sure how we lived without them!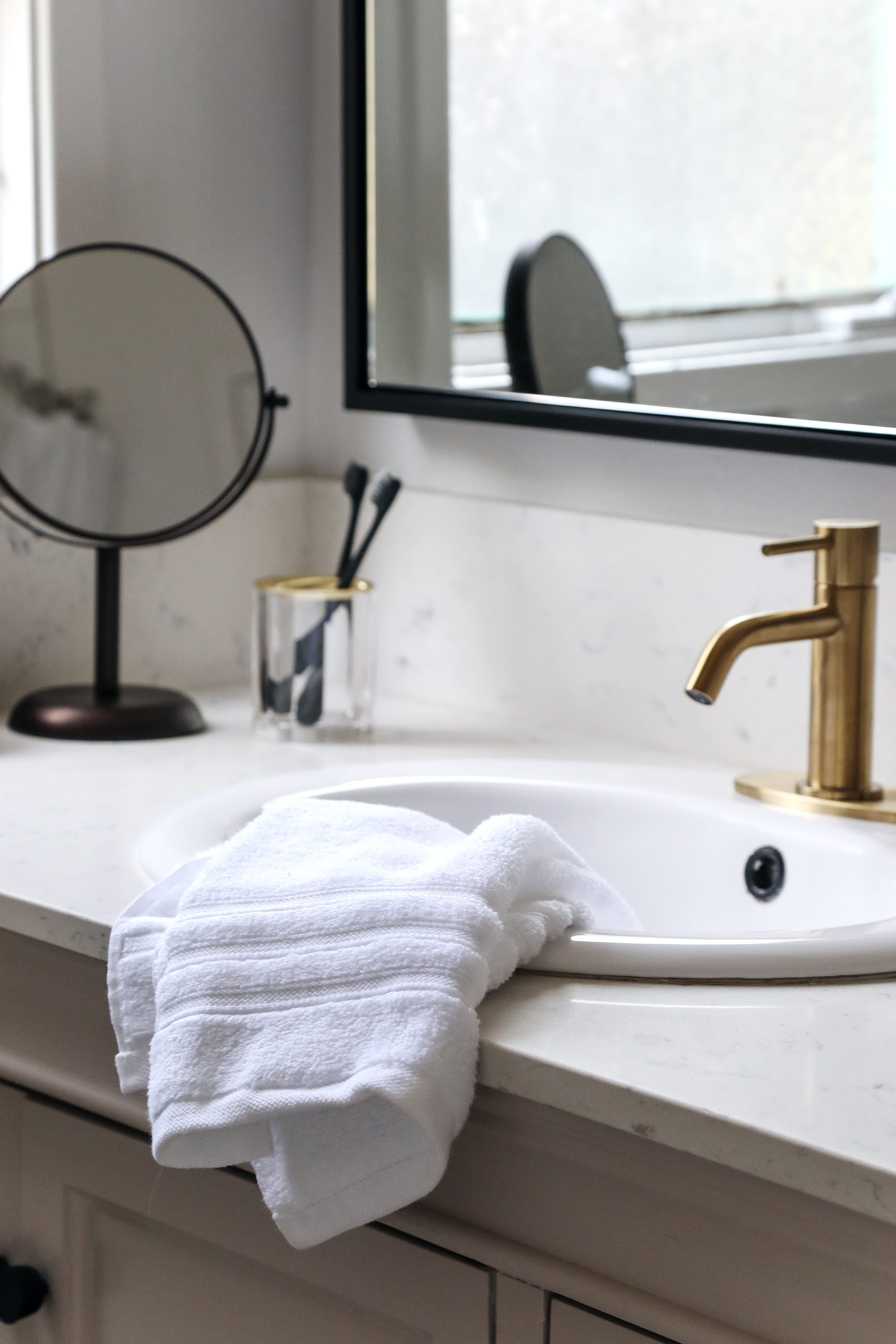 And speaking of towels, just as crisp white bed sheets are the key to making your bedroom feel like a hotel, luxe towels are essential for creating that boutique hotel bathroom vibe! Micro Cotton® towels are basically the superhero of towels. They have a proprietary technology that enables instant absorption of moisture from your body, delivering unparalleled warmth. Careful processing techniques reduce stress on the fibers, ensuring nearly zero lint and pill. When I first unpacked these towels I was astounded by how incredibly soft they were—so much so that I thought they'd immediately change texture upon washing. Yet sure enough, the technology used to weave these towels ensures that they maintain their softness, wash after wash.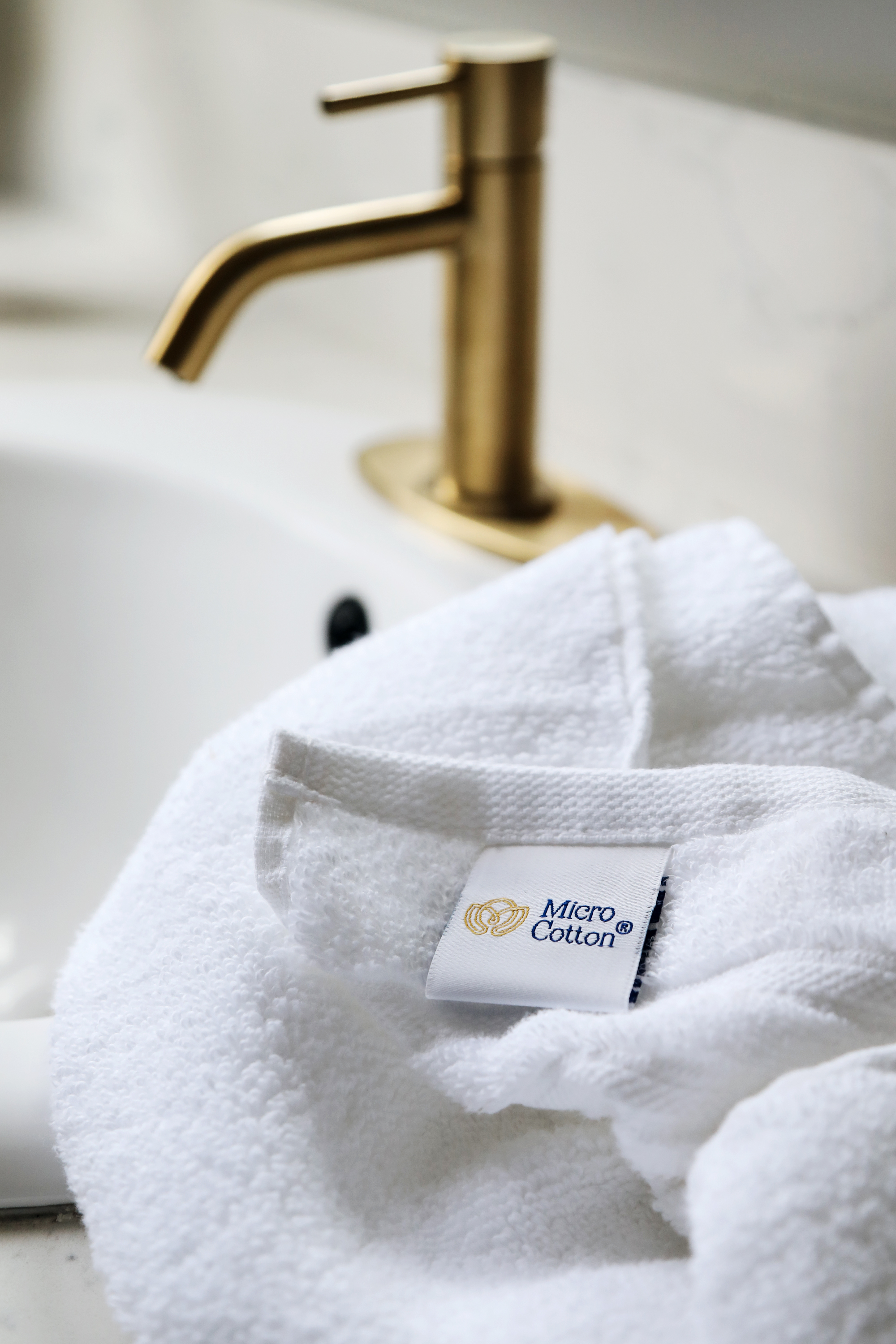 As luxurious these towels are, I'm even more smitten with how gentle they are on people and the planet. Micro Cotton® products are produced in an eco-friendly facility using green energy, harnessing the power of the sun and wind. They have a Class A certification under OEKO-TEX® 100, meaning they have been tested and found free of hundreds of chemicals and known allergens—so they're safe even for delicate skin. As we continue on our journey to becoming parents, I'm ever more aware of seeking out home goods that are healthy for my family—and for the workers that produce them. Micro Cotton® towels pass the test and then some!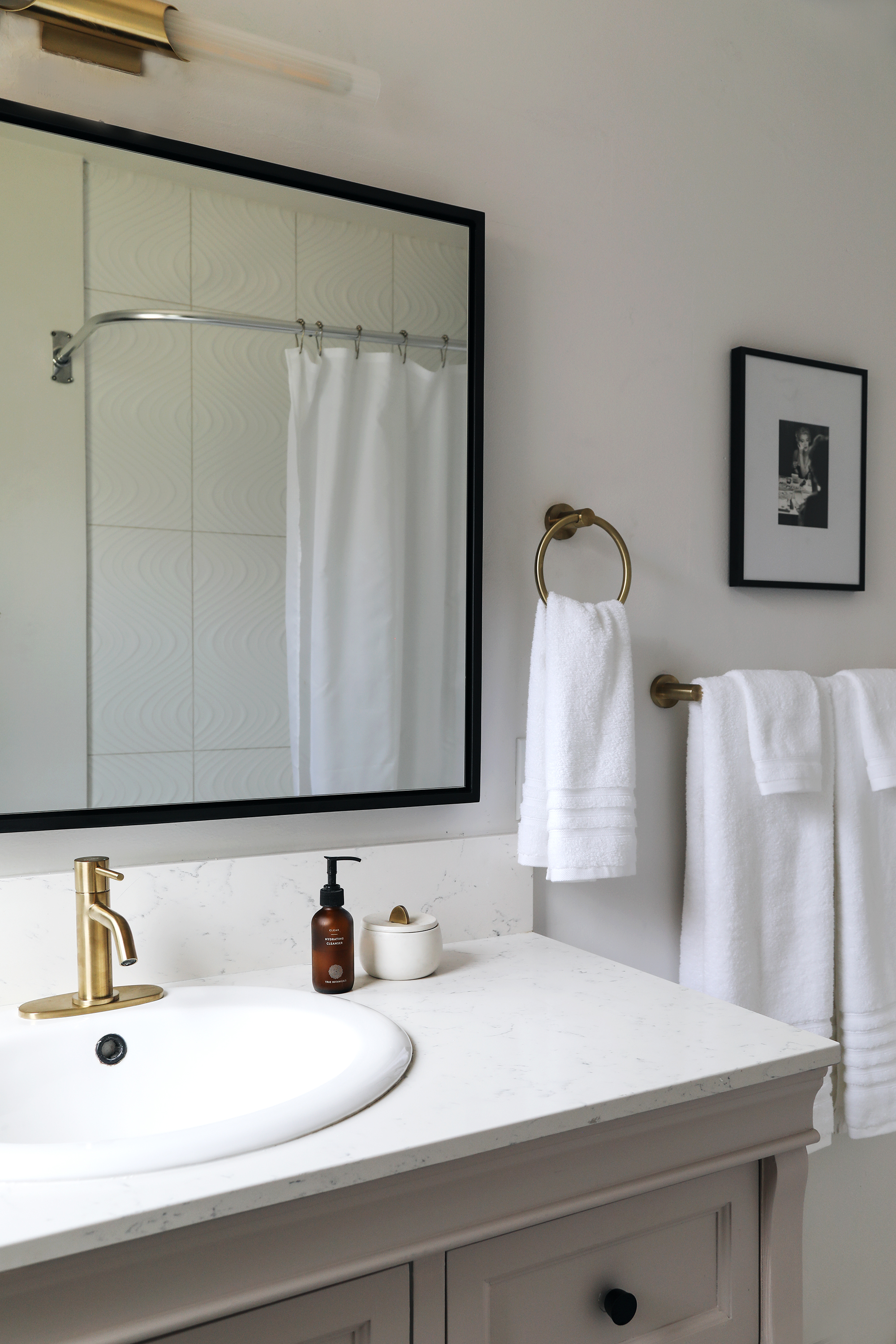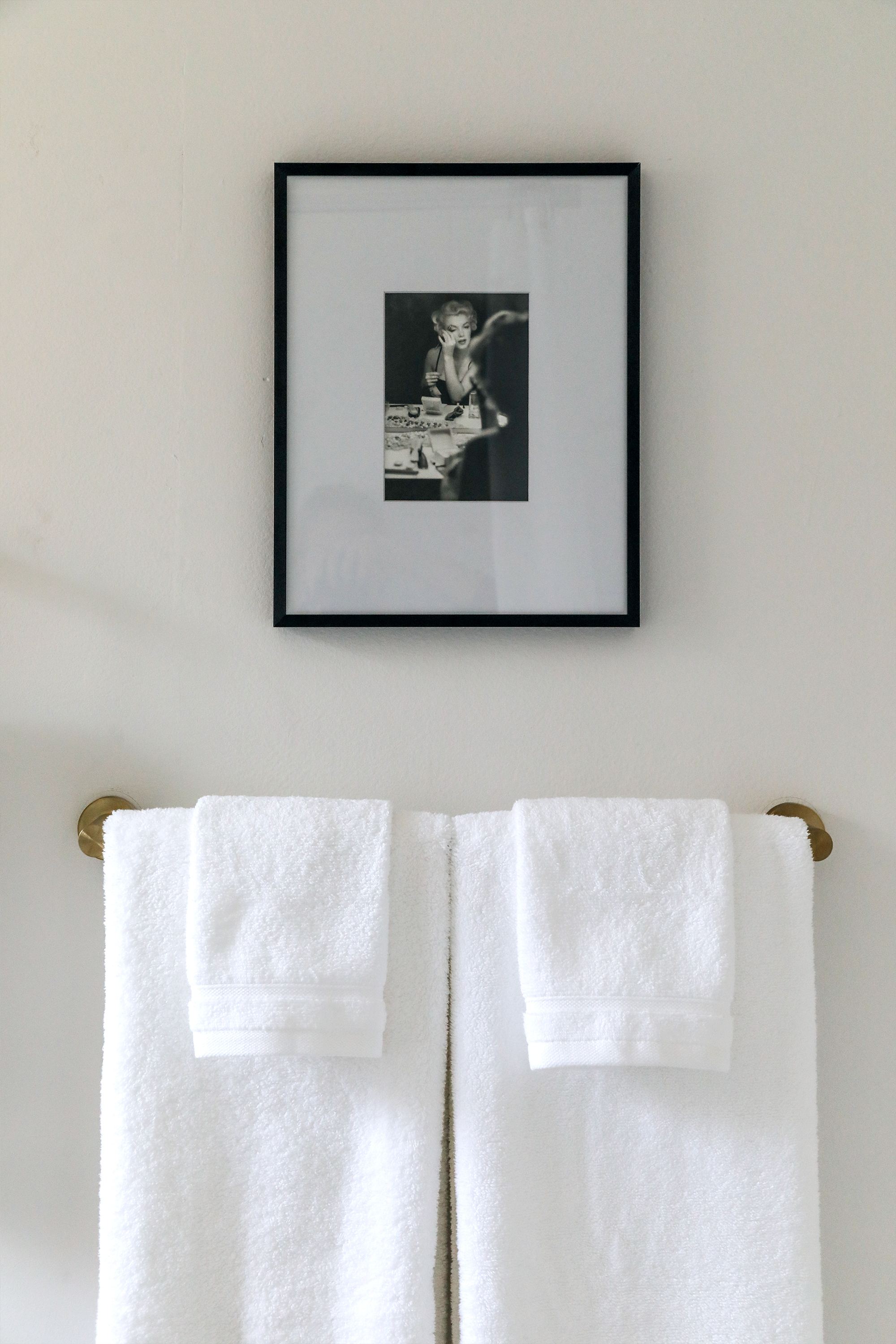 The final step in our weekend bathroom makeover was to pepper the space with those little boutique hotel extras. A pretty glass toothbrush holder replaces the freebie souvenir mug we'd taken to using, and a matte black magnifying mirror is perfect for Ivan when he shaves. A marble tray atop the toilet holds extra washcloths and a scent diffuser. Last but not least, black and white Hollywood snapshots serve as cheeky his-and-hers bathroom artwork. I cut them from one of the coffee table books in my collection. Clipping images from books is such a cost effective option for decorating your walls, and it means we get to enjoy the photos every time we step into the room!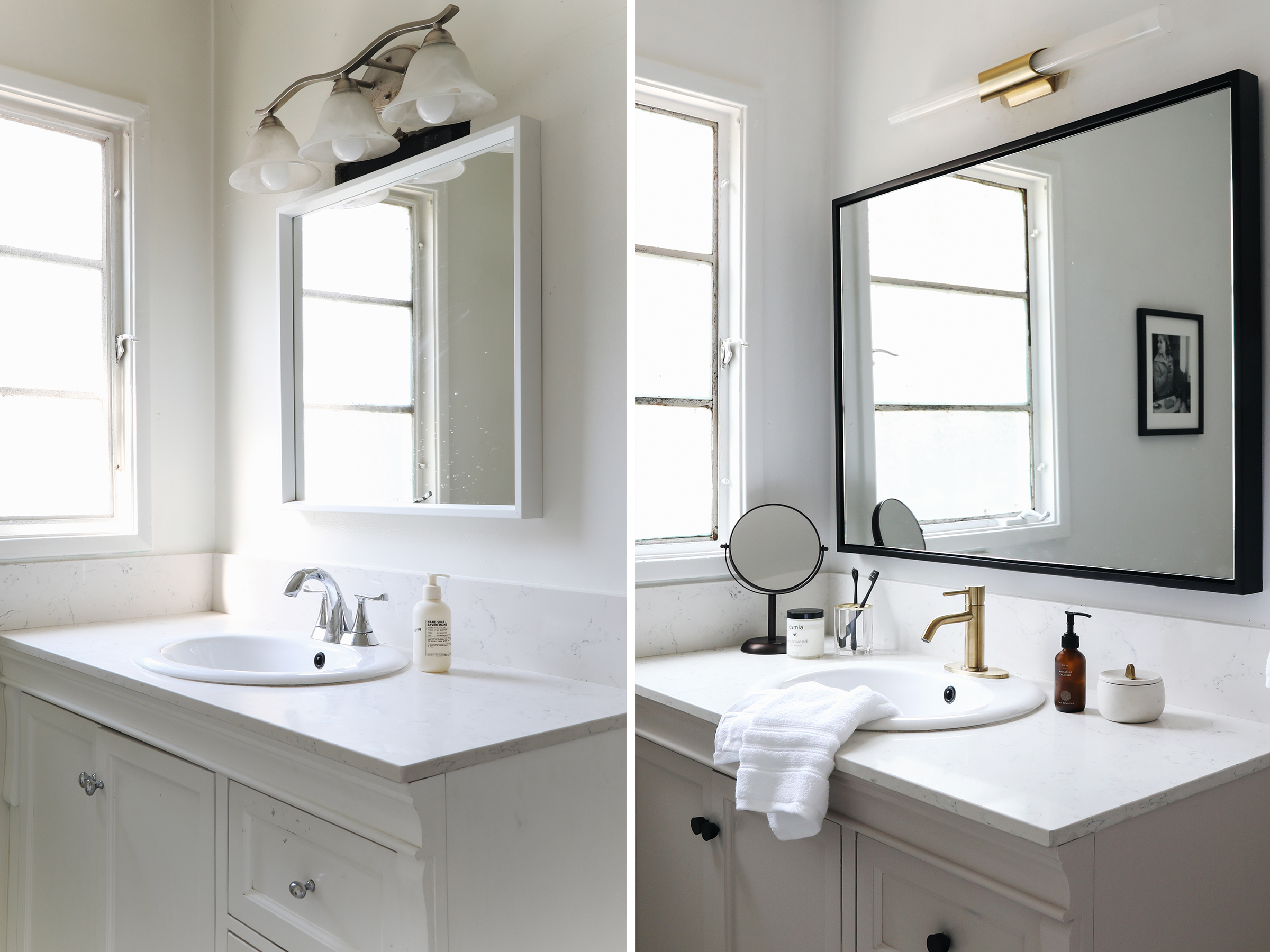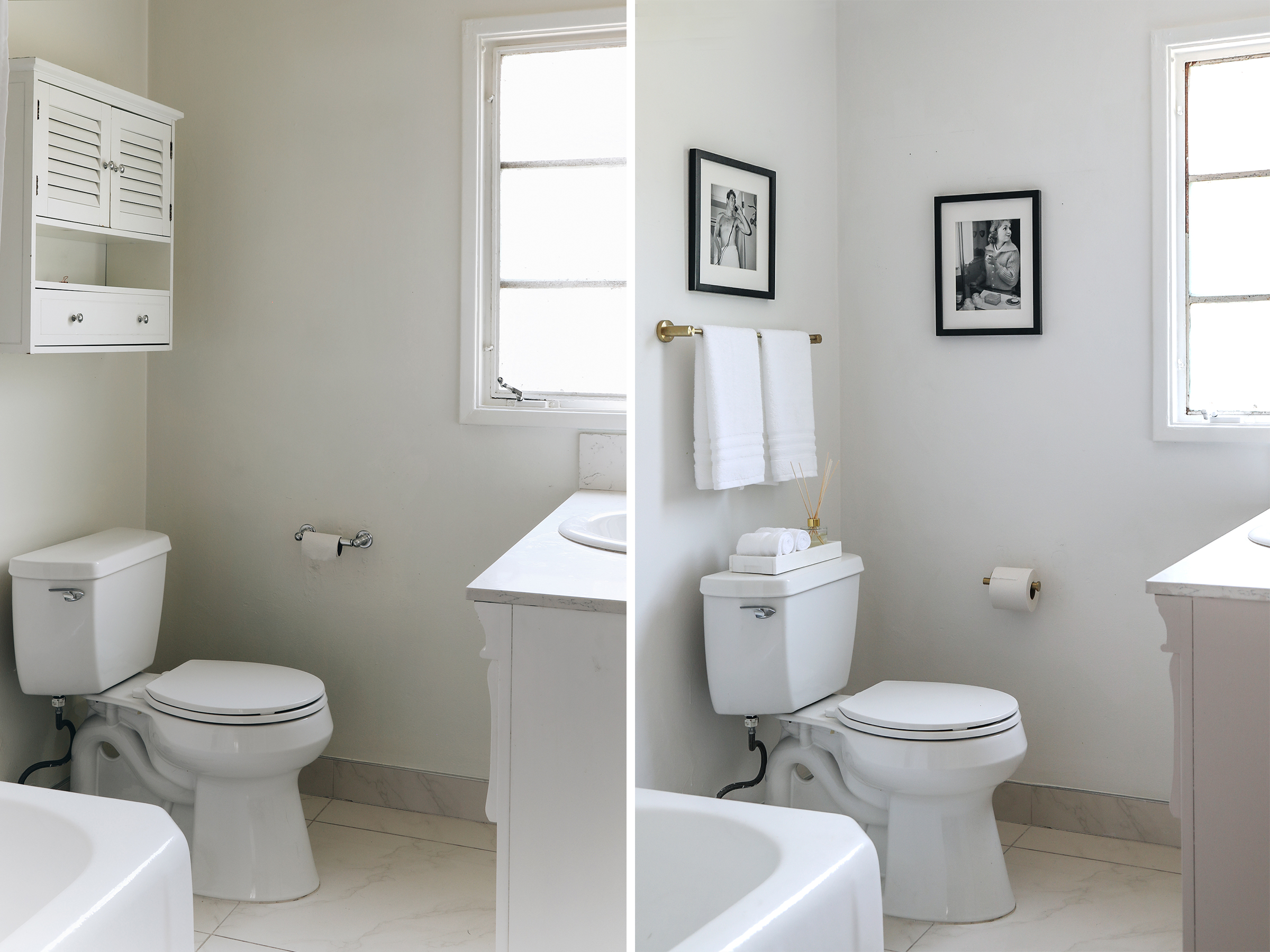 Because it wouldn't be a bathroom makeover without some juicy before-and-after photos, here's a couple side-by-side comparisons! The changes aren't massive, but they're remarkable enough to make the bathroom feel like a totally different space. Yesterday after I shot these photos, Ivan walked in and said, "It feels like a boutique hotel in here." Since I hadn't even told him that was my inspiration, I took that as feedback that I'd completed our weekend bathroom makeover perfectly. Mission accomplished!
Design, photography, and styling: Anne Sage. Disclosure: I partnered with Microcotton