As promised, here's the final space in the Palm Springs A-Frame design that Caroline and I completed together! This one is not only a total scene-stealer, it's also the space that required the most innovation and determination to install. We went through some major obstacles and had to summon our most creative problem solving skills to bring the vision to life. For that reason, it's majorly satisfying to see these photos of the finished room!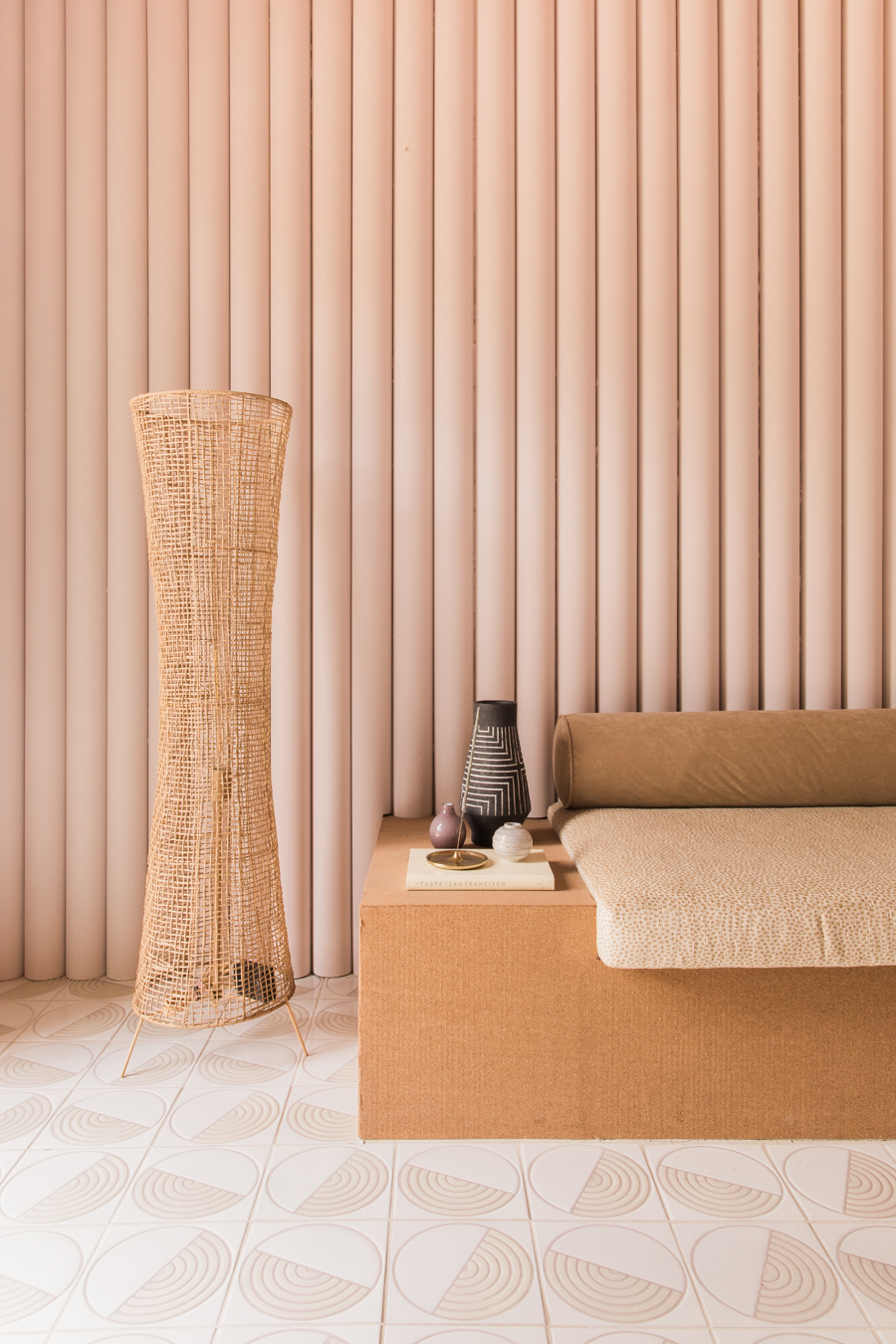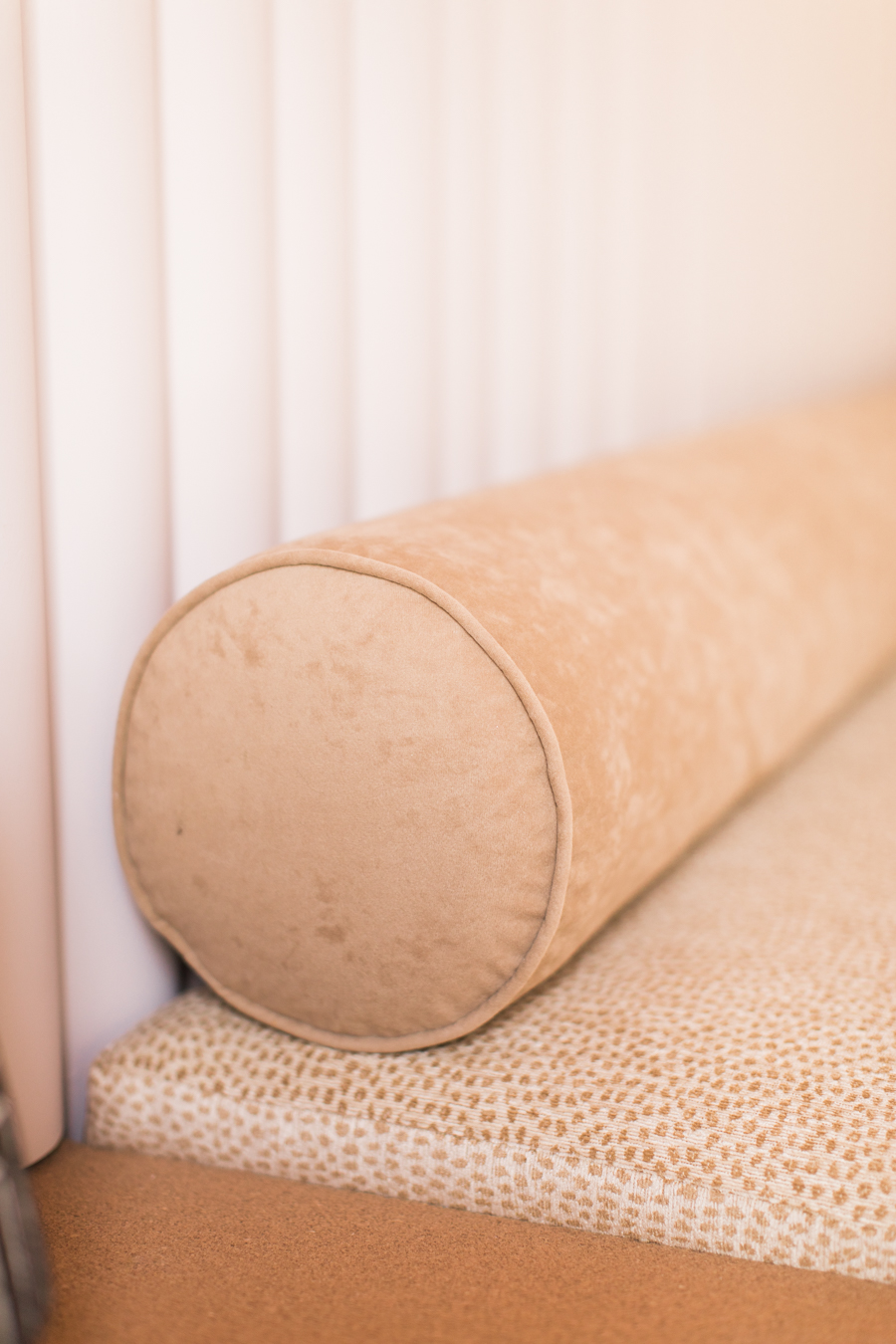 This room, which we called "The Studio" throughout the design process, isn't actually in the Palm Springs A Frame itself. Rather, it was a unused garden shed in the backyard! Our goal was to transform it from a dilapidated structure into a dreamy retreat from the main house. Our first step was to add architectural interest to the space. We'd fallen for several Australian spaces that featured walls made from round wooden dowels and wanted to implement something similar here. But when we priced out using wood dowels, we learned it would be prohibitively expensive to implement. For several weeks, we sat on the design, hoping a solution would reveal itself. Then, a crafty friend suggested using PVC pipes and painting them—and we were back to the races!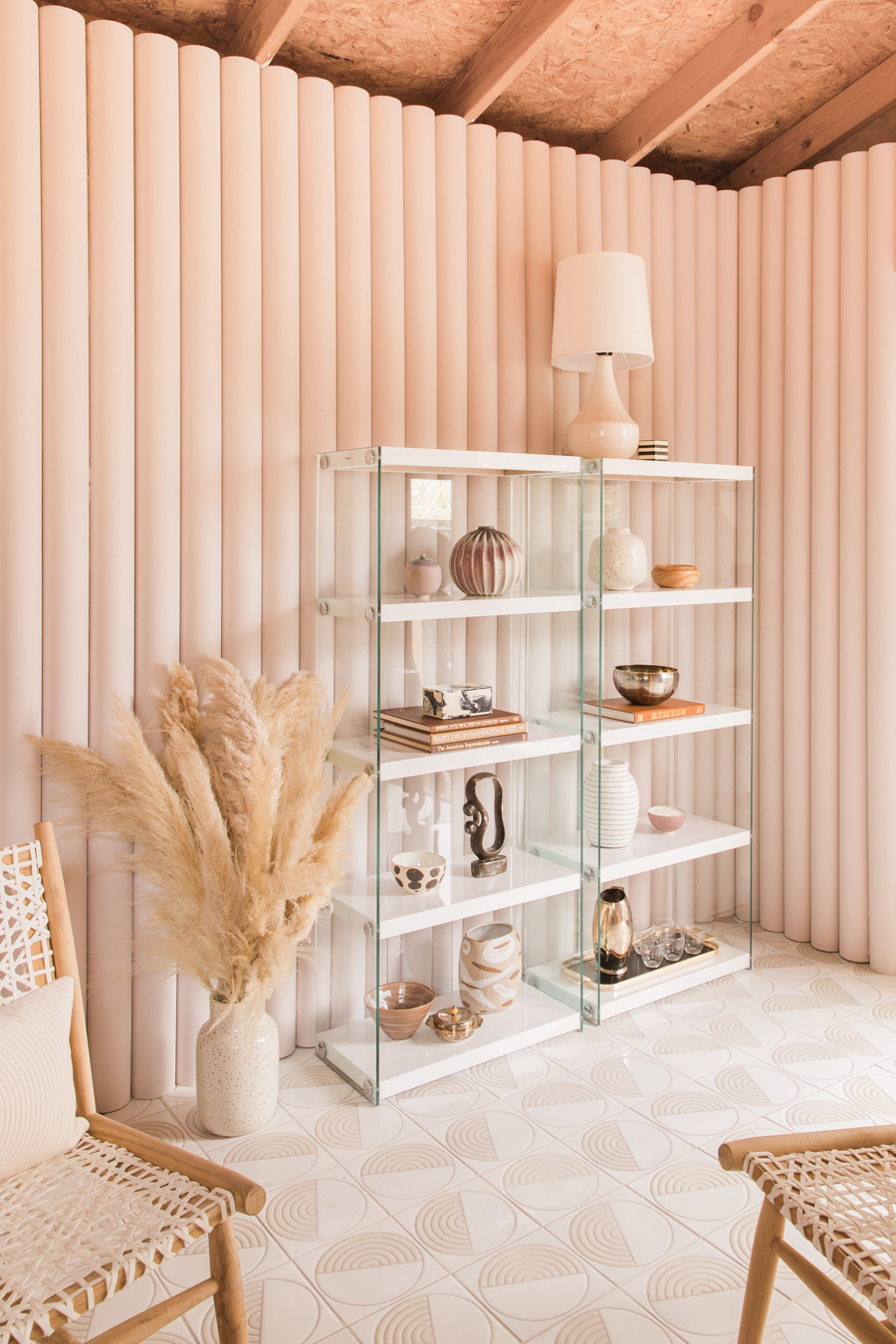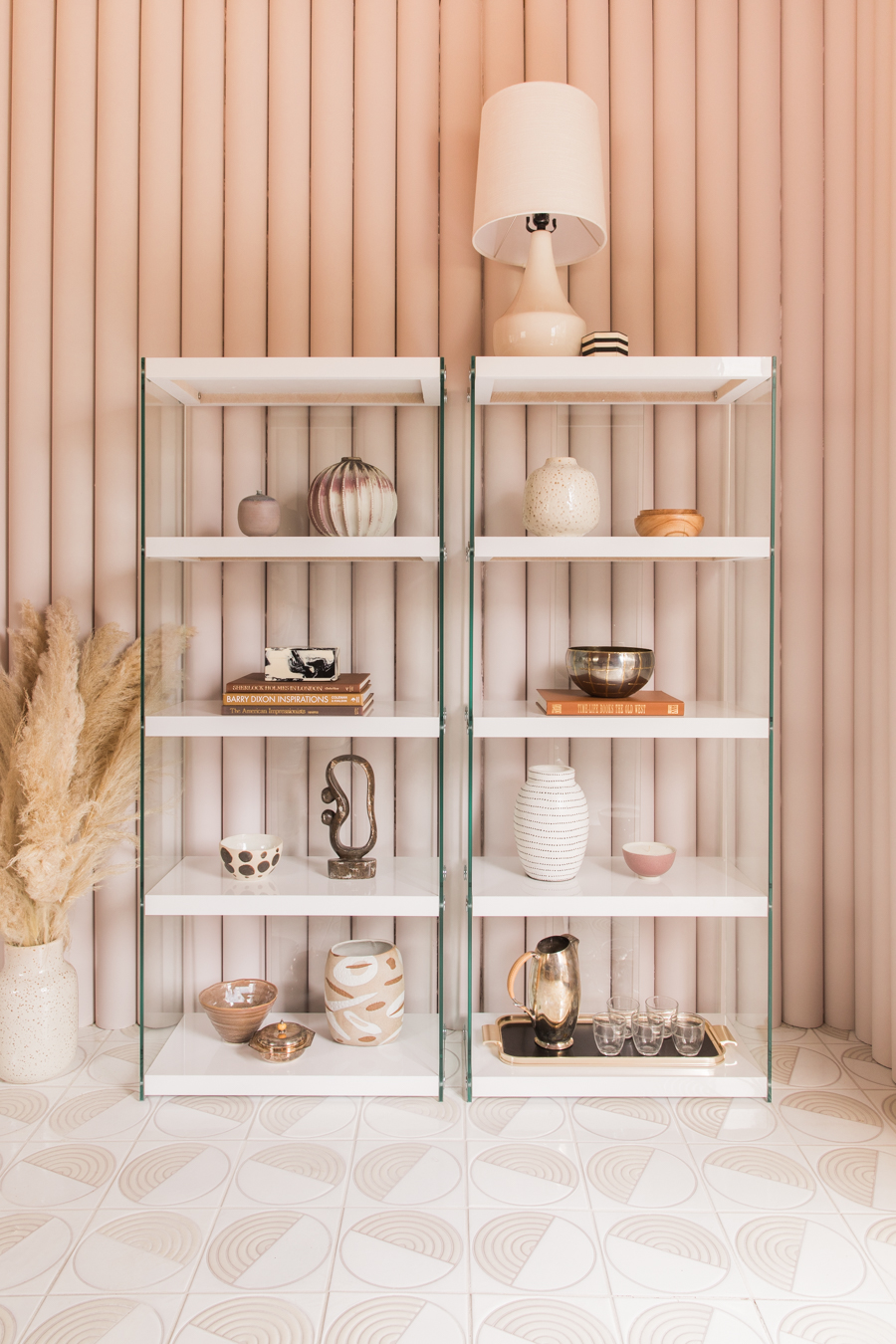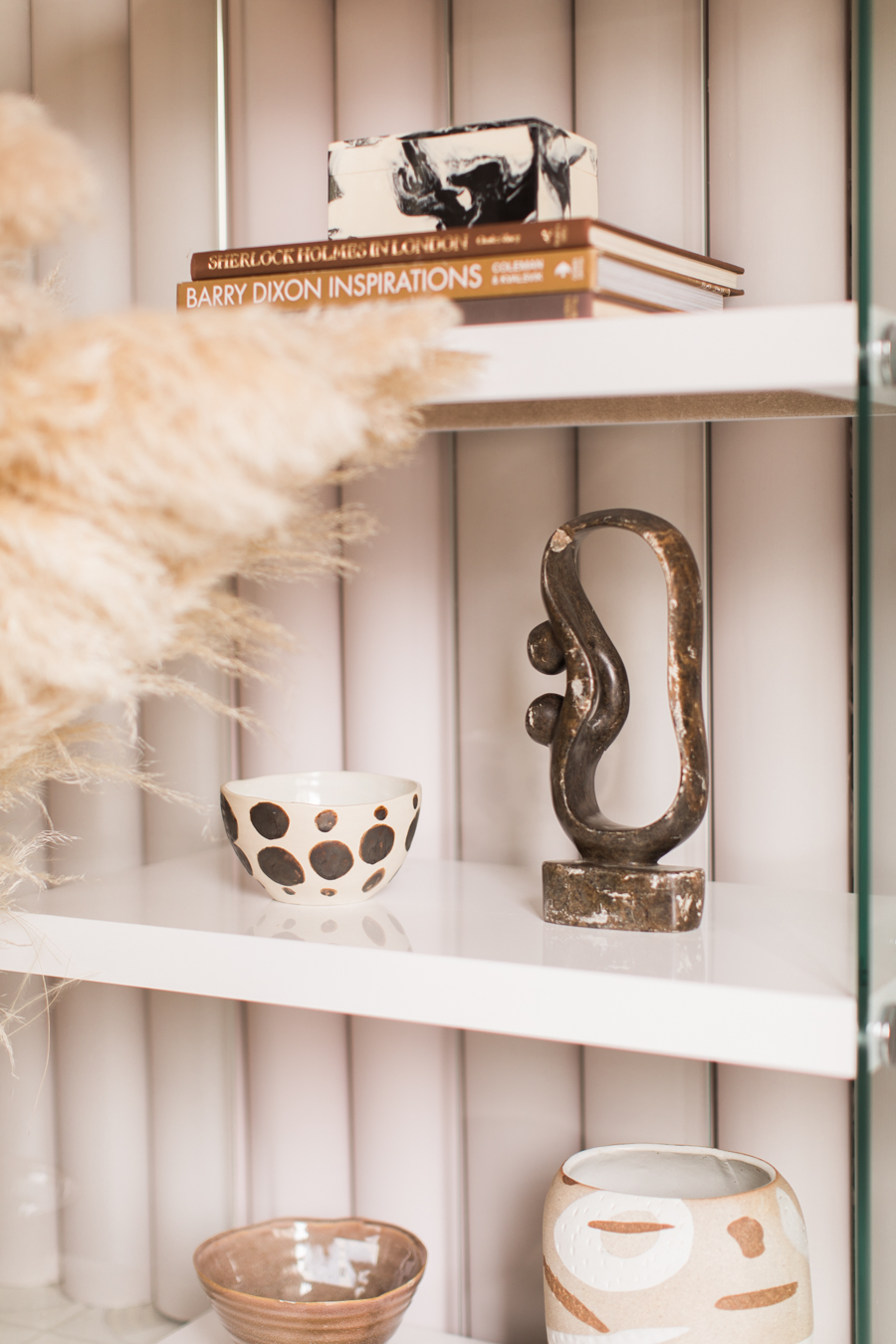 The PVC pipes turned out to work perfectly, since they not only gave us the ripple effect we wanted, they also allowed us to introduce a soft color element. This pale, glowing lilac creates an absolutely radiant effect when you step into the room. Tone-on-tone patterned tile adds to the dynamic effect of the repeated curved shapes throughout, and the built-in benches invite some serious lounging. We covered the cushions in a pairing of dotted velvet and brushed suede, for plenty of visual and tactile stimulation. As a bonus, those benches are deep enough for sleeping, making this this perfect little guest cottage!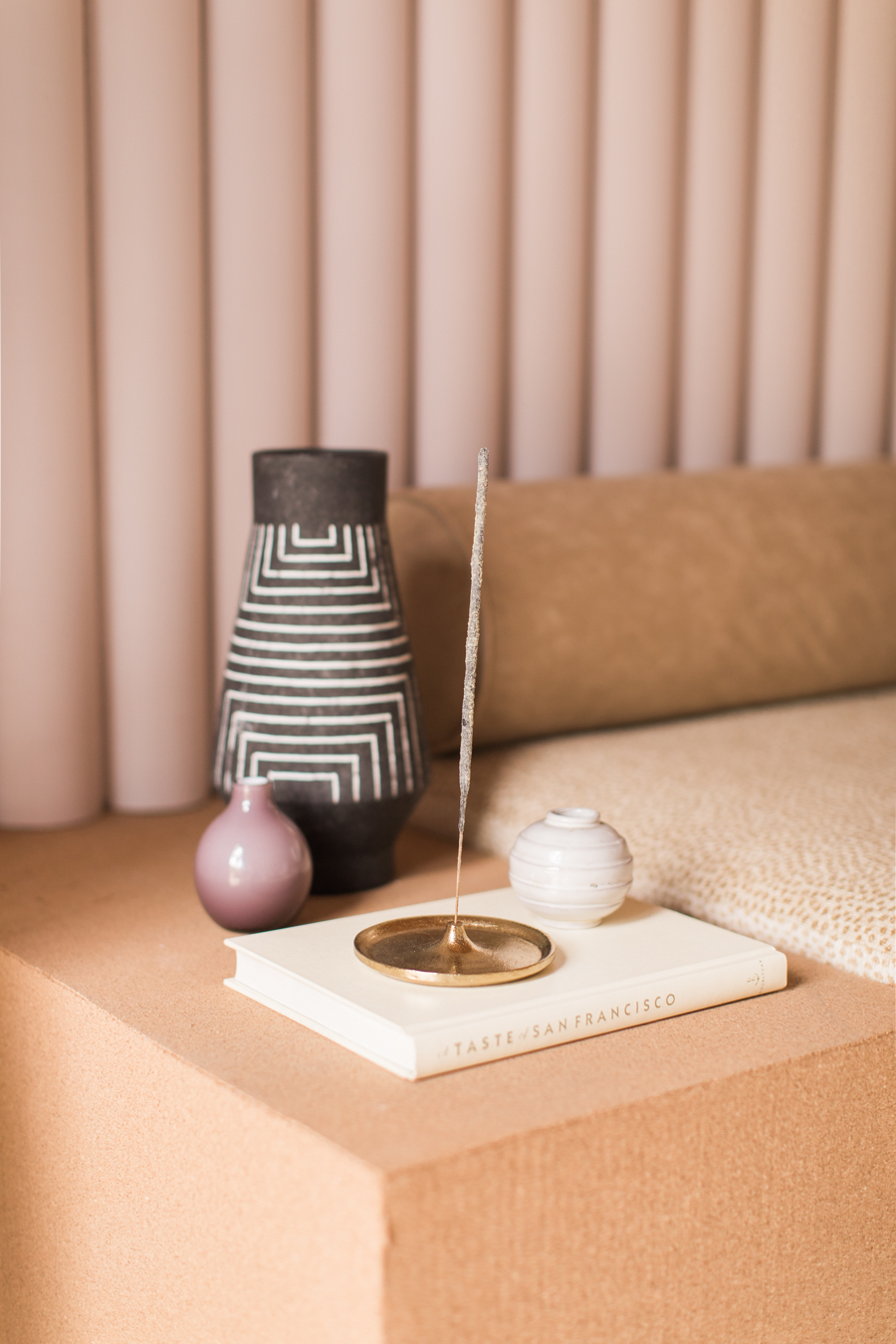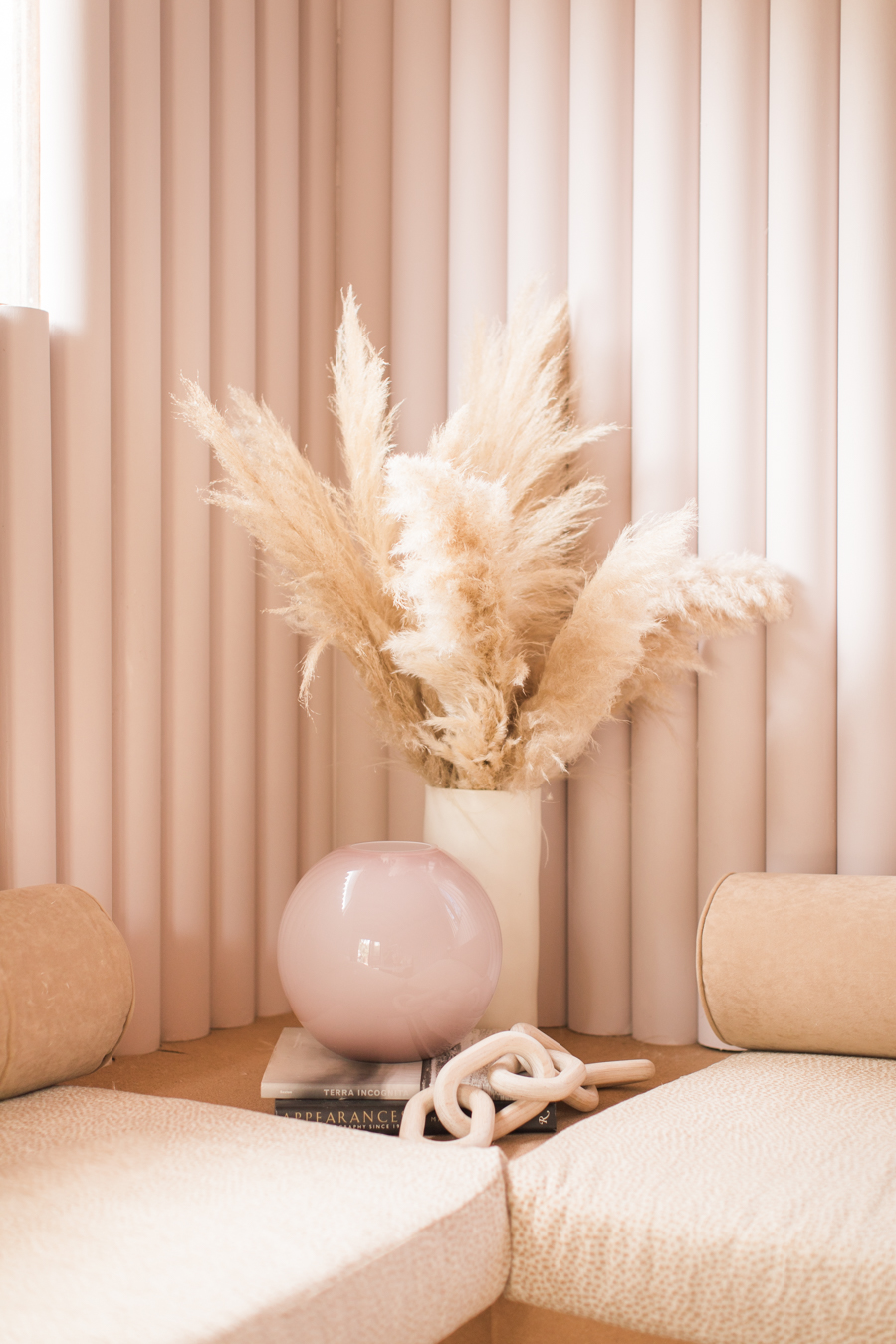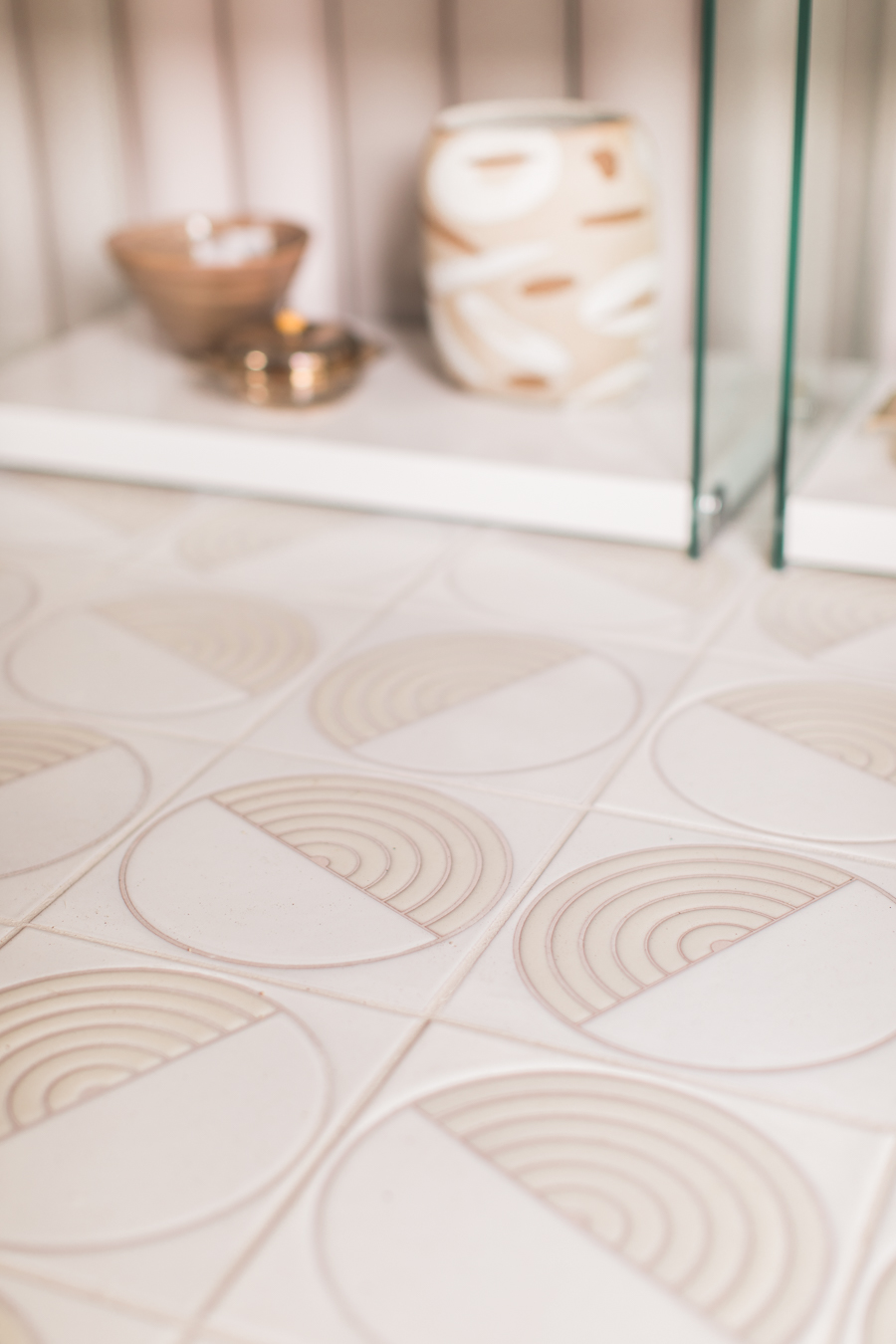 For all the accents and styling details, we maintained the tonal palette and added even more materials to the mix. The openwork construction of woven lounge chairs echoes the pattern of the tile, and a chunky coffee table in wood and marble anchors the center of the room. For an additional organic touch, we used cork to cover the bases of the bench seating. And in the corner, near the entrance, a pair of glass bookcases creates a display space for objets that the incorporate a blend of soft purples, metallic chrome, and mixed browns. In spite of the diverse elements that we drew upon to design this space, the final mix is remarkably harmonious. Crossing the threshold into this space truly is a magical sensory experience. We're so proud of the finished result!
Palm Springs A Frame Design Shopping Guide: Tile, Terrain in White Motif from Fireclay. Cushions on built-in sofas: Constructed by Calico Corners, bench seat cushion upholstered in Kravet x Crypton Design 34971 – 4 and bolster cushion upholstered in Crypton Home Suede in Harlow. Coffee Table, Curator Round Cocktail Table from Hayneedle. Chairs, Safavieh Bandelier Off-White Natural Leather Accent Chair from Home Depot. Shelves: Monarch 60" Bookcase in White. PVC Walls, 4" PVC from Home Depot. Paint on PVC, Kyoto Pearl by Behr from Home Depot. Images: Echo + Earl.