One of my biggest goals when we were completing our weekend bathroom refresh was to keep our effort—and our costs—as low as humanly possible! I had my heart set on a boutique hotel inspired bathroom makeover. But since we rent, I didn't want to spend a fortune giving the room a facelift. Although I shared the process for the project in the full reveal post, I wanted to give the fixtures and accessories I used their own special shoutout. Using these wallet-friendly pieces, you can get your own luxe hotel bathroom for less than $700!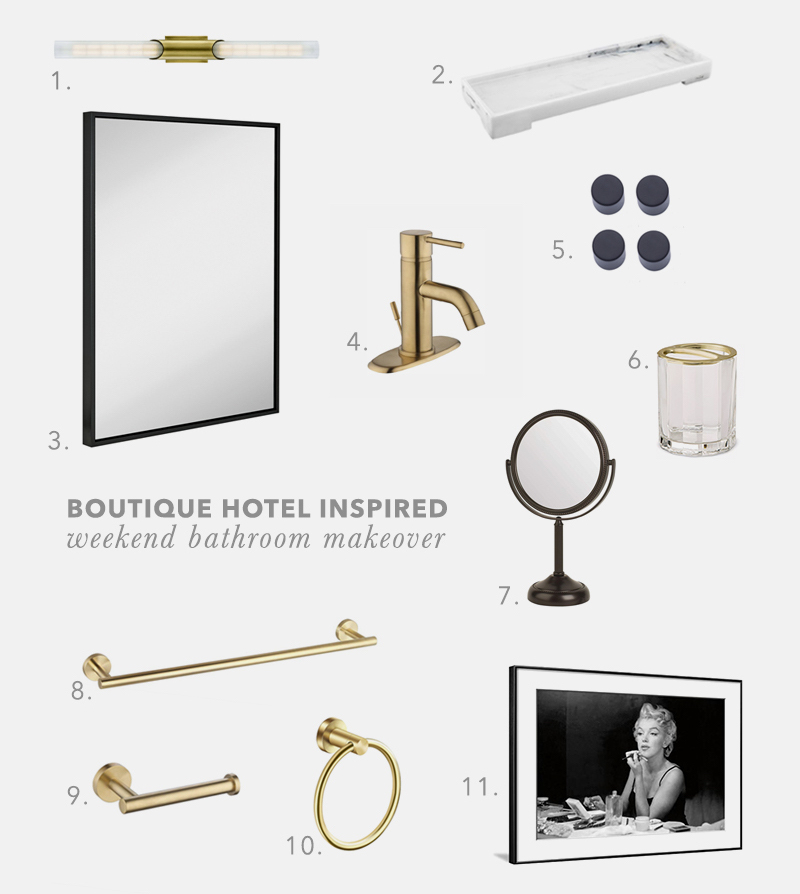 1. This brass and frosted glass vanity light strikes just the right balance of vintage and modern, and its streamlined shape so nicely caps off the mirror!
2. A simple marble bathroom tray rests on the back of the toilet to hold air freshener, a scented candle, or any other extras you'd like to keep handy. Plus it provides a textural nod to the marble countertop opposite it!
3. Of all the pieces I used in our makeover, this modern black mirror with floating glass has definitely received the most attention. At 40″ x 30″ large, it makes the room feel so much bigger!
4. Our new brass single handle bathroom faucet is definitely one of the most impactful changes in the room. It's so chic that it distracts from the tacky sink basin!
5. Matte black drawer knobs go a long way towards modernizing the vanity. The clean, cylindrical shape of these is versatile and timeless.
6. You can't really tell from the photo, but this fluted glass toothbrush holder echoes the glass treatment in the light fixture. It's a small detail, but one that makes me so happy!
7. On the whole I prefer a clean, sparsely accessorized countertop, but this magnifying mirror is a boutique hotel must-have!
8-10. A brushed brass towel ring, towel bar, and toilet paper holder add a luxe touch on a budget. The total cost for all three is less than $70!
11. To keep our costs low, I framed vintage Hollywood snapshots that I cut from art books already in our library. There are some used copies of the exact Marilyn Monroe portrait book I used on sale for under $8!
P.S. Be sure to catch the full reveal post of our boutique hotel inspired bathroom makeover, including some juicy bathroom before and after photos that you have to see to believe!