Over the years, as I've gradually made the switch from conventional to natural beauty products, one product has eluded me: Deodorant! From my long workouts to those 100-degree LA summer days, deodorant is the one item in my medicine cabinet with no room for error. I've tried so many over the years, only to find myself sweaty and stinky and slinking guiltily back to my aluminum-based antiperspirant. Yet in the past while, I've happened upon several natural deodorants that actually work! The trick really seems to be trial and error—sampling several until you find one that works best with your body chemistry. Here's the top tier that I've had success with!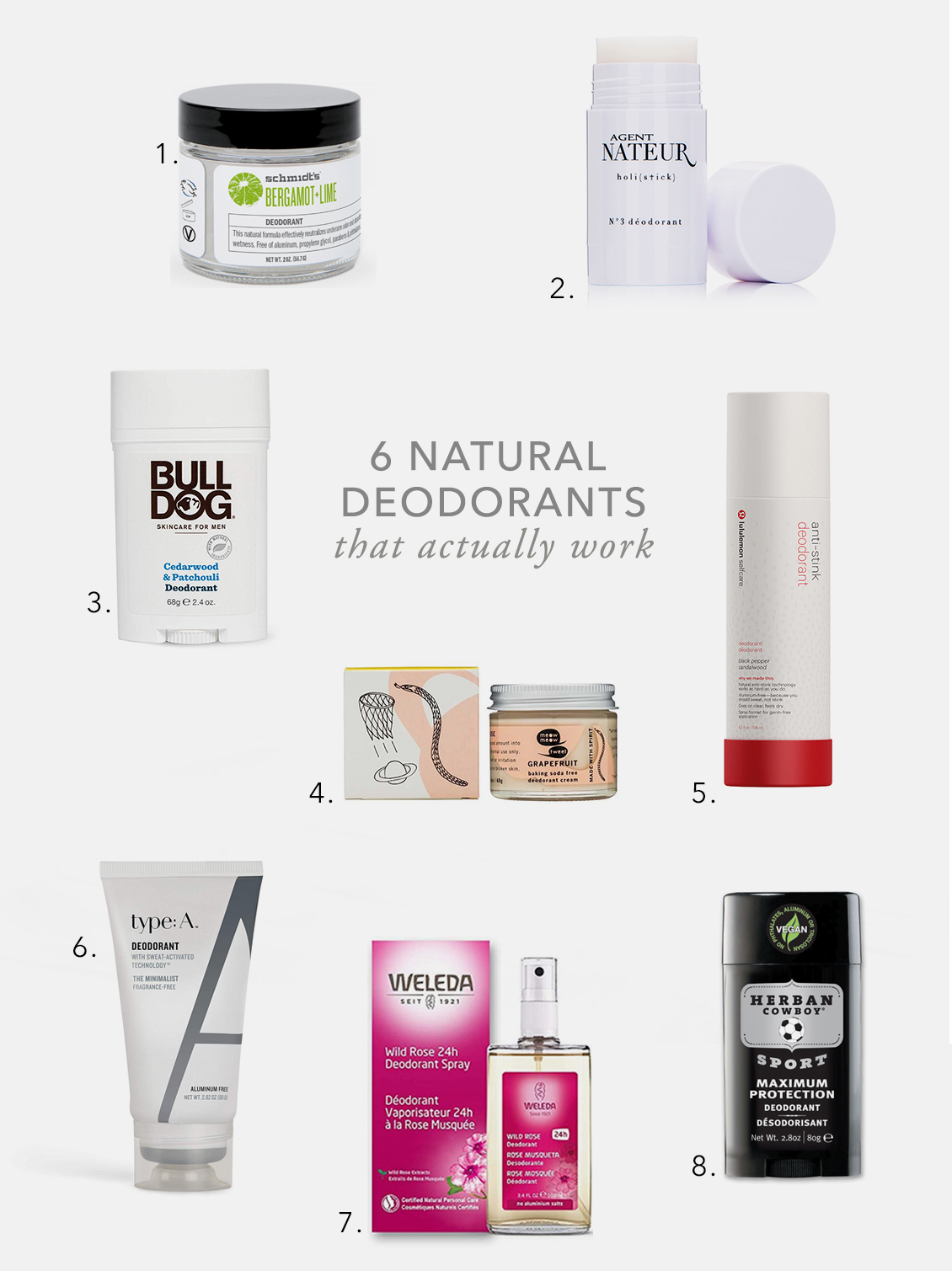 1. Ivan's go-to is Schmidt's Bergamot + Lime. He's a fussy guy and a sweaty guy, so it's a testament to the power of Schmidt's that he goes out of his way to track this one down when he runs out. And maybe it's the pheromones talking—but I think he smells fantastic!
2. I fell hard for Agent Nateur when I received it a gift and used it down to the last precious drop. It smells like rich people and keeps dampness at bay—next time I'm in the market for a $20 deodorant, I know which one to choose!
3. Don't let the words "Skincare for Men" scare you away from Cedarwood & Patchouli by Bulldog; this is the natural deodorant that I keep in my bathroom drawer for everyday use! The fragrance is reminiscent of a pricey Le Labo perfume, and the wetness protection is as good as my old aluminum antiperspirant!
4. If you're sensitive to baking soda or coconut oil, then this Meow Meow Tweet Tweet formula has your name on it! It uses dietary magnesium and arrowroot powder to absorb moisture, and adds essential oils to moisturize delicate underarm skin. It pampers and protects!
5. Lululemon recently launched a self-care line and their anti-stink aerosol was an instant hit with both Ivan and me. We keep this one in our gym bag for a pre-workout spritz, and it actually does the spin class sweat at bay!
6. A tube applicator and sweat-activated formula make type:A deodorant one of the most innovative offerings to the natural deodorant landscape. The unscented "Minimalist" variety is perfect when you don't want your deodorant to interfere with your perfume.
7. Weleda's been a leader in natural beauty for decades, and their all-day spray is the real deal. The faint rose scent isn't overly flowery. Word to the wise, though: This natural deodorant is alcohol based, so brace yourself if you use it on freshly shaved underarm skin!
8. I love a good pun—so Herban Cowboy was off to a great start before I even rubbed it under my arms. The sport formula is marketed to men, but it's a great unisex option that performs well under pressure with a fresh, neutral scent!