At last, the big day has arrived! The final reveal of our Light Lab dining room and kitchen makeover is here! I'm not going to lie, the pressure I felt to make this a top-notch decor refresh was real. After all, in the three years since we opened our doors, Light Lab has become known for its fresh, forward-thinking design presence. I wanted the new iteration to be just as recognizably cool as the original space, but with a updated sensibility that was a noticeable evolution from the previous look.
And thankfully, there was no better partner to help me make it happen than Amazon Home. They eased my stress with everything from their massive selection of covetable finds to their fast, free Prime shipping—even on large items like furniture. In fact, I'm happy to report that this one of my smoothest decorating projects yet! Read on for all the photos and the juicy details on the process.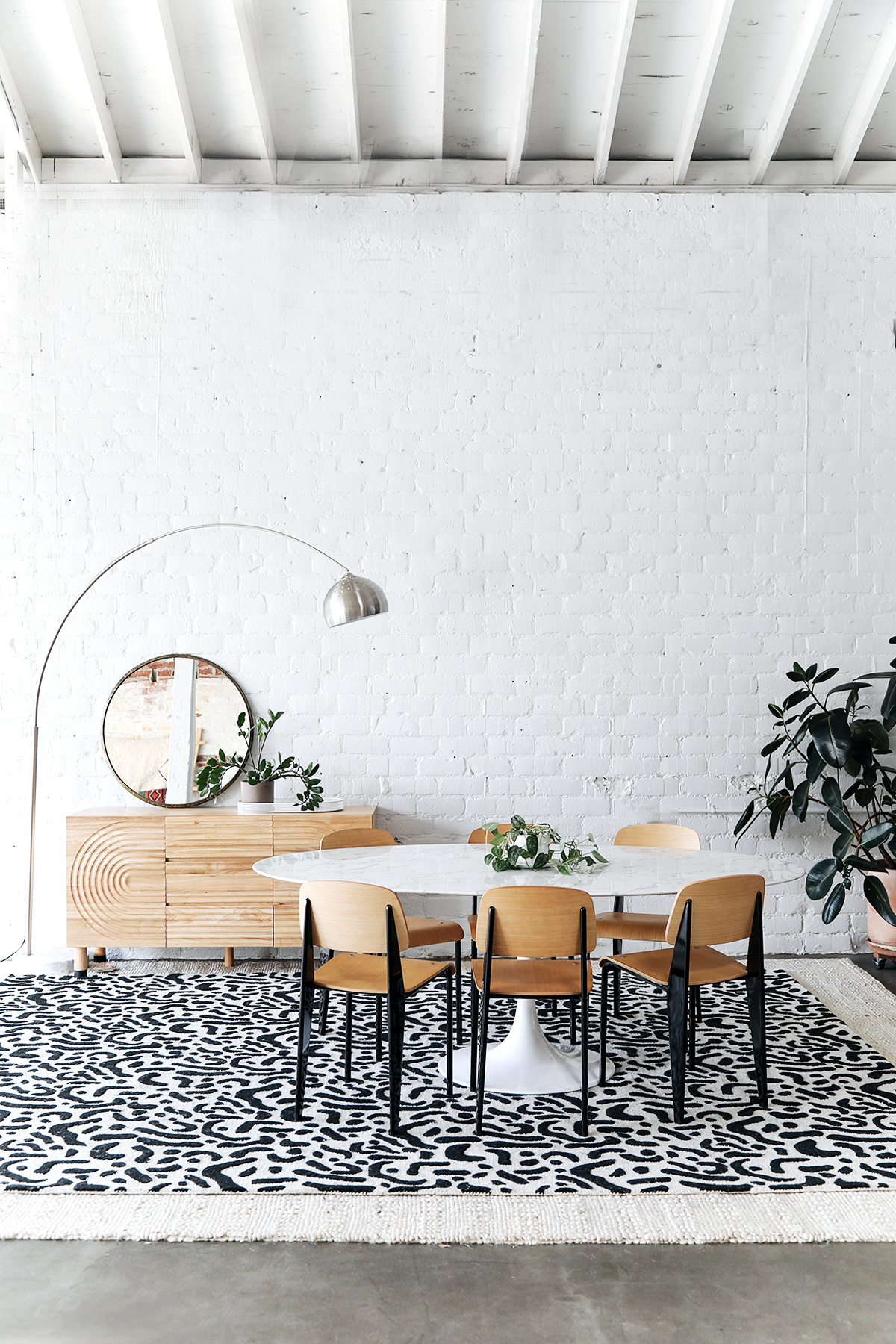 I had a lot to keep in mind when it came to choosing a new dining table and chairs. Not only do we rent this space to production companies for shoots, but I often style and photograph my own cooking and entertaining stories at Light Lab. So whatever I selected needed to look great, but also be versatile for many uses. Since you can never go wrong with a timeless marble tulip table, that's the direction I headed. The smooth, striated surface will look beautiful for holiday table setting how-to's!
Although I was nervous about having a piece this large shipped to me, I couldn't have been more pleased with the freight shipping that was available through Prime. The table arrived to me within days of placing the order, and the delivery men not only carried it into the studio for me, they helped me unpack it to ensure it hadn't been damaged during shipping. As any designer will tell you, it can be a real headache to receive oversized furniture items, but Prime shipping exceeded even the best of my previous White Glove experiences!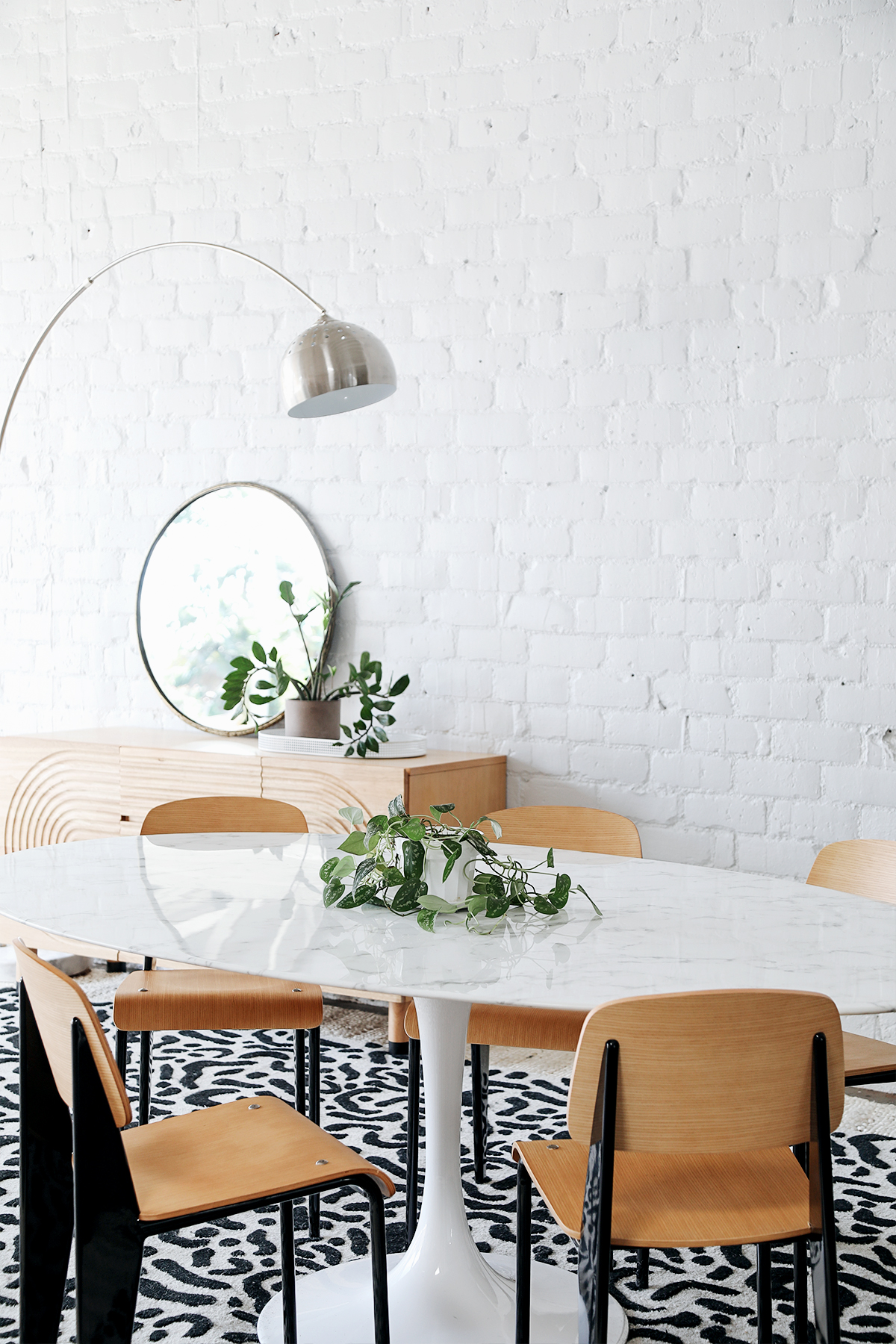 I paired the table with steel and molded wood dining chairs inspired by a classic midcentury French design. The combination is such an eye-catching juxtaposition of shapes and materials! Then, since we're loving 80's motifs lately, I anchored the space with a playful black and white patterned rug from Amazon Home's exclusive Jonathan Adler Now House collection—which itself is layered atop an oversized white jute rug to break up our concrete floor and keep the vignette feeling bright. Both of these rugs—indeed all the rugs I viewed on Amazon Home—come in a full range of sizes. I can't tell you how many times I've fallen for a rug only to discover it's not available in the dimensions I need. No chance of that happening on Amazon Home!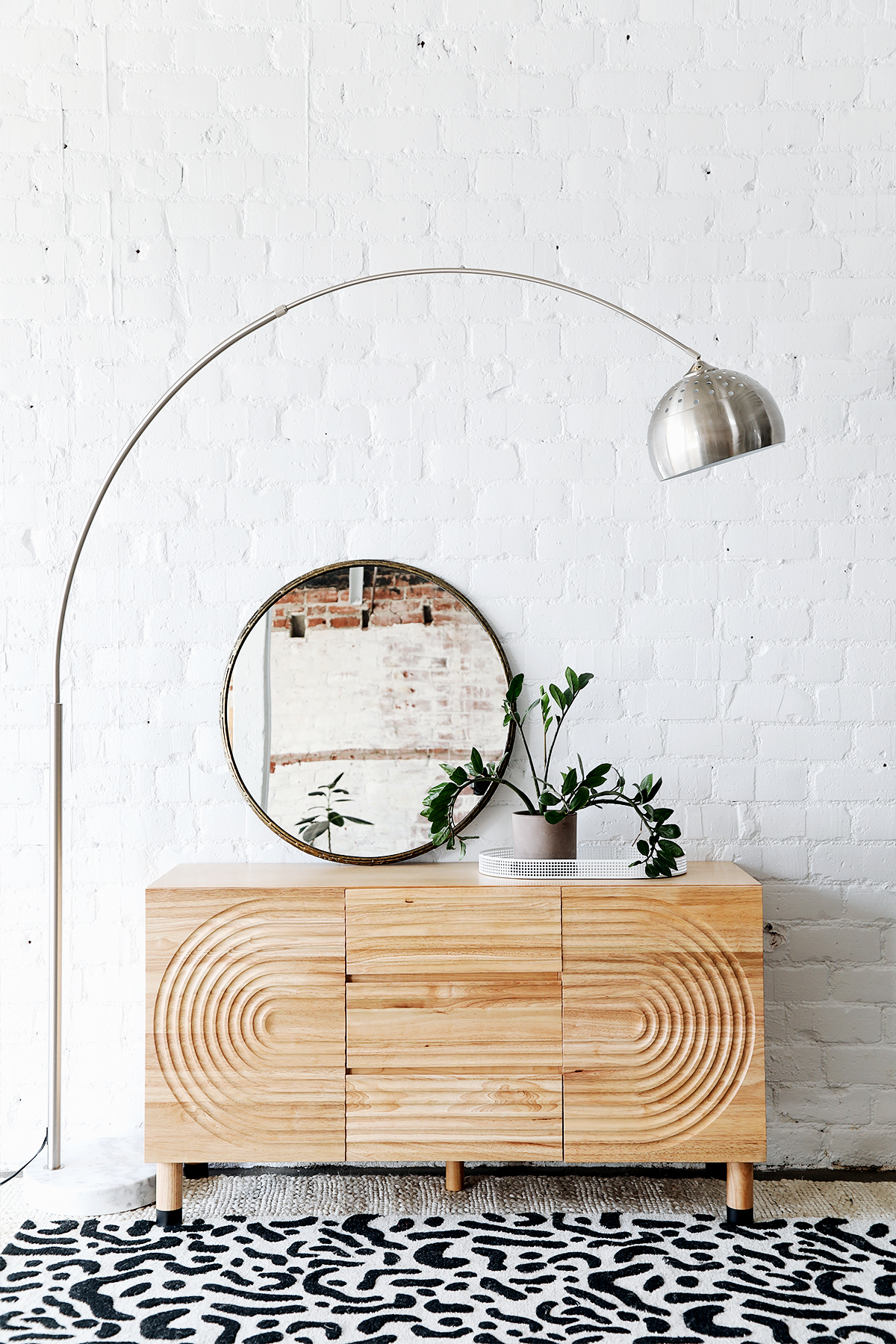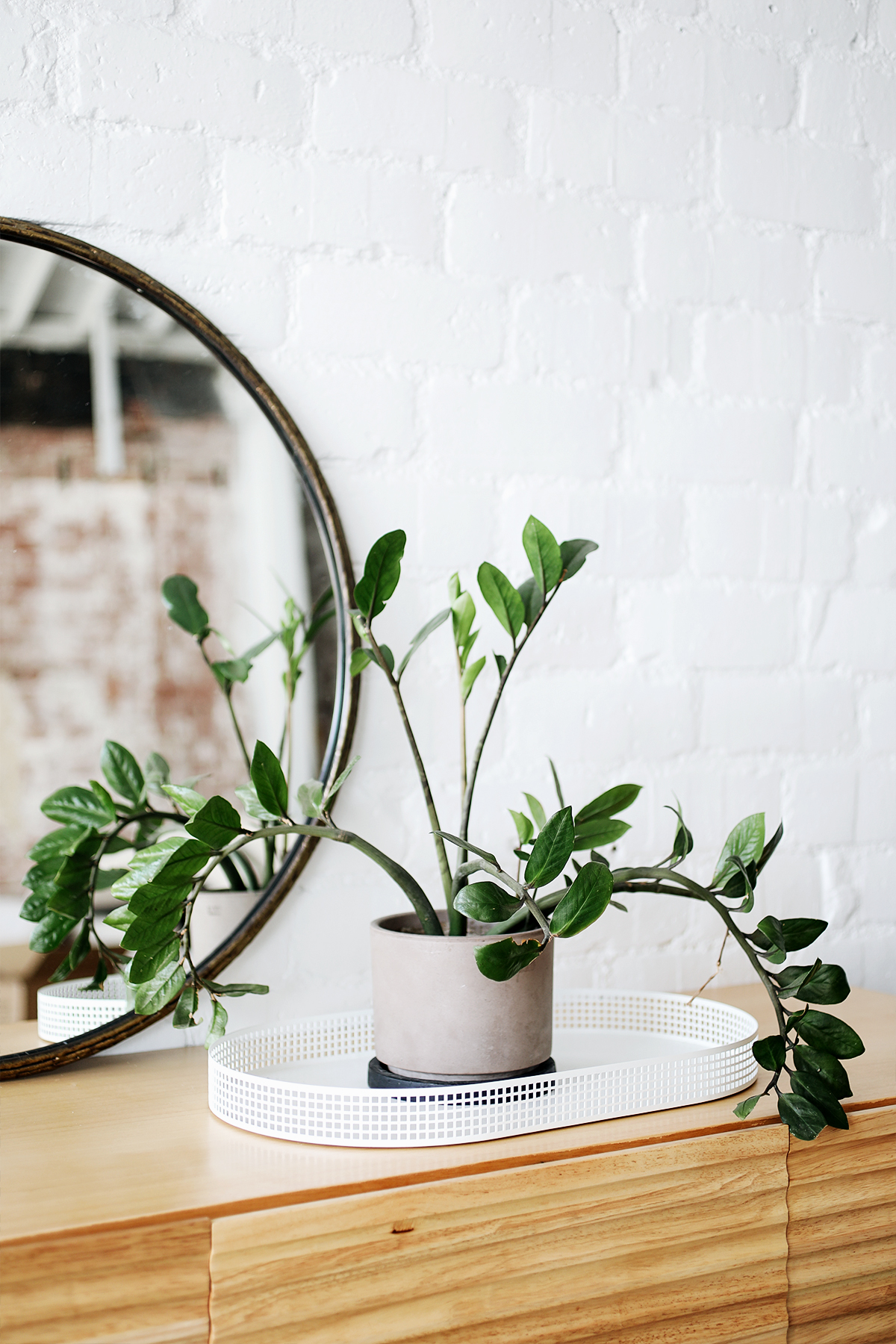 Since we don't have a ton of storage for office supplies at Light Lab, I took the opportunity to create some with this blonde wood console, also from the Jonathan Adler Now House collection. The grooved cabinet doors are not only heartbreakingly chic, they're beautifully constructed and are reminiscent of high-end casegoods pieces that cost multiple thousands of dollars. I couldn't believe that this sideboard was so accessibly priced at less than $800!
Not only does the console provide ample storage, it also lends itself nicely to carving out a little styling moment with an iconic chrome arc lamp and a metal tray in an of-the-moment pill shape. Amazon Home is chock full of unique accent pieces like these—and it's all curated in their Shop by Style section to make browsing a breeze!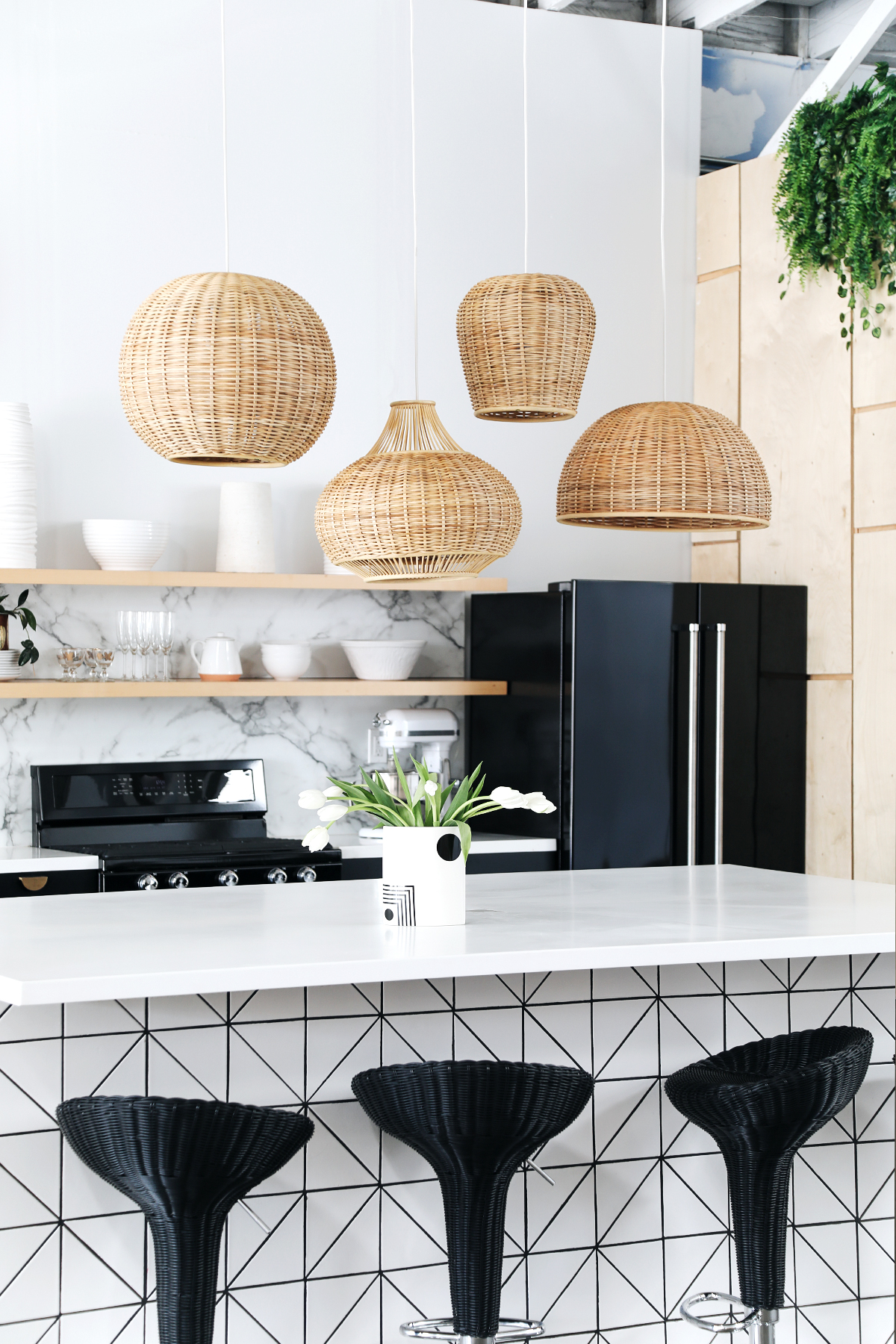 For the kitchen makeover, we traded our previous brushed gold accent pieces for adjustable counter stools and wicker pendant lights in a mix of eclectic, quirky shapes. The woven construction of both the stools and the pendants adds great texture to our otherwise sleek kitchen—and since organic fabrications are having a huge moment right now, these elements bring the space into 2019. Amazon Home's selection is updated constantly, meaning there's always plenty of on-trend decor to choose from!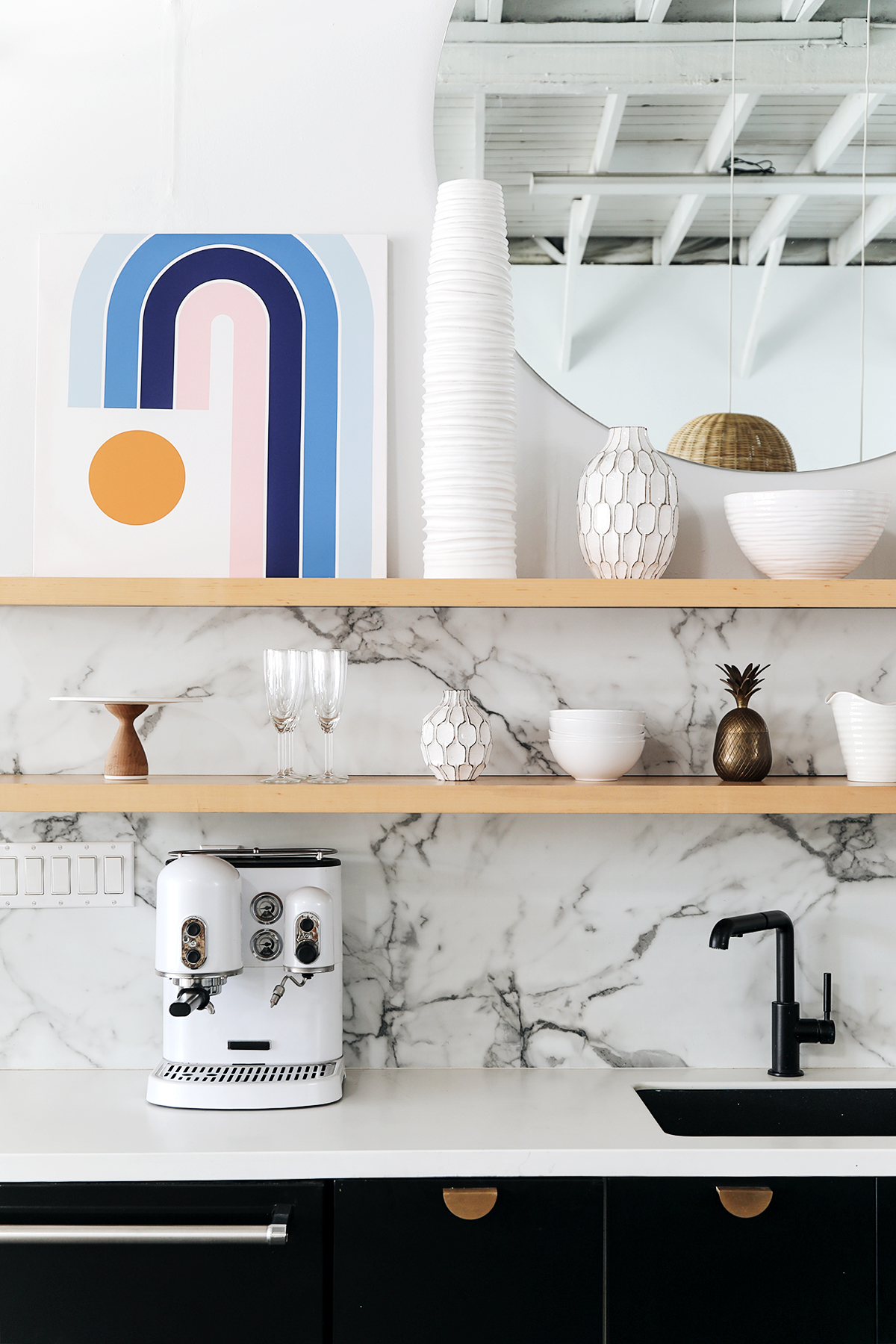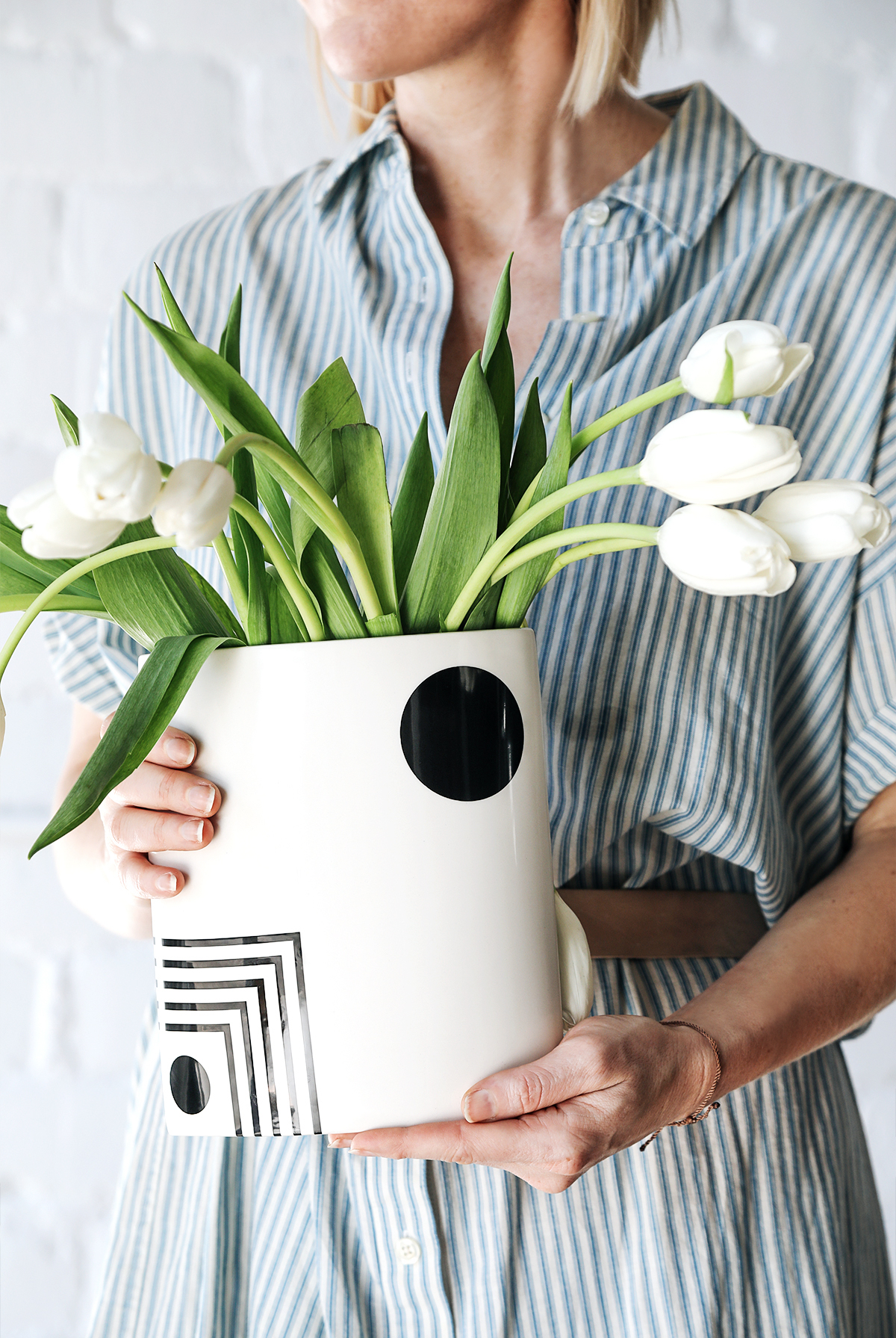 Last but certainly not least, I chose a graphic art canvas and a mod ceramic vase to add even more personality to the kitchen makeover. We've recently become fascinated by the Memphis School's signature design motifs, and I love how these two pieces add the same sense of fun and dynamic energy. Design should make you feel happy, after all—and I'm frankly overjoyed at the completed result of this project. I had such high standards for myself, and it feels so darn good to have met them with flying colors thanks to Amazon Home!
P.S. Loving this look? I rounded up tons of pieces to recreate it yourself in my Amazon storefront, so pop on over and get your shop on! And if seeing the process start-to-finish is your thing, be sure to check out my post sharing our initial inspiration for this decor makeover!
Disclosure: I partnered with Amazon Home to concept, produce, style, shoot, write, edit, and share this post. All opinions are and always will be my own. Thank you for supporting the brands that make it possible for me to bring you fresh inspiration daily!